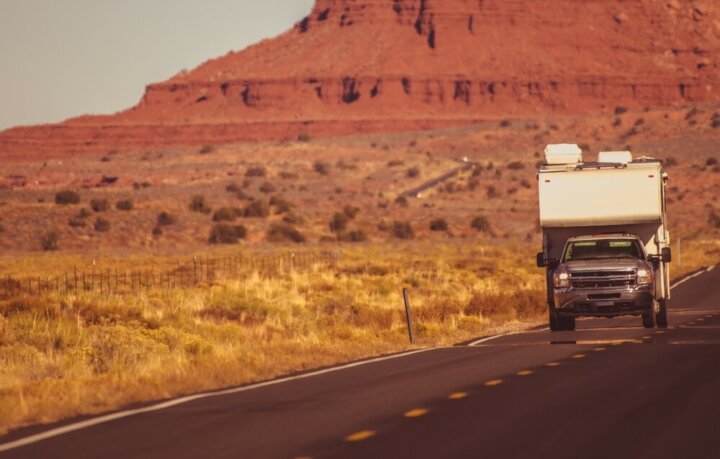 All of our reviews are based on exhaustive research, industry experience and whenever possible, hands-on testing. When you make a purchase using one of our chosen links we'll get a small percentage of the proceeds. This supports the site and keeps Jeffsetter running. You can read more here.
Truck campers are the answer for those wanting to escape and delve head-first into adventure! Truck campers alone can be expensive and when you also consider the price of a pick-up truck, the final camper setup is worth a considerable amount of money and can draw some unwanted attention.
If you own a truck camper or are thinking of buying one, you may be wondering about how to keep your camper safe. So, how do you keep a truck camper from being stolen?
There are a few things you can do to help keep a truck camper from being stolen. Adding features such as alarms and locks can help improve your truck camper's security, along with removing expensive items and keeping valuables out of sight, locking all the doors, and disabling the electric jacks.
Unfortunately, vehicle theft is on the increase in the US, so it's important to take the necessary precautions to help prevent your rig from being stolen. Let's take a look at some of the key things you can do to help protect your truck camper when it's left to fend for itself!
How Do You Keep A Truck Camper From Being Stolen?
A concern for many truck camper owners is the security of their camper whether it's mounted on the pickup truck or it's sitting stationary on their driveway. There are a few measures you can take to help prevent this, as the last thing you want when you're away on vacation, is the stress of thinking about your truck camper potentially being stolen.
1. Heighten Security
If you're particularly worried about the safety of your truck camper and want to ramp up the security of your rig, adding additional features may help. By fitting bolt locks, an alarm system, and a camera to your truck camper, you can not only feel safer when you're away from your rig, but the sight of these extra measures can also help to deter potential thieves.
Technology is constantly changing and evolving with security components arguably offering more now, than ever before. I installed a wireless camera in my campervan that, using Wi-Fi, can connect to my phone when I park somewhere and head out for a few hours. If I want to check up on my camper, I can open up the camera app, see the live feed on my phone, and be notified if the camera detects any movement.
Heightened security features can be on the pricier side, but the peace of mind they give makes them worth the investment. It's far cheaper to purchase an alarm or camera than have to replace a stolen truck camper!
2. Don't Leave Valuables Inside
For many, taking valuables out of your truck camper when you go off on an adventure is a no-brainer, but for others, especially those new to camping, you may not think about removing things like your camera or laptop.
I always say 'out of sight, out of mind' when it comes to my camper's security and by wearing a backpack and keeping my valuables with me, I know if the worst happens, at least I won't have to replace my expensive belongings. If you'll be leaving your truck camper for an extended period of time, it's best to remove any valuables and sentimental items into a secure place while you're away.
Many RVs, truck campers included, sometimes have small spaces where you can hide important documents, jewelry, and even a laptop. These spaces can be handy if you can't pack a bag and take them with you, however, it may be better to invest in a safe in case someone doesn't want to steal your truck camper but instead wants to take whatever they can get from inside.
3. Lock Doors
Locking the doors on your truck camper may seem obvious, but when you're in a rush and have a lot of things to do, securing every lock on your camper can easily be forgotten. Leaving just one lock unsecured can make things much easier for thieves if they try to steal your truck camper.
Adding a deadbolt to your truck camper can help increase security as they operate differently from conventional locks normally used on RVs. Camper shells can be easy to break into, so putting extra measures in place like a deadbolt can make a big impact.
Deadbolts don't use a spring to work, instead, the key moves the bolt into place on the frame of the door. This makes them far harder to be tampered with by anyone attempting to break in.
4. Disable Electric Jacks
A useful way of helping to keep your truck camper from being stolen is to disable the electric jacks. If you know you won't be home for a little while, it may be worth cutting the power to the jacks to help prevent thieves from taking your truck camper.
Electric jacks work by providing stability to your truck camper which is ideal when it's off the bed of the pick-up truck. Jack stands can also be used when you're parked in nature and weather conditions become windy.
Although jack stands are useful, keeping them engaged can make things easier for potential thieves to mount the truck camper onto their pickup and drive off. Disabling the jacks and removing the electrical power will make it extremely hard for someone to turn up and try and mount the camper to their truck.
The below video is a great example of how easy it is to use electric jacks on your truck camper. By using a remote, you can move the jacks on your truck camper up and down with the simple press of a button.
Removing power to the truck camper's electric jacks means it's no longer easy to adjust the height of your truck camper. This can be particularly useful if you are going away for several weeks and want to take every available precaution necessary to help keep your truck camper from being stolen.
How To Secure a Truck Camper?
When you take your truck camper into the wilderness and head out on a long hike, you may feel anxious about leaving your truck camper behind. There are several things you can do to give your truck camper a fighting chance if someone comes by and attempts to break in.
1. Close Curtains
Something I have done for the past 3 years of living full-time in a camper, is to draw the curtains to restrict what people can see inside. If a thief can't see anything worth stealing inside your truck camper, they will likely move on to an easier target and steal things that are more obvious.
Curtains are a simple and effective way of helping to prevent your camper from being stolen as it will appear less desirable and also may make it look like somebody is inside.
This can work well in deterring thieves as they most likely won't attempt to steal from a truck camper, or any RV for that matter if somebody is inside. Along with closing the curtains, I also close any windows, as these can become a weak point that could make a break-in far easier and maybe even more likely too.
2. Use Tinted Film
If you don't want the inconvenience of closing the curtains or blinds every time you leave your truck camper, a more permanent method is to apply tinted film to the windows. This film makes it very difficult to see inside the camper and can be applied quickly and easily. If you don't want to completely tint the windows, you can opt for a different tint that will let more light in.
Tinted film for windows is an inexpensive way of improving the security of your truck camper. If other security methods are out of budget, using tinted film may be an effective alternative as it is cheap and can keep the inside of your truck camper completely private, even when the curtains are drawn.
Sometimes tinted film can be quite fiddly to apply, and if done incorrectly, it can bubble and create air pockets. To help avoid this, use a smooth tool when applying the tint to the window and take it slow, as these things can take time but it's better to do it right the first time!
3. Park Wisely
It's always best to trust your gut when you're camping out in the wild, and if something doesn't feel right, it's easy to fire up the engine and park elsewhere. Parking in a new environment can be daunting, so it's good to check up on the area beforehand and see if it's used by campers regularly and what the attitude to campers is like in the surrounding locations.
Parking in urban areas can draw unwanted attention, so if your only option is to park in the middle of a city, it may be wise to stealth camp and avoid standing out too much. Camping out in the wilderness has its own risks, and it's important to keep your truck camper secure from both potential thieves along with wild animals.
No matter where you park, it's important to remember simple things like locking any doors and closing windows when you're leaving your truck camper unattended. Improving the lock system on your truck camper can help increase security, and adding something like a keyless entry system can take security up to the next level.
4. Install an Alarm
Installing an alarm system is a fantastic way to increase the security of your truck camper and they can vary a lot in price too. Choosing an alarm system with high-tech features such as motion detection or app notifications will have a higher price tag, but can be worth the investment if you regularly use your truck camper.
For those wanting a cheaper option, budget alarm systems can work well just as well. An alarm is ideal for bringing additional security to your truck camper, and as long as it is loud and works well, it will help deter pesky thieves.
There are many things you can do to help secure your truck camper, and if you've done what you can to help prevent your truck or belongings from being damaged, you should go ahead and enjoy the time you have with your rig!
Being worried about potential things going wrong can impact day-to-day life, so if you've done what you can to secure your truck camper, try to sit back and relax.
Closing Thoughts
Sadly, we live in a world where thieving exists, but luckily, we can take the necessary steps to help keep our possessions as safe as possible.
Truck campers for many are a way of slowing down and spending some much-needed time out in the heart of nature. Having your truck camper stolen can be heartbreaking, so it's important to take as many precautions as you can to put your camper in the best position if someone tries to steal it.
Try not to let the thought of having your truck camper stolen put you off from exploring and heading off on vacations, as if someone wants something bad enough, they will do whatever it takes to get it. All you can do is your best when it comes to securing your truck camper, so don't worry too much about something that may happen as it could get in the way of something good that's happening right now.