Last updated on May 23rd, 2023 at 07:47 am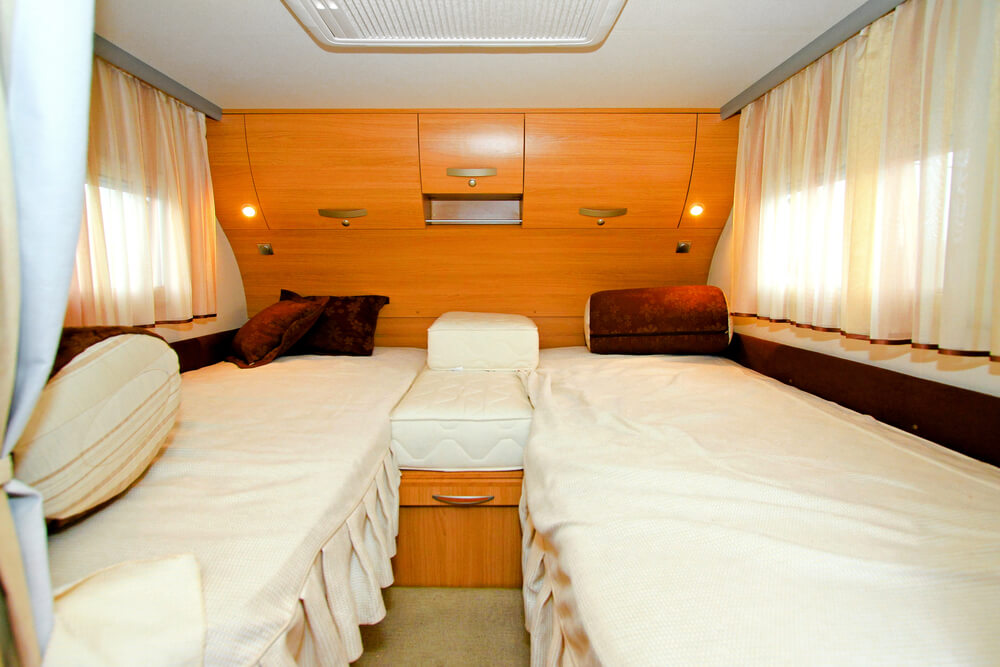 All of our reviews are based on exhaustive research, industry experience, and whenever possible, hands-on testing. When you make a purchase using one of our chosen links we'll receive a small percentage of the proceeds. This supports the site and keeps Jeffsetter running. You can read more here.
Privacy is important while you are traveling in an RV– you will no doubt be staying at potentially crowded RV parks and some curtains may be all you need in order to have a good time!
But RVs are not often equipped with curtains, so how can you best install some for yourself? While the great outdoors is the best part of RV travel, having some furnishings that promote insulation and comfort inside your RV are necessary too.
If you are looking for more information about RV curtains, we've got a helpful guide here for you! But if you just want to skip ahead and see what products made the list you can check out our favorites here:
Let's get started!
What To Consider When Buying Curtains For Your RV
Before you start shopping for curtains for your RV, there are a few things you should consider first. Whether you are looking for curtains that are fashionable and functional or want them to provide more insulation inside your RV, here are some tips before you shop.
RV Window Size
The hardest part about finding curtains for your RV has to be considering the average size of RV windows. Given that RVs are much smaller than residential homes, it is sometimes difficult to find curtains that fit your specific window.
Just like it is very important for any RV owner to own a multimeter, you should also own a reliable measuring tape. I highly recommend taking the time to measure all of the windows inside your RV if you plan on installing curtains.
Depending on the age, make, and model of your rig, you may be looking at some odd and inconsistent measurements when it comes time to shop for your curtains. I know my vintage rig had so many windows that I used a single panel for three different areas!
Just keep in mind that your measurements will be key during this process. Shopping for RV curtains isn't exactly something that people do very often, and most manufacturers simply make curtains for residential homes and window sizes.
The overall height and width of RV windows rarely match up to a normal set of curtains, especially if you are looking to purchase blackout curtains. However, with a bit of adjustment, you shouldn't have too much trouble making any pair of curtains work inside your rig!
Wondering what else you should own as an RV owner beside a measuring tape? Keep a bubble level on hand, especially if you own a travel trailer and are wondering why it is shaking.
Number Of Windows You Want Covered
Many RVs are designed to let the outdoors in, especially some of these Class C RVs made especially for boondocking. When you want to hit the road, it is lovely to do so in an RV that is nice and bright both inside and out.
With that in mind, some RVs may have far more windows than others. It is ultimately up to you to decide how many of these windows you want to be covered. However, the more windows you cover, the better chance you will have at maintaining an even temperature inside of your rig, making it also seem more like a house.
You will likely not have to purchase the exact number of curtains to match each window like you would at home. Many RV windows are far more narrow or smaller than residential windows, and you may only need a single panel to cover an entire RV window.
However, curtains look best when they are laid side-by-side with a natural break in the center. You may not be interested in having a single panel on a single window, and may instead opt for multiple panels per RV window.
Whatever you decide to do, just keep in mind how many windows there are in your RV and how many you want to be covered. For example, you may leave the kitchen window uncovered because it may not hinder your overall RV experience.
Speaking of RV kitchens, are you looking for an RV fridge upgrade? Check out our list of some of the top RV fridges that run on solar power today.
Insulating Properties
One of the best perks of installing curtains in your RV is something that not many people think of. There are many curtains on the market these days that promote better insulation, especially inside an RV.
Unless you purchased one of the best RVs made for winter weather, you may not know what to do about the cold if you are new to camping in the winter seasons. Many RVs are made with better installation, especially the newer they are.
However, sometimes it still isn't enough to make it through the coldest months of the year. You don't need to put the RV away when it comes time for winter. You may just need to consider purchasing some RV curtains!
Depending on the type of curtain you purchase, this small layer of fabric can do wonders for keeping the interior of your RV at a consistent temperature. This is also the case in the summer months, especially with blackout curtains.
Blackout curtains are designed to keep the harsh rays of the sun out of your rig or residential home. Having these curtains installed means that your RV will stay cooler, even in harsh summer months.
While having a reliable and efficient RV AC is a must in summertime, purchasing blackout curtains that fit over each of your RV windows can also be beneficial. It could make more of a difference than you think!
Color And Pattern
Having the option to install curtains after you make your RV purchase can be exciting, mainly from an interior design perspective. Considering what color and pattern you want on your curtains before making your final purchase is important.
It's not really a secret that RVs are ugly, both inside and out, for many reasons. However, this doesn't mean that they have to stay this way! You don't need to completely remodel the interior of your rig in order to make it look more like home.
Hanging up curtain rods that match your RV finishes, whether it be stainless steel or satin black, can help you tie in your new curtains with your existing interior design. Most factory-designed RV upholstery ends up looking pretty beige, so what can you do about that?
You can always purchase curtains that match your overall interior design, no matter how beige it may be. Or you can choose to broaden the overall color scheme and look of the inside of your RV.
For example, if you have recently purchased an attractive aluminum travel trailer that has a very vintage vibe, you may consider curtains that look as if they belong to a similar era. Curtains are easy to change out and test in an RV setting, so be sure to have fun with it!
Budget
While installing curtains in your RV isn't a very high expense in the grand scheme of RV renovations, your budget should still be something that you keep in mind for this particular project.
The average price of curtains varies, especially if you are considering any light-blocking or otherwise insulating options. However, most single panels cost anywhere from $10 to $30 a panel.
You should also consider the cost of curtain rods as well, though these are easy to find at second-hand shops or in bulk for less money. If you only have a small and lightweight toy hauler with a few windows, this definitely isn't a project that will break the bank.
You can always consider making your own RV curtains, especially if you have a sewing machine and are familiar with sewing projects in general. You can even hand-stitch curtains, but this can be time-consuming for many people.
Weight
Weight is always something that an RV owner should keep in mind, whether it be time to tow your travel trailer or simply knowing how much you can safely pack with you. Curtains will not weigh very much, but the weight of them may be something you want to keep in mind.
Some RVs are Simply Built better than others. If you are installing curtain rods and curtains inside of your RV, the weight of whatever fabric you choose can lead to damage to your walls. This is usually caused by the weight pulling down on your curtain rods.
While this may not be an issue for all of you, it can be an issue for RVs built with thin wooden walls. You may find that the weight of your curtains ends up pulling your curtain rods down and even out of the walls!
Just like you should know how much weight your RV roof can hold, you should know how much weight your RV walls can hold. There may be fewer studs available for proper hanging in your RV, so this is something you should keep in mind.
Ability To Clean
Having the option to machine wash your RV curtains can be beneficial to many RV owners. For example, having a curtain residing in your kitchen may lead to trapped smells and potentially grease or other liquids on the fabric.
Many curtains are machine washable these days, but this may be important to keep in mind while you are shopping so that you don't purchase curtains that are non-washable or even dry clean only.
Accidents happen, and RVs can get messier than you think. Whether you plan on cleaning your curtains in your residential home or even in your washer-dryer combo inside of your RV, having the ability to wash your curtains may come in handy.
Privacy Offered
There are so many different styles of curtains on the market today, especially if you consider making curtains yourself. However, how many of these various fabric options actually offer you the privacy you need while you are camping?
Having RV curtains that offer you the maximum amount of privacy possible is usually appealing to many RVers. Camping and otherwise traveling on the road can leave you feeling watched or otherwise not alone, depending on the campsite or RV park you stay in.
Purchasing a travel trailer that's perfect for couples can also mean purchasing some sort of privacy curtain or other fabric window covering. However, depending on the RV you purchase, you may find that curtains are redundant given your RV blinds.
If you have blinds in your RV, you may get away with purchasing curtains that are otherwise sheer or less private than light-blocking options or dark fabric curtains. However, privacy is always key when you have neighbors that are less than 10 feet away!
Ease Of Installation
Curtains should not be something that is difficult to install, especially on a small scale like in an RV. However, considering the very many options available for purchase on the market today, you may want to find the easiest-to-install curtain possible.
This can be especially true if you plan on removing your curtains regularly to wash or otherwise clean them. You may consider curtains that have buttons or snaps rather than needing to remove the entire curtain rod in order to get them down.
While curtains won't be nearly as difficult to install as some brand-new RV tank heaters, there are different options to consider when it comes time to hang them up or remove them. Something to keep in mind as you shop!
8 Best Curtains For Your RV
Feeling confident about your RV curtain needs and wants? Let's take a look at some of the 8 best curtains for your RV, no matter your personal needs, style, and budget!
Best Overall: NICETOWN Thermal Insulated Grommet Blackout Curtains
Given that these curtains are top-rated on Amazon with close to 100,000 reviews, I had to take a closer look and find out what the hype was all about! NICETOWN is one of the leading manufacturers of curtains online these days, especially in terms of thermal qualities, so I trust them fully with my RV curtain needs.
Coming in 13 unique sizes and 34 fantastic color options, I have a wide variety to choose from. I like that all of the available sizes and colors have high quality, wide silver grommets on top, as it helps strengthen the overall curtain so they won't need replacing for a long time.
These grommets are also useful for ease of spreading across a curtain rod, or removal when the time comes and I need to clean my curtains. While these curtains are wrinkle-resistant, they are also machine washable too so I can keep them looking fresh, even with a hairy dog on board!
The quality of these curtains appeals to me as I want RV products to last for many adventures to come. I especially enjoy the three-layer light-blocking technology as I struggle to sleep unless I'm in a particularly dark room. This is shown in detail in the short video below:
Many fabric curtains consist of a single layer, but these light-blocking beauties are designed with insulation in mind. I find these curtains soft to the touch and along with being available in many stylish colors, they are built to block the sun almost completely. Claiming to take care of 85%-95% of direct sunlight depending on the color, I know I can get a solid night's sleep, even during summer when the sun rises early!
These curtains are reasonably priced, especially for two panels, but the cost does increase substantially with bigger sizes and different colors.
You can read the thousands of reviews and pick a color on Amazon by clicking here.
Shortest Length: XTMYI RV Curtains/Blinds/Camper Window Shade
The last thing I want to do when I purchase new curtains for my RV is spending days altering and adjusting them so they fit correctly. Luckily, I don't have to worry about adjustments with these shorter-styled curtains from XTMYI. The best part about these curtains besides their approachable size is that they are waterproof!
These curtains are built for RV living, especially given their waterproof capabilities, and ideal if ever I wanted to add curtains underneath my bathroom vanity. I love that these XTMYI curtains are available in 11 colors and 3 compact sizes, as I can purchase the ones that best match my unique RV windows. I like that they come finished along the top in a simple stitching but also have the option to use ring clips, rather than a grommet look.
There are even more perks to these curtains, including their ability to block light and add more insulation to my rig. However, they also have partial blackout abilities, which means my RV is somewhat private when I have my curtains drawn. I would prefer the blackout to be better, as I like my rig to be completely dark when I go to bed, and these don't quite hit the mark for that.
I do like that this brand offers other styles of short curtains as well, including a variety of textures and linens as I like to keep things fresh and varied in my rig. While the other options may not offer as much thermal capability as this one, you will most likely have good luck finding a curtain that suits your interior design style!
You can check out all of XTMYI's curtain options on Amazon by clicking here.
Most Stylish: Tollpiz Floral Short White Sheer Tier Curtains
I know RVs aren't the most attractive creations on the planet, but I still want my rig to be built well and look good! That's why these stylish patterned curtains from Tollpiz have earned a place on this list! While the design is primarily floral, which isn't to everybody's taste, these sheer curtains add a sense of elegance and luxury to my RV.
Available in 8 sizes and 4 attractive colors, these curtains are built for both residential and RV living. One of the downsides is that they will likely need hemming at the bottom for short RV windows, which is a bit frustrating but at least it ensures they'll look good and fit right in!
I like that I have the option to either hang these using curtain clips or on a curtain rod, thanks to the simple stitching along the top. These curtains are extremely lightweight which I enjoy as it means they won't weigh down a curtain rod or curtain clip very much.
While these curtains look sheer and are made of see-through linen, they do offer some semblance of privacy when hung up. The flower and vine pattern helps mask what's happening in the interior of my RV, but I prefer curtains with a better blackout option for ultimate privacy and security.
However, the embroidery and detail found in these curtains help my RV feel more like home. The unique colors bring my interior to life, and I can keep them fresh as they are machine washable on a gentle cycle.
You can learn more about these curtains on Amazon by clicking here.
Most Insulating: RYB HOME Short Curtains Gray Half Window Curtains
I travel year-round in my rig, and that means I like to find ways of keeping my trailer as cool as possible during hot weather. These curtains by RYB HOME are perfect for maintaining an ideal interior heat or cool temperature making them a game-changer for all sorts of weather. These are designed as blackout curtains, meaning any and all sunlight or cool air will be blocked from seeping in through my windows.
There's a length and color suitable for a range of RVs and tastes as RYB HOME offers 9 sizes and 14 stylish color options to choose from. Every single panel is made with triple-woven polyester that's easy to wash, resists wrinkles, and blocks sunlight – everything I need to make my life on the road easier.
These curtains can come with either easy-to-move grommets or simple stitching along the top, which is great as different windows in my rig have different needs. The main thing to consider about these curtains is their overall weight, especially with the grommet option as unfortunately, they may be too heavy for simpler curtain rods!
However, the trade-off of purchasing heavier curtains is that I get the light-blocking capabilities I desire and my privacy isn't even in question. RYB HOME also offers sound-blocking curtains, which can be an even bigger plus while I'm camping, as I can't always park up in the serenity of nature, but still want to be as undisturbed as possible.
This is fantastic during winter, as when I wake up on a chilly morning, I don't have to worry about losing heat through my single-pane RV windows- and I can't hear any neighbors either!
You can learn all about these curtains and consider purchasing them on Amazon by clicking here.
Perfect For An RV Kitchen: Elegant Linens Cotton Kitchen Curtain
I like the old-school look, and this means I'm a big fan of gingham, which is probably why I'm a fan of these 100% cotton gingham curtains from Elegant Linens. They are well made, easy to set up, and cute as a button, they make my RV feel more homely and add a bit of a country chic vibe!
I like the three stylish checkerboard color options, as I can either match the curtains throughout my rig or add a funky edge and use different colors in different areas! The fact Elegant Linens has created a set makes my life much easier as I don't have to complete multiple orders. It includes two short panels and one even shorter valance curtain, perfect for hanging over my RV kitchen sink.
I can easily separate these curtains so my entire RV kitchen looks pleasantly furnished, which is great for when I'm unable to cook outside. These curtains are entirely machine washable and dry quickly given their cotton construction. This is great for my partner and me as we have a very fluffy dog who sometimes brings dirt or mud inside the rig, so we need to be able to throw our curtains in the wash!
These are designed to be used with a curtain rod, as they have an attractive ruffle along the top. Using curtain hooks would eliminate this stylistic choice, so that's something to consider if you aren't planning on installing a more traditional curtain rod in your RV. They're resistant to wrinkles, attractively patterned, and are also useful for blocking direct sun rays.
If I were to use these curtains in the bedroom of my RV, I would prefer more of a blackout option as these Elegant Linens curtains allow filtered sunlight in through the windows which I would find irritating as I like more privacy! While these curtains may not suit everyone's taste, I think they are a perfect addition to an RV kitchen or windows where you don't mind a little light creeping in.
You can read the reviews and check out these unique patterned curtains by clicking here.
Easiest To Clean: HLC.ME Abbey Semi Sheer Cafe Curtain
These curtains are perfect as an easy clean option, but as they allow light into RVs, they don't offer full privacy unlike some of the other options in this list. Manufactured by HLC.ME, these cafe curtains add a gorgeous aesthetic to the inside of my rig, but I wouldn't advise using them in areas where you want full privacy!
I like the choice of three different sizes and five colors, as I can choose the option best suited to my rig. There are even simple options like beige and gray so the curtains don't distract from the living space. Sometimes all I want is a curtain that blends in, and that's what I get with these!
They are semi-sheer, meaning I have some light entering my rig which I like in my living area as I can still enjoy soft light from the great outdoors. I'm able to steam, iron, or machine wash these textured and faux linen panels, making them among the easiest to clean on this list. I also love the attractive grommets they are finished with as I can also chuck those into my washing machine too.
The main drawback to these curtains besides their simplicity is their potential to be not private enough. That's why I think they are best used in areas where privacy isn't the number one goal, such as a living area or maybe a smaller window elsewhere in an RV.
You can check out these curtains in more detail by looking at their Amazon listing here.
Best On A Budget: Home Collection 2 Panels 100% Blackout Curtain Set
Finding budget-friendly RV furnishings is a must from time to time, especially when it comes to finishing touches like curtains. I've always got a budget to stick to, and that's why I've added this two-panel set from Home Collection to our list.
Just because I'm on a budget doesn't mean I have to sacrifice my own personal interior design style. That's why these curtains are such a good option; they are available in a wide variety of colors and two sizes. I also enjoy not having to do any adjusting as both sizes are short so they can fit just about any RV window!
When I say many colors, I mean many colors – 17 of them to be exact! I'm also not sacrificing my desire for blackout curtains or thermal curtains either, as these short and colorful beauties can block almost 90% of sunlight from entering my RV. This gives my partner and me the privacy we need to keep our rig comfortable and secure.
These curtains are also soft to the touch, as they are made from microfiber materials, that are known to feel delicate and drape well too. That doesn't mean they are difficult to clean either- I just make sure to machine wash the curtains in cold water and tumble dry low. To install them, I can either use a stylish rod pocket, or I can clip up these lightweight curtains using curtain clips.
What's the catch with these budget-friendly curtains? There isn't one! I guess the only downside might be the size of these as they may be too small if you want to cover a wall of RV windows!
Decide for yourself and check out these curtains in more detail by clicking here.
Best For Privacy: NICETOWN Blackout Roman Shades Curtains
One of the more unique choices on this list, these blackout shades from NICETOWN are different from the other blackout shades on this list. They are perfect in my eyes, though, as they give me ultimate control over my rig's privacy and fit my RV windows well too.
These NICETOWN curtains are available in only two sizes, which isn't the best when compared to some other RV curtains on this list. They are, however, available in 14 colors, and impressively can operate as Roman shades do. This essentially means that they have included tie options along the bottom so I can tie up my curtains at whatever length I like!
This can be beneficial for oddly sized RV windows or for those wanting only a bit of light to come in through the bottom portion while leaving the top half of the curtain drawn. I enjoy having full control, just like I would if I had blinds in a house!
These curtains also have blackout and thermal effects, which means I don't have to sacrifice the interior temperature of your rig. No matter the color, I can expect to block at least 85% of any direct sunlight or cold air coming through. This helps keep my rig cool in summer, warm in winter, and private.
Finished in attractive grommets, I can easily hang up or remove these curtains when it comes time to clean them. They are conveniently machine washable and wrinkle-resistant so I know they'll come out of the wash looking, as good as new. NICETOWN have really thought about it all with these curtains as they also reduce noise from outside too, ideal for when I'm parked in urban areas.
The main catch here is that these panels are a bit more heavy and expensive than others. They may also be too long for some RV windows, which may mean a bit of adjusting here and there. However, they are unique and customizable, as well as thermal curtains, so they may end up ticking enough of your boxes – just have a sewing machine handy!
Read the reviews for these curtains on Amazon by clicking here.
What Are The Pros And Cons Of RV Curtains?
Wondering what else there is to consider about purchasing curtains for your RV? Here are even more things to think about, in the form of a helpful pros and cons list.
Pro: Privacy In A Crowded RV Park Or Campsite
The number one pro to installing curtains in your RV? Having the option of additional privacy inside of your camper or travel trailer. Curtains can maximize your sense of aloneness, even when you have neighbors parked right next door.
You can always purchase curtains that feel less private than others, such as curtains made of sheer or lace material. However, you can also purchase curtains with privacy in mind, especially if your RV doesn't have blinds installed.
If you are shopping for an RV rental on either Outdoorsy or RVShare, keeping an eye out for curtains may be a good idea. Having an RV while you are camping is better than a tent in terms of privacy, but only if there are coverings on the windows!
Con: May Block Too Much Light
Some RV curtains have the ability to offer you privacy and also block just the right amount of light so that you still notice the sun as it rises. But what about curtains that have the potential of blocking too much light?
This may not be a concern for all of you, but natural light is very important to me, especially as someone who lives full-time in an RV and is close to nature. Blackout curtains or other light-blocking curtains always make me feel detached from the outside world if they are installed on every single window in my rig.
If you are used to living with blackout curtains, this may end up being your preference of curtain to use inside your RV. However, many people RV to feel closer to nature and the natural world at large. Curtains may not have the intended effect that you want in the end!
Pro: Helps With Insulation During Hot And Cold Months
One of the main perks that come with installing curtains inside of your RV is the option to have your overall insulation in mind. RV blinds are less likely to block cold air or the heat from the sun. Curtains can help with this.
While you should still make sure your RV underbelly insulation is the best it can be, installing curtains may be a good idea if you plan on RVing year-round or during peak months of either hot or cold weather. The difference that curtains can make may surprise you!
Con: Many Curtains Don't Match RV Aesthetics
The differences between residential furnishings and RV furnishings can be shocking. However, while you are shopping for curtains, most of these are built with residential decor in mind rather than RV decor.
This usually translates to curtains that don't quite match your RV's overall aesthetic. If you are simply looking for the practical benefits of installing curtains, you won't necessarily have to worry about this con.
However, if your goal is to install curtains that match your RV and help with the overall look and feel of your interior design, you may find many curtains lacking. Check out some of the best luxury travel trailers on the market today for some interior design tips.
Pro: May Contribute To Your RV Feeling Like Home
Many RVs don't exactly look like home on the inside, especially if you have purchased a used or otherwise older RV. However, installing curtains and choosing ones that suit your personal style may help make your home on wheels feel more like a true home.
Whether you are choosing to travel for a brief period of time or full-time, curtains can have an astounding effect on the overall interior design of your RV. Given that most RVs occupy a very small footprint, making a slight change such as this can be all the difference you need.
Even if you are just looking to purchase an RV built for solo travel, considering curtains and curtain rods may be both a practical and charming interior design choice.
Con: Curtains Can Feel Redundant If You Have RV Blinds
Does your travel trailer, motorhome, or fifth wheel already have RV blinds installed on every window? If so, you may find that curtains feel redundant and unnecessary inside your rig.
This can be especially true if your RV blinds are top-of-the-line and capable of blocking harmful UV rays. Unless you are looking for an aesthetic choice rather than a practical one, investing money in curtains when you already have blinds may be silly.
Pro: An Affordable Light Blocking Solution
Speaking of RV blinds, this is often a far more expensive option when it comes time to cover your RV windows. Purchasing curtains and curtain rods will almost always be less expensive in the end.
This is good to consider, especially if you have purchased a used RV that did not come with any window furnishings. Know that you can achieve the privacy you are hoping for as well as furnish your new rig comfortably with a small budget!
Con: May Have To Install Curtain Rods
While installing curtains is oftentimes still easier than installing blinds, you may be feeling like having to install curtain rods feels a bit more daunting than it should be. This can be especially true if you don't exactly have the strongest of RV walls.
However, there are many options when it comes time to hang a curtain rod, including using hangers that don't require you to drill into your delicate RV interior. I understand your trepidation about drilling holes into the wall of your new and classy diesel Class C!
Pro: You Can Have Fun Making Your Own Curtains
If you find that none of the options on this list are satisfying either your budget, personal style, or insulation needs, you may find that making your own curtains ends up being the best option for you.
Sewing curtains can be a quick and simple afternoon project, whether or not you have a sewing machine. You can easily purchase a few yards of fabric and sew the curtains to whatever size you wish, especially if you have unique and awkwardly sized RV windows.
My current trailer has curtains that I sewed by hand and installed inside. The option to choose whatever fabric I wanted, broadened my own interior design horizons. You can always sew a pattern or cuter fabric on top of an existing curtain as well!
FAQ For The Best Curtains for Your RV
Still have questions about the best curtains for your RV and why it might be a good decision for you? Here are some frequently asked questions, about this important piece of RV interior design.
How Often Should I Clean My RV Curtains?
This will depend on how often you use your RV and how dirty the curtains get over time. You may find that cleaning your RV curtains happens more often if you have children inside of your RV or if you have recently purchased a Class C made for dogs.
Many RV owners choose to wash their RV curtains when it comes time to store their RV for the winter or off-season. This ensures that the curtains are clean and fresh the next time you want to hit the road! Speaking of storage, check out some of our best RV covers here.
How Do I Install Curtains In My RV?
Installing curtains in your RV is easier than you think. Most people choose to use a simple, lightweight curtain rod above each of their RV windows. These are designed so that you can easily slip on a fabric curtain and move it throughout the day.
However, you can also simply hook curtains above your RV windows with adhesive and removable hooks or thumbtacks. If you are worried about drilling into your RV walls, this is a less invasive option to try.
What Type Of RV Curtain Do I Need?
The type of RV curtain that you need depends on what you alternately want your curtains to be used for. You could choose RV curtains simply for the style, which means they will probably not be the most private or light blocking.
You can choose RV curtains based on their ability to further insulate the inside of your rig, leading to more efficient use of your heating and air conditioning system. Or perhaps you are only considering RV curtains for privacy purposes.
With all of this in mind, it is up to you to determine what type of RV curtain you need. If you already have blinds installed inside of your RV, you may want to consider a curtain that is more stylish than functional, and make sure you know how to stop that annoying banging from your RV blinds too!
Can I Make My Own RV Curtains?
You can easily make your own RV curtains, with or without a sewing machine! While a sewing machine will help speed up the process, you can always hand-sew your own RV curtains with very little effort.
All you need to do is make some sort of closure so that the curtain rod can go through. This can be accomplished with fabric glue just as easily as it can be accomplished with a thread and needle setup.
You don't even necessarily have to sew your curtain fabric in any particular way. If you just plan on tacking up your fabric over your RV window, you can simply do that! Just make sure you know the size of your RV window so that you buy enough fabric to completely cover it. Adding curtains is a great way of adding security, to help keep your rig from getting stolen, so they are well worth considering!
Final Thoughts
Finding attractive and practical curtains for your RV doesn't have to be a chore. You can easily install RV curtains in less than an hour, and there are plenty of options on this list made to suit any RV! You can have more privacy the next time you go camping, no problem.