Last updated on June 5th, 2023 at 11:23 am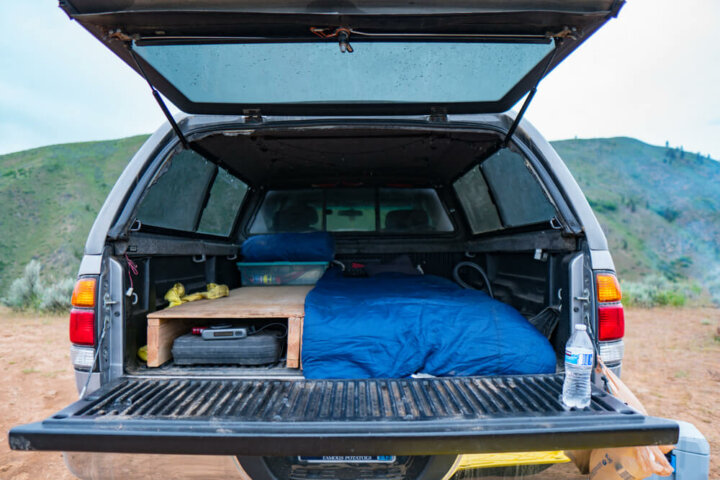 All of our reviews are based on exhaustive research, industry experience and whenever possible, hands-on testing. When you make a purchase using one of our chosen links we'll get a small percentage of the proceeds. This supports the site and keeps Jeffsetter running. You can read more here.
Camper shells are ideal for those who want to enclose the bed of their pickup truck and create both a weatherproof and secure space.
When it comes to all types of RVs, it's important to take precautions to avoid any break-ins. Keyless entry can be a valuable addition to a camper shell or RV if you want to take extra safety measures as they can be easy to break into.
So, do camper shells have keyless entry?
Camper shells don't usually come with standard keyless entry, however, it is possible to add a keyless entry system to a camper shell. Along with it being convenient, keyless entry provides additional security and the ability to change any passwords. They can be expensive though and relying on an electrical power source can be risky.
As camper shells usually come with a more standardized lock system, you may be wondering if it's really worth adding keyless entry to your shell and if it's necessary. Let's delve a little deeper into the option of adding a keyless entry system to your camper shell so you can get the full picture and make a well-research decision.
Do Camper Shells Have Keyless Entry?
Camper shells don't tend to have keyless entries, but this is an option that can be added once you've purchased a camper shell. There are a few ways to get keyless entry on your camper shell. You could install a keyless entry kit designed specifically for camper shells or maybe add an electrical locking system.
Some camper shells may have keyless entry already manufactured into the shell, so for an even easier option, you can purchase a shell with keyless entry built in!
The video below is a walk-through of a camper shell that along with many impressive features, also has a keyless entry system. Near the beginning of the video, you can see how easy and convenient it is to use the keyless entry system.
If you use your pickup and camper shell for adventure activities like kayaking or climbing, it can be frustrating trying to juggle everything to reach your keys and unlock your rig. With a fob, it's easy to just click a button and unlock your camper shell in seconds.
What Are the Advantages of Adding Keyless Entry To a Camper Shell?
There are many benefits to adding a keyless entry system to your camper shell, and if you are often concerned about security when you're using your shell, it could be an option to give you some peace of mind.
1. Convenience
Having keyless entry on your camper shell is convenient as it means you won't have to think about an extra set of keys. Instead, you can rely on a key fob or code system to get into your camper shell. This is also convenient during colder times of the year when standard keyholes and locks may freeze in low temperatures.
A keyless entry system is also great for times when you need to gain entry into your camper shell fast, such as if you need to leave somewhere in a hurry, or maybe you've been caught a bit short and are in need of a sudden trip to the restroom. We've all been there, and fumbling with keys is a hurdle you do not want to stumble upon if this is the case!
2. Keyless Entry Can Improve Security
The additional security measures of adding keyless entry to your camper shell are abundant as they are designed to lock your shell thoroughly, keeping it safe and sound. A standard lock and key system is good and is far better than having an unsecured shell, however, keyless entry means it's a lot harder to break in.
Instead of dealing with a conventional lock, which they've likely seen many times already across different camper shells and RVs, thieves will be faced with a complex keyless system they are unlikely to spend time on.
3. Changeable Codes
If you have a keyless entry that has a code system in place of a fob, a great benefit is that you can change the code whenever you like. It's good to update and change passwords for additional security, and if you're concerned that someone may know the code to your camper shell and you don't want them to, you can change the code to something different.
Although having coded entry to a camper shell isn't as convenient as a fob, it's still a great keyless entry option that can help protect your camper shell and everything in it.
What Are the Disadvantages of Adding Keyless Entry To a Camper Shell?
Making your camper shell have keyless entry has plenty of upsides, however, there are also some downsides to consider.
Adding a keyless entry system to your camper shell can be a game-changer in terms of convenience, but if you are on a tight budget or want a solution that gets rid of a break-in risk 100%, your hunt may not be over.
1. Keyless Systems are Expensive
Keyless entry systems have a considerably higher price tag than regular locks, and although they arguably add more security, the cost can be pretty high. Some manufacturers have the option of adding keyless entry to a camper shell when you buy it from new, but this can also cost a lot as camper shells themselves are already expensive!
A cheaper option could be to purchase a keyless entry kit and do the installation and wiring yourself at home. Along with saving money, doing the job yourself means you know how all the wires are connected and where they are. This means if ever there is an issue with the keyless entry system, you will be looking at your own familiar work.
I built the electrical system in my self-converted campervan and on the rare occasion something doesn't seem right, it's far easier looking at my own work as I can spot the problem quickly and easily.
2. Keyless Entry Requires Power
Keyless entry systems usually rely on a power source in order to work. This can be a problem if ever something went wrong with the electrical system. If there is a break somewhere in the electrical system, the keyless entry feature may no longer work.
Relying on electrical power can be risky unless you've got a backup option. It may still be wise to keep a spare key for the manual locks on your camper shell to use in an emergency if the keyless entry system ever fails.
3. Vigilance is Still Needed
No lock can ever fully guarantee you will never be broken into, so you'll still need to be careful and take appropriate measures to keep your camper shell safe and secure. Keyless entry provides the great benefits of gaining entry to your shell fast and without the need for a key, however, you'll still need to remain vigilant when out on the road.
Some simple things you can do to help improve the security of your camper shell are to cover the windows so prying eyes can't peek in and see your belongings, add an alarm system, and remove any valuables from your camper shell, especially those that cannot be replaced!
Closing Thoughts
A camper shell is a fantastic addition to a pickup truck that can open up a world of possibilities for your rig. If you tend to spend most of your time in your camper shell in urban, busy areas, it might be worth ramping up the security of your shell to help prevent potential break-ins.
Adding a keyless entry system to your shell can be a great investment that can offer an added layer of security to your shell. Although keyless entry can help heighten your camper shell's security, it's important to remember to still keep an eye on your shell as a break-in could still happen.