Last updated on May 2nd, 2023 at 01:42 pm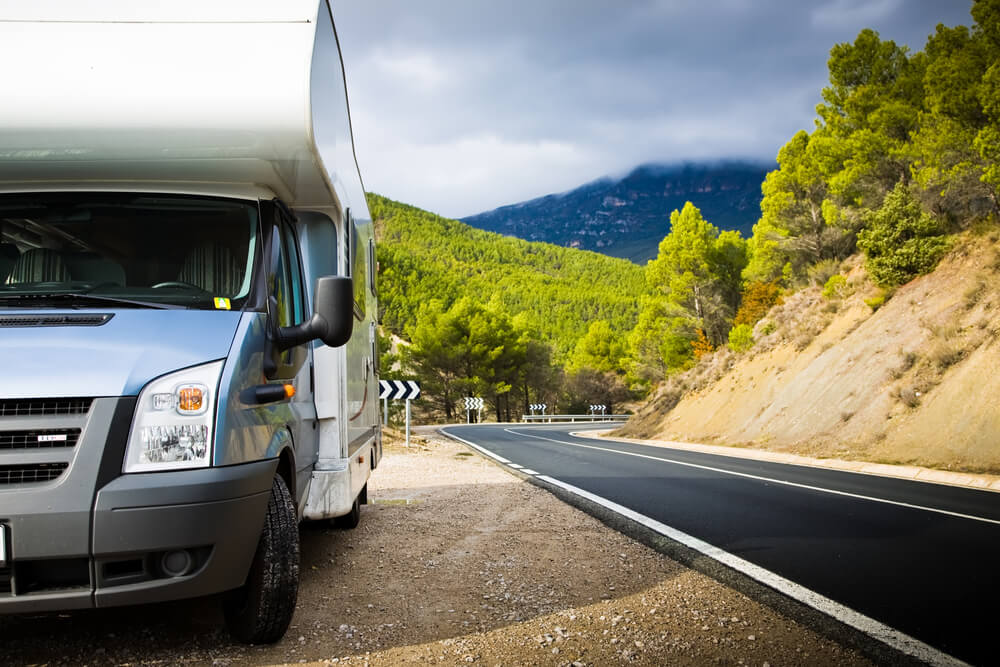 All of our reviews are based on exhaustive research, industry experience and whenever possible, hands-on testing. When you make a purchase using one of our chosen links we'll a small percentage of the proceeds. This supports the site and keeps Jeffsetter running. You can read more here.
RVs are gaining more and more popularity as parents load up their families for a weekend away from the hustle and bustle of life. Many families have even decided to change it all by selling their sticks and bricks home and deciding to live in an RV full time.
That's exactly what we did and we haven't looked back! But before I was ready to go all in on RVs, I had to make sure I felt safe. After all, it's easy to feel a bit exposed with only some thin walls between you and the rest of the world.
So that leads to one of the biggest questions with RVs, are RVs easy to break into?
RVs can be relatively easy to break into, but while RV break-ins do happen, they're rather uncommon. Basic precautions such as adding locks, motion-detection lights, an alarm system, securing the hitch, and parking in a safe place, can drastically reduce the chance of campers ever having to face an RV break-in.
The security of your rig should be of paramount importance, especially when you're out on the road and wild camping or boondocking. The last thing any RVer wants to deal with is a break-in with their rig, and the risk of sentimental, irreplaceable items being stolen. Generally, RV break-ins don't happen often, but it's wise to take the necessary measures to improve the security of your camper.
So, let's dive deeper and see how easy it is to break into an RV and 8 ways to prevent RV break-ins!
Are RVs Easy To Break Into?
Feeling confident in the safety and security of your RV is crucial, whether you're buying your first RV, living full-time on the road, or renting a camper for the weekend. Knowing you're safe and sound in your RV will allow you to spend less time worrying about security, and more time having fun with friends and family. RVs can be easy to break into, but luckily there are many things you can do to help deter thieves and get your rig safe.
After completing some research on the topics of RV theft and break-ins, I found there weren't many numbers cataloged for these issues. That isn't to say RV break-ins don't happen though! While RV break-ins don't appear to be as common as some other crimes, it's still worth taking precautionary measures to help make sure your RV doesn't catch prying eyes.
Let's break down some of the key steps you can take with your RV that could make all the difference.
Is It Hard To Break Into An RV?
Most modern RVs are armed with locks and an alarm system, and although these elements may dissuade thieves from breaking into your RV, a break-in is still an unfortunate event that can happen. Generally, RVs are not particularly hard to break into, but adding security features to your RV is a great way to make your rig considerably harder to break into.
Even if you don't have the budget for an expensive alarm system or motion-activated lights, taking measures such as closing the blinds in your rig when you're not inside, hiding any valuables, and locking all the windows and doors before leaving your RV can all make a huge difference.
8 Ways To Prevent RV Break-Ins
Here are some things you can do if you want to make your RV more secure.
1. Research Your Campsite
It's worth researching your campsite before you reach your destination, and it's good to know what security to expect upon arrival, and whether the campground has had any issues with theft in the past. If you're visiting a campsite that is isolated or without security, the likelihood of break-ins may be substantially higher, as there are fewer people to keep an eye on things.
I prefer to choose campgrounds that are well-visited, out in the open, and most definitely not isolated! Lighting is another extremely important factor, as a well-lit area will allow you to keep an eye on your surroundings and help make you feel safe. Sites such as Campendium are great to find safe sites and check the experience of other RVers at specific campgrounds.
Another aspect worth considering is if the campground you're heading to has additional security with front gates and employees who frequently drive around to check the park.
Having security officers or employees driving around the site makes break-ins far less likely, as the chance of a thief getting caught is a lot higher. Campgrounds with coded gates for night entry reduce the number of people entering the park at night, keeping you and your valuables secure.
2. Purchase Quality Locks
Something else worth thinking about are the locks on your RV door and how easily accessible they are. Many factory RV locks are created the exact same, providing convenience for RV dealerships at the expense of security. With all the locks being the same, others have easy access to your RV as well as your belongings.
There are multiple types of front door locks able to be interchanged with the key lock, making your rig safer and more secure. One common lock that RV users tend to swap out their original lock for is a keypad.
Having a keypad in place of a key allows only you to know the specific code, and reduces the chance of someone being able to break into your RV front door. There are dozens of options on the market and one of the most popular is this keyless entry keypad and FOB on Amazon.
Not only is it typically more secure to update your locks, but it also makes things a lot more convenient too. I wrote an entire guide about finding the perfect lock for your RV that you can read here.
3. Install Motion Detecting Lights
Motion lights are a great way to deter thieves and even though they can be easy to smash or disable, it's still another step (and a loud one) that potential intruders would have to address before breaking in.
Motion detection lights are particularly useful when parking in poorly lit areas without street lighting or night lighting. Motion detection lights will activate when they sense movement, lowering the chance of someone trying to break into your RV substantially.
4. Invest in an Alarm System
You can install an exterior alarm system such as a Ring camera that will immediately alert you if someone is too close to your rig. Installing an interior security system allows you to check in on pets and belongings, as well as see if any unwanted guests are inside your RV.
Many RVers choose to upgrade their rigs with an alarm system that provides video surveillance and intrusion detection. The video below shows an RVer who has installed an advanced alarm system in his rig for ultimate security.
Having the ability to keep an eye on your trailer and belongings while you are gone is a sure way to leave your mind at ease, making you feel safe and secure. You can also invest in a GPS tracker that you can install on your RV such as the Oyster, which if your RV is stolen, can easily track the location and hopefully get your rig recovered quickly.
5. Secure your Hitch
Okay, so it's not exactly preventing a break-in but making sure thieves can't roll off with your RV is just as important. That means making sure your hitch is fully secured or at least not too easy to access.
Being intentional about how you park your trailer as well as if your hitch is accessible to others is a step you can take to prevent such theft. You can buy a specific trailer hitch lock to put on the front hitch that will keep others from being able to hook up to your trailer, or you can park your car directly in front of your hitch.
When you consider the value of your RV, investing in a proper hitch lock is an easy decision. My personal favorite is this option from AMPLOCK (Amazon link) as it's able to be used on most rigs and trailers, making it a suitable option for a range of RVers.
6. Consider A Tire Boot
If a tire hitch isn't a good option for whatever reason, you can consider a tire boot. Tire boots work just like the ones you see for frequent parking ticket offenders (not that I'd know anything about that), and prevent thieves from being able to move your RV at all.
I ordered this one off Amazon a few months ago and while I don't use it at every campsite, I really like having an option for extra security. I also like that it's bright and obvious which tells would-be thieves to move along before they attempt anything at all.
7. Keep a Low Profile
Always make sure that your home doesn't look enticing to thieves. More often than not, thieves break in because they have seen high-value items or are in a wealthy neighborhood. Taking away that temptation and closing your blinds is a simple way to protect your RV, travel trailer, or Fifth Wheel.
It's also worth making sure anything valuable inside your RV isn't easy to remove if the worst happens and thieves manage to break in. Keeping expensive items like your generator, TV, and cooling and heating system difficult to remove, could mean thieves get away without taking the most expensive items away with them.
8. Make Sure Your Storage Location Is Secure
Choosing a secure storage facility with video surveillance and good reviews can be the difference between a stolen RV and using your RV for the next camping season. Another thought is when parking your RV in or around your home, always make sure to account for where your RV is and if it's easily accessible by others.
If you decide to park your RV near your home for storage, make sure you've taken all safety precautions such as RV trailer locks, tire locks, and more to keep your rig and belongings safe.
Are RV Doors Easy To Break Into?
RV doors may provide privacy, along with keeping you warm and dry when the wind is whipping around outside, but they can also be considered a weak point in an RV. Thieves will often head for windows and doors when breaking in, either to see if something has been accidentally left open or to break into the RV through the door or windows.
RV doors can be quite easy to break into, but fear not, as simply upgrading the locks on your RV will heighten the security of your RV drastically. It doesn't take much force to break open an RV door with a regular lock, however, a much stronger, reinforced lock will make things a lot more difficult for thieves trying to make it inside your rig.
Closing Thoughts
Traveling in an RV is overall very safe and allows you to take your adventure wherever the wind blows. Without added security measures, you may be leaving your RV open for an easy break-in, but rest assured, there are plenty of things you can do to help keep thieves at bay. Taking your time to plan accordingly and put the necessary steps in place for tightening the security of your rig is essential.
It's wise to also give your rig the best chance against thieves even if you are putting it into storage. Additional locks are arguably one of the simplest ways to make your RV harder to break into and can prevent thieves from making it inside your camper. RVing around the country and beyond is an amazing adventure, and with added security measures, you can create long-lasting memories without the stresses of RV break-ins looming over you!