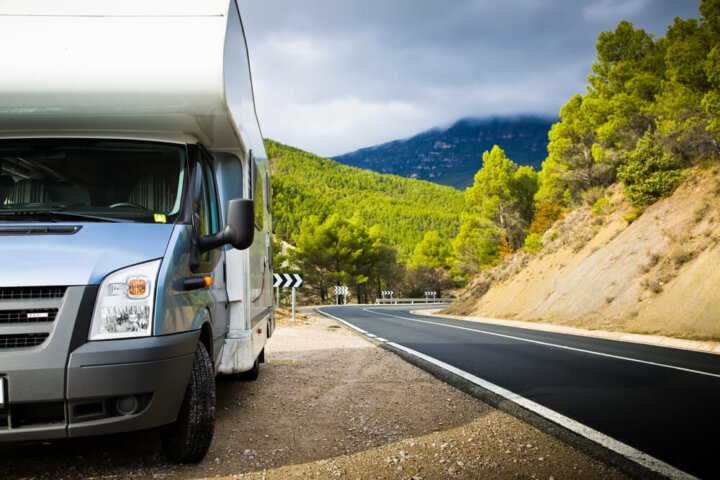 All of our reviews are based on exhaustive research, industry experience and whenever possible, hands-on testing. When you make a purchase using one of our chosen links we'll get a small percentage of the proceeds. This supports the site and keeps Jeffsetter running. You can read more here.
Knowing how to tow a broken motorhome is useful if ever you find yourself in an unfortunate situation on the open road with your RV. While it can be daunting, there are a few different towing methods that can help get your camper back home or to a garage or workshop.
The way in which you tow your motorhome will depend on factors such as the classification of the RV, its size and weight, and the damage it has sustained. When towing a broken motorhome, precautions must be taken to ensure your camper is towed correctly and as safely as possible.
So let's get straight to it; how do you tow a broken motorhome?
A broken motorhome can be towed safely using the correct towing method and equipment. A broken Class A motorhome will require a substantial trailer, tow truck, or semi-wrecker. A pick-up truck with a tow dolly or a flatbed trailer can be used to tow a Class B or C broken motorhome back to safety.
Motorhomes are awesome rigs that let us create memories with our friends and families. However, they can go wrong unexpectedly so let's see how you can tow a broken A, B, or C class motorhome, and whether you can use a regular hitch or a pickup truck!

How Do You Tow a Broken Motorhome?
If you've ever towed an RV trailer then you can imagine that towing a broken motorhome requires a lot of patience! Motorhomes can be hefty in size and weight, so it's essential to use a vehicle or trailer that can handle the heavy load.
For those of you who are feeling a bit apprehensive at the thought of having to potentially tow your broken motorhome at some point in the future, the video below might help put your mind at ease. With the correct towing vehicle and expertise, a broken motorhome can be towed on the back of a trailer or attached to a pick-up truck in next to no time.
When in doubt, talk to an expert, so if you are confused about the best towing method for your motorhome, take a look at your owner's manual and give the professionals a call. It's worth asking if the company has towed an RV like yours before as you might need a specific tow vehicle to do the job.
Class B and Class C motorhomes can be pulled by a pick-up truck with suitable towing capacity. Class A motorhomes, however, are much larger and heavier with some even having air brakes too which can make things a little more complicated. Class A motorhomes can't be towed with a standard truck, so let's look at how you can get your big rig to where it needs to go.
How Do You Tow a Class A Motorhome?
Class A motorhomes are some of the biggest rigs on the RV market, and although they are impressive and luxurious, they can be an absolute pain when they break down. As Class A RVs are so sizeable and heavy, a lot of thought needs to go in before attempting to tow them.
The towing method needed for a Class A will depend on your particular motorhome and the problems you're having with it. Regardless of the towing method you choose, it's best to seek out advice from the experts than risk your own vehicle or motorhome.
1. Flatbed Trailer
Class A motorhomes are big and can be awkward to tow if you break down or have an accident and can't get back on the road again. If you have a smaller Class A RV, a flatbed trailer could potentially be used but it's best to seek help from professionals rather than go ahead and attempt the towing yourself.
It's important to use a towing vehicle with enough torque to safely pull a broken Class A motorhome as some can weigh over 20,000lbs! Remember not to overload the trailer as it could end up being unsafe and cause damage to the trailer itself and put your camper in a vulnerable position.
A good way to prevent this is to already be aware of your motorhome's weight and measurements to provide to the person or company that will be rescuing your camper. I have this information on a sticky note in one of the cupboards in my motorhome if this type of situation ever arises.
2. Tow Truck
Another possibility to get your broken Class A towed is to use a tow truck. If your motorhome is able to be towed with only the front of the camper off the road, be sure to first check if your driveshaft needs to be disconnected. Some tow trucks might be large enough and have the power to tow a Class A motorhome backward, by lifting the rig up from the rear.
Patience really is a priority when it comes to towing, and it's far better for the process to take some time to set up correctly than rush it and make mistakes that could cause more damage and cost a lot to repair further down the line.
An important thing to remember when towing a broken motorhome is to keep safety in mind as towing a vehicle can be dangerous. Also, it's essential to keep the weight of the motorhome distributed correctly for the towing method you choose.
3. Semi Wrecker
A semi-wrecker can be used for Class A motorhomes that are diesel, as they can give air to the RV allowing it to be towed smoothly. A broken Class A RV that has air brakes will require a seasoned tow operative who has experience with this particular situation.
Whichever way you decide to tow your motorhome, it's definitely worth taking a look at your owner's manual first and seeing what specific advice is provided.
How Do You Tow a Class B Motorhome?
Generally speaking, Class B motorhomes can be towed similarly to how you would tow a broken-down car. The length of Class B motorhomes usually stays below 25 feet, and although they are relatively compact, they still need a sizeable towing vehicle.
1. Pickup Truck
Some Class B motorhomes can weigh as little as 4,000lbs and can be towed with a pickup truck or tow truck as long as it has the correct towing capacity. Even though Class B motorhomes are substantially smaller than their Class A counterparts, it's still important to check the owner's manual for specific towing advice.
2. Flatbed Trailer
If you have a four-wheel drive Class B motorhome, a flatbed trailer might be a better option as you may not be able to disconnect the driveshaft for towing. Front-wheel drive Class B RVs are different as they can be lifted up and towed with the rear wheels on the ground and front wheels on the trailer.
How Do You Tow a Class C Motorhome?
Class C motorhomes can vary quite a bit in terms of size and weight, so the towing method needed depends on your specific motorhome. There are a couple of ways to tow a broken Class C motorhome, and as always, safety comes first, so if you use the flatbed trailer method make sure you don't overload it!
If you use the tow dolly method of rescuing your broken motorhome, it's essential to check everything is aligned and positioned correctly before you drive off to prevent any potentially dangerous problems on the journey home.
1. Flatbed Trailer
Broken Class C motorhomes can be towed successfully using a flatbed trailer. Just like Class A motorhomes, Class C's are also big and heavy, with some weighing in more than 10,000lbs. The same precautions need to be in place when towing a broken Class C motorhome, so the towing vehicle needs to have a towing capacity large enough to handle your camper.
The drive shaft may need to be disconnected too before you go ahead and tow. As a general rule of thumb, it's always best to know the weight and basic measurements of your motorhome just in case the unfortunate happens and you need to reach out to a tow company.
2. Tow Dolly
Using a tow dolly is an alternative method of towing a broken Class C motorhome. It's important to note that you'll need a towing vehicle with an electric brake system for additional safety.
A tow dolly on a truck with enough torque to tow the broken rig can be an effective way of saving the day, but be sure to check the tow dolly and motorhome are aligned before you head off on your way to the workshop!
If you have a particularly long towing journey ahead of you that's likely to last several hours, it's best to stop and check everything is still strapped down and in place every 40 miles or so.
This may seem like overkill but I always think it's best to be safe rather than sorry when it comes to towing. A 10-minute stop every now and again won't add too much to the total journey time, but could end up saving your motorhome if something becomes loose or unaligned!
Can You Tow a Motorhome With a Regular Hitch?
A regular towing hitch can be used when towing RVs but as they are grouped into classes depending on trailer weight, it's important to check the weight your hitch is suitable for. If you have a large motorhome and want to be on the safe side, getting a hitch that's capable of towing your specific rig is a good idea.
I find it useful to always have a few basic tools on board my RV whenever I take it out, just in case my camper breaks down. As I'm not quite a mechanic wizard, I also have a few towing company numbers stored in my phone if ever I need a helping hand getting my RV back home.
Below is a list of the classes of regular hitches and their relative towing capacities.
Class 1: Up to a maximum of 2,000lbs
Class 2: Up to a maximum of 3,500lbs
Class 3: Up to a maximum of 8,000lbs
Class 4: Up to a maximum of 10,000lbs
Class 5: Up to a maximum of 12,000lbs
The safest way is to only tow at a weight your hitch and vehicle can handle, otherwise, problems can arise when you're towing out on the road such as damage to the hitch or motorhome itself.
If you're not sure if your regular hitch is suitable to tow your motorhome, it's wise to check with the manufacturer as they will be able to provide the advice you need before going ahead with the towing.
Can You Tow a Motorhome with a Pickup Truck?
Towing a motorhome with a pickup truck depends on the towing capacity of the truck and also the size and type of the motorhome itself. If your pickup's capabilities match the weight and size of the motorhome, it can be an ideal way to get your rig to a garage.
Generally speaking, only Class B and Class C motorhomes can be towed with a pickup truck, as Class A motorhomes are much bigger, heavier, and harder to tow. It's best to get in touch with the experts who are used to towing Class A motorhomes as it can be very difficult to get the camper hitched up and onwards to a safe place.
If you haven't towed a vehicle before or are inexperienced when it comes to towing a motorhome, it's better to leave it to a towing company to get the job done correctly.
Closing Thoughts
Motorhomes are a fantastic way to travel around and see the country, however, they can be a nightmare and cause a lot of stress if something goes wrong. Towing a broken motorhome can be risky business if the correct methods aren't used and the right precautions aren't put in place first to prevent accidents.
Having the knowledge of your vehicle's size and weight is useful in case it ever needs to be towed. Knowing which towing method is best suited for your motorhome is also handy as if the worst happens and you break down, you'll know who to call for help!