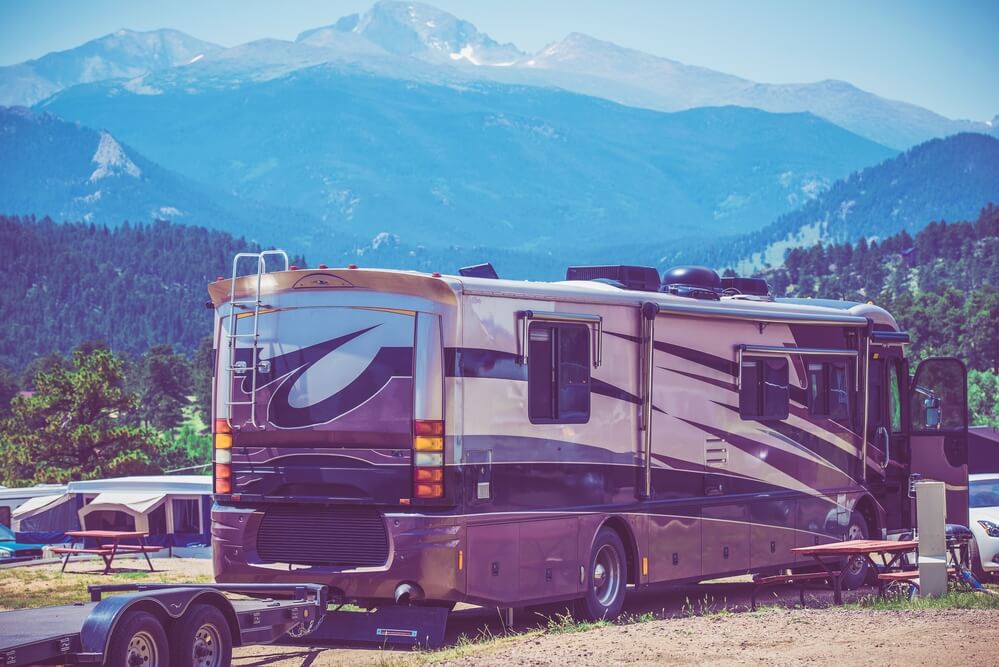 All of our reviews are based on exhaustive research, industry experience and whenever possible, hands-on testing. When you make a purchase using one of our chosen links we'll a small percentage of the proceeds. This supports the site and keeps Jeffsetter running. You can read more here.
With so many RVs on the market today, you may be wondering what some of the best Class A RVs are in 2022. How can you make an informed decision, and how can you learn what to look for in an RV purchase?
In this article, we will address everything you need to know about a Class A purchase, including giving you a list of some of the best Class A RVs on the market today. By the end of this, you should have a clear understanding of what matters in a Class A, including some fantastic makes and models to take a look at. Let's get started!
Only interested in checking out our list of Class A RVs? Use the table of contents below to jump ahead to the 11 Best Class A RVs in 2022 now!
What is a Class A RV?
A Class A RV is the largest possible type of motorhome that you can purchase. These rigs can run on either gasoline or diesel fuel, and they often have a fairly sizable towing capacity as well as living space.
Most Class A RVs range in length from 25 feet all the way to 45 feet, if not more. They range in terms of their luxury finishes and available living and sleeping arrangements, but given the size of these rigs, they are highly diverse and unique.
While not everyone is ready to drive a rig as large as a Class A motorhome, the size of these RVs make them ideal for just about any family or camper. You may want a Class A to live in full-time, or you may be interested in the larger sleeping capacities afforded by a longer Class A.
No matter the reason you want one, Class A RVs suit a wide variety of people. They aren't necessarily cheap, especially by other RV standards. You can get a 45 foot long travel trailer for much less money compared to a 45 foot Class A RV.
However, many RVers enjoy the freedom and flexibility offered by a Class A RV. These rigs are large enough to tow a conventional vehicle behind them so that you can park your RV at camp and hit the road in something a bit easier to drive.
But what should you consider in a Class A RV purchase? Let's take a closer look at things that some of you may not have thought about yet.
What to Consider in a Class A RV
Whether you're a seasoned RV owner or simply brand new and want to learn a bit about Class A RVs, here's a number of things that you should consider before making a Class A RV purchase. Let's get started now!
Floor Plan
One of the most important things that you should consider when making an RV purchase of any type is the floor plan or layout. However, it can be extremely difficult to determine what sort of floor plan or layout you need without touring or trying them out first.
There are a staggering number of layouts and floor plans available for Class A RVs, given their long length and versatility. There truly is a class A RV for everyone, including large families and couples, as well as single individuals looking to live in their RV full time.
A few things to keep in mind include how much space you need in your kitchen, how large your bathroom needs to be, and whether or not you need amenities that suit full-time living, such as washers and dryers as well as master bedrooms.
You can also find Class As with bunkhouses or other sleeping arrangements for groups of children or young adults. Much of the furniture inside of a Class A is convertible, giving you even more sleeping arrangements when it's time for bed. Plus, depending on the floor plan you get, you may have the opportunity for electric fireplaces and secondary bedrooms or bathrooms. The sky's the limit in terms of a Class A floor plan!
Budget
We've already mentioned this, but budget is definitely something to keep in mind when you look at purchasing a Class A RV. These motorhomes are among some of the most expensive on the market today, depending on their size and luxurious features. Let's talk more about what this may mean for you now.
It is rare to find a brand new class A RV for less than $100,000. This is something to note, as many modern motorhomes average anywhere from $150,000 to $250,000, if not far more than that.
Some of the rigs on this list are over half a million dollars, if not close to a million! This is an unfeasible amount of money for many, but this doesn't mean that you can't afford a Class A RV. There are some Class As that are more affordable than others, and you can keep an eye out for certain things to keep the price down.
For example, gasoline Class A RVs will always be less expensive than diesel Class A RVs. A shorter Class A will also help keep the cost down, though it will limit your overall living space. Finally, some Class A RVs are known as luxury, While others have standard furnishings and features, making them less expensive overall.
Number of Travelers
One of the main advantages to purchasing a Class A RV is the fact that you likely have enough living and sleeping space for everyone that you want to bring with you on a camping trip. However, knowing the average number of travelers that you plan on camping with on any given vacation is a good idea before making your final Class A RV purchase.
I strongly encourage you to investigate many different Class A RV layouts so that you can find something that works for your family and friends. You may want a bunk bed for your young children, or you may be seeking a rig with two master suites for the adults in your life.
Something to consider before making your final purchase is knowing how many seat belts there are available on your Class A motorhome. You never want to travel with more passengers than there are seat belts in a rig, though many options nowadays have multiple seat belts. You may or may not have to worry about this, but it is something to think about.
Boondocking Ability
While the average Class A is less suited to boondocking than the average Class C, you may want to consider how many off grid features and boondocking capabilities your new RV has. But what is boondocking exactly, and what should you keep an eye out for when shopping?
Boondocking is also known as dry camping, and it refers to the ability to camp in an RV without hookups or utilities. You are simply camping with the water available in your holding tanks, as well as the electricity available through battery, generator, or solar power.
Given the immense size of most Class A RVs, they are not ideal for boondocking. However, you may still be interested in finding something that allows you to boondock, even if it is only for a day or two. Something to keep in mind is knowing roughly how many hours of power you need, as well as how many gallons of water you need for a trip.
Additionally, most off-grid capabilities come as nonstandard features, or additions that are not included in the initial purchase price of your RV. Finding a Class A with a decent amount of boondocking features may drive up your overall costs, and it may be something to consider if you are looking for a Class A RV on a budget.
Luxury Finishes
Speaking of a Class A on a budget, you may or may not be looking for luxury finishes and features inside of your new RV. For the most part, new motorhomes are classified as either standard or luxury motorhomes, and sometimes the same make and model is available in either a standard or a luxury finish. Let's talk more about this in detail.
Luxury motorhomes can come in a variety of styles and finishes, but they are typically more expensive and better made than standard motor homes. Some luxury finishes include hardwood cabinetry, marble countertops and bathroom accessories, and residential appliances such as full size fridges and ovens.
You may also find that luxury RVs and diesel engines go hand-in-hand. Oftentimes with motorhomes, diesel engines and chassis make the interior match their more expensive manufacturing process, so this is something to keep in mind if you are looking only at diesel fuel RVs.
Fuel Type
We have only just begun talking about the different fuel types available for Class A motorhomes, but you may have already guessed that you can get a Class A with a gasoline fuel type engine or a diesel fuel type engine. But what are the pros and cons to both of these? Let's go over them briefly.
Generally speaking, diesel engine Class As are more expensive than gasoline ones. This is likely due to the manufacturing process of diesel fuel engines, compared to the manufacturing process of a gasoline fuel engine. One argument that can be made in favor of diesel fuel is the fact that this fuel type is less expensive overall compared to gasoline.
When you consider the fact that your new Class A RV likely has a fuel tank that is over 50 gallons, you may give a diesel fuel type a longer consideration. Many full-time RVers exclusively choose diesel engines, given their overall lifetime savings. Paired with a fantastic credit card for RVs, you will likely save more money in the long run, especially if you plan on using your Class A frequently.
Towing Capacity
Something to consider in your final Class A RV purchase is the towing capacity of your rig. Given the large size of Class As, many consumers and RV customers have residential cars or other larger recreational items behind their class A. You may be interested in doing this, especially if you own a boat or want to bring another vehicle along with you that is easier to drive.
However, you may be hesitant to do this if you purchase a Class A that is extremely long to begin with. The last thing you need is to add an extra 10 feet onto your 40 foot rig! This can make it more dangerous to drive, as well as less convenient overall.
On the other hand, if you truly need another vehicle to help you get around town while you are camping, finding a Class A RV with a decent towing capacity is a good idea. Most of these rigs are capable of towing a standard vehicle or boat, so you likely won't have to worry about these numbers in any extreme detail.
Our List of the 11 Best Class A RVs in 2022
Feeling confident about what you need to look for in a Class A RV? Let's go over our list of the 11 Best Class A RVs available in 2022 now!
Fair price point for what you get

Luxurious while still being approachable

Comes in a variety of functional layouts

May be lacking in some interior design elements
The Open Road Allegro from Tiffin is their original Class A RV make and model, popularized and extremely successful over the last 50 years. But what makes this RV special, even to this day? Let's take a look at our best overall pick in more detail now.
Ranging in length from 34 to 38 feet, the Open Road Allegro comes in 5 unique and versatile floor plans. Given the amount of time that this make and model of Class A RV has been sold, you can imagine that the floor plans and layouts are extremely useful and accommodating to a wide variety of families and individuals.
Knowing that this rig starts at $225k may sound like a lot at first. However, in the grand scheme of Class A RVs, this price is incredibly reasonable, especially given Tiffin's dedication to both luxury and function. Let's take a closer look at the interior of this RV now.
There's a full size residential kitchen inside of this Class A RV, as well as the option for a walk around king bed and Theater seating in the living room. You can outfit this rig in so many different ways to suit your lifestyle as well as budget, making it flexible and unique in this way.
The interior design is elegant but homey, making it accessible to a variety of families and campers. Some would argue that the interior design is a bit average, though many tend to appreciate how easy everything is to clean and maintain. All in all, this is a great rig for RVers at any level or experience!
Fair price point for what you get

Luxurious while still being approachable

Comes in a variety of functional layouts

May be lacking in some interior design elements
Based on the number of layouts and the functional interior design, the Coachmen Mirada is a fantastic starter rig for a variety of reasons. For one, it starts just under $200k, making it more budget-friendly than other options. This is ideal for those of you who aren't sure whether or not a Class A is right for you, but you want to give it a try. Let's take a closer look at this RV now.
Similar to our best overall rig, The Mirada is available in 5 unique floor plans. However, this class A ranges in length from 30 feet to 36 feet, making it smaller than our best overall choice. Some of you may appreciate this, given how difficult Class A RVs can be to drive.
Many Coachmen rigs feel this way, but this particular model does indeed have the feel of a standard RV, with certain luxurious touches. For example, you will find solid cabinetry and countertops in the kitchen and bathrooms, as well as beautiful and easy to clean flooring.
Depending on the floor plan, you may find that the Mirada has a classy king size bed, a kitchen with a farmhouse sink, and a bathroom to suit any number of guests. Speaking of guests, most of these floor plans can sleep at least four or five individuals, making them ideal for large groups or families.
However, much like our best overall option, some of the interior design may leave you feeling lacking. Given the price point and the fact that this rig is ideal for those of you just starting your RV journey, some of the design is ideally overlooked. However, it's up to you if you are seeking something with a bit more luxury in mind.
Multiple floor plans with many different options

Classy interior design for many households

Easy to drive given its shorter length

May not fit everyone comfortably on a rainy day
Many RVers stand by the Jayco RV brand name, and the Jayco Alante is no exception. This particular Class A is the smallest on our list, and it therefore has the smallest price tag. Starting at $163k, this Class A is ideal for those of you on a budget. Let's take a look at all of the awesome features found in this well-priced rig.
Starting at 28 feet long and ending at 32 feet long, you can already tell that this RV isn't as spacious as all of the others on this list. However, you can still sleep up to 8 people, depending on the floor plan. Speaking of floor plans, the Alante has up to 5, giving you plenty of options to choose from.
There are a number of standard features included in the initial purchase price of this rig, making it even more budget-friendly than other options. You can expect an on-board generator as well as solar power, all included, as well as many special touches only found through Jayco RV purchases.
Some of these include hardwood cabinetry and integrated technology to make your camping experience easy. The interior design of this RV is light and bright, making it appealing to a variety of families and campers. Plus, Jayco offers a number of fantastic warranties and customer service, giving you peace of mind before you hit the road.
The main drawback of this rig? You may not be able to bring everything you want or fit everyone comfortably given the shorter lengths of this Class A. However, this option is fantastic for those of you not planning on traveling with too many other people and sticking to a particular budget.
Standard boondocking features included in purchase price

Elegant and luxurious interior design without breaking the bank

Perfect length of rig for a variety of activities

Gasoline fuel type may leave a lot to be desired
There's a lot to be said for the Entegra Coach Emblem, given the fact that it has many boondocking features included standard. Not only does this rig feel luxurious, it feels practical and sustainable. Let's take a closer look at it now!
Not only does this rig offer fantastic boondocking options such as two house batteries, a generator, and solar panels on the roof, it also offers a lot of high-tech gadgetry. This option from Entegra Coach has upgraded Wi-Fi as well as technological perks throughout such as touch screen control panels and heated holding tanks.
Plus, the interior design of this rig is classy and sophisticated. You'll hardly notice that you have gone off the grid while staying inside one of these RVs. However, that isn't to say that it can't handle the adventurer in you. This rig is equipped with an outdoor shower as well as a variety of other features to help you tackle whatever adventure you have planned.
While there are only three floor plans, they are all roughly 38 feet in length. Many RVers consider this a nice sweet spot in terms of length for your Class A, given the fact that it is long enough to house a number of people, but it isn't so long that it is difficult to drive and park at RV locations across the country.
So, what's the catch? The main drawback to this rig is the fact that it utilizes a gasoline fuel engine, which means fuel will be more expensive in the long run. However, with a price of $230k, you're getting a lot of luxurious features in exchange!
Many floor plans with unique space-saving features

Large length means that there's room for everyone

Two bathrooms with basically every floor plan

Price point is very high
We're featuring another option from Entegra Coach, just like the Emblem as our last option. However, this choice is ideal for large families or groups, given its unique number of floor plans. Starting at just shy of $800k, this rig may be outside of many budgets, but take a look anyway- you may end up falling in love!
There are six available floor plans for this particular Class A, and all of them max out at 45 feet in length. This gives you plenty of space for the entire family to enjoy, whether or not the great outdoors are calling. Speaking of floor plans, let's take a closer look at some options that are fantastic for families or large groups of people.
5 out of the 6 available floor plans have two bathrooms on board, some of them with two full baths, something that is relatively unheard of in RVs! Additionally, some of the floor plans feature bunk beds and alternative sleeping solutions so that you can sleep nearly 10 people inside of this RV.
You can expect spacious L-shaped couches as well as dinettes, and your kitchen will likely rival a majority of residential home kitchens. You can have washers and dryers as well as desk areas included as non standard features, and there is technology found throughout the rig. Plus, the interior design is luxurious and jaw-dropping when you get a good look at it.
Unique floor plans that you can customize

Just about any feature you want is included standard

Luxury touches throughout, including tile work and real leather

Ridiculously high price that isn't reasonable for most consumers
Speaking of a high price point, the Newmar King Aire is the most expensive RV on this list, clocking in at just over 1.5 million dollars. This is a huge commitment and likely won't suit a number of budgets out there today. However, there are so many luxurious features in this rig that we couldn't resist adding it to our list. Let's take a closer look now!
You've probably heard the phrase before that the devil is in the details, and this is especially true with the Newmar King Aire. It has luxury leather furniture, including heated and massaging theater seating, and the kitchen rivals most residential kitchens with its full-sized refrigerator and dishwasher.
While there are only three floor plans and they all max out at 45 feet in length, you likely won't find anything lacking in any one of the floor plans. They are all extremely functional and livable, with a variety of features included in the purchase price. And thank goodness for that, given just how high the price is!
Even though you are in a home on wheels, you likely won't notice once you are inside this class A. It has detailed tile in the showers, a fantastic kitchen with intricate backsplash, and you have everything you need technology-wise as well as comfort-wise. You can sleep a large number of people inside of this rig as well, making it a luxury that is worth sharing.
However, at the end of the day it is an extremely unaffordable rig. If you are looking for something luxurious, you can likely find it at a lower price. But there's something to be said for just how beautiful and impressive the Newmar King Aire truly is!
Staggering number of floor plans across multiple lengths

Classy interior design and ample storage outside

Floor plans with multiple bathrooms and residential kitchens

High price point and not good for boondocking
While we just took a look at another Newmar option, the Newmar Dutch Star is a slightly more affordable rig with a diesel engine and the most floor plans available in any other Class A on this list. Starting at just shy of $500k, this rig is still expensive. However, there's loads of features to check out in this rig. Let's take a closer look.
Available in 37, 40, and 43 feet lengths depending on the floor plan you choose, the Newmar Dutch Star has 11 possible options for you to choose between. This is a staggering number when you consider all of the possible floor plans and design elements inside of this decent length Class A.
Speaking of design elements, the Dutch Star is extremely customizable for a number of reasons. With real wood cabinetry and stone countertops, you likely won't notice that you are in a home on Wheels rather than in a standard residential home. This luxurious rig feels more homey and a great number of ways compared to some of the other options on this list.
Besides the price, they're likely isn't much of a catch to this particular make and model. However, it may not be ideal for boondocking given its large size and cathedral ceilings. It is likely more difficult to heat and cool than a number of other rigs on this list!
Special pet friendly features set this rig apart

Easy to clean and maintain interior design

Multiple floor plans across multiple lengths

Not particularly luxurious or special in its design
If you are looking to travel with your pets and your family, you should take a look at the Thor A.C.E. This Class A is much more affordable compared to the past few options on this list, starting at $177k. It has a lot to offer the entire family, including your fur babies. Let's take a closer look at this rig now.
With 5 available floor plans and a rig that ranges in length from 27 feet to all the way to 33 feet, you should have many different options to choose from with this particular RV. One of the main reasons this RV is perfect for pets has to do with all of the special features that Thor has chosen to include.
You have a stable food and water dish drawer, a special window so your pets can look outside at the wildlife, and you have an area to keep your leashes and attach your dog securely while you load and unload the RV. Plus, all of the flooring and furniture inside of this RV is easy to clean and maintain so that you don't have to worry about muddy paws.
While this rig doesn't have very many luxurious features, it does exactly what you need it to at a fair price. You have an entertainment center and ample seating for a variety of friends, and you should have enough space to sleep everyone, including your pets!
Many floor plans and lengths to choose from

Functional as well as luxurious

Large towing capacity to bring all of your toys

Average to high price point may be too much for some budgets
Tiffin knows Class A rigs, and the Phaeton is no exception. With 7 floor plans ranging in length from 37 to 45 feet long, this Class A is built for a variety of situations and families. It is also built to tackle just about any weather scenario, with superior insulation and other features. Let's take a closer look now.
Light, bright, and functional, the Phaeton remains a customer favorite according to Tiffin. It offers a variety of luxurious features and perks across a number of floor plans. This means that you can choose exactly what you were looking for, and customize it to your heart's content.
Depending on the floor plan, this rig starts at just under $450k, making it pricey but not unrealistic for what you are getting. There are beautiful flooring and cabinetry options, as well as luxurious king sized beds in the master suites.
Not only can you bring everything and everyone you want with you inside of this well-appointed and spacious rig. It also has a 10,000 pound towing capacity so that you can bring along all of your toys, no matter what season it is. You can tow your snowmobiles as well as your boat, making it a fantastic Class A for the outdoor enthusiast.
Besides the price point, this rig is generally faultless. However, you may find the longer floor plans more difficult to drive than the shorter ones. Keep this in mind if you are seriously considering the Phaeton.
Welcoming and spacious with ample storage

Multiple lengths gives you lots of options

Fair price point for many luxurious touches

May not have enough floor plans to choose from
Forest River doesn't make very many Class As, but the Berkshire is extremely popular for many reasons. Not only is it a fair price, it feels particularly spacious and welcoming, making it ideal for full-timers or those of you living in your rig for a good portion of the year. Let's take a closer look at what it has to offer now.
There are three available floor plans ranging in length from 35-40 feet. While this may not seem like very many choices, all of them are unique and special, and two out of three of them have two distinct bathroom options. You can get a master suite with its own bathroom, as well as ceiling fans, making it feel like a residential home.
Even the smallest floor plan has the option for a washer and dryer, as well as multiple storage wardrobes in the master suite. You can get a walk around king size bed as well as theater seating and plenty of counter space in the kitchen.
Depending on the optional features and floor plan that you choose, the Forest River Berkshire starts at just under $400k, making it more affordable than other options on this list. Plus, it has a diesel engine and many luxurious touches that you wouldn't normally find at this price. It's definitely worth considering, especially if you would like to live full-time in it!
Good sized rig for a number of people

Fantastic and unique interior design

Diesel engine means fuel costs are lower

Price may be high for only one available floor plan at this time
Winnebago doesn't make very many Class A rigs, though they themselves have stated that the Journey may or may not be the most luxurious rig that they have made to date. Starting at $439k, this rig is ideal for a number of families and situations, which earns it our runner-up spot for best rig. Let's take a closer look now.
The Journey is available in three distinct floor plans, the only one is available for purchase at this point in time. However, this rig is absolutely brand new to Winnebago, making it up to date on all the latest technologies and special features offered to Class As.
Winnebago has always put extra thought into their floor plans and how best they can make things functional, depending on your situation. No matter what, the Journey has a number of luxurious features and storage solutions, unique and special only to Winnebago.
The interior design of this rig is less cold and more contemporary, with a number of wooden accents. It is one of the most unique interiors I have seen to date, and it is definitely something worth checking out if it is within your price point. Keep an eye on Winnebago as they evolve, given the fact that they are constantly offering new and improved features for all of their RVs.
Final Thoughts
Finding reliable and capable Class A RVs in 2022 is easier than you might think. There are even more options available on the market today other than this list, though hopefully we have given you some insights into a rig that works best for you and your lifestyle. Enjoy finding the best Class A RVs that work perfectly for you, so that you can enjoy the upcoming camping season to its fullest!