Last updated on October 8th, 2023 at 03:00 pm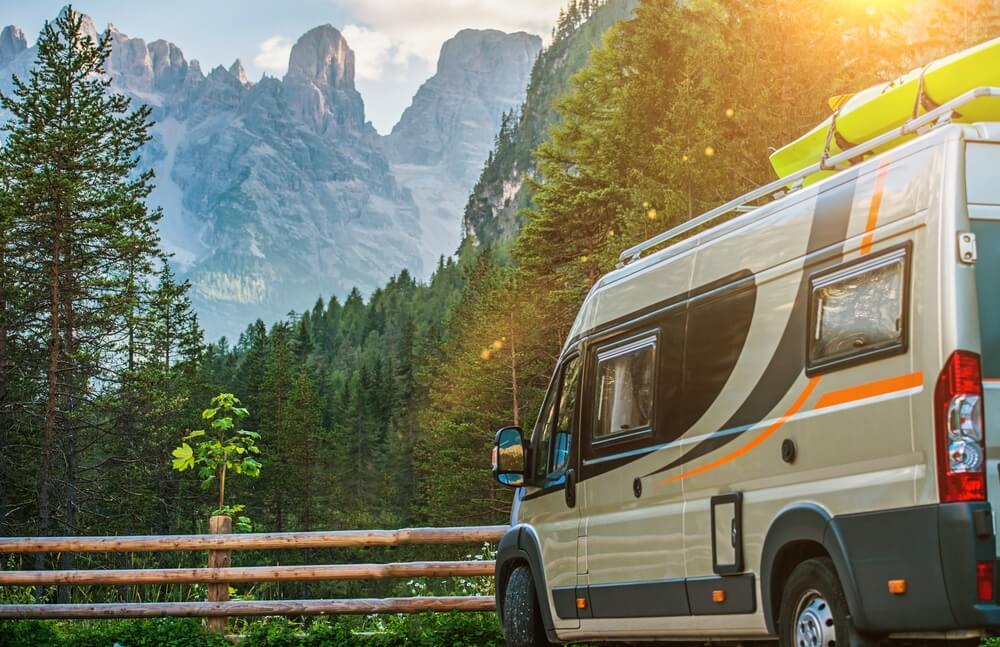 All of our reviews are based on exhaustive research, industry experience and whenever possible, hands-on testing. When you make a purchase using one of our chosen links we'll receive a small percentage of the proceeds. This supports the site and keeps Jeffsetter running. You can read more here.
There's a dizzying amount of RVs on the market today, so you may be wondering what the best Class B RVs are. Whether you're shopping for a new rig or simply want to keep up with the latest RV trends, you're in the right place!
In this article, we'll go over everything you need to know about Class B RVs, including worthwhile considerations before purchasing one. We'll also give you our list of the 12 best Class B RVs in 2023, so you can get a feel for what's on the market today and the rigs able to tick your dream camper boxes! Let's get started and take a look at class B RVs now!
Only interested in checking out our top rigs? Use the table of contents below to jump to our list of the 12 best Class B RVs in 2023!
What Is A Class B RV?
If you're new to RVing, you may not know all the different types and names associated with travel trailers and motorhomes. So, what is a Class B RV? A Class B RV is the smallest option when shopping for a motorhome-style RV. They are affectionately referred to as campervans, given that they're built on a van chassis and typically maintain the size and shape of a traditional automotive van.
While it may be confusing, Class B RVs are the smallest motorhome compared to Class A and Class C RVs. In fact, very little separates a Class B RV from a traditional van when you look at it from the outside. However, Class B RVs are constantly reinventing the RV game with custom builds and interiors to suit camping lifestyles of all shapes and sizes!
Given these specialty builds, the majority of Class B RVs are more expensive than Class C RVs despite them being smaller overall. However, Class B RVs have very little space to work with and require a lot of custom materials and furniture, so their high price point makes sense.
What To Consider In A Class B RV?
Now you know exactly what a Class B RV is, let's discuss some worthwhile considerations before jumping into a new RV purchase.
Floor Plan
One of the first things to think about before purchasing any style of RV is the type of floor plan you're looking for. It can be difficult to know what sort of floor plan you need or want without touring an RV first or having some experience with RV living.
Many RV manufacturers offer 360-degree tours of the interior and exterior of RVs which is useful for getting a true feel for what it would be like to live in one. I also suggest touring RVs at different RV lots so you get an actual visual representation of the RV you may want to purchase.
The layout of any Class B RV won't be particularly large or impressive. There are only so many different ways you can configure the interior of a van! However, this isn't to discount the hard work RV manufacturers do to make their Class B stand out, and many makes and models have surprising features and floor plans you might not typically expect.
You may want a floor plan with a particular style of bedroom or bathroom, or perhaps you want the floorplan to have an exceptionally spacious kitchen. One thing to pay attention to in particular is the amount of storage you have on board your Class B RV. Storage is always necessary for any RV, and the best RVs in 2023 have everything covered!
Budget
Your budget is a top consideration, especially for Class B RVs as these motors are a considerable investment! Given the materials used and the specific furnishings needed to fit inside a van, you may need to budget a bit more than you were expecting for Class B RVs.
Depending on the manufacturer, make, and model you're considering, it's possible to spend anywhere from $75,000 – $200,000 on a Class B RV. You should also note the initial purchase price is often not what you end up spending at the end of the day. RVs always have additional features and add-on purchases available, but these drive up the end purchase price depending on any extras you choose.
Number Of Travelers
Given Class B RVs are the smallest motorhomes you can purchase, considering the number of travelers you want to bring along for the ride is important. Most Class B RVs can't sleep more than two or maybe three individuals, so this is something to keep in mind while shopping around.
You may be able to find a layout with additional sleeping arrangements for up to three or four people, but these are rare and you should keep a close eye out for them. However, you can always make your Class B RV your own, and you may have sleeping arrangements or solutions the RV manufacturer hasn't already thought of!
Another wise consideration is the number of seatbelts on board the Class B RV. Something to consider while shopping is the number of seat belts on board your Class B RV. It's likely there are only two; one for the driver seat and another for the passenger seat. If you'd like to travel with more than two people, you may want to seek out a larger rig, or specifically look for layouts able to cater to additional travelers.
Boondocking Ability
One of the main selling features of driving and camping in a Class B RV has to be the ability to boondock or dry camp. These RVs are compact, easy to drive, and ideal for adventures in a number of places most other RV models can't venture to. This includes locations without traditional RV hookups, including power and water.
Finding a Class B RV with boondocking capability is possible! Some of these campervans may have larger holding tanks and solar panels set up on their roofs to make off-grid traveling a joy. Having the ability to keep your batteries charged while off-grid is a game-changer and opens up a whole new camping experience.
Many RV manufacturers recognize Class B RVs are ideal for boondocking and camping without traditional hookups, so they often outfit their rigs with this in mind. However, if there are specific features you are looking for, keep them in mind while you shop! Some RVs may have them as standard features, though some may not and extras can hike the end price up a surprising amount.
Luxury Finishes
Speaking of features that may or may not be included in the initial purchase price of your Class B RV, pay attention to what luxury features you can get for travelers wanting the comfort of home on the road. Many RV manufacturers offer luxury Class B RVs as well as standard vans, but you may already have a preference in terms of the quality of your interior finishes.
If you're looking for a camper to take you from point A to point B with a comfortable place to sleep and a camper's kitchen, you may not be interested in luxury finishes in your RV. However, if you expect high-tech features and hardwood cabinetry, it's wise to keep an eye out for RV manufacturers that make luxury Class B RVs.
Fuel Type
Something you may not have considered in a Class B RV purchase is whether or not you want diesel or traditional gasoline fuel as your fuel type. This is a hotly contested debate in the RV community, given that gasoline Class Bs are less expensive overall compared to diesel Class Bs.
The general consensus is that diesel fuel RVs are less expensive in the long run compared to gasoline RVs, given the amount of savings you can expect from diesel fuel versus gasoline fuel. However, the initial purchase price of diesel RVs is always higher than the initial purchase price of gasoline RVs, so this is something to keep in mind, especially if you're on a budget.
12 Best Class B RVs In 2023
Do you have a list of considerations in mind for your dream Class B RV? Well, grab your notes, because it's time to look at the best Class B RVs in 2023. Let's get started!
Interior Height: 6′ 3″
MSRP: $245,587
Exterior Length: 22′ 11″
Exterior Height: 9′ 10″
The Winnebago Boldt takes our best Class B RV overall spot! Inspired by and named after a German naturalist and explorer, the Boldt encourages campers to get out there and enjoy nature to the fullest. This is no ordinary Class B RV. The Boldt pulls out all the stops in terms of boondocking features and intelligent storage solutions.
With 2 floorplans, there's the ability to sleep up to three people if needed or enjoy a huge rear bath and a more spacious layout. Between onboard batteries and solar power, I get a whopping 12,000 watt-hours of power, making for an even easier adventure, where I don't have to feel very power-conscious at all! This means vacations can be focused on making memories and not being constantly worried about power usage.
Plus this rig is all-season-ready with impressive insulation, in-coach water lines to prevent them from freezing, and a trusty Truma Combi heater. Winnebago is constantly reinventing their Class Bs, and the Boldt is no exception! The Mercedes-Benz chassis of this particular rig gives me the peace of mind I need that I'm driving a reliable and safe, technologically advanced vehicle, able to handle various terrains.
Plus with four-wheel drive and a 5,000-pound towing capacity, I can bring a trailer along for the ride with additional equipment and adventure gear. The interior design of this campervan is well-appointed and stylish, with wood paneling and homey touches. I like that Winnebago has created a Class B RV that's able to handle both a spacious kitchen and functional wet bath without making the space feel cramped.
I know any Winnebago purchase is in the safe hands of their warranty, but I can't ignore the particularly high price point of the Boldt! This isn't a budget-friendly rig, but with so much to offer RVers looking for stylish functionality, the price tag may not be out of reach!
Pros:
High-tech and capable of tackling any road or weather situation

Diesel Mercedes-Benz reliability

Luxurious interior
Cons:
High price point

Only 2 floorplan options
Interior Height: 6′ 3″
MSRP: $125,160
Exterior Length: 17′ 11″
Exterior Height: 9′ 6″
Thor is well-known for its budget-friendly and comfortable RVs, and the Thor Scope is no exception. Built on a compact and efficient Ram chassis, the Scope starts at $125k, making it far more affordable than the Winnebago Boldt and many others on this list. It might be just the right price for beginner RVers, and I love that it's easy to drive as I feel more comfortable behind the wheel.
Not only is the Scope a more subtle Class B RV than many others on this list, but it manages to still pack in plenty of features. The interior design of this rig is beautiful and welcoming, with full wardrobes and attractive cabinets in the bedroom area. One of the coolest things about this rig is the pop-top roof that allows for an optional sky loft sleeping area for additional guests!
For the exterior, I can add a rear bike rack along with a power awning to complete the outdoor entertainment area. The interior is well-appointed and comfortable, with a full kitchen equipped with a built-in fridge and cabinetry. This means I can store plenty of food and stay off-grid for a few days without needing to go to the store! There are 3 floorplans to choose from, each with a slightly different bedroom and bathroom area.
With solar on the roof and heated holding tanks underneath, this is an ideal rig for adventuring to any destination in style and comfort. In fact, this Class B RV is simply a perfect match for beginner RVers starting off on their camping adventures and RV lifestyle. It lacks the luxury seen with other more luxury Class B RVs and may also be on the shorter side for those hoping to purchase a particularly spacious camper.
Pros:
Affordable

Off-grid capability
Ideal for RV beginners
Cons:
Not a luxury option

Shorter Class B RV means less interior space
Interior Height: 6′ 3″
MSRP: $125,160
Exterior Length: 17′ 11″
Exterior Height: 9′ 5″
Strikingly similar to the last rig on this list, the Thor Rize is one of the best Class B RVs in 2023 for campers on a budget. This Ram chassis van has everything needed to get started on an RVing adventure, especially when there's only a tight budget available. Just like the Thor Scope, there are 3 available floorplans, with various sleeping and bathroom arrangements.
There's not too much difference in pricing between the layouts which is useful! I also love that even though this is a budget-friendly RV, Thor hasn't compromised on interior design. The inside of the Rize is fresh and bright, but still functional which is something difficult to achieve in such a small space.
Storage is abundant throughout, with areas to pack belongings away beneath seating areas, in the kitchen, and also in the living room. Having an organized RV is essential for me, and this is easy to achieve in the Scope. Even the exterior is impressive, with the option to add a bike rack or overhead rack to carry even more gear.
Plus, there's solar power, onboard generators, and more I can take the camper off-grid whenever I feel like reconnecting with nature. Given the well-appointed kitchen and bench seating in the living area, I feel comfortable inviting friends to enjoy the style and comfort of the Rize. However, this is a modest-sized Class B RV, so with several people on board, things might start to feel a little cramped.
Ultimately, there aren't many additional features available for this particular rig. It's pretty cut and dry overall, with only a few standout features. However, just like our previous listing, it's ideal for those on a budget or at the beginning of an RV adventure!
Pros:
Budget-friendly

Bright interior design
Solar panels come standard
Cons:
Sleeps max 2 people
Lacks optional extras
Interior Height: 6′ 2″
MSRP: $246,351
Exterior Length: 24′ 6″
Exterior Height: 9′ 9″
For a Class B RV with a bit more luxury both inside and out, it's worth paying the Airstream Interstate 24X some attention! This particular model of RV has everything I would ever need from a Class B RV and then some, but I wouldn't expect any less since it's built by Airstream! This company is renowned for its RV technology and innovations, especially when it comes to boondocking and off-grid camping.
Airstream markets the Interstate 24X as an RV with the most powerful off-grid power supply Airstream has made to date. This is impressive when considering the Interstate 24X is built for off-grid and off-road living. Not only can this Class B RV drive over mixed terrain with off-road and rugged terrain tires, but it also has loads of boondocking features and accessories.
As a nomad working online from my RV, I need a reliable power system in my rig. Airstream has equipped the Interstate with two 100Ah deep cycle lithium Battle Born batteries, a 30 AMP energy management system, a 2,000W power inverter, and 400W of military-grade solar panels as standard so keeping powered up doesn't have to be a concern.
The ability to tow up to 5,000 lbs with the powerful diesel engine of the Interstate, means I can bring whether I want to along for the ride. Towing a trailer or similar only adds to the ruggedness of this Class B. I like that although the exterior is adventure-ready and capable, the interior is also impressive, with an airy, classic finish. The interior storage is impressive, with bench seat cabinetry and overhead bungee-style storage compartments.
This means I can store kayaks and other awkward-shaped gear so nothing has to be left behind at home! The only downside of this Class B RV is the price! Airstreams are notorious for being only suitable for big budgets and the Interstate is a pricey motor. However, Airstream will likely always be a company worth investing in, as their rigs truly stand the test of time.
Pros:
Rugged aesthetic

Boondock and off-grid capable

Innovative storage solutions
Cons:
Interior Height: 6′ 1″
MSRP: $265,338
Exterior Length: 24′ 3″
Exterior Height: 9′ 6″
With 4 available floorplans built on a reliable Mercedes-Benz chassis, the Coachmen Galleria is a fantastic Class B RV for small families who want a rig dedicated to comfort and functionality. Floorplan dependant, there's enough space to sleep more than two people thanks to Coachmen's creative interior design. There's no denying this rig is jam-packed with features, including 330W of solar as standard, along with built-in batteries and generators.
Having off-grid features like these as standard is an absolute delight! Often manufacturers will charge extra for solar and specific boondocking ability, but these are included in the price of a Galleria. Although the power setup in the Coachmen Galleria is impressive, with roof-mounted solar, 330 AMP Hour AGM battery, and a 2,000W pure sine wave inverter, I love that I have the option to take things to the next level too.
For an additional cost, I can upgrade the battery to lithium for even more reliability on the road, and for traveling in sub-zero temperatures, I can opt for the polar package to keep this Class B RV well-insulted during all weather conditions. Each of the floorplans has a wet bath on board, for ultimate convenience, especially for small families or couples.
The majority of the floorplans for the Galleria have rear seats fitted with belts, and this attention to safety is one of the reasons I love the Coachmen brand so much. The interior of this rig lacks personality for me. It's clean and fresh, but some splashes of color would liven the Galleria up a bit! However, the entire interior is very functional and that's the most important thing when living on the road. There's custom-made maple cabinetry and a well-appointed kitchen, perfect for whipping up whatever the family is fancying for dinner!
I particularly like the large fridge with substantial freezer space, as it means I don't have to visit the store as often, as produce can be kept fresh in the freezer. The Coachmen Galleria has earned its place on our best Class B RVs list. So many features come standard and many more upgrades are available for an extra cost.
Pros:
Luxury finish

Range of floorplans

Diesel engine
Cons:
Longer Class B RV so harder to drive

Only 2 chassis color options
Interior Height: 6′ 1″
MSRP: $310,400
Exterior Length: 24′ 9″
Exterior Height: 10′ 6″
There's nothing wrong with wanting a bit of luxury when traveling around the country, and the Airstream Atlas is a gorgeous way to spend time on the road. All of this RV's features are luxurious inside and out, and it's also been dubbed a Class B+ by Airstream. This is something that echoes Super C RVs which continue to gain popularity.
Built on a powerful and technologically advanced Mercedes-Benz 4500 Sprinter chassis, this Class B is attractive, and unique as it has a power slide-out for the sleeping area! This provides ample space for the sleeping and living areas, creating a roomy, open RV interior. Slide-outs may not be a positive feature for some RVers, and I understand that as they require their own maintenance and care!
However, there's no denying the slide-out feature on the Atlas is a game-changer for making the rig feel substantially bigger. Airstream currently only has 1 floorplan for the Atlas which at first seems a little restrictive. The layout of the floorplan is functional and creative, with the ability to sleep two people and carry an additional two passengers on the belted sofa.
The moment I step on board this rig, I am swept away by luxury. This Airstream is the only Class B RV on our list to feature a spacious residential-style bathroom, with three separate pieces to help me feel at home. Plus, the kitchen is a unique L-shape, with corner cabinetry and plenty of countertop space so I can unleash my inner chef!
Despite this rig being larger than all the others with its power slide-out capabilities, I can still take this Class B off-road and off-grid. It has an onboard generator along with solar panels so I can go wherever the road takes me in luxury and style. There's even a large refrigerator and a wardrobe, which is such a rarity in a campervan, and something my partner and I would make happy use of.
Pros:
Quality chassis

Beautiful interior design

Off-grid capability
Cons:
Expensive

Slide-out means additional maintenance.
Interior Height: 6′ 2″
MSRP: $205,268
Exterior Length: 19′ 5″
Exterior Height: 9′ 10″
The Tiffin Cahaba is the brand's first jump into Class B RVs, and it's a fantastic diesel fuel rig option. Constructed on a durable Mercedes 2500 Sprinter chassis with a 3.0L turbo diesel engine, the Tiffin Cahaba is an exploration motor able to handle various terrains for every kind of RVer. Just like our last option, the Airstream Atlas, the Cahaba also only has 1 floorplan.
This doesn't provide the range of choice I like to see with RVs, but since this is Tiffin's first Class B RV, they will hopefully expand the layouts for the Cahaba over the next few years. Standard solar panels make this rig suitable for off-grid travels, and it's possible to upgrade the solar for with higher power demands.
With LED lighting throughout, privacy shades, powered roof vents, solid surface countertops, and handcrafted cabinetry, Tiffin has prioritized style and aesthetics just as much as function in the Cahaba. This is nice to see as RVs aren't known for being the most attractive motors! Upgrading this Class B RV to 4WD is possible, although since this is an optional extra, it will bump up the end price.
Exterior color packages sometimes only tend to offer a couple of choices, but Tiffin has created four colors for the Cahaba. Each is sleek and modern and helps bring more personality to the Cahaba which some rigs lack. The Tiffin Cahaba is a luxury rig, and there are plenty of optional extras to customize it more for individual needs.
Pros:
Reliable diesel fuel

4WD option

Stylish exterior
Cons:
Only 1 floorplan
Smaller Class B
Interior Height: 6′ 3″
MSRP: $175,292
Exterior Length: 21′
Exterior Height: 9′ 4″
Not only is the Winnebago Travato ideal for pets, but it's also the number-one selling campervan in North America. The Travato has earned its place on our Best Class B RVs list for 2023 as it's versatile and ideal for furry friends and humans alike! Despite only being able to sleep two people, the 4 floorplans available with this Winnebago are spacious and creative.
Each floorplan features innovative furniture technology as well as four-season insulation so I can take this rig wherever I want, whenever I want. This is the freedom I want living life on the road! The interior design of this RV is light, bright, and easy to maintain with vinyl flooring and light wood cabinetry. It's possible to outfit the Travato with up to 12,000W hours of off-grid power, and hot water is in demand no matter where I stay.
With the rear bike rack and power awning, I can make the most of the exterior space, just as much as the bright interior of the camper. The Travato is also affordable, which is something many Class B RVs don't seem to be in 2023, though the price creeps up depending on the floorplan and any extras. The Murphy bed in some of the Travato floorplans is one of the reasons this rig is good for pets.
It creates more floorspace during the day so dogs or cats won't struggle to move around, and instead can enjoy the interior space to the max! The main drawback of the Winnebago Travato is that it's a gas-fuel engine, and also lacks 4WD and off-road capability. This is a deal-breaker for me as I love finding remote wild spots, and need a vehicle I can trust to get me there safe and sound!
Pros:
Ingenuitive Murphy bed

Affordable

Multiple floorplans available

Spacious rig for pets
Cons:
No 4WD option

Lacks off-road capability
Interior Height: 6′ 3″
MSRP: $140,375
Exterior Length: 17′ 10″
Exterior Height: 9′ 5″
The Winnebago Solis Pocket is a Class B RV rated for four-season use, whilst also remaining budget-friendly too. The Two floorplans available from Winnebago are versatile and dynamic, full of flexible seating arrangements and the ability to sleep up to 3 people. Built on a Ram ProMaster 280HP, 3.6L V6 gas engine, this is a powerful rig, and with a 3,500lb trailer hitch, I can even tow gear along on vacation too.
Equipped with solar panels on the roof, and flexible storage in the interior, I don't need to be concerned about staying powered up or fitting belongings neatly inside. I love how creative the Winnebago Solis Pocket is. The seating area converts into a variety of unique couches and daybed areas, including a movable and flexible table top. The kitchen isn't as luxurious as I'd like, but it has everything I need to cook nutritious meals on the road
This is one of the smaller Class B options on our list, but it still manages to pack plenty of features inside! LED ceiling lights help keep everything bright and welcoming, while tinted coach windows mean plenty of privacy when parking in urban areas. I'm grateful for the 13,500 BTU AC as it means things will be far more comfortable in summer!
The Solis Pocket is a budget-friendly RV, capable of handling the demands of all four seasons. There's a Truma VarioHeat and Truma Combi Eco heating system to stay effortlessly warm in freezing temperatures. The Winnebago Solis Pocket may not seem like much on paper, but this campervan is perfect for those looking for a flexible living area.
Pros:
Fairly-priced

Flexible living area

Four-season features
Cons:
One floorplan doesn't have a bathroom
Not a luxury option
Interior Height: 6′ 3″
MSRP: $210,293
Exterior Length: 19′ 7″
Exterior Height: 10′
The final Winnebago Class B RV we're talking about today is the Winnebago Revel. The Revel has earned high marks for a number of things, including its off-road and off-grid capability. This campervan takes our spot for the best Class B RV option with all-wheel or four-wheel drive, and for good reason!
Winnebago's Revel is designed for adventurous campers who don't want to just stick to taking highways and instead venture off-road! I love taking my rig out into the wild, finding picture-perfect lake-side spots or hideaways tucked away in vast forests. I trust the ever-reliable Mercedes Benz Sprinter Chassis with a 3.0L turbo-diesel engine to take me far and wide all over the country.
This Class B RV is 4WD and has electronic stability and traction control for ultimate off-road ability which is something needed for winter RVing! Two heavy-duty batteries on board make boondocking adventures possible. There's only one floorplan available for the Revel, and although this isn't the broad choice many RVers desire, the layout is highly functional and aesthetic too.
With a spacious galley, wet bath, and power lift bed, this Class B has been designed with maximizing space in mind. Below the bed is a garage area, ideal for storing additional equipment and accessories. While the Revel isn't the most luxurious rig on the inside, it remains an efficient, functional rig for a traveling couple.
This rig is the perfect all-wheel drive camper, but it's not designed for families. There are no additional sleeping areas in the Revel which may be a dealbreaker for bigger travel groups. I'd advise looking at a bigger rig if you have a big family, so you can find the one best suited to family demands.
Pros:
4 x 4 chassis for off-road driving

Flexible layout

Power-lift bed

Additional belted seats
Cons:
Only 1 floorplan
High price tag
Interior Height: 6′ 2″
MSRP: $198,250
Exterior Length: 22′ 9″
Exterior Height: 9′ 10″
Our runner-up for the best overall spot is the Pleasure-Way Plateau TS. This Class B RV has a lot to offer and at a relatively fair price point too. It looks fantastic on a Mercedes-Benz chassis and has everything any traveler could ever need inside a camper van, including a spacious bathroom and kitchen area.
The interior design of this rig feels luxurious, with light wood paneling and bright vinyl floors and cabinetry. With a large refrigerator in the kitchen, I can store food for many days, so I can keep away from the store and camp out in nature for longer. The undermounted stainless steel sink is a welcome addition to the kitchen, and makes everything feel even more luxurious!
The pull-out sprayer is a nice touch from Pleasure-Way and makes things a lot easier when it's time for the big clean-up after dinner. Solar panels don't come standard on the Plateau TS, but it's possible to opt for an additional package and create an off-grid rig of dreams. It's disappointing a rig of such a substantial price doesn't have solar panels as standard, but at least Pleasure-Way have provided them as an optional extra for those able to stretch their budget.
Overall, the Plateau TS reflects Pleasure-Way's history as a fantastic RV brand, specifically for Class B RVs. It doesn't have any remarkable features outside of what it already has to offer, but this is often all that RVers are looking for, and it is something to consider while you shop. Buying a brand name that is reliable and not trying to reinvent the wheel may be all that you need at the end of the day!
Pros:
Reliable Mercedes-Benz chassis and diesel engine

Spacious interior

Abundant storage
Cons:
MSRP: $94,250
Exterior Length: 17′ 9″
Exterior Height: 8′ 2″
The Pleasure-Way Tofino is the smallest and cheapest Class B RV on our list for 2023! This RV isn't too dissimilar to old-school VW wagons, as it features a pop-top. This additional space reveals a 49" x 72" overhead bunk, providing the ideal space for extra guests. The Tofino is a modern rig built with classic RV needs in mind. The use of the pop-top helps create more space, making this camper feel far bigger than its 17′ 9″ length!
Pleasure-Way has built more than just an affordable rig with the Tofino. They've designed an attractive interior, with everything powered by the two 100Ah lithium batteries and a 2000W inverter. The touchscreen control panel keeps things easy which I like as understanding RV electrics can be a bit stressful! I love nothing more than being cozy in wintertime, and the bunk in the Tofino is the ideal place to relax and stay warm.
There's a retractable ladder for getting onto the bunk, along with USB ports, remote lighting, and vents, all encased in the compact space. The entire pop-top is protected by durable Sunbrella roof tenting which gives me the reassurance I need when sleeping up there on a windy night! For even more dynamic sleeping options, the sofa flattens down into a sizeable bed when needed.
In position, the sofa is equipped with two seatbelts so everyone can travel safely and securely. I enjoy the movable table as it gives me the freedom I need to enhance kitchen countertop space, or simply use it as a place to eat. Having a table in such a small camper is an added bit of luxury from Pleasure-Way that helps bring gentle structure to the Tofino.
At first glance, the Tofino may seem like a Class B RV that's far too small, but with an innovative layout, the space is functional and ideal for couples. There are also upgrades available to make this rig more full-timer friendly such as a heavy-duty steel roof rack, and an off-road package, with Black Rhino wheels and Toyo Open Country all-terrain tires. Optional extras raise the final price, but for the most basic Tofino, prices start at under $100k which is rare to find, particularly in Class B RVs!
Pros:
Very affordable Class B RV
Off-road package
Ability to sleep 4 people
Cons:
No bathroom
Only 1 floorplan
Closing Thoughts
With so many different types of RV on the market, finding the best Class B RV in 2023 isn't an easy job! Hopefully, our list of Class Bs has helped highlight some camper vans able to suit you and your needs perfectly. Camper vans are a popular choice of RV, and soon, you'll have a rig of your own to start your RV journey!