Last updated on September 21st, 2023 at 01:13 pm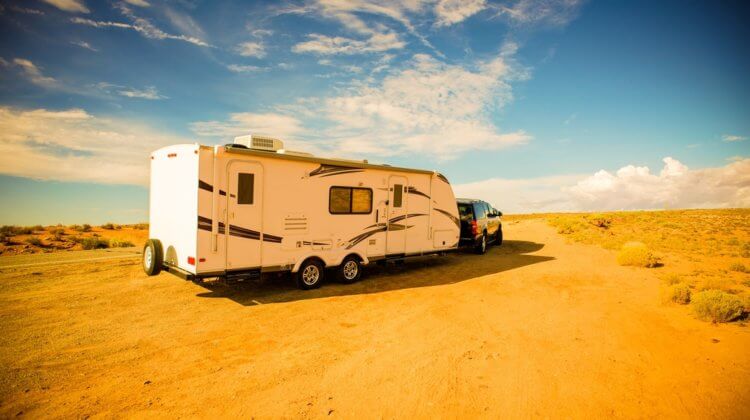 All of our reviews are based on exhaustive research, industry experience and whenever possible, hands-on testing. When you make a purchase using one of our chosen links we'll receive a small percentage of the proceeds. This supports the site and keeps Jeffsetter running. You can read more here.
RV ownership can be complicated, especially if you're interested or wondering if it's possible to rent a truck to pull a camper. While you may not wish to purchase a motorhome or other drivable RV, you still need to find an adequate tow vehicle to tow your travel trailer or camper. But what if you want to go camping and haven't found a tow vehicle yet?
Can you rent a truck to pull a camper?
While renting a truck can be a difficult process, you can call your local truck rental companies or rental car agencies to see if they have vehicles capable of towing your travel trailer or camper. You can also set up an ad in your local area and see if anyone is willing to rent you their truck.
But are there any considerations to make before renting a truck to pull a camper? Is there anything needed to safely and effectively tow your new RV? In this article, we'll go over a range of potential concerns along with solutions to common problems. Let's get started!
What To Consider When Renting A Truck To Pull A Camper?
There are several things worth considering when deciding if you can rent a truck to pull a camper. Towing is an action that needs to be taken seriously, and precautions need to be in place to achieve ultimate safety and security on the open road. But what might some of these considerations be?
Towing Capacity
One of the main things to consider when looking for a rental truck to pull your camper is the towing capacity of the rental. The amount of weight your tow vehicle can handle needs to be a primary consideration at all times. You never want to tow something that's heavier than what your tow vehicle can handle.
This is why towing capacity weights and numbers are readily available for just about any truck make and model on the market today. However, determining the towing capacity of a tow vehicle you are unfamiliar with may be more difficult initially than you first thought.
For example, most trucks have different weight limits depending on what you plan on doing with the truck. The bed of your truck has a weight limit, as well as the hitch and overall weight capacity of what's inside the passenger seating of the truck as well. But we'll talk more about this later.
Weight Of Your Camper
Speaking of weight limits, you can't exactly determine what truck you need to rent before you know the overall weight of your camper or RV. You should always aim to rent a truck with a towing capacity well over the weight of your camper, but how can you weigh your camper in the first place?
You should weigh your camper or travel trailer while it's fully packed and ready to go for a trip. The weight of your camper when it's empty will be very different from the weight of your camper when it's full. This also includes the weight of freshwater tanks as well as your propane tanks and other RV utilities.
The below video provides a great breakdown of trailer weights, so is a great watch for beginners!
You can always estimate how much your camper weighs when fully loaded, but I always recommend erring on the side of heavier rather than lighter. Many RVers recommend choosing a tow vehicle able to tow at least 10% more than your camper when it's fully loaded, just in case!
Style Of Hitch Needed
Before you can find a rental truck to pull your camper, you need to know what style of hitch you need. There are two types in use in the RVing world: a traditional ball hitch and a hitch designed for fifth wheels. If you own a fifth-wheel travel trailer or camper, you'll have a much harder time finding a rental truck that can tow this style of RV.
That's because fifth-wheel hitches are unique and require a very different setup compared to a traditional ball hitch. Fifth-wheel hitches are also usually installed on heavy-duty trucks, given the typical weight limits of fifth-wheel RVs.
However, if your camper utilizes a traditional ball hitch design, you'll have an easier time finding a truck that can tow this style of camper. Keeping the hitch capacity in mind while you shop is a good idea, as well as the size of the ball and receiver itself. The last thing you need is to rent a truck that has a hitch, but the hitch doesn't fit the receiver of your camper!
Cost Of Renting A Truck
Depending on the make and model of the truck you want to rent, along with the company you plan on renting from, overall rental costs might be pretty high! Not only will you need to pay for the truck for however long your camping trip takes, but there are usually incidental fees or insurance payments to make too.
You may find renting a truck to tow a camper costs more than you expect, especially given the liability that goes along with towing things. Many companies have additional fees and costs associated with towing, so this is something to keep in mind as you shop and determine the truck that works best for you.
Legal Implications Of Towing A Camper With A Rented Truck
Speaking of fees and additional payments when it comes to towing a camper with a rented truck, you should also consider the legal implications regarding this. I don't recommend renting a truck from any particular company without also disclosing you plan on towing something with it.
The last thing you want to have happen is an accident, or any other sort of situation that could lead you to getting into some legal hot water. You should always disclose that you plan on towing with a truck that you plan on renting, even if it results in extra insurance fees or deposits.
Seating Capacity Inside Truck
While you may have an additional driver who accompanies you on your travels and can drive another car, you may want to consider the seating capacity inside your rental truck. If you plan on camping with an entire family of five, you may not be able to fit everyone into a traditional pickup truck.
Legally speaking, you can't travel with people, children or adults, inside a travel trailer or fifth wheel while it's in motion. If you can't fit everyone into your truck, you may need to consider bringing along a residential or family vehicle as well as the truck and trailer combination. While this may lead to an additional expense, it's in the best interest of everyone's safety.
Best Rental Truck Options For Pulling A Camper
Where can you find a rental truck option for pulling your new camper? Whether you want to transport your camper across the country to your new home or simply want to enjoy it and take it on a camping trip, here are some options for where you can rent a truck that can tow a camper.
U-Haul Truck Rental
One of the most popular moving companies located in the United States is U-Haul. U-Haul offers pickup truck rentals with a towing capacity of up to 6,000 pounds, which means you can tow a wide variety of travel trailers or campers using this option. However, they do not offer fifth-wheel hitches at this time.
The U-Haul pickup truck rental is usually affordable and reasonable, but you may need to pay extra fees to use a hitch, as well as a deposit for towing using the truck. It's also important to know the weight of your camper so you never tow more than the 6000-pound towing capacity.
The main benefit of renting a truck from U-Haul is that there are many locations located throughout the United States and Canada. You can easily pick up a truck from one rental location and drop it off at a totally separate rental location if that's something you're interested in.
Budget Truck Rental
Budget is another popular truck and moving van rental company located in the United States. They differ from U-Haul by offering a variety of trucks at different towing capacities so you can find one capable of towing your heavier camper or travel trailer. Even though Budget doesn't offer fifth-wheel hitches, they do have full-size pickup trucks capable of towing up to 10,000 pounds.
This truck rental company is also similar to U-Haul as you can pick up and drop off your rental truck wherever is convenient for you. However, given you have the choice between different sizes of trucks, the rental costs associated with renting from Budget are usually higher than renting from U-Haul.
Penske Truck Rental
At this time, Penske truck rental does not allow anything besides Penske-owned trailers on Penske-owned trucks which makes this a poor option for RVers. This could be different depending on your specific location so it may be worth calling your local branch.
Just keep in mind that even if your specific Penske location allows you to haul your RV, you may not have the right license in order to do so and might need to seek out someone who does. Penske only offers moving trucks or vans, and they currently do not offer rentable pickup trucks at this time.
Car Rental Companies
If you're seeking a pickup truck or SUV capable of towing a fairly lightweight travel trailer or camper, you may be able to find a solution in a variety of car rental companies. Some potential rental companies to look at include:
Enterprise

Hertz

Dollar

Orbitz

Avis
I highly recommend going to your local car rental company and seeking their advice in person, as they likely don't receive many customers interested in towing an RV with a rental car. While all of these companies offer trucks as rentals, it's unclear how many have hitches or towing capabilities that align with the weight capacities of your RV.
You should never rent a pickup truck from a car rental company without knowing whether or not you can tow using the vehicle. Whether it is against company policy or the truck simply can't handle your camper, you should know this before booking a rental vehicle!
Local Marketplaces
If you keep striking out when it comes to renting a truck from car rental services or companies, you may consider posting an ad on your local marketplace, such as Craigslist or Facebook Marketplace. You may be surprised to see the responses of people willing to rent out their pickup trucks for a daily rate.
However, there are many caveats and things to consider when posting an ad to your local marketplace for renting a truck. For example, you want to make sure you avoid any scams or situations that lead to a compromise in your identity or funds. You should also make sure that you are dealing with someone who understands their truck so you also don't receive any misinformation regarding the towing capacity of the vehicle.
You may want to ask your friend group or family members to see if they have any information regarding a truck that you can borrow or pay for. This could be a better option than simply putting out an ad for strangers in your local area. However, you may be surprised by people who are willing to rent their vehicles for additional income, especially if you're only planning on camping for a brief weekend!
Have you heard of RVShare or Outdoorsy? These companies are ideal for those looking to rent an RV of any style, including towable campers and fifth wheels. But how does RVShare or Outdoorsy work?
Similarly to private home rentals, you can rent someone else's RV for a nightly rate, as well as some other fees. However, you can rarely rent someone's truck or tow vehicle on its own, which may make this option unnecessary for those of you who want to camp in your own RV.
There are some listings on both of these RV rental sites offering a truck and trailer combination, which is ideal for RVers still shopping around for an RV. You may want to consider this rental option if you are nervous about towing or simply want to practice what it means to tow and camp in an RV, no matter the style!
Do You Need Accessories For Your Truck To Pull A Camper?
Let's say you found a truck to rent that's capable of towing your RV or travel trailer. But what else do you need to safely tow your camper to a destination? Here are some of the accessories I recommend.
Hitch
Depending on where you rent your truck from, you may need to purchase a hitch capable of towing your camper or RV. Hitches range in cost based on the towing capacity, which is why it's so important to know how much your RV or camper weighs before finding a truck or hitch.
You also need to know the size of the receiver on whatever truck you are renting, which is a fairly specialized question not everyone can answer. Hitch receivers range in sizes based on the class of hitch, or the tow rating of the vehicle. If you're new to RVing, it may be wise to brush up on some of this lingo before pursuing a rental truck or hitch purchase.
Brake Controller
I always recommend towing a camper or travel trailer with a brake controller installed in your tow vehicle. However, this is not always an option, especially if you rent from a company that doesn't do RV or camper towing very often. You will need to ask about a brake controller specifically before committing to a truck rental.
Brake controllers are designed to control the electronic brakes found in your RV or camper. This gives you added safety while on the road, as you can control the brakes of your tow vehicle as well as the brakes of your RV at the same time. However, brake controllers are not always installed in trucks that can tow.
Not every RV needs a brake controller, but I highly recommend one for towing an RV that weighs over three to four thousand pounds. It's something that gives you more control and safety while on the road, as well as peace of mind should you encounter any unfortunate travel scenarios such as traffic or roadway accidents.
Tow Mirror
One of the least expensive accessories I would highly recommend purchasing for a tow vehicle is a tow mirror. These mirrors are designed to attach to your truck side mirrors so you can extend your field of vision when towing. Both vehicles and RVs have complicated blind spots you may not be ready for if you've never towed before.
You can purchase tow mirrors that attach to either side mirrors, and these can be adjusted to a variety of angles. The goal is to easily see those traveling behind and beside you! They are designed to make lane-changing easier for those who tow RVs, which is a serious must-have in my book!
Back-Up Camera
While many RVers would argue this is not strictly a necessary accessory, you may consider installing a backup camera onto your truck or tow vehicle. This may be an expense that's unnecessary and not worth it depending on the duration of your trip and how skilled you are at backing up your camper or RV.
Backup cameras can be extremely useful for beginners learning how to park their RV, as the majority of campgrounds and RV parks require you to park your RV by backing into a spot. This can be one of the most difficult things for new RVers to accomplish, so I recommend making it easier on yourself and purchasing a backup camera for your RV outings.
So, Can You Rent A Truck To Pull A Camper?
You can rent a truck to pull a camper, though it may be a complicated process without knowing the right questions to ask. The most important thing to keep in mind is the weight capacity of your tow vehicle, as well as the overall weight of your camper when full.
You may have better luck finding a rental through a local marketplace or a friend, especially if you don't plan on camping for very long. However, there are a variety of truck rental companies to look into before your next big outing!