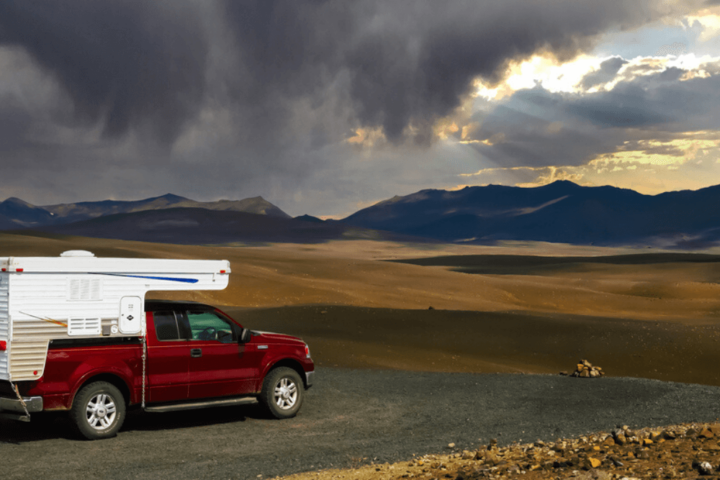 All of our reviews are based on exhaustive research, industry experience and whenever possible, hands-on testing. When you make a purchase using one of our chosen links we'll get a small percentage of the proceeds. This supports the site and keeps Jeffsetter running. You can read more here.
Truck campers are fantastic rigs that transform your pickup truck into a functional space able to support you whilst you adventure in the great outdoors. If you're new to owning and driving a truck camper, you may be wondering how fast you should drive and if different weather conditions will affect your driving.
Knowing the best way to drive your truck camper and the speed to stick at can be hard, especially if you're not sure how much wind your rig can withstand on the road. Along with staying at a sensible speed, it's best to check your camper is secured in place before you hit the road, as the last thing you want to be driving is a potentially dangerous vehicle.
So, let's find out, how fast can you drive with a truck camper?
When driving a truck camper, you should stay around 45-50mph, but it is essential to tailor your driving to the conditions you're traveling in. If conditions are wet and windy, you'll want to drive slower, and it's essential to check the laws of each state you're driving through as speed limits can vary considerably.
Here you'll not only learn how fast you should drive with a truck camper but the 5 safest ways to drive with a truck camper!
How Fast Can You Drive With a Truck Camper?
Generally, it's best to stick to between 45-50 mph when driving a truck camper, although some states may require you to drive slower than this, or you may even be allowed to drive a bit faster. When planning out your road trip, it's a good idea to note down any changes in speed limit you'll have to make on the way.
The most important thing to remember is that different conditions may affect how fast you can drive with your truck camper, and if the weather becomes wet and windy, you may want to think about pulling over if it's safe to do so or lowering your speed. The additional height a truck camper adds to your pickup truck makes it more susceptible to tip or turnover during particularly windy conditions.
It's also important to remember that your truck camper will feel very different when it's loaded up with all your gear to when it's pretty much empty. You'll likely want to drive a bit slower if your truck camper is heavy, and remember to keep a firm grip on the wheel if sudden gusts of wind come out of nowhere!
Driving a truck camper requires a considerable amount of extra effort when compared to a standard car, and it can be useful to speak with other truck camper owners about their experiences on the road as they might be able to share some valuable tips with you.
The video below gives a detailed look at the experience of truck owners, 6 months into their adventure.
As you can see in the video, there are plenty of highs and lows when it comes to truck camping, but if you want to tackle difficult terrain whilst also having everything you need on board, it might be the answer for you.
You'll inevitably experience harsh weather conditions at some point during your truck camper adventure, and knowing how to drive your rig in the safest way possible, will help reduce the risk of an accident.
How to Drive a Truck Camper Safely
There are many different types of RVs on the market, and some are naturally easier to drive than others. Knowing how to drive your truck camper safely will make for a better driving experience with less stress and worry about your rig when it's on the road.
When I'm driving my camper and the wind and rain pick up, I prefer to initially slow down, and if need be, pull over in a safe place until it passes. If you're living full-time in your truck camper, the last thing you want is all your belongings getting broken and ruined because the wind has blown your rig over.
1. Avoid Swaying and Overturning
One of the biggest fears RVers and truck camper owners have is that their rig may sway uncontrollably and overturn in windy conditions. Although it's possible for this to happen, taking the right precautions can reduce the risk of a vehicle overturning significantly.
When you're driving in unpleasant conditions and you notice you're having to fight against the wind with the steering wheel, it's important to slow down to a speed where you can comfortably regain full control of your camper.
It would take a lot of wind power to overturn a truck camper, but knowing your driving limits and the limits of your truck are essential, as experiencing high winds with a tall, heavy vehicle isn't very fun.
2. Try Not to Overtake
We've all been in a position where you have somewhere to go and you get stuck behind someone driving slower than you'd like. Overtaking in a car is far easier than in a truck camper, and unfortunately, even if the road ahead is clear and it's safe to overtake, the wind experienced during the overtake could be enough to make your rig sway and swerve.
Unless it's absolutely necessary, it's best to try and avoid overtaking and limit the chance of an accident with you and your truck camper. It's important to remember to keep both hands firmly on the steering wheels at all times, as truck campers can be affected by surprise side winds, so it's best to drive cautiously and take your time.
3. Close All Windows and Doors
Closing all the windows and doors before you drive your truck camper may seem obvious, but when times are busy it can be easy to forget to do the simple things. Before I drive my camper, I like to do a final walk-through and check everything is packed away in its place and that all the windows and doors are closed.
It's also worth checking you've closed your vents before you drive as depending on the vent you have, the lid could be ripped off in strong winds and then you'd have to battle a sizable hole in your roof!
4. Fasten the Truck Camper Securely
Hitting the road with a truck camper is like no other feeling as you can cook, eat, sleep, and relax in the wilderness with everything you need for a successful vacation in the heart of nature. Making sure your truck camper is fastened securely to your pickup is arguably one of the most important things you need to do before you drive.
Truck campers are usually connected to the pickup bed of your truck with tie-downs or turnbuckles, but no matter what method of securing your truck camper you use, it's vital to double-check the fastenings before you drive.
5. Distribute Weight Evenly and Don't Overload
When you're filling up your truck camper with equipment and belongings, it can be easy to forget about how much everything weighs. It's important to know the capacity of your truck camper to ensure you don't overload it, as this can increase the potential risk of an accident on the road.
Along with sticking to the load capacity of your pickup and truck camper, it's just as important to distribute the weight of your belongings evenly throughout the rig. Having one side of your truck considerably heavier than the other can increase the chance of the camper swaying and turning over in harsh conditions.
Driving a truck camper safely is all about taking the necessary precautions and knowing what you and your rig can handle when it comes to windy weather conditions.
If you're not sure you checked the turnbuckles and straps holding your camper to your pickup, it's best to pull over safely and take another look. Similarly, if weather conditions get too rough, there's no shame in finding a campground or wild spot to park and hunker down until the poor weather passes.
Closing Thoughts
The speed at which you can drive your truck camper will depend on factors such as weather conditions, the states you're traveling through, and how heavy your truck camper is.
It's wise to keep your speed around 45-50 mph when driving your truck camper, but there may be times when you can drive slightly faster than this, or times when you'll want to be driving significantly slower!
The key things to think about when adventuring in your truck camper are to keep a steady grip on the steering wheel to help prepare you for sudden gusts of strong wind, not to pack too heavy and overload your camper, and be sure the truck camper itself is fastened securely and won't come off while you're driving.