Last updated on February 17th, 2023 at 09:47 am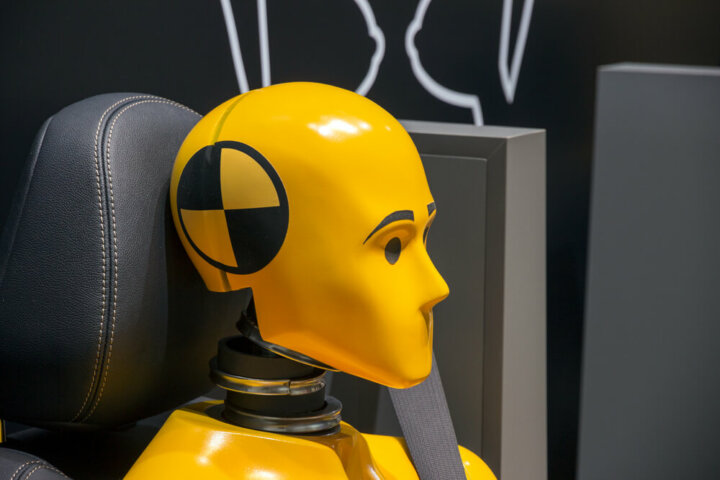 All of our reviews are based on exhaustive research, industry experience and whenever possible, hands-on testing. When you make a purchase using one of our chosen links we'll get a small percentage of the proceeds. This supports the site and keeps Jeffsetter running. You can read more here.
Whether you are hitting the road on a solo trip, with your partner, or with your family, you want to feel safe, especially in the event of an accident. No one expects to get into a crash, but it can happen and it's good to try and get some peace of mind when you are traveling in an RV.
Even though accidents aren't common in an RV, it's important to ask, how safe is an RV in a crash?
The safety of your RV in a crash depends on factors like the class of RV you have, the type of collision you are in, and the location of your passengers. RVs don't have the same level of crash testing as standard vehicles, but they still have some checks and balances to ensure safety.
In this article, we break down RVs by class and explore how safe they are in an accident. We will also look at some of the most common accidents in an RV and how to avoid those.
Are RVs Safe in a Crash?
Whether or not you can expect to be safe in the event of an accident in your RV depends on things like the class of RV, the type of collision you are in, and where the passengers are located at the time of the crash.
One thing to note regardless of the class of RV you have is the risk of projectiles in an accident. You may have items like televisions, tables, and even things sitting out on counters than can become dangerous in an accident. Anything that is not firmly attached to your vehicle can cause injury if it flies around the cabin after an impact.
Class A
Because of their size, class A RVs can end up being less safe in an accident than the other classes. They aren't designed to withstand a large impact but can fare well in fender benders.
Class B
A class B motorhome is going to be safer in an accident than your other options. This is because they are smaller, so they have fewer weak spots than their counterparts. They also tend to be equipped with airbags and seatbelts.
Class C
Class C RVs are midsized and tend to be safe for the driver and co-pilot in the event of an accident. That being said, passengers in the back of the RV are still at risk because of weak spots that aren't designed to withstand lots of damage.
Are RVs Crash Tested?
Generally speaking, RV manufacturers are not required to crash-test their RVs. That being said, many manufacturers will crash-test them anyways. There are also some companies that choose to independently crash-test in order to ensure the quality and safety of their product.
Class A
These RVs are not typically crash-tested by the manufacturer or other oversight committees. In addition to this, class A RVs are not required to meet federal seatbelt standards. You will find that newer ones will feature seatbelts for at least the driver and co-pilot seats.
Class B
Class B motorhomes are built on top of a chassis that is usually manufactured by companies required to test them by the National Highway Traffic Safety Administration or the NHTSA. So even if the RV itself isn't crash-tested, large components of it are.
Class C
Similar to class B RVs, Class C RVs are built on a chassis that will be crash tested by the NHTSA. They are unlikely to be crash tested by the manufacturer though. Whatever crash testing is done, it only applies to the driver and passenger seats, not the rest of the motorhome.
The video below is from Sweden, and it's an example of some RVs undergoing crash testing.
How Are RVs Inspected Before Hitting the Market?
Even if RVs are not crash-tested, there are other inspections that these vehicles go through before they go on sale to the public.
Manufacturers will do quality checks on their RVs, but not every single one of them will be checked individually. These quality checks are not for vehicle safety, but for construction and amenities.
Many manufacturers are also part of the RV Inspection Association, also known as the RVIA. This association will perform random inspections of production plants in order to ensure they are up to code. These manufacturers will place an RVIA sticker on the RV for reassurance to dealers and consumers.
Dealers will also perform their own inspections of RVs before they are sold to consumers. These inspections will usually include the interior, exterior, water, and sewage systems.
Breaks and airbags will also be checked by manufacturers, so consumers should be confident that these safety measures will be in working order before they hit the road.
Is There A Safest Option?
Generally speaking, the safest option for an RV in regard to accidents is a class B RV. At the end of the day, this is because they go through the most testing and have the most safety regulations, plus they have to meet the federal standards for seatbelts and airbags.
Class B motorhomes are typically made from steel and other metals instead of fiberglass, which can help them withstand an accident. They are also smaller than their counterparts so they have fewer weak spots.
Additionally, class B motorhomes drive most similar to a regular car so inexperienced RVers are more comfortable behind the wheel and don't have to deal with as many blind spots.
Common Accidents Causes & How To Avoid Them
There are some more common causes for accidents in an RV, and it's good to know about them in order to help you better avoid them. Accidents are not always avoidable but it's always better to be as prepared as possible just in case.
1. Driving Tired
Regardless if you are driving a car or an RV, driving tired is a bigger risk than most people realize. You should not drive tired, it's safer for you and everyone in your RV for you to pull over and take a break. If you can switch with another passenger, then do that or even take a short walk at a rest stop.
Driving a large RV takes a lot of focus and mental energy, so it can be even more taxing than driving a car. If you are newer to driving an RV, consider planning extra breaks to make the drive more manageable.
You might want to look into the 2/2/2 or 3/3/3 rule. This means you shouldn't drive for more than 200 miles per day, take a break every two hours (or be at your campsite by 2 p.m.), and stay two nights in each place. The 3/3/3 rule is the same, but replace every two with a three.
2. Blind Spots
RVs are both longer and wider than standard vehicles. Even with mirrors, it can be pretty easy to miss something in your blind spots. If you don't have a backup camera, it can be impossible to see behind the vehicle when backing up.
Keep in mind that other drivers on the road aren't necessarily cognisant of your blind spots. If they are swerving around you, they might end up in your blind spot so do your best to keep an eye out for other drivers.
3. Overloaded RV
An overweight RV or unevenly loaded RV can cause a lot of problems on the road. An overweight rig will put more stress on the chassis or the tow vehicle, so you risk tire blowouts or other damage. Overloading your RV can also end up putting strain on the frame and the axles. It can cause issues with the engine, transmission, and brakes.
Unevenly loading your RV, putting too much weight on one side can lead to swaying. Swaying can make it hard to stay on the road, and if your load is uneven, it can make the movement violent, tossing the trailing back and forth on the road.
4. Driver Error
Driver error is a common reason for accidents in any vehicle, but the issue can be exasperated by inexperienced drivers behind the wheel of an RV. Most states don't have special training or licensing for driving an RV. This means almost anyone can end up being the wheel of a rig.
Inexperience can be a risk because RVs have longer stopping times, larger turning radiuses, and don't handle the same way a car or truck does.
Making sure to practice driving your RV will help you gain experience and make your driving experience safer for everyone.
Driver error can also include things like texting, speeding, driving intoxicated, or even not leaving enough space between the RV and the car in front of it. Making sure you don't practice any of these bad and dangerous driving habits is important to keeping everyone safe inside the RV and on the road.
5. Strong Winds
RVs are big, even the small ones are substantially bigger than standard cars. Windy conditions will make your RV sway, and you're even more susceptible to swaying when you are towing. It's easy to overcorrect and end up in the wrong lane and end up flipping. This can be an especially big issue if your RV is on the lighter side.
In any condition, but especially in strong winds, the speed limit is a requirement for RVs. Speeding can cause plenty of accidents, but it can be extra dangerous when the winds are high. You can easily lose control of your RV in that situation.
Avoiding Accidents
Practice, practice, practice. Getting more experience behind the wheel is important. That will help your confidence as you drive and can help make sure that you know what do to in a dangerous situation. There are RV driving courses out there that might be worth taking to get you that experience.
Weighing your RV and making sure to spread the load to balance it and make sure there is no undue strain on your RV while you are driving or towing it.
Doing proper maintenance on your RV and keeping up to date with maintenance is a necessary step in keeping your RV safe on the road.
Slow down! Your RV isn't meant for the fast lane, most RV tires aren't rated to go over 65 miles an hour. Plan your trips ahead so that you are not in a hurry, and even if you are, rushing isn't worth your safety.
Conclusion
No vehicle is perfectly safe in an accident, and RVs don't go through as rigorous testing as cars, so they might not be considered "safe" by a lot of people's standards. RVs are not as crash-tested and don't have as many safety regulations as standard vehicles, so they are not as safe in an accident as most cars.
Based on regulations, your safest option is to pick a class B motorhome. That being said, driving safely and making sure your passengers are secure is a good step to keeping safe in an RV during an accident.
You should make sure to secure loose items in your RV before driving so they don't become dangerous projectiles in the event of an accident.
There are some causes of accidents that are more common than others, and some that are avoidable. Gaining experience behind the wheel of your RV, knowing proper RV maintenance, and keeping to the rules of the road can help keep you safe in an RV while you're on the road.