Last updated on June 5th, 2023 at 11:44 am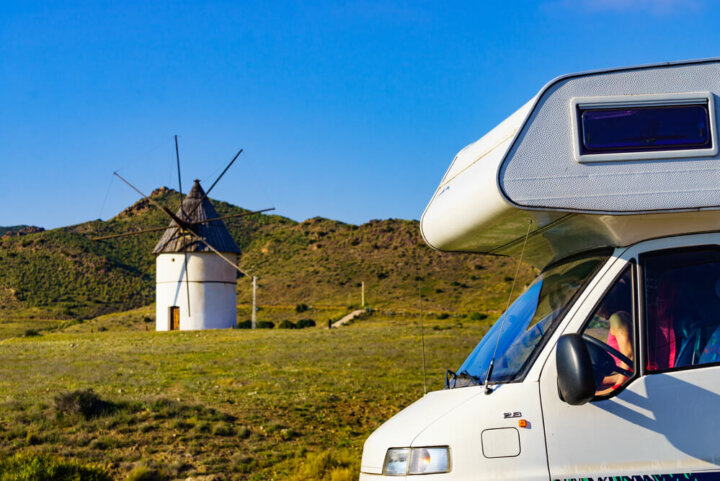 All of our reviews are based on exhaustive research, industry experience and whenever possible, hands-on testing. When you make a purchase using one of our chosen links we'll get a small percentage of the proceeds. This supports the site and keeps Jeffsetter running. You can read more here.
There are many different types of RVs on the market from travel trailers and truck campers to Class A, Class B, and Class C RVs. These vehicles are the ideal way to take a trip somewhere new whilst having comforts on board such as a lounge area, bed, and kitchen. A worry for many when they head out in an RV on a stormy day, is if their camper is at risk of tipping over in the wind.
You're probably now asking yourself the question, how much wind can a travel trailer or RV withstand?
The amount of wind a travel trailer or RV can withstand will depend on the size and type of the vehicle and whether it is moving or parked. Low winds at 10 mph can affect moving RVs, but many RVs can withstand winds of up to 75 mph when parked.
When you're out on the road and weather conditions get tough, or you're parked at a campground and the wind starts to pick up, it's normal to wonder about the safety of your RV. It's important to know what to do in windy conditions and make sure you stay as safe as possible in your camper. So, let's take a look at some of our tips!

How Much Wind Can a Travel Trailer/RV Withstand?
The strength of wind any type of RV can withstand will vary depending on the size of the rig and whether it is moving or stationary. Generally speaking, larger, heavier RVs can put up a better fight in windy conditions than lighter, smaller RVs. Having a bigger surface area, however, can make big RVs a target for wind, and in extremely windy conditions, large rigs can tip over.
A big concern when towing a travel trailer in windy conditions is that the trailer may swerve uncontrollably into other lanes or off the road, being pushed by strong winds. The wisest thing to do if wind speeds start picking up is to try and pull in somewhere shielded from the wind.
How To Drive Travel Trailers and Fifth Wheel Trailers in High Winds?
Towing any type of vehicle requires a lot of attention to maximize safety, and in windy conditions, it's important to take extra care to avoid potential accidents. Body sway or trailer sway is more likely to happen with a towing vehicle and trailer because of the dynamic of the set-up. Towing in windy conditions isn't advisable as there is a chance you could experience trailer sway.
Trailer sway happens when the trailer starts to shift uncontrollably from side to side and it can be near-impossible to gain control of it once again, this is commonly known as jack-knifing. This can happen for many different reasons but often is caused by a force such as wind pushing against the side of the trailer.
It's best to avoid towing a travel trailer in windy conditions, but if you have no other choice, there are a few things you can do to stay as safe as possible.
1. Concentrate
It may sound obvious, but it can be easy to get distracted at the wheel, especially if there's a storm happening and you're out on the open road towing your fifth-wheel trailer. Be sure to keep both hands on the wheel as if strong winds attempt to nudge you into the next lane, you can keep the vehicle straight and in line.
2. Slow Down
In many situations, I think slow and steady wins the race, and when you're towing in high winds, it's best to keep speeds low. The severity of the winds will dictate how much you will have to slow down, but you'll want to get to a speed where you can keep the trailer aligned and in control.
Keep an eye on your trailer and if it looks unstable and is starting to move around a lot, gently bring your speed down to where the trailer realigns and stops bouncing around.
3. Control Steering
You may also have to be mindful of your steering, especially when passing other vehicles or traveling down narrow roads. Keeping a firm grip on the wheel will put you in the best position if a sudden gust tries to blow you into the trees.
Depending on the wind direction, it may feel as though you have to work the steering wheel hard to stay in the correct lane. If the direction of the wind suddenly changes, this can cause you to swerve and enter a lane you're not supposed to be in, so keep as focused as you can!
4. Take Breaks or Stop
Nature cannot be controlled and unfortunately, you may have to pull in and stop if wind conditions worsen. If the high winds are becoming steadier and you can confidently keep driving, it's useful to have regular breaks to take a rest and assess the situation.
Driving can be a beautiful activity on a day with bright blue skies and sunshine, however, in poor weather conditions, driving can be exhausting as it takes a lot of mental energy to keep safe on the road. Even a short break every hour or so can help boost energy and keep concentration levels up.
How To Drive RVs in High Winds?
If weather conditions are severe, it's best not to head out in your RV. If you're already out on the road when the weather turns, it's useful to know what to do to avoid tipping over or being involved in an accident caused by windy conditions.
Some RVs, such as Class A RVs tend to be top-heavy, and this can cause problems in windy conditions and make the rig more liable to tipping over. Try not to panic though, as it would still take very powerful winds to knock over a Class A RV!
When you're driving and wind speeds increase, it's best to find a safe place to pull over, however, if this isn't possible, there are a few things you can do to remain as safe as possible in your RV.
1. Slow Down
Being on the move in windy conditions can put you and your RV in a more vulnerable position than if the camper is stationary. Whilst driving, if you start to feel your rig moving around a bit more than usual, it's best to slow down and regain as much control as possible of the vehicle.
Even if cars are speeding ahead, focus on your rig and how it feels. RVs can be big units and steps need to be taken to help them stay grounded on the road during high winds.
2. Be Mindful of Overcorrection
Sometimes, wind can predominantly be coming continuously from a specific direction, resulting in you having to hold your steering wheel at a certain angle to fight the wind. When a large vehicle like a semi-truck passes on the other side of the road, it stops the wind for a short period of time which can result in your steering being overcorrected as it's off center.
This can cause your RV to be pushed into another lane and could cause an accident. To help avoid this, be mindful of overcorrection and be prepared when a large truck is about to pass on the other side of the road.
3. Avoid Crosswinds
Crosswinds can occur on vast, open ground or bridges where wind from different directions can create chaos for anyone driving through that particular spot. Bridges usually have a wind sock that indicates the direction and strength of the wind on that day. On the approach to any bridge, it's useful to take a look at the windsock so you can get ready to tackle conditions on the bridge.
The video below is from two RVers who got caught in some strong winds and had to take all the precautions they could to keep their rig safe. Noting down a few tips and keeping them in your RV is a useful idea as it's easy to forget things in the moment.
As you can see in the video, basic things like closing windows, doors, and vents, can make a big difference, along with parking in a safe spot with no debris that could potentially be whipped up against your RV by the wind.
How Much Wind Can a Travel Trailer/RV Withstand Parked?
RVs and travel trailers have a far better chance against the wind if they are parked. This is because there is no momentum acting with the wind like there is when you're driving. If an RV is parked suitably, it may be able to withstand winds of 50 mph and more.
Different RVs may not handle windy conditions so well, and if this is the case for your camper, it's best to take all the precautions necessary to help stop your rig from tipping over. When parking your RV during windy conditions, there are a few things to be aware of to stay as safe and secure as you can.
1. Park in A Safe Spot
One of the most essential parts of keeping safe in your RV during windy conditions is parking in a safe spot. It's best not to park near brittle trees that may be uprooted and fall down, and it's also best to avoid parking near debris that could be blown by the wind and damage your RV.
2. Check the Environment for Danger
Windy conditions can cause havoc in the environment, and it's crucial to check your surroundings for any potential danger. Parking near power lines isn't advisable as if wind speeds pick up, the lines could get damaged and become dangerous.
3. Pack Up Camp
Part of the joy of RVing is spending time in nature, and many RVs have external features like grills and sound systems that allow you to do just that. If weather conditions start to turn, it's wise to pack away anything you may have outside, including chairs, tables, and other camping equipment.
Packing belongings away is a surefire way of keeping your things safe, and also means equipment won't get blown into the side of the RV causing dents and scratches.
4. Retract Awning and Slide Outs
Awnings and slide-outs are ultimate space-enhancing features on many RVs, but they often aren't very sturdy and durable, particularly during high winds. Retracting your awning and slide-outs is a good idea on windy days to protect them from any damage that could otherwise be caused.
5. Hitch RV to Pickup Truck
When you reach a campground and are going to stay for a few days, it's common to unhitch your travel trailer so you can use your pickup as a regular truck. This is a great way to make the most of both spaces and means you can head to the shops without having your travel trailer on the bed.
In windy conditions, however, it can be beneficial to hitch the RV back onto the pickup truck and park them in a way that they can tackle high winds together, as one unit. This also brings peace of mind that the trailer is less likely to be tipped over if it's hitched onto the pickup truck.
How Much Wind Does It Take To Flip a Trailer?
According to the Enhanced Fujita Scale that measures the damage of tornadoes, wind speeds of over 100 mph would be needed to overturn high-profile vehicles. However, this depends on factors such as how the vehicle is parked, along with the weight and size of the vehicle. RVs can tip over in poor weather conditions, but being prepared for strong winds and anchoring your camper will put you in the best position.
Anchoring your RV if you have to stick out some high winds is a good idea and there are a few different options available depending on your RV and budget.
1. Use Stabilizer Jacks
RV stabilizer jacks help to reduce the movement in an RV, as they extend downwards providing additional support. This can be useful in high winds, but it's important not to overload the jacks with more weight than they can handle.
Many RVers find it helpful to use wood or plastic blocks to help limit the distance the jacks need to extend. This can help protect the jacks along with the ground you are using them on.
2. Attach Anchor Kit
RV anchor kits can be purchased online or in automotive stores and depending on the kit, can be screwed or bolted to a solid object or screwed into the ground. Anchor kits are an affordable way to enhance the safety of your RV.
If you're out camping in your RV and the weather turns for the worst, you can attach your anchors to concrete or a tree and rest assured that the chance of your RV being tipped over is minimal.
3. Tie-Downs
When towing a travel trailer with a pickup truck, tie-downs tend to be used to keep the trailer in place and stop it from shifting around whilst you're driving. Tie-downs can also be useful to keep your trailer in place during strong winds as they stop the trailer from moving off the bed of the pickup truck.
Closing Thoughts
The amount of wind any type of RV can withstand varies on factors like the type and size of the RV, along with whether the camper is moving, and where it's parked if it's stationary. It isn't wise to drive any kind of RV in high winds, especially when towing a travel trailer. RVs are high-profile vehicles and can be susceptible to tipping over if wind speeds become strong enough.
There are many ways to help increase the safety of your RV in windy conditions and it's worth remembering them in case you ever get stuck in a windy situation yourself. Slowing down, controlling your steering, avoiding crosswinds, and remaining focused are all ways to help keep you safe during high winds.