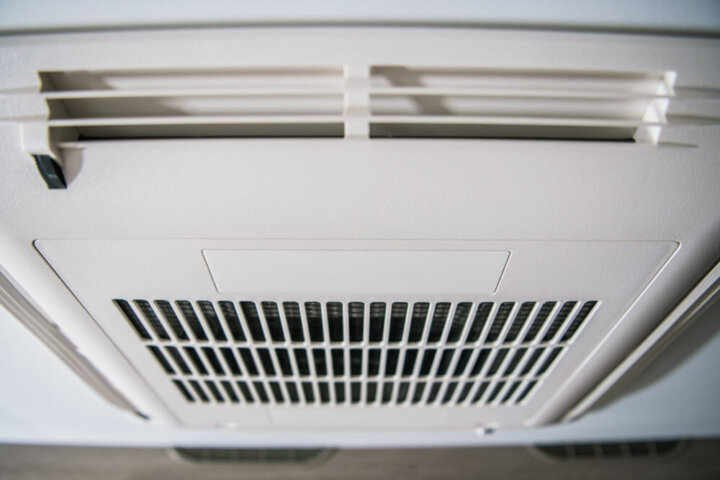 All of our reviews are based on exhaustive research, industry experience and whenever possible, hands-on testing. When you make a purchase using one of our chosen links we'll get a small percentage of the proceeds. This supports the site and keeps Jeffsetter running. You can read more here.
You can generally expect your RV to last a lot longer than the factory-installed AC unit. Even a new air conditioning unit will need to be replaced eventually, depending on factors like how often it is used and how well it's maintained.
So, how long do RV AC units last?
An average RV AC unit lasts anywhere from 3 years to 5-10 years or longer. The life of an RV AC depends on factors like how hard the AC unit works, how it's stored, and maintenance. There are a lot of things that you can do to make your RV AC unit last longer, too!
Let's check out the average lifespan of an RV air conditioner, as well as what factors can change how long the AC lasts. I'll also give you some helpful tips for extending your AC's lifespan and talk about signs that mean it's time to replace your RV AC unit.
How Long Do RV AC Units Last?
The average lifespan of an RV air conditioner could be anywhere from 3-5 years, though heavy-duty RV AC units might last 10 years or longer.
It's worth noting too that some parts of an air conditioner can break with time and it doesn't always mean the air conditioner is completely broken. Individual parts can be repaired or replaced as long as the fan and other parts are working efficiently.
What Factors Affect the Lifespan of an RV Air Conditioner?
The lifespan of your RV AC unit depends on how much work it has done and how often/well you maintain it. There are a lot of steps that you can take to extend the life of your air conditioning unit. Small steps like being sure to change the filter regularly, keeping moisture and debris out, and not overworking your unit really help.
Of course, the quality of the parts and hardware used to make the air conditioner also work. Buying from brands known for their higher quality parts could help your RV AC unit last longer. Some of them may also come with warranties so you can have the AC unit repaired if anything breaks or it doesn't last as long as it should.
How to Extend the Life of Your RV AC Unit?
Extending the life of the AC unit for your RV is all about taking care of it. From using the AC unit to maintenance and storage, here are some tips that can help you get the longest possible use out of your air conditioner.
Keep a Steady Power Source
When you don't run your AC using a steady power source, whether you run it off electric from the campground or using your RV's generator, it significantly reduces how efficiently the AC runs. It can also cause power surges that damage the electrical components of your AC unit and shortens its lifespan.
Something to remember is that your RV's generator is made to power the entire RV, not just the air conditioning unit. It's important that the total wattage has the capacity to do all you need it to. Otherwise, your AC just isn't going to run as efficiently as it should.
At a minimum, you should run your AC unit with 30amps of energy. Of course, this recommendation can change depending on the power of your unit and you should always use the wattage recommended by the manufacturer of your RV or AC unit.
In cases where you don't have the proper amps, there is a device called a soft starter. The soft starter works by letting the AC unit start using less power while still starting safely and efficiently, so it won't overload your generator.
Avoid Overworking Your Air Conditioning Unit
While you absolutely can run your RV AC unit all day long, that doesn't always mean you should if you're trying to make the AC last longer. Even if you do, there are also things you can do to stop it from working too hard. For example, parking in the shade keeps the sun off the AC unit so it doesn't have to work as hard to cool the RV down.
For days that aren't too hot, using your RVs natural ventilation system to create a cross breeze can cool things down so you don't have to run the AC unit. Having framed windows vs. frameless RV windows that slide open gives you more airflow through the RV and helps keep things cooler.
Something else that you can do is consider running a second unit. While newer models of RVs are usually equipped with a rooftop unit, some people choose to use a portable AC or fans or even install a window RV air conditioner.
Choosing an efficient RV AC unit for backup means that the original rooftop unit isn't working as hard to keep things cool.
Do Routine Maintenance
Routine maintenance is a necessary step for ensuring your RV AC unit lasts. This includes things like inspecting for damage, cleaning the filters and straight fins, and cleaning the housing unit.
Clean the Fins and the Housing Unit
When dirt or debris is clogging the filter or stuck on the straight fins (those are the slats on the air conditioner where the air blows from), then the AC won't work as it should. Dust and debris impede airflow. It also makes it more likely that condensation will build up inside the air conditioning unit and mold and mildew could form as a result.
For the straight fins, use a comb to gently straighten any fins that are bent. Then, use a vacuum to suck out any dirt and dust. Alternatively, use a mild cleanser and water to clean the outside of the fins.
You should also clean the housing unit with soap and water when it gets dirty. This keeps the unit well ventilated and helps it work more efficiently.
Here's a handy video you can check out if you aren't sure how to clean your RV air conditioner.
Cleaning and Replacing the Air Filter
As a general rule, you should clean your air filter at least once every two weeks when it's running constantly. Remove it, wash it in warm water and soap, and set it out in the sun for a while to dry. You also need to change your filter once it becomes worn out or you can't get it as clean.
Check for Signs of Malfunction or Damage
Routine maintenance should also include looking for any cracks in the seal around the air conditioner and tightening any screws that hold it into place. The seals on the roof of your RV are especially likely to be damaged because they are exposed to UV rays from the sun.
Looking for moisture is also important. Condensation can happen when air isn't blowing freely through the air conditioning unit, such as when the filter or fins are too clogged up. Any leaking outside the unit also indicates a problem with a seal or something else.
Signs of moisture are problematic, especially for mold mildew growth. Not only is this a possible health hazard, but this can damage your AC unit, and it also has the potential to damage your RV if you don't handle it right away.
Oil the Fan Blades
The fan inside your AC is critical to keeping air blowing freely into your RV and cooling it off. You should oil the fan blades regularly as part of routine maintenance.
Not only does this keep them working as they should, but it stops friction from damaging the fan. It can also stop squeaking or squealing sounds that happen when the fan isn't moving as smoothly as it should.
How Often Do I Need to Maintenance My RV Air Conditioner?
The frequency that you do routine maintenance on your RV AC really depends on how much it's being used. That being said, it's worth checking for any issues at least every 1-2 months.
You should also change the filter as often as once or twice a month when the AC is running a lot.
Do I Need to Perform AC Maintenance When My RV Isn't Being Used?
While you probably don't need to swap out your RV filter while it's not being used, there are steps that you can take to ensure the longevity of your RV AC unit even in the off-season.
The best place to start is opening the roof vent, which helps release condensation that causes mold and mildew. Opening the roof vent is also a good way to prevent mold in the RV during storage because the air circulation keeps things dry.
You should also keep the RV AC unit covered when it isn't in use to keep dust and debris out. Swap out the filter and clean out the AC unit once RV season starts back up, too.
Keep the RV AC Unit Covered
Even when you're traveling down the road or parked at the campground, if your AC unit isn't actively being used then you'll want to keep a cover on it. Most AC units do come with covers, but they do break down over time.
It's also worth replacing your RV AC cover if it shows signs of damage. It's constantly exposed to the sun when the RV is out of storage, so there can be UV damage that makes the cover more brittle with time. Brittleness results in cracks and eventual rips that leave the AC exposed to wind, water, dust, and debris.
What Are Some Signs That Your RV AC Unit Needs Replacing?
The first obvious sign that your AC unit needs to be replaced is that it just isn't cooling off your RV like it used to. Of course, sometimes this just means that there's something wrong that needs to be repaired. The seal could be cracked a little and because the cool air is escaping, the unit won't work as effectively.
Anything out of the ordinary means that your RV unit is either going to need maintenance, repairs, or replacement. This could include any type of leaking, weird odors, or strange noises that could be anything from clunking in the housing unit to squealing from the fan.
Additionally, while cracks in the seal can be fixed, cracks in the actual AC unit itself could mean you need to replace the unit.
Final Word
Regular RV maintenance can get expensive, but not taking care of things like your RV AC unit can be even more costly to repair.
When it comes to the question, "How long do RV AC units last?" the answer is an average of 3-5 years. However, heavy-duty units can last as long as 5-10 years or longer if they are taken care of.
Doing things like running your AC on proper wattage and avoiding overloading it can go a long way in making sure that it lasts. Plus, keeping it protected and doing routine maintenance lengthens its life too. Hopefully, this has all been helpful!