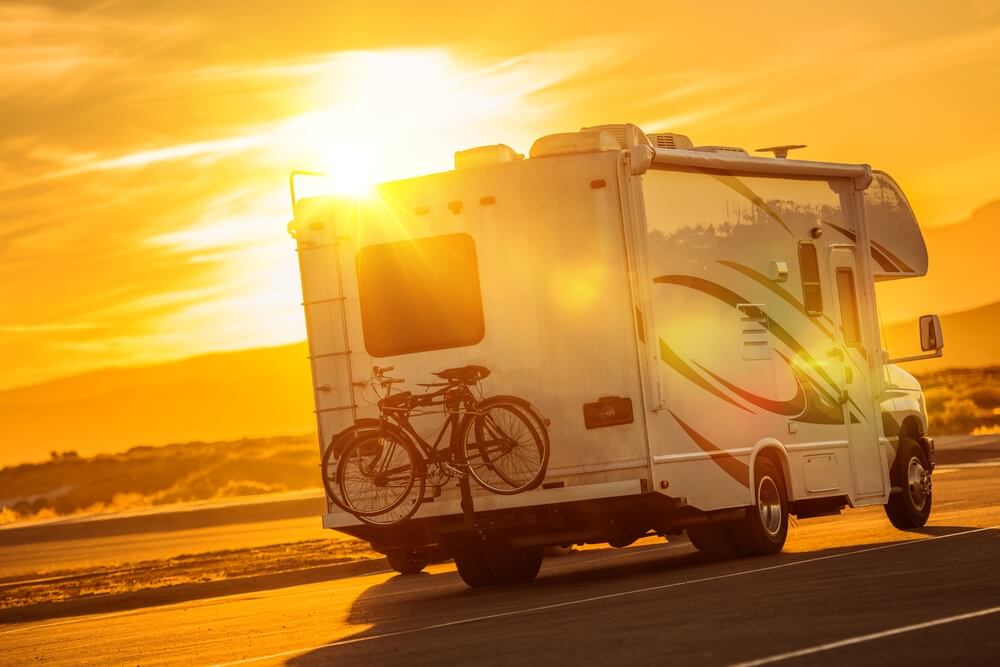 All of our reviews are based on exhaustive research, industry experience and whenever possible, hands-on testing. When you make a purchase using one of our chosen links we'll a small percentage of the proceeds. This supports the site and keeps Jeffsetter running. You can read more here.
If you've ever gone traveling during the hottest days in summer, then you know the feeling of being frustrated at your RV's AC. At times it just seems that it can't cool your rig down enough. Hey, everybody needs a helping hand sometimes and the same is true for your rig's AC. The obvious option that comes to mind is using a portable AC unit, but can they be used in an RV?
A portable AC unit is a great option for keeping your RV as cool as it can be while traveling. There also happens to be a variety of different options that are best suited for the size of your rig. To top it off, they are totally safe!
With them being safe and easy to use, let's explore the two main types of portable AC units that you can choose for your rig.
The Two Main Types of Portable AC Units That Work For RVs
Vented Portable AC Units
The first type is the most common as vented AC units are both very effective and efficient. However, they have to be situated near a window or anywhere they can access outside air as that is what they use to cool your rig. Vented units bring in air from outside in order to filter out any stale air from the rig while also using evaporated water to prevent the room from drying out.
The ultimate 3 in 1, ventilating the room, cooling it down and adding moisture to the air to keep it from being dry and uncomfortable. The only downside is that the process of venting the portable unit can be tedious if you don't have access to a window.
If you don't want to have a portable vented AC unit hogging up space in front of your window, then you'll have to vent it somewhere else. Using power tools, you can drill small tight holes in your RV's walls that allow the AC's vents to pass through. Be sure to cut power to your rig before doing this just in case you miscalculate and drill through a wire. You definitely do not want to be doing that but if it happens, you'd rather the wire be dead than active.
Once you've got the vents through the holes, be sure to secure them down so they don't move around too much and become damaged while driving. Tape and zip lines are some good options for this.
Be sure to cover any excess holes with insulation so you can keep the unit as effective as it can be while also keeping out any animals that may want to nest up in the unit itself. Once this is all complete, send power back into the rig and test out the unit to make sure everything is running smoothly.
It is definitely best to have a window you are willing to place the unit in front of as creating vent holes in your rig can be dangerous if you don't know what to look out for. However, vented units are not the only option you can use.
Vent-Free Portable AC Units
Vent-free units are the second option however, they are not recommended often as they are ineffective for humid climates. Vented Units use evaporated water to cool down a space while using ventilation to remove old stagnant air. Vent-free units also use evaporated water, but without the ability to cycle out old air.
The moisture they add to the air does not get removed once it's been cooled, leaving it extra humid and uncomfortable after its use. Now, if you live or are traveling in a dryer Mediterranean climate then vent-free units are totally fine. It's important to just be aware of their limitations around keeping your rig cool in humid locations.
While one can also find portable rooftop and window AC units, these tend to blur the line of what actually counts as portable as their installation process can be just as demanding as an actual rooftop or window unit. They are usually classified as such for their smaller size which provides more options for installation, rather than their actual portability.
Figuring out if vented or non-vented units are best for you is just the beginning. There are lots of other important factors to consider before deciding on the best portable unit for your ri
What to Look For in a Portable AC Unit?
BTU Levels
The most important thing to look for in a portable AC unit is its BTU (British Thermal Unit). The BTU of an AC unit is what determines both the amount of space it will be able to cool and how much power it will require to do so.
The British Thermal Unit is the most commonly used energy metric when discussing AC units. Other energy metrics being calories, joules, and watts. The conversions between these metrics are outlined by the Environmental Protection Agency. Generally, a 10,000 BTU unit will be around 2000 watts and a 15,000 BTU unit will be around 3,300 watts.
Knowing how to calculate BTU is super important in ensuring the portable AC unit you choose will be able to cool off the space you're using it in. The first thing you'll want to do is, using a tape measure for accuracy, determine both the length and width of the room in question in feet and inches.
Once you have your length and width, calculate the square footage by multiplying the length by the width.
For example, 25 ft (length) x 10 ft (width) = 250 square feet.
Once you have the measurements you need in square feet, it's time to calculate the BTU itself. 1 square foot is roughly equivalent to 20 but, so simply multiply the square foot of your space by 20 to receive a BTU estimate.
For example, 250 square feet x 20 BTU = 5,000 BTU
However, as this does not take into account walls, windows, sun exposure, etc. It is important to increase this amount by an extra 1,000-1,500 BTU to adjust for this. With that in mind, a 250 square foot space would need a portable AC unit of around 6,000-6,500 BTU.
Once you have found the BTU you can begin to consider the other factors that go into choosing the best portable unit for your rig.
Brand
Choosing a portable unit from a good brand is super important in helping you avoid any problems in the future. They are more reliable, effective, and with good care will have a longer lifespan. Choosing a good brand does not always have to mean choosing the most expensive option, rather it is in finding the best combination of quality and features within the price point you're looking for.
Pricing and Features
Part of what makes portable units such a great option is that they are more affordable than their traditional counterparts. A rooftop unit can cost you anywhere from $700-2,500 while most portable units are around $500.
Pricing will of course depend on the unit itself, how old it is and the features it comes with. Adjustable fan speeds, a remote control and a timer are all different featured portable units can come with. Choosing which of these are the most important to you will influence the price of the unit you purchase, but the rule remains that portable options are usually cheaper than traditional units.
Finding the best unit for your rig is very important, but you definitely don't want to overlook the steps you can take to ensure that the unit you choose remains in the best condition possible.
Portable AC Unit Maintenance
The best thing you can do for your portable AC unit is simply keeping it clean. This will help with keeping practically every essential function running the way it should. A dirty unit can quickly have an obstructed air intake, this will usually be the cause for a unit that blows only lukewarm air. Perhaps even worse than this is a dirty filter, this can cause dust to be sent around your rig every time you use the unit. Not only will this usually cause a persistent bad smell, but it can pose lots of problems to people with asthma, allergies or any other respiratory conditions.
It's also important to make sure your unit is not too small for the space you're cooling, not just for BTU requirements, but to keep it from overworking. A unit that can't cool a room down will constantly be using power to try and do so which overtime will lower its lifespan.
Speaking of overworking, before trying to run your portable unit all day you should be aware of what that can cause.
Can You Run a Portable AC Unit All Day?
While you can certainly run a traditional RV AC Unit all day, portable units have a more unique set of limitations. While most portable units can run all day with sufficient power, this can be dangerous because of the use of moisture to cool down a space. The constant moisture buildup can quickly go beyond just humidity and start causing condensation. While this is harmless initially, if you run the unit for too long, this excess moisture can cause electrical problems for both the unit itself and other appliances in your rig.
Trying to run your portable unit all day is generally never worth it. Even if you find a way to safely deal with the excess condensation, most units use a lot of electricity to run all day, with typically only the newer more expensive units being energy efficient.
Now, while traditional AC units can't run on your rig's battery due to voltage limitations, most portable units can with the use of an inverter. However, this is not very practical because at a minimum this would require 24 amps of battery power just to get started which is nearly impossible for rigs connected to a 30-amp electrical hookup. It is still not realistic for rigs with a 50-amp hookup as that continuous load on the battery would not be sustainable 24/7. Even on battery power, running your portable AC unit all day is just not energy efficient at all.
Solar energy is another option for the rigs that have access to it, however, this is also not powerful enough to run all day as the energy demands are just too high. At most, you would be able to run your portable unit for around 4-5 hours each day using solar power.
The best thing you can do to have your portable AC unit keep your RV cool without running it all day is to make its job easier. You can do this by keeping the door closed when it is in use, making sure all ceiling vents are turned off and using reflective window coverings that block the sunlight from entering.
All of these methods are great ways to allow your rig to cool down faster and allow you to use your portable unit more sparingly. Plus, they are great ways to help keep you cool during those really hot days.
Closing Thoughts
There are just a ton of benefits to traveling with a portable AC unit by your side. While they are not a replacement for your rig's standard unit, they are a great tool to have alongside it to help cool your rig down faster when it's absolutely sweltering.
They are cost effective, simple to use, and with a little bit of maneuvering can fit easily into your RV without taking too much space. It's very important of course to be aware of the different unit types and the care that goes into owning one. Luckily, all of it is super easy to do and makes everything regarding your portable unit easier to handle in the future.
With a little bit of knowledge and care, you'll have your unit operating in your rig years down the line as it did when you first bought it! Keeping you cool and comfortable during all of your adventures.