Last updated on September 7th, 2023 at 03:27 am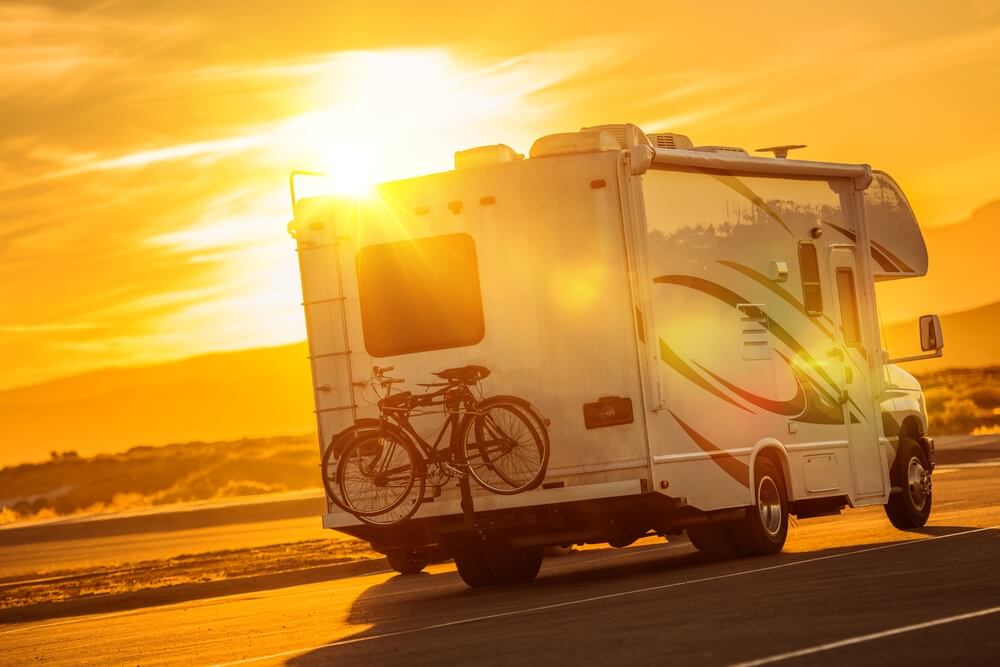 All of our reviews are based on exhaustive research, industry experience and whenever possible, hands-on testing. When you make a purchase using one of our chosen links we'll receive a small percentage of the proceeds. This supports the site and keeps Jeffsetter running. You can read more here.
If you've ever traveled during sweltering summer days, you know the feeling of being frustrated with your RV AC! At times it just seems like it can't cool the rig down enough. But hey, everybody needs a helping hand sometimes and the same is true for your RV air conditioning. The obvious option that comes to mind is using a portable AC unit, but are they suitable for a home on wheels?
Can you use a portable AC in an RV?
It's possible to use a portable AC in an RV and it will help cool things down inside the camper! Portable RV AC units range in affordability, size, capability, and more, so it's wise to do some research and find the one best suited for your RV and storage ability.
Having AC on board any RV from Class As to smaller Class Bs is a game-changer, especially for those traveling year-round, in all four seasons. With portable ACs being safe and easy to use, let's explore the two main types of portable AC units you can choose for your rig.
Can You Use Portable AC In An RV?
Using a portable AC unit in your RV is possible! More than that, there are also many different portable ACs to choose from, so you can make a choice depending on budget, capability, and storage space you have available inside your camper! There are two main types of portable AC units that work for RVs, so let's explore these now.
Vented Portable AC Units
The commonly used, vented RV AC is an effective and efficient way to cool your RV down. These devices have to be placed in an area with access to outdoor air such as a window. Outside air is what vented portable AC units use to cool temperatures down. Vented units use fresh outdoor air to filter out any stale air from the RV interior while also using evaporated water to prevent the room from drying out.
Vented portable AC units are the ultimate 3-in-1! They ventilate, cool temperatures down, and add moisture to the air, stopping it from becoming dry. The only downside is that the process of venting the portable unit can be tedious if you don't have easy access to a window. If you don't have window space, you could drill small holes in your RV's walls that allow the AC vents to pass through.
Be sure to cut power to your rig before doing this just in case you miscalculate and drill through a wire. You don't want to cut through any electrics, but if the worst happens, it's far better for the wire to be inactive. Once you've got the vents through the holes, be sure to secure them down so they don't move around too much and become damaged while driving. Tape and zip lines are some good options for this.
Be sure to cover any excess holes with insulation to keep the unit as effective as possible while also keeping out any animals that may want to nest in the unit itself. Once completed, send power back into the rig and test out the AC to make sure everything runs smoothly! It's optimal to have a window to place the portable unit in front of, but if creating vent holes is the only way to use these devices, go for it, but do so safely!
Vent-Free Portable AC Units
Vent-free units are the second portable AC option but they aren't recommended often as they are ineffective for humid climates. Vented portable AC units use evaporated water to cool down a space while using ventilation to remove old stagnant air. Vent-free units also use evaporated water but without the ability to cycle out old air.
The moisture they add to the air doesn't get removed once it's been cooled, leaving things humid and uncomfortable after use. If you live in or are traveling through a dryer Mediterranean climate, then vent-free units are totally fine. It's just important to be aware of these units' limitations around keeping your rig cool in humid locations.
While it's also possible to find portable rooftop and window AC units, these tend to blur the line of what actually counts as portable. The installation process can be just as demanding as an actual rooftop or window unit, which doesn't sound very portable to me! These ACs are usually classified as such for their smaller size which provides more options for installation, rather than their actual portability.
What To Look For In A Portable AC Unit?
Choosing a portable AC unit can be tricky – there are simply so many to choose from! There are a lot of considerations but these will inevitably help you make an educated decision so you end up with the best portable RV AC unit for your camper.
BTU Levels
The BTU of an AC unit is what determines both the amount of space it's capable of cooling and the amount of power the device will require to do so. The British Thermal Unit is the most commonly used energy metric when discussing AC units. Other energy metrics are calories, joules, and watts. Generally, a 10,000 BTU AC will be around 2,000W, and a 15,000 BTU unit will be around 3,300W.
Knowing how to calculate BTU is super important in ensuring the portable AC unit you choose will be able to cool down the space you're using it in. The first thing you'll want to do is grab a tape measure for accuracy and determine both the length and width of the room in question in feet and inches.
Once you have the length and width dimensions, calculate the square footage by multiplying the length by the width.
For example, 25 ft (length) x 10 ft (width) = 250 square feet.
You'll then need to calculate the BTU itself; 1 square foot is roughly equivalent to 20 BTUs, so simply multiply the square foot of your space by 20 to receive a BTU estimate.
For example, 250 square feet x 20 BTU = 5,000 BTU
However, this doesn't take into account walls, windows, sun exposure, etc. It's important to increase this amount by an extra 1,000-1,500 BTU to adjust for this. With this in mind, a 250-square-foot space would need a portable AC unit of around 6,000-6,500 BTU. Once you've calculated the BTU, you can begin to consider the other factors that go into choosing the best portable AC unit for your RV.
Brand
Choosing a portable unit from a good brand is important to help avoid potential issues in the future. They are more reliable, effective, and with good care will have a longer lifespan. Choosing a recognizable brand doesn't always mean choosing the priciest option. Instead, it means finding the best combination of quality and features within your budget.
Pricing And Features
A huge benefit of portable RV AC units is their affordability, especially when compared to their popular fixed counterparts. A rooftop unit can cost anywhere from $700 – $2,500 while most portable units are around $500, which is far better in my eyes, as traveling in an RV costs plenty already! Pricing will depend on the AC itself, its age, and available features.
Adjustable fan speeds, a remote control, and a timer are all different features portable units may come equipped with, though high-tech options will likely have a high price tag. For RVers on a budget, I recommend prioritizing the features you need from a portable AC, before considering things you'd like from a unit. This will help keep you on budget, so you can save and enjoy a fun summer adventure!
Finding the best portable unit for an RV is important, but post-purchase, it's essential not to overlook the steps you can take to ensure the unit you choose remains in the best condition possible.
Portable AC Unit Maintenance
Purchasing an RV means you are dedicating yourself to maintenance often on your adventure wagon! RVs require maintenance such as winterization and keeping seals in check, but a portable AC demands maintenance too!
Keep AC Clean
There's not too much labor involved in keeping a portable AC unit well-maintained. In fact, the most effective maintenance to complete is to simply keep your portable AC clean! This will help with keeping practically every essential function running the way it should. A dirty unit can quickly have an obstructed air intake, which is usually the cause of a unit only blowing lukewarm air.
Check AC Filter
A dirty filter can also cause issues in a portable AC unit, sending dust everywhere each time it's used. This can lead to bad odors, and be irritating for those suffering from asthma, allergies, or other respiratory conditions. You can see how much dirt the filters on a portable unit can accumulate over time in the video below:
If you've been running your portable AC regularly for a while, take a look at the filter and see if it needs to be cleaned or changed. After the filter has been cleaned or replaced, you'll likely notice a difference in the smell of the AC unit and the effectiveness of the device too!
Use AC In Appropriate Space
It's also important to make sure your unit isn't too small for the space you're cooling. This is essential not only for BTU requirements but to also keep it from overworking. A unit unable to cool a room down will constantly be using power to try and do so. If this happens for an extended period, it could lower the lifespan of the unit!
Can You Run A Portable AC Unit All Day?
While it's possible to run a traditional RV AC Unit all day, portable units have some limitations. While most portable units can run all day with sufficient power, this can be dangerous due to the use of moisture to cool down the space. The constant moisture buildup can quickly go beyond just humidity and start causing condensation.
While initially doing this is harmless, running a portable AC for too long can lead to moisture, causing electrical problems for both the unit itself and other appliances in your rig. Generally, running a portable AC unit all day isn't worth it. Even if you find a way to safely deal with excess condensation, most units are heavy power users. Only newer, expensive portable ACs tend to be energy efficient.
While traditional ACs can't run on an RV battery due to voltage limitations, most portable units can, with the use of an inverter. This isn't very practical, though, as at a minimum this would require 24 amps of battery power just to get started. This is near-impossible for rigs connected to a 30-amp electrical hookup. It' 's still not realistic for rigs with a 50-amp hookup as the continuous load on the battery isn't sustainable 24/7.
Even on battery power, running a portable AC unit all day in an RV just isn't energy efficient at all. Solar power is an option for RVs equipped with panels, but multiple would be required to run an AC all day! At most, you'd be able to run a portable AC for around 4-5 hours each day on solar. To make life easier for your portable AC, keep the door closed when it's in use, turn off any ceiling vents, and use reflective window coverings able to block sunlight.
How To Keep Cool In An RV Without AC?
I live full-time in my rig, which means I have to tackle the blazing temperatures of summer, and frosty conditions in winter! I love experiencing all four seasons on the road, and an AC is a luxury that I'd be lost without. If you don't have an AC fitted as standard in your rig, it's possible to keep cool in many other ways.
Use Heat Reflective Window Covers
Simply covering your RV windows with heat-reflective covers can make a substantial difference when the sun is beaming down and you're struggling to stay cool without an AC unit on board! Heat reflective covers will help beam heat away from the RV, so it shouldn't get as warm, even if you're parked in a sunny spot.
Purchase A Portable AC Unit
Of course, if your rig doesn't have a roof-mounted AC unit, there's always the option of purchasing a portable one! A portable AC unit can be used when needed and stored away, out of sight, when it's not. Far cheaper than standard ACs, portable units can help make things a lot more comfortable inside an RV, so the whole family can stay happy, even if things are a little stuffy.
Park In The Shade
It may seem like a no-brainer, but parking in the shade is a completely free way to keep your RV cool in summer. Simply moving your rig into a safe, shady spot, will prevent sunlight from heating up the rig. Just be careful to check the surroundings and not park under any trees where branches or debris may fall and damage your roof!
Improve Insulation
Temperature regulation in an RV starts from the ground up, so if you're struggling with the heat, it may be worth exploring the quality of the insulation in your camper. Improving the insulation can make a huge change to how well your rig regulates temperature, so it's worth taking a closer look if things are feeling a bit warm.
Cook Outside
Cooking meals inside an RV when temperatures are sky-high isn't the wisest idea. In fact, there's no better time to get some use out of an outdoor kitchen if your rig has one. Cooking outside prevents adding unnecessary heat to the inside of an RV. Also, it's a fun way to get in touch with nature, just make sure to use some skin protection from UV rays!
Use Exterior Shower
What better way to cool down than to use your rig's exterior shower? Many RVs nowadays are equipped with exterior showers which are handy for an instant cool down on hot days. Outdoor showers can also be a great way to cool down fluffy companions struggling in humid weather too.
Extend Awning
Awnings provide great shelter from the sun, and they also help keep any direct sun off the slide of the rig they are fixed. Awnings are a game-changer in summer, so when temperatures start to soar, extend your awning and create your own shade. If the weather starts to turn, you may want to retract the awning as windy conditions can cause substantial damage!
Closing Thoughts
Hopefully, we've unveiled the abundance of benefits and considerations worth making with portable AC units for your RV. While these units may not be a replacement for a standard RV AC, they are a great tool to have for cooling things down fast when it's absolutely sweltering. Portable ACs can be used in an RV as a cost-effective, simple way to make things a heck of a lot more comfortable in summer.
With a bit of maneuvering, a portable AC can easily fit into an RV without taking up too much space. Hopefully, now you have some additional knowledge about portable AC units, you'll feel confident going ahead with a purchase. You'll be able to camp in comfort year-round after all!