This past December, Mrs. Island Miler took the plunge and did the Honolulu Marathon for the first time. And based on our experience, here's how to do the Honolulu Marathon right for both visitors and kama'aina.
Though I'm not a runner myself, I think the Honolulu Marathon is an excellent run for beginners and seasoned runners alike. Event organizers do a great job making it something for everyone. For example, experienced runners looking to set time records have a separate starting area. But, on the other hand, the race course isn't closed until EVERYONE that wants to finish does so. And there are even people at hand at the finish line to cheer on the final finisher. Don't believe me? Check out this story from 2018 about an 88-year-old man that took about 18 hours to finish the marathon.
The Honolulu Marathon is also kind of a fun event too. People dress up in odd costumes or try to run the marathon barefoot, in wooden sandals, etc.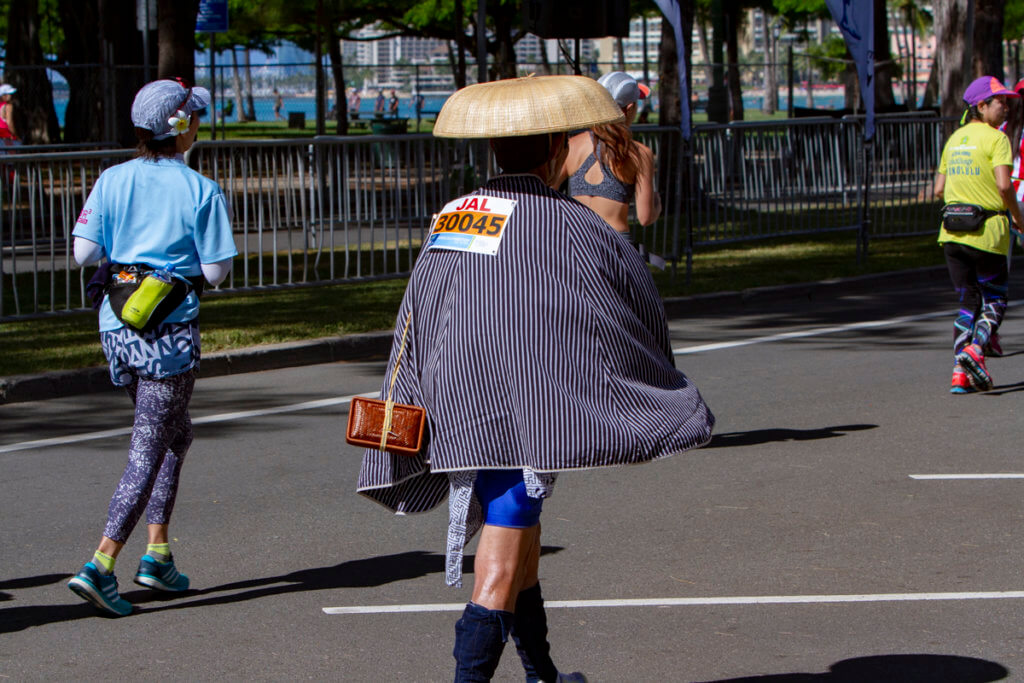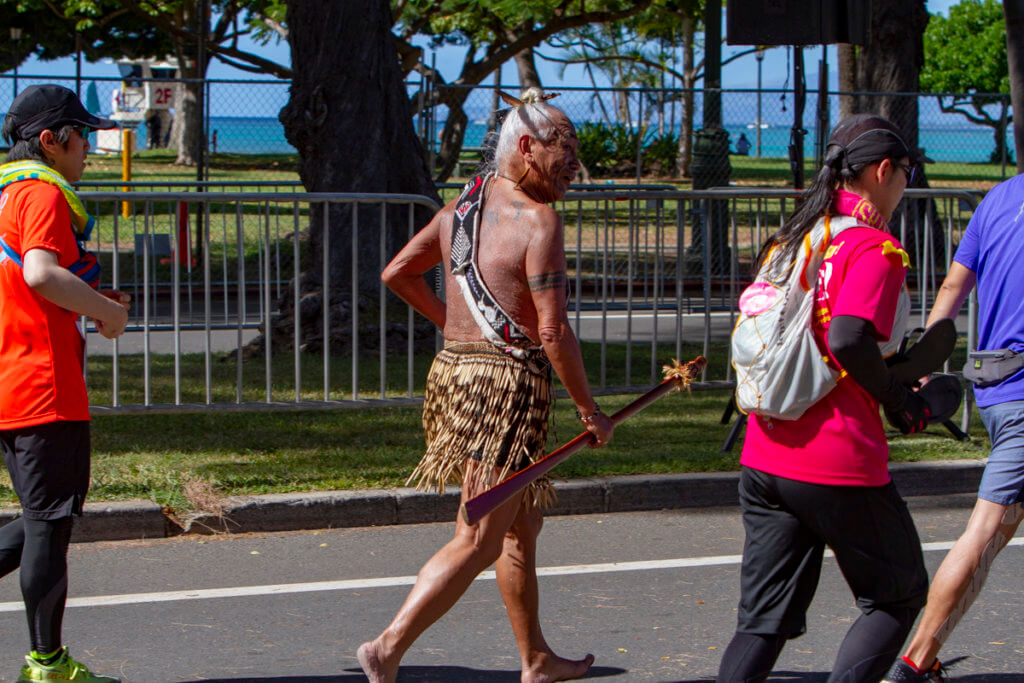 And if you don't want to do the full marathon, you can also opt to do a 10k instead, which starts and ends at the same locations as the marathon on the same day and same start time.
But going into the marathon, there are things you need to know aside from preparing yourself physically and mentally. So, in this post and the next couple of posts, I'll go over what those are and review our experiences at the 2018 Honolulu Marathon.
Location + Transportation
The Honolulu Marathon starts near Ala Moana Beach Park near Ala Moana Center and ends at Kapiolani Beach Park at the east end of Waikiki. Shuttle buses are provided from Waikiki to the start line and stage at the Honolulu Zoo. The shuttles are available from 2:00 am on race day, with the last one leaving at 4:00 am. After that, you're on your own. Transportation is not, however, provided from the finish line to the start line or any other parts of Waikiki.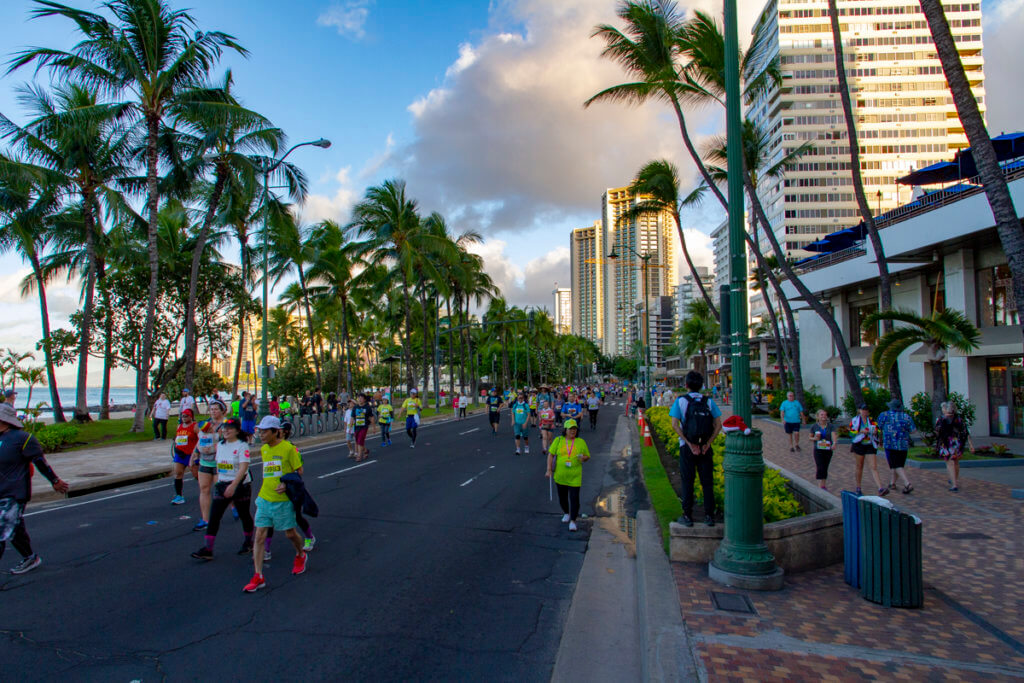 So, with the above in mind, participants will want to stay in a hotel. This is something I recommend for both visitors and kama'aina alike. The road closures, after all, make getting around Waikiki difficult. And when choosing a hotel, you'll want to choose on on the east end of Waikiki.
Hotel Recommendations
I have not stayed at many Waikiki hotels, especially on the east end of the strip. However, I do have a list of properties I'd like to check out or have stayed at in the past that are within easy walking distance from the zoo. And so, without further ado, my list (in order of proximity to the zoo) includes:
Queen Kapiolani Hotel
Hotel Renew
Waikiki Beach Marriott
Hilton Waikiki Beach
Alohilani Resort Waikiki Beach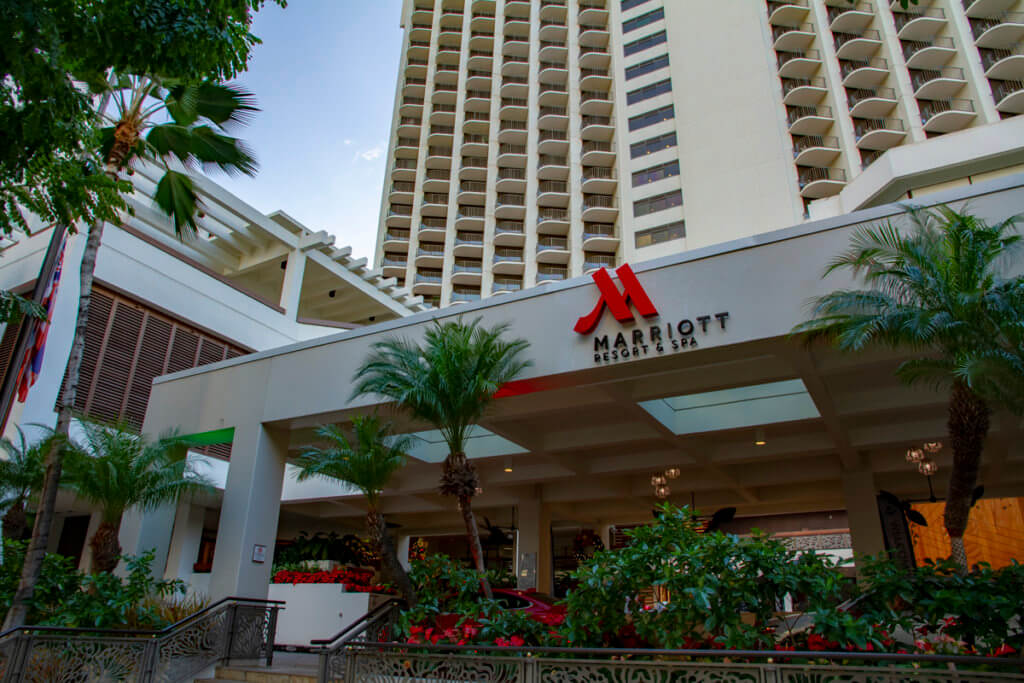 The Alohilani Resort, in case you're wondering, is 0.3 miles away from the zoo. And the next hotel I'd consider is 0.6 miles away, which is the Hyatt Regency Waikiki Beach. The Hyatt Regency is closer to Central Waikiki, so if you're willing to walk that far, then other hotels to consider include:
Westin Moana Surfrider
Hilton Garden Inn Waikiki Beach
The Laylow, Autograph Collection
The Royal Hawaiian, Luxury Collection
Sheraton Waikiki
The Surfjack Hotel
Hokulani by Hilton Grand Vacation Club
The Ritz-Carlton Residence Waikiki Beach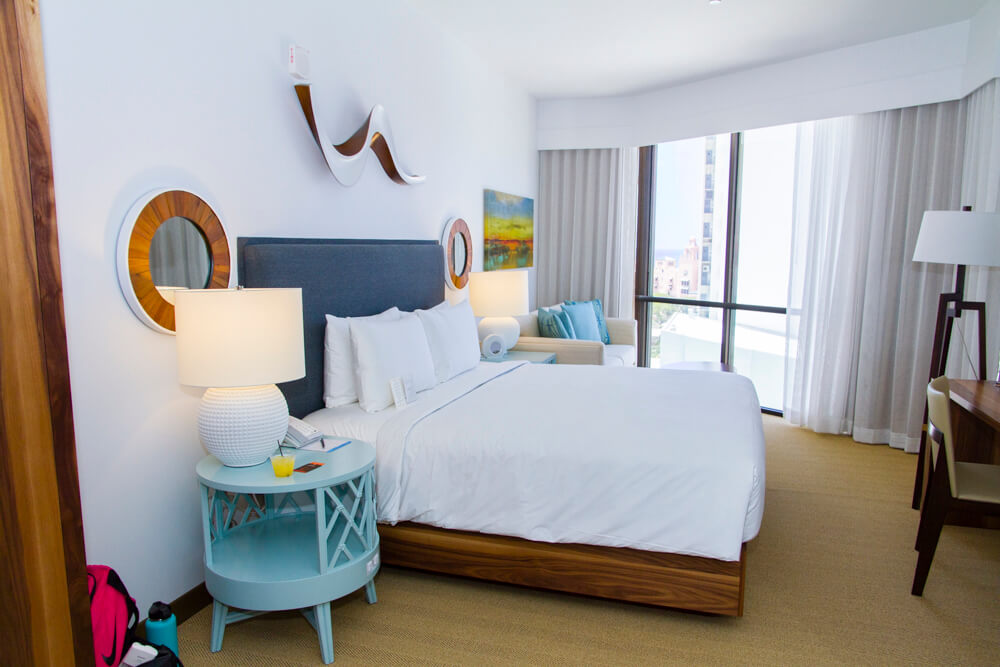 The Ritz-Carlton Residence Waikiki Beach is 1.1 miles away from the zoo, by the way. And, in case you're wondering, we ended up staying at the Waikiki Beach Marriott and was able to redeem a Suite Reward there. So keep an eye out for my review on that property soon.
Food
Because you need to eat, and Waikiki is BUSY the weekend on the marathon, be sure to make your reservations as far in advance as you can. I tried to book places like Arancino Di Mare at the Waikiki Beach Marriott around a month out, and it was already fully booked. So we ended up at Sansei Waikiki instead, which is still a great carbo-loading option!
You could also go outside of Waikiki to eat too, but, that's not as convenient. And the day before, you want to have an early dinner and get some rest as early as possible.
Marathon Expo
Definitely attend the Marathon Expo. Yes, you need to go to pick up your marathon packet, but walk around and explore too. There are numerous vendors there that sell things you'll need on the marathon. This includes electrolyte gummies and gels, pain relief, protein bars, and more.
The Expo, by the way, is always the Thursday, Friday, and Saturday before the marathon. And it's usually at the Hawaii Convention Center, right at the entrance to Waikiki. A free shuttle is available from the Hilton Hawaiian Village, the DFS T Galleria, and the Duke Kahanamoku Statue. I suggest taking the shuttles if you can, as parking is always an issue at the convention center and Ala Moana Center.
And, for those interested, the Expo is open again on the Monday following the marathon. Monday is your chance to pick up your finisher certificate and meet the champions.
Meeting at the Finish Line
If like me, you aren't participating in the marathon, you're likely supporting someone. So, logically, you'll want to head over to the finish line to greet your participant. And if you're going to do so, GOOD LUCK. There are THOUSANDS of people doing the same, and race officials only give you one side of the street to use. The side of the street closest to the beach is just for the press, which is ridiculous if you ask me.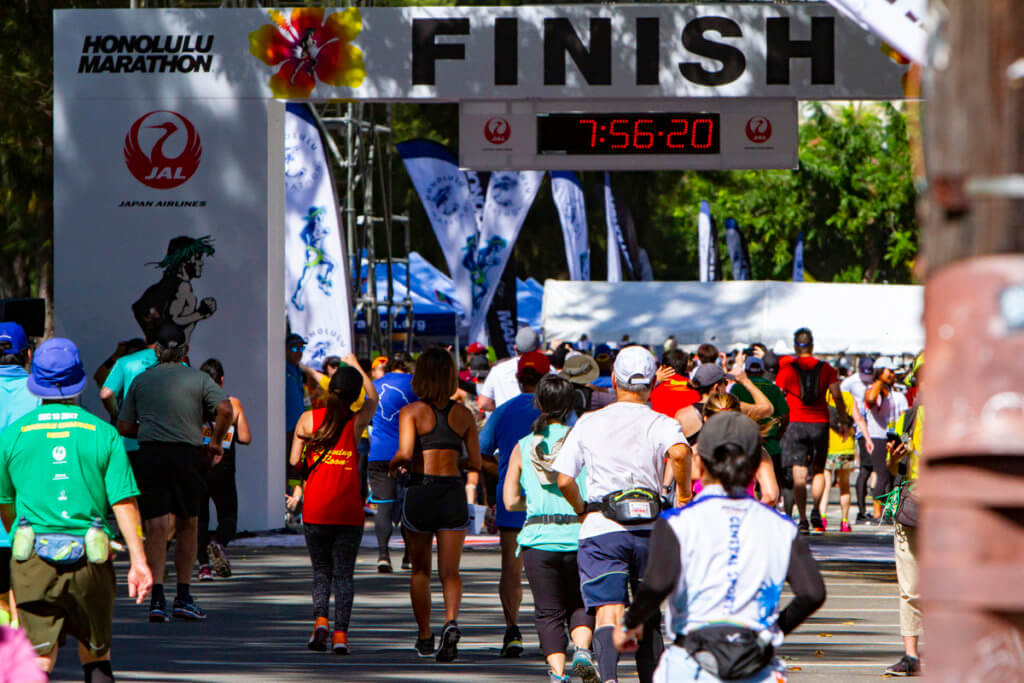 Because of the crowding issue, I suggest heading over to the finish line at least half an hour before your participant is supposed to cross the line. How do you know when your participant will finish you ask? The Honolulu Marathon does have an app that gives you an estimate. But according to my friend, it isn't that accurate, and she's right. So, if you're an iPhone user, the best way to track your runner is using Find My Friends. It's what I did and it worked well for me.
Other Tips
The other tips I have may or may not be common sense for some of you. For example, you should use comfortable running shoes that are already broken in. Socks are essential too; make sure they fit snuggly, though not too tight, and breath well. And make sure you dress appropriately. Hawaii can get a little cool in December, but we typically don't see our coolest weather quite yet. The weather can turn quite quickly, however, going from sunshine to rain and back in the blink of an eye. Oh, and, use sunscreen. You're starting before sunrise, but the sit will come up and you will need to reapply.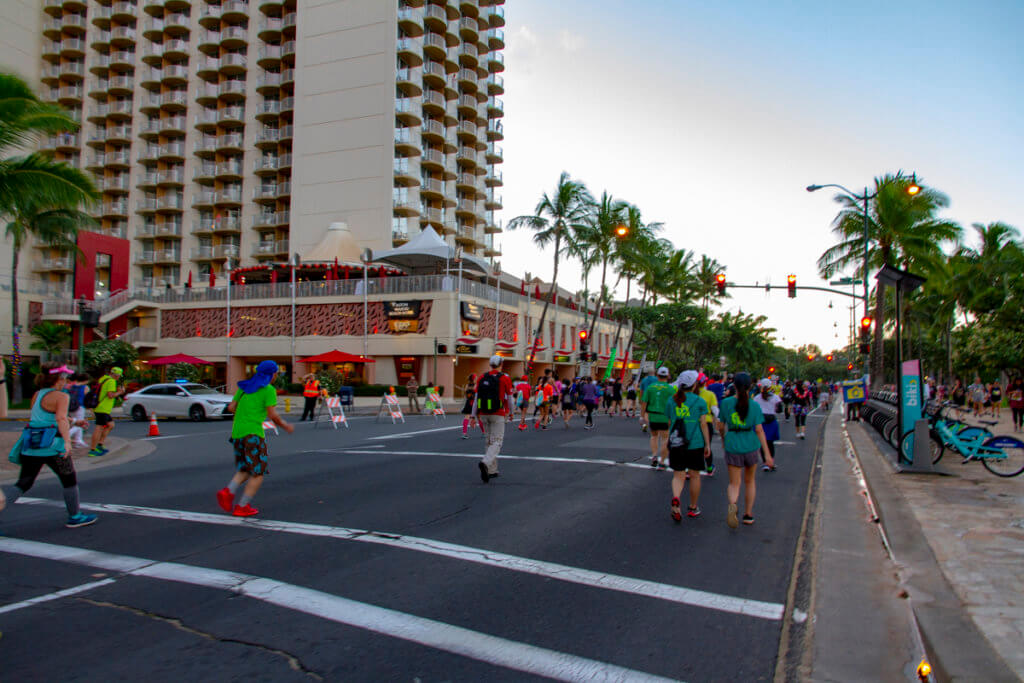 Water is on offer throughout the race, but it's a good idea to bring something to eat. Sometimes you'll find food along the course, but don't count on it.
If you aren't training specifically for a marathon (or at all), you can still survive the marathon, if you're in relatively good shape. You may even be able to complete it in a reasonable amount of time! However, if you aren't used to running and walking 26.2 miles, you probably will hurt the next day. So bring your favorite pain medicine with you so that you can, you know, still function the next day.
How to do the Honolulu Marathon Right, Final Thoughts
Again, the Honolulu Marathon (or the 10k that happens at the same time) are great events for beginners and seasoned runners alike. But while it's unlikely that I'll do the marathon, the Mrs. probably will, so we'll be staying in Waikiki again. And if you plan to do the same, book your hotel now, make sure you book a refundable rate, and always check back just in case the rate drops.
Registration for the 2019 Honolulu Marathon, by the way, is now open.  To register, visit honolulumarathon.org.  And I suggest doing so sooner than later, as prices jump significantly come April 17.  Don't want to do the full marathon but still want to be a part of the experience?  There's a 10k option too.
The Honolulu Marathon Experience
How to do the Honolulu Marathon Right
Review: Waikiki Beach Marriott
Review: Arancino di Mare