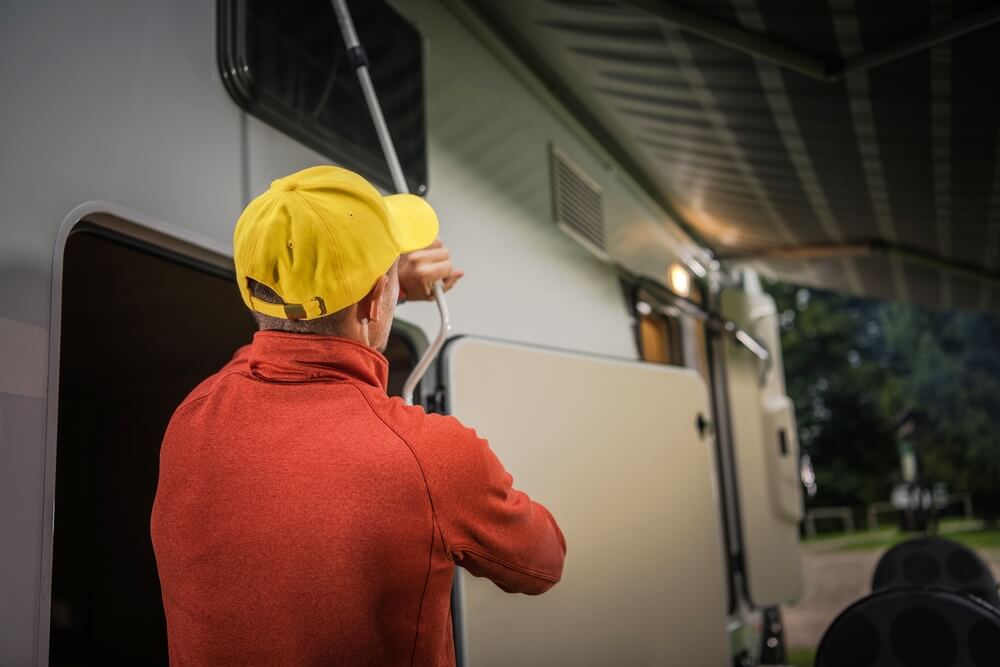 All of our reviews are based on exhaustive research, industry experience and whenever possible, hands-on testing. When you make a purchase using one of our chosen links we'll a small percentage of the proceeds. This supports the site and keeps Jeffsetter running. You can read more here.
While RV camping can be done under a variety of conditions, nothing beats traveling during calm weather under the sun. Your RV probably agrees as well. After all, it is outfitted with the perfect tool for camping on sunny days, the awning. Your awning is a super simple accessory that serves to complete your rig's outdoor setup.
Nothing beats sitting by the picnic table or on outdoor lawn chairs enjoying the weather under the shade of the awning. However, the best way to keep your awning protecting you from the sun, is to protect if from the weather as well. That may sound counterintuitive, but your awning is a fairly lightweight fabric that easily rolls up into the side of your RV, in other words, it is not the most durable accessory.
As a result, your awning can be susceptible to environmental damage, the most common of which is mildew.
So, how can you prevent mildew from growing on your RV's awning?
The best way to prevent mildew on your awning is to ensure that every time it rains, you thoroughly clean and dry it before rolling it back into your RV. A damp awning being folded into your rig is the perfect dark, cramped and wet cesspool for mildew to develop.
Let's discuss how you can better protect your awning from rain and subsequently any mildew growth.
How To Keep Your Awning Dry
The best thing you can do to keep your awning dry is to not have it out when it is raining. If you know it is going to rain later that day, then keep your awning rolled up. However, weather can be unpredictable and you may not always be able to prepare in advance. In that case, you can adjust your awning's positioning to be better suited for heavy rain. Having your awning perfectly straight can allow water to pool in the center. Not only does this make it harder to dry the awning, but the excessive water weight can tear the fabric. Instead, slope you awning just ever so slightly. This will allow the bulk of the water to run off.
However, sloping your awning won't completely dry it out. After any rain, light or heavy, or after gently cleaning the awning, you will want to ensure it dries out completely before rolling it up. Luckily, this takes little to no effort from you. All you have to do is keep the awning extended in the sun and let it dry out on its own. If you are in an area with really intense sunlight, you may want to speed up this process.
UV rays from excessive sunlight can contribute to environmental damage for your awning. In that case, use a ladder to access your RV's roof and blow dry sections on the awning to help it dry out faster. That way it won't have to sit in the sun for too long.
Keeping your awning dry is super important in keeping mildew from growing. However, what do you do if mildew has already grown on your awning?
How To Remove Mildew From RV Awning?
Let's go over how you can remove mildew from your RV's awning.
Preparation
The first thing you need to do is fully extend your awning. It is not possible to clean it throughly while it is rolled up or just partially extended. This way, you'll be able to see every part of your awning and find where mildew may be spreading. If your rig has a ladder installed on the back for roof access, this will allow you to access parts of the awning. However, to make it easier to access all of It, a portable folding ladder, a stepping stool, a chair or even a helping hand are all great options. These options also make it way easier to access the underside of your awning if mildew is growing there.
Cleaning
Once you have your awning extended and your means of access set up, it's time to move onto the actual cleaning. You will first want to lightly rinse off your awning to clear away any dust and dirt. Once that's done, find all the mildew spots on your awning and douse them in a specialized cleaning solution. It is best to use one specifically for your awning as they will typically be most effective. Luckily, there are a ton of great options out there to choose from. If you'd still rather not use them, you can also make your own using borax, or a solution of diluted bleach and water. Baking soda and vinegar is another solution that can work as well.
After you've applied the solution, gently brush it with a cleaning brush or sponge until the mildew is gone. The emphasis is on making sure you gently brush it as your awning's fabric can be damaged otherwise. Once this is completed, simply lightly rinse your awning again to wash off the cleaning solution and mildew. Be sure to allow your awning to dry after. You've just cleaned it from mildew, you don't want it to grow back right away.
Treatment
The final step is optional but is very helpful. After cleaning your awning, consider applying some anti-mildew treatment to it. These treatments serve to both help prevent mildew from growing back, and stop mildew from damaging your awning.
Closing Thoughts
Your RV awning is super important to your comfort as a traveller. You should be cleaning it around twice a year from dirt and grime to keep it in tip top shape. If you use your awning all the time just hose down the underside every few months and apply anti-mildew treatments more frequently. A clean and dry awning is less susceptible to mildew growth and will last you far longer than it otherwise would. It is always way less of a hassle to routinely clean and maintain your awning rather than deal with the consequences of neglecting it.
Replacing your awning is an extensive process that involves being aware of a ton of specifics. You'll be able to avoid it whenever possible by being aware of proper maintenance. Now with the information you've just learned, maintaining your awning will be an absolute breeze!