Last updated on October 30th, 2023 at 08:14 am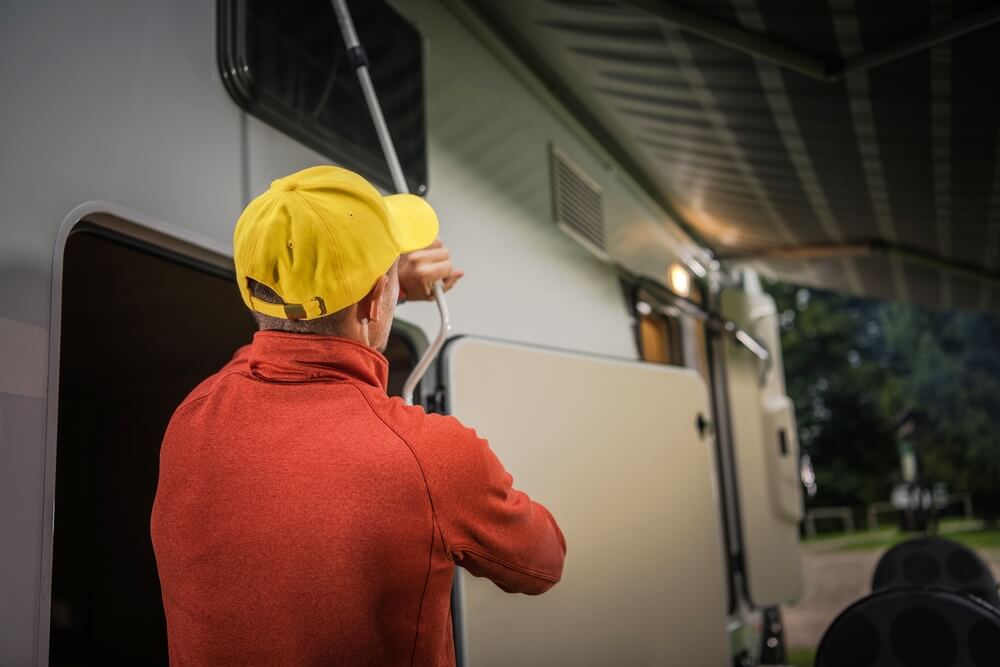 All of our reviews are based on exhaustive research, industry experience and whenever possible, hands-on testing. When you make a purchase using one of our chosen links we'll receive a small percentage of the proceeds. This supports the site and keeps Jeffsetter running. You can read more here.
RV awnings are the perfect addition to any rig as they expand the space of an RV, and create an area able to be enjoyed come rain or shine. Nothing beats sitting by the picnic table in lawn chairs enjoying the weather under the shade of an RV awning. But what happens when winter arrives and your awning starts to turn a bit green thanks to mildew growth?
Let's find out how to prevent mildew on an RV awning.
To prevent mildew on an RV awning, clean and dry it when it gets wet or dirty before rolling it back into position. A damp RV awning creates the ideal environment for mildew to grow. Mildew on an RV awning can be removed by scrubbing the affected area with bleach or a similar solution.
No RVer wants to deal with mold or mildew growth in their RV, but unfortunately, issues like these are common in the camper world! Although suddenly spotting the green stuff growing on your awning might make you panic, try not to worry! It's possible to minimize mildew stains and help prevent it from growing again.
How To Prevent Mildew On RV Awning?
Nature has its funny way of surprising us, and a damp awning is the dream environment for mildew to thrive and create its own ecosystem! Thankfully, there are a few ways of helping prevent mildew growth on your RV awning, and most of them are budget and beginner-friendly.
1. Keep The Awning Clean
It may seem obvious, but one of the best ways of keeping mildew off your RV awning is to keep the awning clean. By taking the time to remove any debris, and give the awning a scrub, you can minimize the chance of mildew growth substantially, as shown in the video below:
This will save time, energy, and money in the future, as the mildew won't want to grow on a perfectly clean and dry surface. You can extend your awning and enjoy the shade cover without any green spots in sight!
2. Air Dry The Awning
Although mildew is different from mold, it still likes to grow in moist environments, and that's why a damp RV awning that's packed away can be a haven for mildew. Using an awning in the rain is sometimes unavoidable, but doing so means you'll need to take the time to ensure the awning is fully air-dry before rolling it away. Avoid using heat technology as this may damage the vinyl or acrylic fabric.
3. Regularly Inspect Awning
I find one of the best ways to keep any mold or mildew growth away from my RV and its components, is to inspect everything regularly! It only takes 20 minutes to walk around the RV and inspect various points such as the seals, the awning, or the wood burner flue. Mildew is best treated when it's spotted early, so keeping an eye on your awning is a good way to monitor if there are any suspicious-looking patches on the material.
How To Keep An RV Awning Dry
The best thing you can do to keep your awning dry is to avoid using it when it's raining. If you know the rain is on the way and you won't have time for the awning to air-dry before packing it away, it's wise to keep it rolled up. Weather can be unpredictable, though, and you may not always be able to prepare in advance. In this case, if the skies open unexpectedly, you can adjust your awning's positioning to be better suited for heavy rain.
An awning that's perfectly straight can allow water to pool in the center, which makes it harder to dry, but also creates excessive weight which can stress and tear the fabric. During heavy downpours, try sloping the awning a little as it will allow the bulk of the water to run off. Post-rain, or after gently cleaning the awning, ensure it dries out completely before rolling it up.
Luckily, this takes little to no effort! Just keep the awning extended in the sun and let it dry out on its own. If you're in an area with intense sunlight, it's wise to not keep the awning extended for prolonged periods. UV rays from excessive sunlight can contribute to environmental damage to an RV awning. Keeping your awning dry is super important in keeping mildew from growing. However, what do you do if mildew has already grown on your awning?
How To Remove Mildew From RV Awning?
Removing mildew from an RV awning is possible, and it doesn't take much to scrub the green away. If your awning is particularly high, be sure to ask a loved one for some help, as you may need to use a ladder to get on the roof. Take the process slow and steady and remember to only use products suitable for contact with the material your RV awning is made from.
Step 1: Fully Extend The Awning
The first thing you need to do is fully extend your awning as it's not possible to clean it thoroughly while it's rolled up or partially extended. This way, you'll be able to see every part of your awning and find where mildew may be spreading so you can target it directly If your rig has a ladder installed on the back for roof access, this will allow you to access parts of the awning better.
Step 2: Rinse Off Any Dirt
Once your awning is extended and you are able to safely access every part of it, it's time to move on to the actual cleaning. First, lightly rinse off the awning to clean away any dust and dirt that may have built up over time. By rinsing the awning first, it means you won't be scrubbing bits of debris into the fabric, potentially damaging it or causing rips and holes.
Step 3: Treat The Mildew Spots
Once the awning has been rinsed and any debris and dirt have been cleaned off, find all the mildew spots and douse them in a specialized cleaning solution. Using one specifically for your awning is best as this will result in the most effective clean.
Luckily, there are plenty of great awning cleaners out there to choose from. If you'd rather opt for something different, you can also make your own using borax, or a solution of diluted bleach and water. Baking soda and vinegar are another solution that can work well too.
Step 4: Brush The Solution
After you've applied the solution, gently brush it with a cleaning brush or sponge until the mildew is gone. The emphasis is on making sure you gently brush it as your awning's fabric can otherwise be damaged. Lightly rinse your awning again to wash off the cleaning solution and mildew.
Step 5: Allow Awning To Dry Fully
Once you've completed the cleaning process and you've successfully scrubbed away the mildew, allow the awning to dry fully. This will help prevent any mildew from coming back straight away as the awning fabric will be clean and dry.
Step 6: Optional Treatment
The final step is optional but can be helpful. After cleaning your awning, consider applying some anti-mildew treatment to it as these serve to both help prevent mildew from growing back, and stop mildew from damaging your awning any further.
Closing Thoughts
RV awnings are a key part of keeping cool and dry in the space outside your RV. They are the ideal space to enjoy with the whole family when the sun is beating down but come winter, many RVers face problems with mildew growing on their awning. Cleaning an RV awning a few times a year will help limit mildew growth substantially, along with applying anti-mildew treatments if you want to take extra precautions.
A clean and dry awning is less susceptible to mildew growth and will last far longer than awnings that are left to fend for themselves. It's always way less of a hassle to routinely clean and maintain your awning rather than deal with the consequences of neglecting it. So, go ahead and give your RV awning some TLC and keep mildew at bay!