Last updated on May 2nd, 2023 at 01:40 pm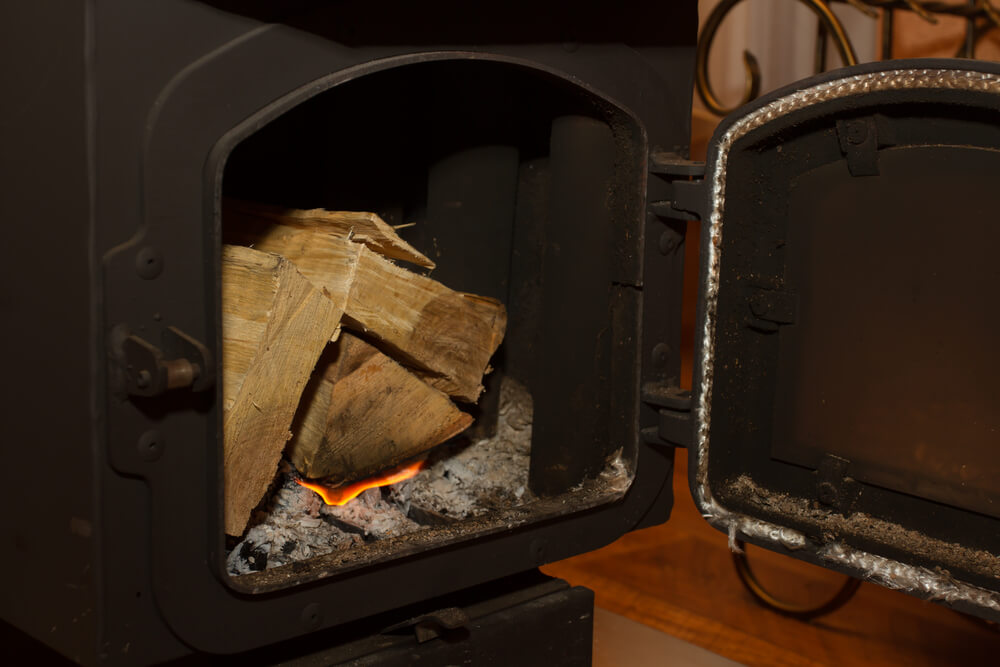 All of our reviews are based on exhaustive research, industry experience and whenever possible, hands-on testing. When you make a purchase using one of our chosen links we'll a small percentage of the proceeds. This supports the site and keeps Jeffsetter running. You can read more here.
Living full-time in an RV, camper, or van conversion can be an amazing life choice. There are so many magical things to experience that you can't find living full-time in a traditional home.
However, since starting my full-time RVer journey only a few months ago, I can tell you all the things I miss most about brick-and-mortar living (thankfully the list is quite short!).
One of the things topping my list, believe it or not, is the dry, crackling heat of a fireplace or wood stove. Thankfully, I'm not alone in my desires, and the possibility of snuggling up in front of a wood stove on a damp, chilly winter night brings many RVers so much joy.
What Are The Best RV Wood Stoves?
Looking for something unique to keep you warm in your own home on wheels, whether living full-time or not?
Me too! Though it may take a bit of remodeling, RV wood stoves are the perfect blend of luxury and long-term affordability, and I've compiled a list of the best options out there.
Here's a quick overview of the list but keep reading to see a detailed review of each:
Advantages of Wood Stoves in an RV
Living full-time in an RV, primarily in the Pacific Northwest, means I am constantly battling humidity. Winters get tricky when it comes to moisture and condensation inside my 19-foot travel trailer.
Propane or electric heat is usually standard in an RV, but what about the dry and comforting heat of wood stoves?
1. Dry Heat
The heat from a wood stove, no matter how small, is dry and cozy, whilst also eliminating the need for other moisture-removing products.
Things also dry very quickly with a wood stove, particularly useful for those traveling in an RV with dogs who like rolling around in puddles!
2. Cheap Fuel Source
Another advantage of having a wood stove in your camper is the cost of fuel. Firewood is a cheap alternative to propane or electricity and is readily available even when stealth camping. Wood stoves radiate heat in an economic way, leaving you warm and comfortable for very little cost.
If you're looking for an even more off-the-grid option for your heat, a wood stove may be the perfect fit for you!
Dealing with propane can be expensive, and electricity is not always readily available for campers. Having a wood stove in your rig ensures you have heat, so long as there's firewood around.
3. Alternative Cooking Method
If your RV is large enough to fit a traditionally-shaped wood stove, you can even cook on it!
The flat top gets hot enough to boil water, slow cook in cast iron, and it can even be used to dry your clothes after a snowy or rainy day outside.
I love setting damp boots in front of a wood stove, and that can be an invaluable resource in an RV without a dryer.
4. Reliable Heating Source
With technology changing and developing at an incredible rate, it's not surprising RVs are rarely kitted out with wood stoves, and instead have electrical or propane heating.
Wood is a reliable source of heat, and even if your RV experienced an electrical problem and had no power, you'd still be warm and snug with a wood stove.
Disadvantages of Wood Stoves in an RV
Although wood stoves are beneficial in a multitude of ways, they also have some downsides that are worth considering before you go ahead and cut a hole in your roof!
If there's nothing more you'd rather than a warm, amber light in the corner of your RV, you find these disadvantages may not put you off at all.
1. Considerable Space Needed
With my current interior design, I can't fit a wood stove in my 1976 trailer. Though very small wood stoves exist, my RV needs a serious remodel to maximize my use of a wood stove. I imagine your RV does too!
When considering a wood stove in your home on wheels, sometimes there may not be adequate space for one. If you are committed to installing one, get ready to redesign things a bit.
2. Flue Installation
Another main disadvantage of installing a wood stove is the need for a flue pipe. Cutting into the roof of your RV can be a major source of anxiety as well as risk to your sealed roof.
Make sure to take your time if you are installing a wood stove yourself. It is a fairly self-explanatory process, but putting any sort of hole in your RV roof comes with risks!
3. Maintenence
The main difference between traditional wood stoves and RV wood stoves is their size. As you could probably guess, your firewood must be cut much smaller for your RV wood stove than your average-sized fireplace back home. Most people find this to be a serious chore, and the smaller the log, the faster it burns.
The average RV wood stove requires maintenance through the night to keep the fire going. If you're camping on an especially cold night and your wood stove is your only heat source, plan to wake up a couple of times if you want to stay cozy!
As with most parts of an RV, cleaning, and maintenance is necessary for your wood stove. Ash must be cleared out, and your flue pipe needs consistent cleaning to avoid harmful buildup.
This is an easy enough task, needing very little specialty knowledge. However, if you're used to simpler heat sources, this may prove too much of a chore.
4. Not Ideal For Stealth Camping
If you're hoping to do a lot of stealth camping in your van or camper, a wood stove may not be the right choice for you.
There's no fire without smoke, and only a few wood stoves on the market include more discreet venting technology. If your main concern while camping is remaining undiscovered, a wood stove may not be a good choice.
5. Cost Of Additional Parts
Most wood stove prices don't include flue pipes or other installation materials. Check which manufacturers include these necessary bits of hardware in the purchase price and budget beyond the cost of the stove.
You may want to build wood storage beneath your stove as well, which will entail more trips to the hardware store. Some wood stoves can be wall-mounted as well.
The possibilities are endless, which means you should be able to design the rig of your dreams, wood stove included!
How to Choose the Best RV Wood Stove?
If you're like me and the upkeep of a wood stove isn't daunting to you, how do you choose the one that's right for you? There are a few things to consider if you haven't yet:
What size wood stove can I fit in my RV?

How much remodeling/redesigning do I have to do for a safe installation?

How much clearance do I need on each side of the stove?

Do I have easy access to firewood or coal?

Is stealth camping a high priority for me?

Do I have a backup heat source?

What's my budget?
Make sure you carefully measure the area where you plan to install your wood stove. There should be adequate space surrounding your wood stove for safety, including ample overhead clearance.
Every wood stove is different! Some require more clearance than others, or there may be specialty equipment purchased separately to minimize the need for a lot of open space.
Keep most soft goods and flammable objects away from your stove, and plan storage space for kindling and firewood. Depending on your rig, this may mean a lot of rearranging and designing for you.
But there are tons of creative people out there and plenty of installation videos like the one below to help you out!
However, make sure this step is done properly- clearance and safety in your camper should be number one!
Wood stoves can be a safe and efficient way of heating, but only if time is taken to install one properly.
Stealth camping can be a great advantage for some RVers, especially those of you who own a camper van. However, having a wood stove burning is a dead giveaway. There's no way to hide smoke billowing out of your flue pipe!
This can be a deal breaker for those of you looking for a more private retreat. Some wood stoves burn cleaner than others through various air intake processes, which means you're not out of luck if stealth camping is a high priority for you!
This may be something to ask the manufacturer specifically if discretion is high on your list.
As with so much of RV living, safety first! Having a backup heat source is never a bad idea, especially if your wood gets wet or you run out unexpectedly.
Make sure you're not heading out into the middle of nowhere in cold weather without a second option for heat! Thankfully a wood stove is often the most reliable option for campers, but make sure to always be prepared.
6 Best RV Wood Stoves
Still dreaming of a wood stove in your RV? Me too! Whether you're looking for the smallest possible heat source for your van conversion or a stove that will burn all through the night, I've compiled a list of the 6 best wood stove options for you.
Keep in mind your budget, dimensions, and style while you read on- every wood stove is as unique as the rig that houses it!
1. Best Overall: The Dwarf 3kw
View this post on Instagram
Pros
Small dimensions (H17" x W10.25" x D8.5")

Large viewing window

Wall vented option

Cooking surface

Multiple air controls
Cons
Heavy (75 pounds)

Tall legs and enamel door cost extra

Needs refueling often (6"-8" logs)

No safety rail along the top
Need a bit more bang for your buck? The Dwarf 3kw may be the perfect fit for your camper or RV. It's the smallest wood stove in the Dwarf lineup, but can still heat a whopping 300 square feet.
Featuring a sturdy cast iron construction, and the option to wall vent your flue, this wood stove is traditional in every way. The large viewing window is a huge bonus for me, as nothing feels warmer than watching an amber fire crackling away.
Maximizing fuel is a big consideration with woodstoves, and the three air control options on this stove, mean making the most of your fuel is easy.
A downside often not given much thought is the mess that woodstoves create with endless ash seemingly filling the area around the stove! Thankfully, this Dwarf stove has a grate and ash pan for easy cleaning and sifting, and the wood makes RVs smell amazing!
Customizing your RV and putting your own style on your rig is one of the joys of RVing. I like being able to change things around depending on the season or when I want to refresh things, and with the Dwarf 3kw, I can do multiple things like add on taller cast iron legs, a wood storage bin, or enamel doors that are available in multiple colors.
Something worth thinking about with this woodstove is its hefty weight. If you're towing your rig or want to keep weight low, this little stove may be a bit on the heavier side. For RVers looking for a heavier-duty wood stove for their RV, this tiny unit might give you the peace of mind and warm comfort you're searching for.
People also ask about the other Dwarf wood stoves and whether or not they will fit their rig. All it takes is knowing how many square feet you need to heat; the Dwarf lineup will most likely have you covered!
2. Best for Tiny Spaces: Cubic Mini Cub
View this post on Instagram
Pros
Tiny, tiny, tiny! (12" H x 11" W x 10.5" D)

Clear glass for flame viewing

Lightweight

Easy installation and operation

Cooking surface

Produces very little smoke
Cons
Not recommended for high ceilings

Small logs require consistent refueling

Not much cooking surface

Only works up to 200 square feet

Not recommended for a wall exit flue
If your RV space is at a premium and you're looking for a seamless remodel, look no further than the Cubic Mini Cub. It is a mighty 27 pounds, which means your towing weight shouldn't be affected, and it's less than a single square foot dimension-wise. It is the tiniest wood stove on the market, and making waves because of that!
There's a window for viewing your crackling flames, a 5" surface for cooking, and oh yeah, did I mention how freakin' tiny it is!?
People often ask if this unit is too small for their needs; it's almost unbelievable how small this wood stove is! If your RV is on the smaller side with low ceilings, this may be the perfect fit for you.
For ultimate safety, you'll need to have at least 20 inches of clearance, and your logs will have to be cut to 5 inches in length. It can take a considerable amount of time to process wood for your wood stove, but I promise all the effort is well worth it when you're relaxing in front of gentle flames.
Regulating heat in a woodstove can be tricky, especially if you're new to wood fuelled heating! As the Cubic Mini Cub is so small, you'll have to get up throughout the night to top it up with logs, so this is something to think about if you're a heavy sleeper!
If you're hoping for a handsome addition to your van conversion or RV, this gold-accented cutie may be worthy of any influencer.
3. Best Light Weight: Dickinson Newport Solid Fuel Heater
View this post on Instagram
Pros
Small and unique shape (14.7″ H x 7.88″ W x 10″ D)

Burns as hot as 8,000 BTU

Removable ash drawer

Lightweight

Chic stainless steel design
Cons
No viewing window

Needs refueling frequently

Not recommended for larger RVs
Searching for something even smaller and lighter? How about taking a look at the Dickinson Newport Solid Fuel heater? It might be a slightly taller unit than the Cub, but you can't beat its other dimensions. Plus it only weighs 15 pounds, which means peace of mind for any of your towable rigs!
I know what you're thinking, can this unit heat their larger rig? Originally designed for boats 20'-25' long, this stainless steel wood stove may be a unique and preferable fit for your smaller RV or camper. It burns logs, charcoal, and other solid fuels, which is a huge bonus as you can lean towards whatever fuel works out cheapest for you.
It's hard to find a burner quite as unique as the Dickinson Newport, and if like me, you pride yourself in having a quirky rig, it will match perfectly. If you need a mid-priced wood stove without all the extra fluff, this may be the perfect choice for you.
Something worth considering is its small interior, which unfortunately means you'll have to refuel during the night – not good for deep sleepers like me!
You can check the latest price on Amazon by clicking here.
4. Premium Pick: The Kimberly
View this post on Instagram
Pros
Viewing window

Compact and round design (25.5″ H x 10″ Diameter)

Burns one load of fuel up to 8 hours

Can be used in traditional home

Lighter weight (56 pounds)

Little clearance needed (6")

Very little smoke detectable from flue
Cons
Expensive

Ceiling vent option only

Accessories not included
If budget is no concern and you're looking to have it all in your RV, the Kimberly wood stove might exceed all of your expectations. It has a viewing window which is a must for me as I want to see the flames and get snuggled up with a coffee in front of my woodstove!
The unique and cylindrical stainless steel design gives it an authentic look, and impressively, the Kimberly is one of the few tiny wood stoves approved for home use.
It can heat up to 1,500 square feet with only 6 inches of clearance necessary on any side so you won't have to rearrange your entire camper to fit this stove in.
The Kimberly includes a cooking surface, great for making heartwarming meals, and purchasing additional accessories will allow for baking, generating electricity, and, coming soon, a water-boiling option.
If you're looking for a stealthier wood stove, the Kimberly's design provides a nearly smokeless experience. Made in the USA, this wood stove sounds too good to be true, and for some, it is- be prepared for the financial investment that comes along with the Kimberly!
Knowing it can be installed in a traditional home as well as an RV might be appealing to some of you planning to transfer to brick-and-mortar living.
It also burns a single load of fuel for up to 8 hours, which means you'll get a full (and toasty) night's sleep! If you're hoping to sleep through the night without refueling, the Kimberly may be your match made in heaven.
5. Most Unique Option: Shipmate Stove Skippy
View this post on Instagram
Pros
Compact and unique shape (W17.75" x D13.75" x H13.5")

Fits larger fuel

Heats larger rigs (up to 45')

Made for cooking

Lighter weight (45 pounds)

Color, shape, and rail customizable
Cons
Fuel-loaded and stoked from top

Expensive

Unique flue shape

No viewing window
One of the most uniquely designed wood stoves on the market, the Shipmate Skippy, works just as well on land as it does at sea. Priced a bit higher than its competitors (but cheaper than the Kimberly!), the Skippy boasts customizable color options and cook plates, meaning you can add some personal style and don't have to rely on cooking outside. Weighing an attainable 45 pounds, this wood stove fits enough fuel for a 45' rig.
A modernized design inspired by vintage boat stoves, this model may be perfect for your rig redesign. It definitely is the perfect match for my 1976 trailer aesthetic!
Given its unique shape, people often ask if it will fit in their rig. Its dimensions are comparable to most other options on this list, and if you're searching for the best wood stove for cooking, the Skippy is a clear winner.
You may still need to refuel it during the night, but it burns hot- up to 28,000 BTUs. It can be frustrating having to refuel, but when you wake up in the morning to an RV that's still warm, it makes everything worth it.
Be sure to check out all the color options, including customizable rails and even the shape of the stove top, so that you get the exact style you're looking for!
6. Best for Cold Climates: Cubic Grizzly Mini
View this post on Instagram
Pros
Compact design (W 13″x H 15″x D 12″)

Large cooking surface

Large viewing window

Lightweight (39 pounds)

Produces very little smoke

More affordable than others
Cons
Not recommended for wall exit flue

May need refueling in the night
Seeing double? Didn't we already have a Cubic wood stove on the list? I couldn't resist adding the Cub's big brother, Grizzly, to the ranks!
Built only slightly larger than the Cub, the Grizzly boasts a longer burn time and larger heating square footage, which may be perfect for your rig. If you have high ceilings in your fifth wheel, want to wake up less in the night, and still crave a handsome and rustic design, then the Grizzly could be your best bet.
It heats up to 300 square feet and is labeled as Cubic's winter model, which means you'll be cozy if you find yourself in colder climates more often than not. There is also the option of adding a stove attachment for cooking, as shown in the below video.
This is a fantastic addition to the Grizzly, meaning you can cook dinner for free, provided you've stocked up on a good volume of wood! I love the feeling of cooking on a wood stove as it's such a therapeutic way to prepare meals.
People also ask about Cubic's unique secondary combustion system. If you're hoping for a stealthier camping experience, the Grizzly produces very little smoke.
The golden accents and railing atop this cast iron stove suit both modern and vintage designs. If you thought the Cub was almost perfect for you, the Grizzly may win you -and your larger rig- over.
Closing Thoughts
Living in an RV or camper doesn't mean you have to give up on a crackling fire. The dry heat from a wood stove benefits RV living more than most other options, and there's nothing better than the coziness that comes with it!
Though installation may seem daunting, the extra work may be worth it for your RV or van conversion.
When the temperature drops, you can have a fire to look forward to, and it might come in the form of one of these wood stoves!
If you're up for the challenge and start-up cost, a wood stove may transform your RV into a proper home. All it takes is your imagination and a cold winter night!