Last updated on May 16th, 2023 at 07:07 am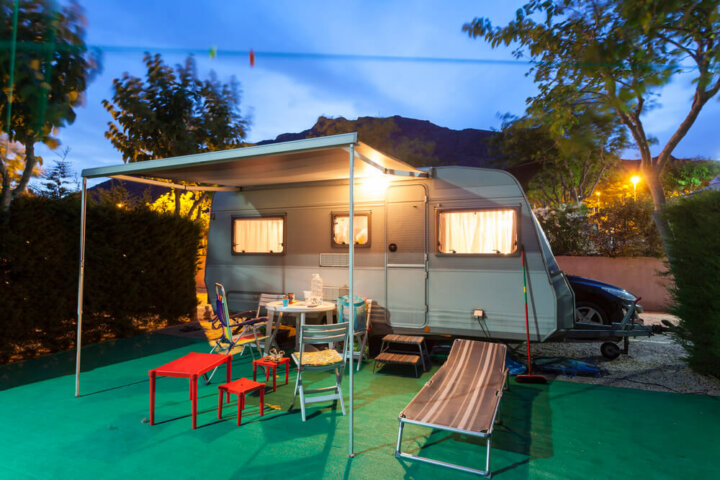 All of our reviews are based on exhaustive research, industry experience and whenever possible, hands-on testing. When you make a purchase using one of our chosen links we'll get a small percentage of the proceeds. This supports the site and keeps Jeffsetter running. You can read more here.
RV awnings are a great way to create shade, keep an RV cool and provide additional space to relax outdoors with friends and family.
There are many different types of RV awnings available, ranging in style, material, and cost, so it's crucial to choose an awning that suits you best.
So, what types of RV awnings are there?
You can find six different types of RV awnings on the market. When it comes to materials most RV awnings are made from either acrylic or vinyl. As for the awning mechanisms you can find fixed or slide-out options, as well as automatic ones, additionally, you can go for a patio awning.
If you're planning on camping in the great outdoors this season, you'll definitely benefit from an RV awning, so let's take a look at your options and a few tips on how to keep your awning as good as new!
What Are The Benefits of RV Awnings?
RV awnings are a way of enhancing the RV experience, especially if you enjoy spending as much time outdoors as possible, whether that's taking advantage of your outdoor kitchen or simply chilling with a nice cold drink in your hand. Unfortunately, the weather often gets in the way, so an RV awning may be the perfect solution.
Essentially creating an entirely new room outside an RV, awnings can also be used as additional storage space, a room for guests, or simply a sheltered area outside to relax.
Awnings are a great option for families who are looking for an affordable way to increase the space their RV offers. Of course, for many, awnings offer more than just additional space, they provide an area that can be enjoyed in most weather conditions, provided they aren't too wet or windy.
Another added benefit of RV Awnings is the shade they provide the RV itself. By preventing the sun from shining directly into the RV, the internal temperature can be regulated better and materials on couches and carpets won't fade.
What Types of RV Awnings Are There?
When looking at the different types of RV awnings available, it's important to check their practicality, durability, and reliability. This is key, as an awning is likely to see a vast range of harsh weather conditions and needs to be built to last.
We've found 6 different types of RV awnings ranging in features and benefits. Choosing the right awning for your RV can be difficult, but we've found the most common types of RV awning you will come across, to make things a little easier.
1. Acrylic Awnings
Key Benefits:
Durable
Water repellent
Quick drying
Breathable
Downsides:
Non-waterproof
Fabric will stretch
Acrylic awnings are a popular choice for many RV owners, as they can withstand a range of weather conditions from sun and rain, to snow and wind.
Acrylic is a woven material, and it's the small holes in the fabric that create constant airflow, perfect for summer months.
Although acrylic awnings are water repellent and quick drying, they cannot hold out against large amounts of water. It's the tiny holes in the material of acrylic awnings that allow water to seep through during heavy downpours of rain.
If used regularly, another problem can arise with acrylic awnings. Over time, the fabric can stretch and become loose instead of taught across the awning. This can cause frustrating noise in windy conditions as the wind can whip up and around the material.
2. Vinyl Awnings
Key Benefits:
Waterproof
Scratch and fade resistant
UV protection
Durable
Downsides:
Vinyl awnings are the perfect option for RV owners traveling through a variety of weather conditions. Along with being completely waterproof, vinyl awnings are also scratch and fade-resistant.
It's the durability of the vinyl fabric that makes vinyl awnings such a popular choice for many avid travelers. For the summer season when the sun is scorching hot, a vinyl awning can provide shade along with UV protection, as the rays cannot penetrate through the material.
It's important to remember, all of the benefits of vinyl awnings come with a considerable amount of maintenance. To keep a vinyl awning in its best condition, the fabric needs to ideally be cleaned and dried after every use.
Unfortunately, mold and mildew growth are common problems with vinyl awnings due to the buildup of dirt, dust, and moisture, along with a lack of airflow.
3. Fixed Awnings
Key Benefits:
No setup required
Constant weather protection
Downsides:
Non-adjustable
Rust formation
Safety risks if not installed properly
For those looking for a permanent arrangement, fixed awnings are a fantastic option as there is no setup or dismantling required.
Having an awning in a fixed position has great benefits in terms of weather, as the awning-covered side of the RV has constant protection from all mother nature has to offer.
As fixed awnings can be exposed to harsh weather conditions consistently, it's important to carry out regular maintenance and help prevent rust formation.
Although fixed awnings are a pretty popular RV awning option, they do have some potential issues. A big frustration with fixed awnings is the fact you are unable to adjust the awning if you want to change the coverage.
This can be irritating when wanting to shade or cover a different section of the RV. It is also important to fit a fixed awning correctly as there can be safety risks, such as the awning falling off whilst driving.
4. Slide out Awnings
Key Benefits:
Flexibility of use
Low maintenance
Durable fabric
Downsides:
Non-waterproof
Unstable in windy conditions
Slide out awnings are usually manual and provide the flexibility of opening out the awning as and when it's needed, along with closing it away just the same. In addition to being very user-friendly, slide out awnings are also low maintenance and can simply be wiped clean.
The strong canvas material used for slide out and roller awnings is reliable in most weather conditions, but unfortunately, it is not waterproof. During downpours, water can pool on the canvas and cause damage to the fabric and even the awning itself.
Unless staked in the ground, slide out awnings can be unstable in windy conditions as there are no legs or anchoring points. It's therefore crucial to either close the awning away or tie it down well if wind conditions become less favorable.
5. Automatic RV Awnings
Key Benefits:
Convenient
Practical
Automatic sensors
Downsides:
Non-budget friendly
Professional installation recommended
For ultimate convenience and luxury, automatic or electrical RV awnings can be used with the simple touch of a button.
In addition to being extremely practical, automatic RV awnings have impressive sensor technology. The sensors retract the awning automatically during certain weather conditions such as low temperatures and high wind speeds.
All of these features come at a price, however, and the awning may also need to be mounted by a professional as they can have difficult fittings. With potential expensive repairs too, it's important to weigh up your personal needs and decide whether an electrical awning is worth the price tag.
6. Patio Awnings
Key Benefits:
Downsides:
Patio awnings or as they are sometimes called, detached or sheltered awnings, create a whole additional room outside the RV. They have a roof, walls, and entryway, creating the ideal private space for additional guests.
For those who like to carry plenty of adventure gear on board, a patio awning can also create the perfect storage space. For many travelers, a patio awning is an ideal option as the space can be used in so many different ways.
Although patio awnings have some great benefits, the setup can often be time-consuming and frustrating due to the various parts involved. Unless the awning has windows, the space may have poor circulation too which can create a stuffy environment.
Manual vs Automatic RV Awning
Another thing you might want to consider is whether you want to spend your money on getting an automatic RV awning or whether you'd rather go with the more affordable option and install a manual RV awning.
Manual RV Awnings

Both manual and automatic RV awnings share the ability to be opened or closed when desired. The two differ a little in time and effort, as manual awnings take longer to open and close than their more advanced equivalent. This process, however, is usually hassle-free and doesn't require too much labor.
Manual awnings also tend to be considerably cheaper compared to automatic awnings but are a little less luxurious.
As you can see in the video, a manual RV awning only takes a few minutes to set up and can be done with just one pair of hands.
This may be a little inconvenient in wet or snowy weather conditions, but at least when it's in position, the awning won't need moving again until it's time to leave the campground.
Another great benefit of manual awnings is the fact they don't have any electrical components. This is helpful as it means there are fewer parts to potentially go wrong or need replacing in the future.
Automatic RV Awnings
Automatic RV awnings offer next-level comfort and once they are properly installed they require no effort to use. They can simply be opened and closed with the touch of a button, either on a remote control or control panel within the RV.
If you're looking for ultimate luxury and convenience, an automatic RV awning ticks the box.
In the video, you can see the minimal effort required to operate an automatic awning, along with the speed of setup.
Having the ability to operate the awning from within the RV is ideal for when the weather is undesirable.
A big drawback, however, with automatic awnings, is the electricity needed to use the awning. If a battery runs out of charge and doesn't have sufficient power left to operate the awning, it will render it useless.
This can present a particularly difficult situation if the awning is fully extended and there isn't enough battery power to close it away.
What Material is Best for RV Awnings?
Whether you're looking to buy or make your own DIY RV awning project, the two most popular RV awning materials are vinyl and acrylic. Vinyl material is made from plastic and is waterproof, durable, and great for a range of weather conditions.
In comparison to acrylic, vinyl is also a far cheaper option but isn't mildew-proof. This is a common problem with vinyl awnings.
On the other hand, acrylic awnings are made from woven fibers, allowing plenty of air to flow through the material, and helping combat mildew.
A huge downside to acrylic awnings, however, is the fact they aren't waterproof. Regardless of what material an awning is made out of, the appropriate maintenance needs to be carried out to ensure it lasts for a long time.
Ideally, awnings need to be cleaned and dried after every use, as buildups of dirt and dust can aid both mold and mildew growth.
Should You Worry if There's Mold on Your RV Awning?
Most RV awning owners will have experienced their fair share of cleaning off mold from their awnings. Both mold and mildew are common problems when it comes to RV awnings. It's also worth mentioning that mold and mildew are often considered to be the same thing, but mildew is actually a mild form of mold.
Mildew is usually easier to clean but don't worry too much, as there are some simple things you can do to help get rid of both.
As always, it's best to try and prevent problems further down the line, and so ideally, awnings need to be cleaned and dried after every use when possible. If any mildew is spotted, action needs to be taken pretty quickly on the affected area.
The type of cleaning needed will depend on the material the awning is made from, as acrylic and vinyl fabrics have different cleaning requirements.
How to Clean a Vinyl RV Awning
Vinyl is a non-porous material, meaning it doesn't allow liquid or air to pass through it. It is mildew resistant and can be cleaned by gently scrubbing the affected area with a brush, along with diluted bleach and water.
It's essential to rinse the area thoroughly when finished to ensure any leftover bleach is washed away.
How to Clean an Acrylic RV Awning
Acrylic is a porous material and so dirt can be a bit harder to remove. For the best results, cleaning products should be allowed to sink into the acrylic fabric and a hard-bristled brush can be great for removing deep grime.
Closing Thoughts
Spending quality time out in nature is a huge part of the RV experience, but it can be hard when weather conditions are wet or the sun is well and truly beaming its rays down.
RV awnings are a brilliant way to combat these situations and offer shade, shelter, and sometimes even UV protection. It's important to consider the various styles and materials of RV awnings and choose the one that fits your needs the best.
Regardless of the type of awning you have on your RV, it will provide countless benefits and will soon become a space you can't live without during vacation.
To get the most out of an RV awning, clean and dry it regularly and keep it in tip-top condition for all the adventures to come.