Yesterday evening I blogged about Hyatt's Devaluation of 2013 and shared my thoughts on the change. Long story short is that no devaluations are good, but this one wasn't as bad as others.
Late last night I received a relatively proactive email from Hyatt announcing the devaluation, and I consider it to be a clinic on how to properly relay bad news to your customers. Here is the message: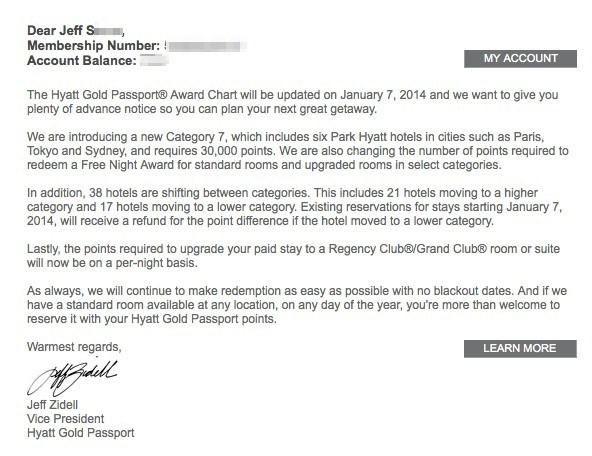 Kudos to Jeff Zidell and his team at Hyatt for owning the bad news and communicating with advance notice.
Why is This a Good Email?
You may read the note above and wonder why I consider this to be a good announcement/communication? It all has to do with the way that this email was structured, addressing the changes straight-on and doesn't use too much fluff to relay the message. I have marked up my thoughts on each paragraph below: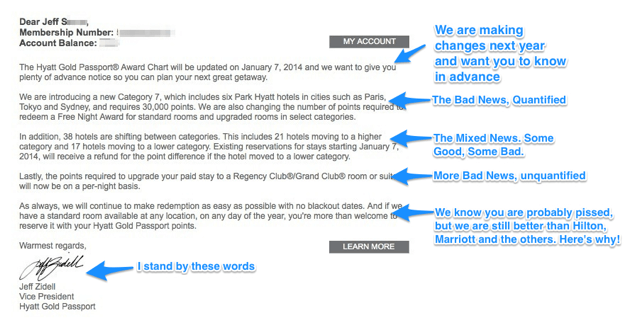 In a world of corporate speak and dancing around the issues, most announcements of this nature hardly do anything to reveal the change. It takes bloggers, conspiracy theorists and consumer watchdogs to dig up the dirt. In Hyatt's case, they give us the dirt plain and simple, and I respect them for that. I like that they lead the email with the bad news (new category, more expensive redemption) and then ended on a high note by demonstrating why they are still better than other programs.
What is a Bad Devaluation Email?
Earlier this year Hilton Honors devalued their program by increasing award night costs by up to 90% in some categories of hotels. At the time I wrote a sarcastic response to the email they sent to their Hilton Honors program members. Here is an image of that response: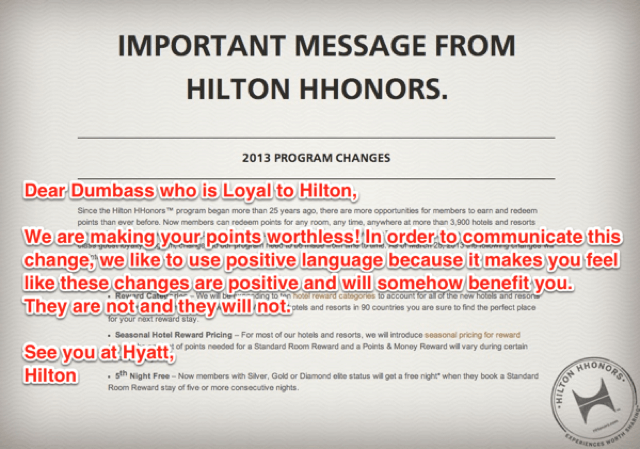 While the way I wrote my comments makes it difficult to see all of Hilton's announcements, I can say that they took the approach of making the bad look good instead of simply owning up to the changes like we saw Hyatt do today.
As a result of the devaluation and this email, I vowed to move my loyalty away from Hilton and toward Hyatt hotels. Since that time I have limited my Hilton property stays to only those where I didn't have another hotel choice or for trips that were booked pre-devaluation. However, instead of staying with Hyatt more often, I have found myself staying at Starwood Properties the most for reasons unrelated to Hyatt's program.
Hyatt Appears to Genuinely Care About Having a Great Loyalty Program
As other airlines and hotels have proven, Hyatt is not required to communicate openly and proactively with us. Yet they choose to do so because it appears they are genuinely interested in creating a great loyalty program. As someone who has flown Delta for years and stayed at Hiltons for even longer, it's refreshing to see a loyalty program that is actually focused on loyalty!