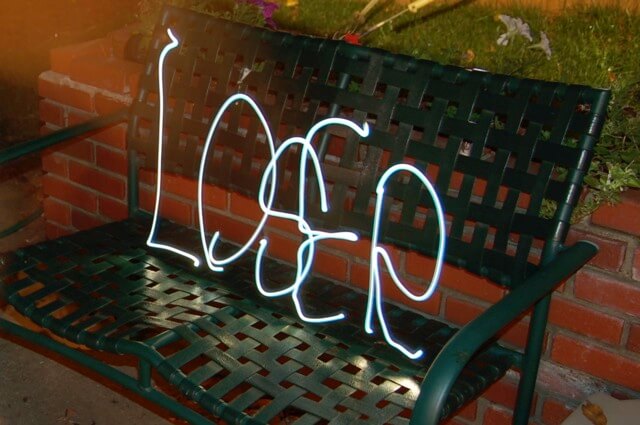 Last night Hyatt announced that they would be devaluing their award chart by increasing the number of points needed for certain awards and adding a new level of redemption (Level 7) which increases the number of points needed for an award night at 6 Park Hyatt Hotels by 8,000 points (36% increase). In addition, Hyatt is changing their valuable suite upgrades to be 6,000 points per night instead of 6,000 for up to 4 nights. The new chart goes into effect January 7, 2014. You can modify current reservations through February 15, 2014 at the old rates as well.
Much has already been written about the Hyatt Devaluation of 2013, so instead of recapping all of the new tables, I am going to focus on how this may affect your travel moving forward.
The Losers: Pretty Much Everyone
I have annotated the current Hyatt chart to show you how much rates will be rising for the Gold Passport hotel categories. We are looking at roughly 15-20% increase in points needed to stay at the properties that fall into the categories defined by Hyatt.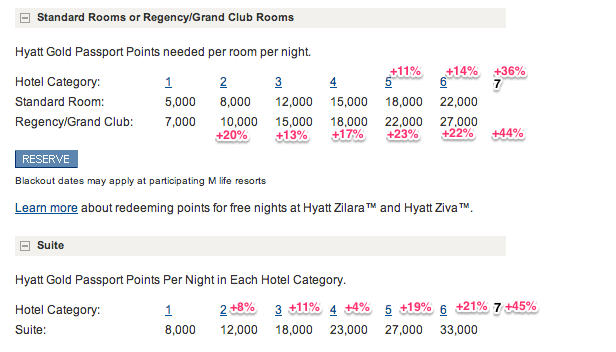 Whether you currently hold a large Hyatt Gold Passport points balance or are banking all of your points in the flexible Chase Ultimate Rewards currency, it will take more points in order to get a standard room free night at Hyatt hotels in categories 5-7. You will also see an increased number of points needed to get you into in regency/grand club rooms and suites at hotel levels 2-7.
I personally do not carry a large balance in my Gold Passport account, but have a large balance with Chase Ultimate Rewards that I recently used to transfer points into Hyatt for stays at the Park Hyatt Vendome in Paris and the Park Hyatt Milan. Both of these hotels were 22,000 Gold Passport points per night when I booked them, and will be rising to 30,000 points starting January 7, 2014.
While 8,000 points does not sound like a large increase when looking at a single night at a hotel, this begins to add up. In my case, I booked 5 nights for a total of 110,000 Gold Passport points. After the devaluation, this would now cost me 150,000 points to redeem for 5 nights. That is a difference of 40,000 points.
Sure, a single Credit Card signup bonus could make up that new gap, but in practical terms it would take a lot of spending to make up these 40,000 points. Even using trickery to earn 5x points would require spending an additional $8,000 in order to generate enough points to cover the difference.
For those who earn 1-2 points per dollar on everyday expenses, they would need to spend $20,000 to $40,000 more in order to cover the additional expense of 5 nights at a level 7 hotel. I would much rather spend those points elsewhere.
If you earn your points by staying at Hyatt hotels, you may find that it is easier to accrue points on far less credit card spend, but I am sure that they will also find this change annoying. No consumers will ever appreciate currency devaluation.
In addition to Ultimate Rewards transfers to Hyatt being less valuable, the overall Ultimate Rewards currency has been taking a hit lately with the United devaluation and now Hyatt. There are still many great values to be had, but it sad to see so many transfer partners lose value all at once. Then again, these devaluations are almost certainly related to the flood of Ultimate Rewards points in the marketplace to begin with, so it's to be expected. There had to be some fallout for 50,000 point bonuses.
The Six Hotels in Category 7
Here are the hotels that will now be put into the new highest level category with Hyatt:
Park Hyatt Paris Vendome
Park Hyatt Milan
Park Hyatt Tokyo
Park Hyatt Zurich
Park Hyatt Sydney
Park Hyatt Beaver Creek
My examples focus on changes at the top of the chart, but the reality is that there is no change for category 1-4 hotels and categories 5 and 6 rise modestly. It's only at the top category that things really get out of whack.
The Winner: New Credit Card Signups
Outside of Hyatt's chief financial officer who is responsible for profitability, the sole winner I can imagine in this situation is someone signing up for the Chase Hyatt Visa card. From what I can tell, the credit card still has a signup bonus that enables you to stay at any Hyatt property in the world for 2 nights after spending $1,000 in their first 3 months. This increases the value proposition for signing up for the Hyatt credit card because the bonus appears to be immune to devaluation. If you don't have the card yet, you should check out the Chase Hyatt Visa (this is not an affiliate link).
It Could Have Been Worse
Unlike Hilton Honors, who devalued their chart by 90% earlier this year, this Hyatt change seems more like a fair adjustment to keep their program cost effective to the business. It is also the first time that they have made a change to their award chart in years, so it was easy to see it coming. I'm annoyed that my points won't go as far as they used to, but also happy that the changes weren't as dramatic as we have seen in other programs.
Even with this change, I will continue to stay at Hyatt properties when they are well reviewed, in a city I want to visit and in a convenient location.
(h/t to Seth for first making me aware of the devaluation)
Cover Photo Credit: Out.of.Focus via Compfight cc