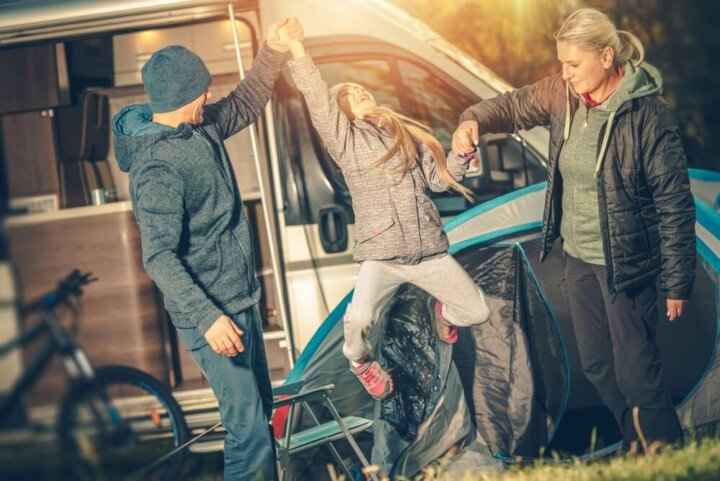 All of our reviews are based on exhaustive research, industry experience and whenever possible, hands-on testing. When you make a purchase using one of our chosen links we'll get a small percentage of the proceeds. This supports the site and keeps Jeffsetter running. You can read more here.
The right RV really can be your home away from home. Whether you're trying to cut the cost of living expenses, seeking a sense of adventure, or something in between, RV-ing gives people more options for living.
For some people, RV-ing is something they'd love to embark on with their family. But is it legal to live in an RV with a child?
Yes, it is legal to live in an RV with a child. You do however have to meet certain living requirements, have them enrolled in and attending school either online or in person, and of course, meet their basic needs like access to healthcare, food and water, safety, and supervision.
Below, we'll take a closer look at whether it's legal to live in an RV with your child and the requirements that you'll need to meet beforehand, so you don't have to worry about problems with CPS or other organizations.
Is it Legal to Live in an RV with a Child?
Yes, it is legal to live in an RV with your child. However, there are certain requirements that you have to meet to legally live in an RV, as well as to legally live in an RV with your child.
First, you need to have a legal mailing address. Many full-time RV owners have a post office where they receive all their mail. You also have to pay taxes in the local area where your mailing address is located.
When it comes to living in an RV with children, there are also requirements as far as providing for your child's basic needs. This includes things like access to food and water, safety, and supervision.
Additionally, most states require school-age children to attend school at least until they are 16. If your location makes it hard for you to do that, then homeschooling or online learning might be great alternatives.
Can CPS Take Your Kid for Living in an RV?
No, CPS cannot take your child from you for living in an RV. In cases where Child Protective Services intervenes, it's because the child is not having all their required needs met. Here are some of the requirements that you'll need to meet to ensure CPS doesn't get involved when you're living with your child in an RV.
First, your child needs to have their basic needs met. This includes things like access to food and water and the ability to bathe. For this reason, it's generally best to RV with a child somewhere there are water and electric hookups or use an RV generator big enough to support your family's electrical needs.
Second, your child needs to be educated. There is the option of having your child attend school in the district where your RV and permanent address are, though some people also consider homeschooling their child.
The way that you are allowed to educate your child varies from state to state. For example, some states allow parent-led homeschooling while others require students online to attend school virtually. You'll need access to the Internet if you live somewhere that requires your child to attend classes online.
Finally, your child needs to be safe. Your RV should be relatively issue-free and you should regularly inspect for things like mold that's dangerous to breathe in, as well as damage to your RV that could result in hazards.
What Can CPS Take Your Child For?
Generally speaking, CPS isn't in the business of breaking up families without reason. Some reasons that CPS intervenes and takes a child are excessive drug or alcohol use in the home, child neglect, or abuse. They might also step in if there's an unsafe living environment or when your child's needs are not being met.
For this reason, if you are going to live in an RV with your family, it's important that you have access to things like a working stove and refrigerator for food, electricity, and running water. You'll also need to be sure that you've followed the local guidelines in your child's school district for homeschooling or online education if you don't plan on having your child attend a brick-and-mortar school.
CPS can also take your child if they don't have access to adequate medical care. If you are enrolled in a school district, then you still have to adhere to rules on vaccinations for school unless there's a medical or religious exemption.
If you do have a preference for how you educate your child, then you'll want to be sure the state that you park your RV in has either lenient schooling laws or schooling laws that align with your personal goals. For example, Tennessee has rules in place that give parents several options to educate their children which makes it one of the best states for RVers with families.
Is Living in an RV with Your Child the Same as Living in a Mobile Home?
No, living in an RV with your child is not the same as living in a mobile home. While mobile homes can be moved to a new location, most mobile homes are kept in parks where families have permanent residence. This is also where they'd get their mail and pay taxes.
Furthermore, mobile homes are able to be moved, but they are not moved frequently like an RV is. Additionally, manufactured homes have strict regulations that they have to meet because they are a living residence, whereas RVs don't have these same regulations.
Is Living in an RV Considered Being Homeless?
No, living in an RV does not make you homeless in the eyes of the state. As long as you meet the requirements for living in an RV, such as having a permanent mailing address and utilities, then an RV, camper, or travel trailer can be considered your family's residence.
That being said, this only applies to RVs that utilities are run through. While off-grid living in an RV with a child is also legal for the most part, you'll need to have access to utilities like water and electricity for it to be considered both legal and safe.
Where Can I Park My RV for My Family to Live?
One of the challenges of living with your family in an RV is finding somewhere that you can legally stay for an extended period of time. Most people that live in an RV year-round end up in states that have a warmer climate, where campgrounds are open longer.
That being said, some campgrounds do have limits in place as far as how long a person can stay in their RV. Plus, there are some cities where you aren't even allowed to have your RV hooked up to water and electricity inside city limits and every state has different educational requirements that you'll need to follow to legally live with your child in an RV.
This is one of the reasons it's so important to do your research before you decide where to settle with your family. Get familiar with the local RV rules and regulations before you pack up and hit the open road.
What Features Should I Look for in an RV for Families?
RV living really can be an option for children, particularly if you have a large enough RV to support a family. Here are a few things you'll want to consider whether you're looking for an RV for a family of three or an RV for a family of five.
1. Start with an RV That Has More Space
To start with, you want to be sure that the inside of your RV is roomy enough to accommodate everyone. This goes beyond just having enough beds, especially since some beds might fold out from the couch or other furniture, so they are in the common living space.
For example, we are a family of four. While we have rented a lot of different RVs, when we do purchase one, we want it to have at least two private bedrooms. This will be a bedroom for the two adults, as well as a bedroom for our two boys to have a little of their own privacy. Plus, a roomier RV helps with that "cooped up" feeling.
2. Consider an Outdoor Living Space
Having an outdoor living space really opens up your RV and gives you somewhere comfortable to relax when you aren't inside the RV. Some RVs even have an outdoor kitchen that makes it more comfortable to entertain or make food for your family.
Even if you don't have an RV with an outdoor kitchen, something like an RV awning provides shade and rain cover. It protects any indoor furniture sitting in front of the window from sun damage and provides a little protection for your framed or frameless RV windows, too.
Don't worry if your RV didn't come with an awning. There are plenty of DIY and non-DIY alternatives to RV awnings that can open up your living space without spending hundreds on upgrading your RV.
3. Know if You Want Secondary Towing Options
Being able to tow with your RV is a great idea whether you have a small vehicle or towable storage for your bicycles, kayaks, or other equipment. While not everyone is going to need it, some people like having this for extra storage, too!
If you do pull anything along behind your RV, you will want to check out the rules for travel in areas that you visit. For example, most states do not let vehicles that are towing an RV, car, or anything else in areas like the HOV lane or the fast lane on the freeway.
4. Consider an RV with a Generator and Larger Water Tank
Dry camping, or boondocking, involves camping in your RV without being connected to electricity or water. However, this doesn't necessarily mean going without.
RVs designed for boondocking usually have larger water tanks, so you can go off-grid a little longer. You'll also need a generator for your RV that provides enough power for whatever you need. For example, larger generators can usually power your air conditioner and anything else you need, while you may not be able to run an AC off a small generator.
Tips for Living in an RV with Kids
Now that we have a lot of your questions answered, here are a few more tips that could help you safely and comfortably live in an RV with your child.
1. Provide Stability with a Routine
One of the big challenges that come with living in an RV with kids is providing stability. Stability is really a big factor in how safe and secure your child feels in their living environment. This security is important because when children feel secure, they are in the best possible mindset for learning and growth.
One of the ways to provide some stability is to have a routine. This helps your child know what is coming during the day and gives them a better idea of what is expected of them. Plus, if they're in school, they are going to perform better when they have things like a consistent bedtime, breaks, and school hours.
2. Give Your Child an Opportunity to Be Social
One of the big things that my kids missed when Covid hit in 2020 and nearly everyone was online schooling was that social connection they got at school. While we always make sure there are fun things to do like a pool and playground wherever we RV, it just isn't the same as seeing your best friend every day.
Something that really helped was encouraging them to play with kids at the playground and pool. They make new friends every time we go camping! They also already had a few friends from back home that they were able to video chat with from time to time and message on their tablets.
If there are any recreational activities in your local area, that might be an option too. This could include things like sports or after-school programs, or even sleepaway camps in the summertime!
3. Take in the Adventure
There are a lot of benefits that come along with full-time RV-ing, including the chance to make your life an adventure. While there are restrictions when you have kids as far as what you can do during the school year, that doesn't mean that you shouldn't spend the weekends enjoying all that nature has to offer.
When you're RV-ing with family, be sure to have fun with it. Make time for visiting the sites instead of just sitting around your RV site and explore the woods or mountains around you.
Final Word
Is it legal to live in an RV with a child? Yes, it absolutely is. However, you will need to be sure all your child's basic needs are met and follow the rules in the area concerning schooling. You'll also need to be sure that your RV is a safe place for your kid to live.
Hopefully, this article has answered some of your questions about RV-ing with kids and given some helpful tips on providing a great quality of life for your child in an RV.
But before you make the decision to move into an RV full-time with your kid you should get familiar with the CPS requirements, and the laws and regulations in the state you're planning on staying from official and reliable sources.
Feel free to drop a comment with any tips I might have overlooked!