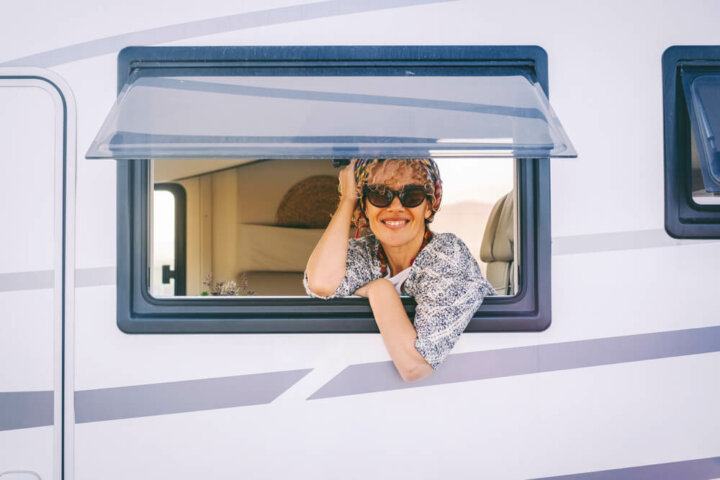 All of our reviews are based on exhaustive research, industry experience and whenever possible, hands-on testing. When you make a purchase using one of our chosen links we'll get a small percentage of the proceeds. This supports the site and keeps Jeffsetter running. You can read more here.
When you're buying an RV, there are a lot of options. In fact, so many different options that it's really hard to decide what you want without thorough research. And without the research, you're just hoping that the salesperson knows what they are talking about with their suggestions.
One of the choices you'll have is whether you want framed or frameless RV windows. While this isn't a feature that is make-or-break for me, particularly because windows are something that's fairly easy to upgrade, it still could be a deciding factor if it comes down to a couple of RVs with features that you like.
So, when it comes to framed vs. frameless RV windows, which option is best?
Framed windows have advantages when it comes to greater airflow, lower upfront costs, and more durability. However, they are bulkier whereas frameless windows create a sleeker overall look to your RV. Frameless RV windows also aren't exposed to the elements so they may require less maintenance and they can be left open when it rains.
Below, we'll take a closer look at framed vs. frameless RV windows and the pros and cons of each.
A Quick Overview of Framed vs. Frameless RV Windows
Before we jump into all the details, here's a quick table that runs down the pros and cons of framed or frameless RV windows. This is for all you people who want a more straight-to-the-point overview.
| | | |
| --- | --- | --- |
| Key Characteristics | Framed RV Windows | Frameless RV Windows |
| Installation | Harder installation depending on panes, more affordable option | Easier installation, more expensive startup cost |
| Durability | Frame gets damaged with time and UV exposure but glass is more durable | Glass panes not as durable without the frame, frame is not exposed to the elements so it doesn't get UV-damaged with time |
| Maintenance | Maintenance is easier and more affordable | Maintenance is less frequent but more expensive |
| Visibility | Slides open for better visibility | No visibility through tint and window hardware |
| Airflow | Opens all the way for better airflow | Only opens a few inches, less airflow but can be opened when it's raining |
What's the Biggest Difference Between Framed and Frameless RV Windows?
When you look at framed vs. frameless RV windows, the big difference is the frame. Framed RV windows have an outer structure that is made out of wood or plastic, and they may have a single pane or two panes.
Usually, RV windows are designed to slide open like the windows on a house. They offer better airflow but need more frequent maintenance.
Rather than the window pane being installed in a frame, frameless RV windows are installed directly into your RV. The seals aren't visible to the naked eye (or the elements).
Frameless RV windows usually open outward instead of sliding open so there isn't as much airflow, but they can be left open in the rain. There are also dual pane frameless RV windows that are a little more durable than the single pane design.
Pros and Cons of Framed RV Windows
As far as functionality, I feel like framed RV windows excel. Of course, both types have their advantages and disadvantages so let's get into them now.
Benefits of Framed RV Windows
Some of the benefits of framed RV windows include cheaper installation and maintenance, more airflow, and better durability.
Easier Install and Maintenance
I'm the type of hands-on RV owner that tackles smaller DIY projects myself (well, with the help of my fiance anyway). I feel like being able to see the frame and what you are working with makes installation and maintenance a little easier with framed windows.
In most cases, I've also found that any normal wear and tear to the seal can be fixed with a little caulking, too. We've never had to replace any window panes but I'd imagine that process isn't too hard either.
More Airflow and Visibility
Framed RV windows usually slide open, so you get direct airflow through the entire size of the window. It works a lot quicker and more efficiently to cool off the RV. For people who want to save money on cooling costs by not having to run the AC all the time, framed windows are the better option.
Plus, you can leave framed windows open without making the RV any wider. This is useful for ventilation to prevent mold during RV storage.
I also like that opening a framed window for your RV gives you a lot more light inside. You can see out of them and let natural light in, even if they are tinted. This is a big plus for me.
Better Durability
Having a frame adds a little more structure as far as durability. Framed windows have separate window panes and they are more likely to be dinged or crack rather than break apart completely. You can also opt for dual pane windows if you want even more durability.
Disadvantages of Framed RV Windows
Some of the disadvantages of framed RV windows include a clunkier appearance, the need for more frequent maintenance, and less airflow when it rains.
Clunkier Appearance
Of course, the major attractiveness of frameless is the sleek design so it makes sense that the clunky appearance of framed windows might not be the overall look some people go for.
For me personally, functionality wins over style. I care more about how my windows appear when I'm inside the RV and even then I use curtains to make the place look homey. However, I do see the advantages of both types of windows.
More Frequent Maintenace
One of the reasons that people choose frameless windows is because there isn't the same risk of UV damage like there is with plastic-framed RV windows. However, it's pretty common for newer windows to be made using UV-treated plastic.
Even though you do have to worry about UV rays on a framed window, there is the option of UV-treated seals and windows. This treatment adds a little to the overall cost, but in my opinion, it's worth it so you aren't dealing with leaky seals sooner rather than later.
You'll find this is true of a lot of areas on your RV, like protecting your RV from the sun is important so you don't have to deal with things like dry rot in the tires or a leaky roof reseal.
No Airflow When it Rains
Framed windows slide open, so everything will get wet during a storm if there's even a little bit of wind. They don't have the same protection like the awning-style of frameless windows.
Pros and Cons of Frameless RV Windows
Frameless windows are also an option, particularly if you want a sleeker appearance to your RV. Let's take a look at the advantages and disadvantages.
Benefits of Frameless RV Windows
Some of the benefits of frameless windows for your RV include the appearance, being able to be left open in the rain, and less frequent maintenance.
Aesthetics
The big benefit of frameless RV windows is their sleek design. There's no frame that sticks out like more traditional windows and they blend in seamlessly, so they almost give your RV a luxury feel.
If you're big on appearances, then frameless is the way to go. This is especially true for boxier-style RVs since the frameless windows smooth out the design.
Functional in the Rain
When it comes down to functionality in the rain, the way that frameless windows for your RV open up and out gives them protection from the rain. This makes it easier to maintain airflow through the RV even when it's raining outside.
Less Frequent Maintenance
Frameless windows have the frame tucked away, hidden inside and away from the sun's rays that cause damage like fading. They are also usually UV-tinted, which protects the furniture and other surfaces in the RV from UV damage.
Without constant exposure to the elements, the seal around the window stays stronger for longer. That means that they don't generally need maintenance that often, as long as they aren't hit with a stray rock or otherwise damaged.
Disadvantages of Frameless RV Windows
The disadvantages of frameless RV windows include more expensive installation and maintenance, less durability, and less airflow.
More Expensive Install and Maintenance
When it comes to installation or upgrading your window, there's a little more work involved with frameless RV windows. They have to be installed within the structure of the RV.
Additionally, while you don't need to maintain frameless RV windows as often, there is a risk of condensation around the seal of the window. Over time, this condensation causes damage including mold and mildew. Just be aware of this and watch it, mold repairs are always best taken care of sooner rather than later.
Less Durability
Window frames add durability. In the event that a framed window is broken, it doesn't always fracture the pane completely. It might leave it just damaged instead of shattering completely. While it's never happened to me, I have heard stories of frameless windows being shattered by a rock coming off someone's tires on a gravel road.
That being said, frameless RV windows are usually made from tempered glass. Tempered glass is around 4x stronger than other glass, so it will resist some damage.
There's also the option of dual pane frameless RV windows. Dual pane windows have two layers of glass, so there's a little more protection if a rock or something flies at the window.
Less Airflow and Visibility
The big drawback of frameless RV windows is that they don't give you that same airflow that you might want if you camp in hotter climates. They only open up to six inches on the bottom, whereas traditional framed RV windows slide open completely.
I also don't like that you can't really see out of a frameless window completely if it's open, because the bottom of the window and the hardware are in the way. Since the window doesn't open completely, there's no way to move it. Plus, even when you're closed, you're looking through window tint.
That being said, there are handy hacks that you can use to increase the airflow through your RV like the one explained in this Youtube video.
Framed RV Windows vs. Frameless Windows: Which is Best?
When it comes down to it, both framed RV windows and frameless RV windows are functional options. Some RVs even have both types.
The RVs that have both framed and frameless windows usually have framed windows on the slideouts and frameless on the sidewalls. This is nice if it rains a lot at your favorite RV-ing spots since you can have good airflow regardless of what's happening outside.
Personally, I prefer the more traditional framed windows, I like that I can see everything. As for the seal when it does need maintenance it's pretty easy to swap out for a new window if you want to upgrade.
I do see the benefits of both though. Frameless RV windows don't need maintenance as often and they can also be made more durable by adding a second pane. It really comes down to which benefits matter the most to you.
Why You Should Consider Both Frameless and Framed RV Windows?
I've also found there's really a case for having both styles of window. Hear me out.
With the slideout sidewalls, it's really best to have framed windows. When positioned on opposite sides of the RV, both windows can be opened to get a really good cross breeze going. Plus, big windows on either side let you look out and see what's going on.
I feel like framed windows are best in the bedroom for the same reason. My fiance is someone who always needs cool air going at night and the cross breeze keeps it cool so we can just run a fan instead of the RV air conditioner. However, you'll want to be sure these are tinted for privacy and to protect you from UV radiation.
I feel like the side of the RV is where frameless windows excel the most. They can be opened in the event that it is raining so it doesn't get so stuffy in the RV and this isn't an area where you'll be sitting trying to look out the window.
Final Word
When considering framed vs. frameless RV windows, the big thing really comes down to your personal preference and whether you prefer something more aesthetically pleasing over a window that's a little more functional.
Both of them do work as far as airflow, so there's not really a wrong choice. Plus, if it comes down to it, you can always upgrade your RV windows if you want a change. I think there are also a lot of other factors that hold more weight when you're choosing an RV camper.
Any thoughts? Let me know what you think!