All of our reviews are based on exhaustive research, industry experience and whenever possible, hands-on testing. When you make a purchase using one of our chosen links we'll a small percentage of the proceeds. This supports the site and keeps Jeffsetter running. You can read more here.
There's nothing like camping or traveling across the country with the whole family, or at least the whole immediate family!
If you're a family of five, you may be questioning whether or not a Class C RV is the right fit for you and your kiddos. I'm here to show you some of the best Class C RVs for a family of five and give you the peace of mind needed to consider purchasing one of these versatile rigs!
But what Class C RV will best fit your needs? And what are some of the pros and cons of these unique RVs?
Let's learn about them together, and then go over some of the top floor plans built specifically for larger families!
What Are Class C RVs Like for a Family of Five?
You may not even be sure what exactly a Class C RV is, but that's why I'm here to help you out. You've come to the right place, and a Class C rig is a great rig to look at, not matter the size of your family!
There are so many different varieties of rigs on the market: travel trailers, fifth wheels, Class A, B, and C motorhomes… And all of them have their own pluses and minuses when it comes to traveling with your family. Why choose a Class C RV?
While the name may not make any sense to you right now, a Class C RV is easy enough to understand, and it is known as being a very versatile type of rig!
Class C RVs are the in-between sized motorcoaches, Class A being the largest and Class B being more campervan sized. Class C's have a couple other great perks to them besides their length!
While Class C RVs range in length from 20-40 feet, these motorhomes are often built on a sturdy and maneuverable truck or van chassis. While my example length of these rigs may seem like a huge range, it's the rig's above the cab bunk that ultimately determines the class of this motorhome.
Because of these rigs having such flexibility and popularity among campers, you will find a wide variety of layouts in Class C's. Many Class C's are built with full timers or couples in mind, but some (and the ones you will find on the list for sure) are built for families, especially families of five or more.
Class C's are very popular options for campers, usually allowing enough space for everyone to feel comfortable without the added stress of towing or driving a buslike Class A rig around. They are just the right size for the majority of the population, including full timers, couples, and the average family of five!
While every RV will take some getting used to, Class Cs do give families a lot of good space. However, you may consider an alternative rig should you find that Class Cs don't give you quite the amount of room you were expecting.
When in doubt, check out this great informational article about how many people on average can fit in an RV. It can be a great place to start!
What are the Pros and Cons of Class C RVs for Families?
As I've already hinted, there may be some deciding pros and cons for Class C RVs, especially when it comes to having enough space for a family of five! While you may have your heart set on a Class C, you may make a different decision based on some of these pros and cons.
Pro: Class C RVs have amazing storage solutions
The toughest part about traveling with the whole family is making sure everyone has enough space for their luggage and personal items. Class C RVs have only gotten more and more sophisticated over the years, offering in depth and smart storage solutions.
While you're still piling into a rig that's less than 500 square feet, you may be impressed at your ability to store and stow away everyone's bags, food, and fun personal effects. These RV manufacturers are well aware of the importance of storage, and most Class Cs are marvels in terms of stowing capabilities.
Con: Class Cs are not the biggest rigs out there
While storage is important, actual living space is too. And unfortunately Class C RVs don't have the biggest square footage out there, especially when compared to other RV options.
Class As and fifth wheels along with many travel trailers are going to have significantly more space than Class Cs, and this may be a deal breaker for many of you that don't want to necessarily be on top of your whole family the entire camping trip.
Class Cs can get cramped pretty quickly, especially if you're camping during inclement weather and can't send your three kiddos outside to play. Plus, once you add on luggage, supplies, bedding, and more, the interior space will be at a premium very quickly!
Pro: Easy to drive
If you've got a car full of stressed out family members, it's nice when the car is easy to drive. Class Cs are fantastic RVs to maneuver, both on highways and in city streets. Once you adapt to your rig's specific dimensions, you should have little trouble making your way down the road.
Built on a van or truck chassis depending on the size of your rig, Class Cs move like a car rather than a dangerous trailer. Driving one of these could give you more peace of mind over driving a fifth wheel or travel trailer, both RVs prone to sway and other anxiety inducing things.
Con: You may not have enough seatbelts for everyone
Class Cs are great because you drive around inside of your RV and don't necessarily need to bring along another vehicle. However, some Class Cs only offer two to three seatbelts, making it necessary to travel in another vehicle with the kiddos just to ensure your entire family can remain buckled up.
While some Class Cs definitely have enough seatbelts and safety features inside for a family of five, it is important to note this unfortunate fact before you hit the road. Everyone should be buckled up at all times!
Pro: These rigs usually have bathrooms
It's no fun when someone in the family needs a restroom and there isn't one nearby. Thankfully, most all Class Cs include a bathroom, and some bathrooms have excellent layouts for families.
While a bathtub won't be an easy find on a Class C, you won't have any trouble finding a rig with a shower, toilet, and sink. That must be a relief for a family of five, in more ways than one!
Con: High price tags may mean one of the kids isn't going to college!
Class Cs have only grown in popularity, and therefore in price as well. It makes sense why the cost of these rigs is so high: you're paying for both a truck and an RV, essentially!
While you may have your heart set on a Class C RV, it is important to note their overall cost. A travel trailer will usually cost significantly less and still allow for space for the entire family, if not more space than a Class C will allow.
Of course all RV dealers offer financing, but that monthly payment can get steep very quickly; you're essentially paying for a second home! Definitely something to keep in mind, especially if you have three kiddos to feed.
What are Good Brands of Class C RVs for Large Families?
With countless RVs and RV manufacturers out there today, it can be important to know the top names in the game. These particular RV manufacturers have been in business a long time, and are used to catering to the average family looking to hit the road!
Thor
You may not have heard of Thor brand motorhomes yet, but they are popular! Known for being budget friendly like Winnebago, Thor is proving to be another reliable brand in the RV world. They are great for families, and have countless layouts! They are also a great choice for travel trailers too.
Coachmen
Coachmen is another classic RV brand with a focus on family-friendly layouts. They use their space wisely more often than not, and are a well-known brand. While their interior design may be simple, they focus more on versatile layouts made for the whole family.
Winnebago
Who hasn't heard of Winnebago in the RV world? Known for their affordability and overall customer service, Winnebago keeps wowing RVers with their innovations, usually for a good price. Their bathrooms usually try to keep families and larger groups in mind, affording more privacy and ample living space.
Forest River
Forest River is well regarded in the RV world, and has been for decades. They make a great variety of rigs, from fifth wheels to Class Cs, so definitely keep them on your short list! They have many layouts and styles of Class Cs, perfect for shopping around. And their customer service team is top notch.
Jayco
Much like Forest River, Jayco has been talked about among RVers for some time. This brand seems to often focus on durability, advertising special sturdy RV frames. They use a lot of custom woodworking, and they make Class Cs to last a lifetime!
What Should I Consider in a Class C RV for my Family of Five?
Floor Plans Built for Five
While Class C layouts and floor plans aren't reinventing the RV wheel here, your overall floor plan should be a huge consideration for you. A properly chosen floor plan will be what makes your family of five comfortable, no matter how long your rig is!
Your floor plan will affect your bed layouts, bathroom set up, and more. For example, choosing a Class C with a separate shower area may be smart if there are five of you staying inside the rig. Having the sink and toilet separate can be a lifesaver for busy families!
There are also floor plans that involve stairs or other potentially dangerous setups for any young children. You may not be looking for a Class C rig with too many nooks and crannies in case you have curious little ones!
It may be tough to determine your needs right away, so I always recommend touring many different options if you're able. At the very least, look at a rig's various floor plans on the company's website so that you can see all your possibilities! They even have 360 degree video tours now.
You'll be looking for a rig with five sleeping solutions in the floorplan, but there are other factors to keep an eye out for. Storage solutions, additional beds, seating arrangements, and kitchen layout. Think about what your priorities are, and you'll no doubt find something that works for you! It's also worth mentioning that if you fall in love with a floorplan that doesn't quite have 5 sleeping areas you can always add one via an air mattress or a murphy bed.
Murphy beds are already quite popular in RVs and while it isn't cheap it is possible to have them installed. Air mattresses can be amazing too and if you grab a heavy-duty air mattress there's no problem having an adult couple share it which can free up a lot of space. Air mattresses have come a long way since I last used one and there are even options with an 800-pound weight capacity which means kids can play on them without much worry. Still, we're going to focus on RVs with a full 5 person floor plan for this article but I wanted to mention some of the more creative options.
Length of the RV Can Mean More Space
While all Class C's are built on a truck or van chassis, length is an important consideration for you while you're shopping around for a Class C that can fit the entire family. The length of your Class C makes a difference in your overall living space and layout, and you may not want to drive around in something too big for too long.
The main thing for you to consider when it comes to length in Class C's is the same thing you have to consider for any longer rig: where are you planning on taking it? Many campgrounds and campsites have length limits; some RV parks do too.
If you're planning on hitting the road with few plans, I always think it's smart to err on the side of caution when it comes to the length of your rig. The last thing you need is to pull into a campground that can't accommodate the length of your Class C! However, most locations can handle 20-30 foot rigs.
If you're more concerned about having enough interior space, especially space in your Class C for the kiddos to hang out, don't worry about the overall length of your rig. Go for what layout suits you best. However, just know you may not fit everywhere, and maneuvering in cities or towns is always tougher the longer your rig is!
Budget
It goes without saying, but choosing a rig that fits your budget is important. It is easier than you think to go over your budget while you're shopping for a rig, usually due to adding on non standard features that suit the entire family. Class C's are a very popular rig these days due to their versatility and ease of driving.
However, this has caused a bit of an uptick in the cost of Class C's, and the range is pretty wide depending on what you're looking for. Class C's can cost between $60,000 to upwards of $300,000! There are a lot of factors to consider before making your final purchase, but most Class C owners end up spending an average of $150,000. Surpingly, that's still often less than the more expensive Class B RVs!
To get a rig large enough for the average family of five, you may be spending a bit more than this. It of course depends on your needs and wants in an RV, but getting a rig large enough to fit five people often results in a heftier price tag.
Unless your family of five is comfortable in close quarters, budgeting for a longer RV may be a wise decision for you to make. However, a lot of families don't mind the cramped spaces for shorter camping trips, and you should be enjoying the great outdoors anyway, don't you think!?
Secondary Vehicle Towing Capacity
While Class C rigs are great because you don't have to tow them like travel trailers, you may have the desire to tow a regular car with your Class C. Depending on the model, many Class C rigs can tow the average small car, and potentially more!
While it often requires an additional purchase of a specialized hitch, most Class C's can tow your car so that you don't have to worry about driving your rig everywhere while you're camping. It's something to consider, especially if you would like to leave your rig at camp and see the sights in a more maneuverable vehicle.
The only thing to keep in mind is how heavy your conventional car is, and what the towing capacity is on the Class C you're considering. You never want to tow something heavier than your Class C's towing capacity, but thankfully these numbers are readily available from your rig's manufacturer.
It would make sense that most families of five will want this as an option when they go RVing so that they can easily leave an RV parked and take their family car on nearby outings. It will make everyone more comfortable and the roads are much easier to navigate when the entire family is in a car they know and love rather than a bulky RV!
Perks and Amenities for Both Adults and Kids
While ultimately the grown ups are paying for the RV, it may be important to you to purchase a Class C with the kiddos in mind. Some Class Cs are more suited for kids than others, and some of the added perks for them will make them feel special!
From bunk beds to low windows to well-placed electrical outlets for your teen's devices, your Class C could come equipped with more amenities made for kids than you think. On the flipside, some Class Cs may have the perfect blend of perks for both adults and children.
Looking for a well-equipped kitchen or outdoor grill? What about a Bluetooth sound system? Keeping an eye out for rigs that suit both parents and children will ensure a good time is had by all!
Fuel Type
While this may not be a factor for you right away and certainly doesn't affect your entire family of five, fuel type is a big consideration for many RVers, especially full timers. Class C RVs are built with either a gas or diesel fuel system, and the two fuel types are hotly debated. While the interiors and features on these two types of rigs don't vary much, the fuel efficiency and size of the fuel tank will.
Diesel Class C's are usually preferred by full timers because of their long term fuel efficiency and overall lower cost because of this. Diesel rigs are pricier up front more often than not, but because of this they usually have more luxury features.
Gas rigs are more common, and they'll do the trick, especially if you don't plan on using your RV regularly. The price point is usually more reasonable, but there's no way these gas guzzlers will be cheaper in the long term. Definitely an important consideration for you to make!
Saving money on gasoline could be a smart decision for a family of five to make, as this will allow for more spending money while you are on vacation. However, if you are saving up for the kids to go to college, you may wish to save big on that upfront Class C cost!
The Ability to Boondock
Boondocking or camping without any hookups such as water, electricity, or sewer, may not be high on too many lists if you're traveling with kids. However, I know many families that prefer boondocking and the beautiful sights seen while camping in more remote places- even during the winter months!
If you anticipate wanting to take your children camping without hookups or other amenities, you may want to look at Class C RVs built for boondocking. These rigs will need to have above average sized water tanks, generator or solar capabilities, and potentially more off-road tires or all wheel drive.
While this may affect your budget greatly, these perks are often a must for the adventurous family. Going off the grid with your family is a once in a lifetime experience, and one that your kiddos won't soon forget!
The Best Class C RVs for a Family of Five
Feeling confident about your needs and wants in a Class C RV? Did the kids give you their lists of must haves, along with the adults? Great! Now comes the fun part: learning all about some of the best Class C RVs for your family of five!
Best Overall: Thor Four Winds

Why does the Four Winds Class C RV by Thor take the best overall pick spot on this list? Budget friendly, multiple floor plans, durable, capable of fitting a family of five and then some- these are just some of the reasons why the Four Winds model takes the cake! I see this rig everywhere, and it is pretty easy to understand why.
Fifteen different floor plans allow your family to find the Four Winds that fits your lifestyle and needs. Easy to drive and easy to love, you'll want to spend all of your vacations or even live full-time in this rig. The living amenities, available in select floor plans, include washer and dryer prep, bunk beds and seating options so that it's no problem for a family of five to be comfortable.
Every model has residential vinyl flooring that's easy to clean and great for those that travel with pets. You won't mind rainy days in this Class C RV, thanks to the entertainment, sleeping and decor options. Great seating options are a must-have, so you'll be pleased with how the Four Winds checks this box for every floor plan. Every Four Winds model has a cab-over bunk sleeping area, and some floor plans come with bunk beds.
Four Winds living arrangements range from jack-knife sofas, Murphy bed sofa conversions and theater seating. Each layout has a TV and a wireless phone charger with a USB plug at the dinette tabletop for your convenience. The whole family can gather around the Dream Dinette, laugh and tell stories about the best part of the day's adventure. Tell stories back and forth until your loved ones fall asleep, which is perfect as the dinette makes into a bed.
Bathrooms in the Four Winds are spacious enough for the entire family. There's a large shower with a skylight and counter space surrounding the stainless steel sink. Enjoying the outdoors is the best part of RVing. Some floor plans have a portable table in the MEGA-Storage compartment that's perfect for lunch under the sun. If you need some shade, simply extend the powered patio awning with LED lighting. A 32-inch exterior TV with a Bluetooth soundbar and radio is available on select floor plans.
All in all, Thor has taken what families want and need out of an RV and boiled it down into an affordable and durable rig for years to come. That's what makes it our best overall pick for families of five!
Best for Kids: Jayco Seneca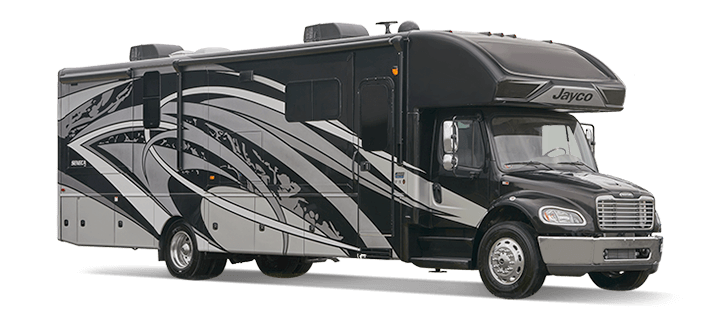 While you're spending the big bucks, I know you have your family in mind.
That's why the Jayco Seneca is my top choice for the kiddos in your life. Not only can you rely on Jayco's sturdy and easy to clean interior, but this rig offers ample living space so that your kids can spread out. The entire family can feel at home in this rig!
From bunk beds to walk around master suites, Jayco will have a floor plan that suits everyone. There's U-shaped dinettes, L-shaped sectionals that become beds, and more to suit all of the kids; there are so many possible sleeping configurations depending on the floor plan you choose. And the interior is nothing to scoff at; stylish and elegant, you will forget that you're camping! Plus most of the Seneca floor plans include an electric fireplace, a wonderful cozy addition to any RV.
Jayco installs stress-tested seatbelts in every designated seating location to ensure the safety of your entire family. In a Jayco motorhome, you won't have to put anyone at risk due to limited safety belts. Plus, Jayco has designed their overhead bunks to hold 750 lbs.- this is 250 lbs. more than any other RV. In a Jayco overhead bunk, two adults can comfortably rest and relax, or you can safely read a book to your kids at night.
Jayco is a fantastic brand for many reasons: warranty, resale, and advanced handling technologies. JRide, which offers a powerful blend of precise handling and renowned stability, is Jayco's special chassis addition not found on any other Class C. These important additions make your trip more comfortable without the need for expensive aftermarket upgrades.
Jayco's warranty is the best in the RV business. The two-year limited warranty is twice as long as the industry standard, keeping you covered for two full camping seasons. Add to that the three-year limited structural warranty and you've got the most complete coverage, coverage that provides a peace of mind. Plus, these rigs are known to last, having been built with more thought and premium products than other RVs!
Most Budget Friendly: Winnebago Spirit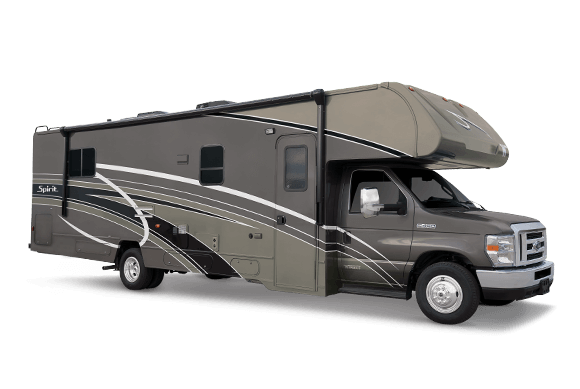 Shopping for a Class C can feel daunting, especially if your budget is at the front of your mind. Helpful as ever, the Winnebago company has made a more budget friendly Class C rig called the Spirit, still full of amazing features and floor plans! You won't be missing out just because of your budget, don't worry.
With a Ford chassis and included hitch, the Spirit is ready for whatever adventures you have in mind. And Winnebago wants you to enjoy this rig for years to come; check out their warranty options. Your Spirit would include a 12-month/15,000-mile basic limited warranty, a 36-month/36,000-mile limited warranty on the structure, and a 10-year limited parts and labor warranty on the roof skin.
With six floor plans to choose from, Winnebago's industry-leading innovation meets your own creativity in this Class C model. Inside, there's plenty of space for your family and gear so you can get outdoors and bring all the creature comforts of home with you. Select from three Winnebago Design Studio inspired transitional décor options for a contemporary or cozy cabin look that fits your style.
Ideal for families of all shapes and sizes, each of the Spirit's six available floor plans include a rear bedroom, cabover bunk, bunk beds (31H), and sofa/bed (NA 22M, 22R) – so there's sure to be a configuration that fits your needs. What was once considered above and beyond now comes standard: enjoy a second coach battery, 1,000W inverter, powered patio awning, radio/rearview monitor system and more.
While this rig only has a 6 gallon hot water heater and a fairly low BTU A/C unit, your budget will feel a lot less strain with very many luxury features. Plus the peace of mind that comes with a Winnebago purchase can often not be beat. They've been in the game a long time, and it may be worth it to start your RV journey with the pros.
Most Floorplan Options: Coachmen Freelander

The Coachmen Freelander is another extremely popular RV for families, and you'll soon see why. With over 10 possible floor plans between the Freelander and the Freelander Premier, the Coachmen Freelander Class C offers you all the "good stuff" novice RVers quickly appreciate and experienced RVers demand.
The Freelander mantra is to provide more factory installed features than anyone else, unparalleled value and reliable design and quality at an affordable price. The Freelander Class C Motorhome will win you over with its right balance of beauty, function, and value in a quality product that has lead the industry in sales for over a decade.
In terms of the interior, this rig has U-shape and J-lounge dinettes which offer roomier seating and larger converted bed areas. All of these floorplans offer true residential sized queen or king beds in the master suite, which means that mom and dad don't have to sacrifice their comfort while on the road! And for any traveling chefs: most of these rigs come equipped with a large residential sized fridge.
There are even more perks to this rig, including larger fresh water tank capacities of around 50 gallons, optional tank heaters, and LED strip lighting both inside and outside along the awning. With multiple large access storage compartments, you will gain an average of 70 square feet of storage, no matter the floor plan you choose.
Besides a fairly straightforward warranty, Coachmen also offers special club access to any and all Coachmen RV owners. The Coachmen Owner's Association provides a broad breadth of value propositions for their owners including planned trips, tours and rallies at bulk rate discounts, free trip routing, free campground directory, free monthly email newsletters, mail forwarding, a dedicated website, and local and State club activities and Caravan Chapter membership opportunities.
While the interior design is nothing special, having a reliable and well-built rig is sometimes all you need to have a great trip with your family. Plus, Coachmen offers so many floor plans so that you can really choose what works best for the whole family!
Best Diesel Option: Dynamax Isata 5
The Isata 5 Series Class C Motorhome pairs luxury living with a powerful Cummins diesel engine and best in class towing. You no longer have to choose who or what gets left behind. Behind the wheel of the Isata 5 Series, you'll enjoy a familiar and extremely comfortable truck cab, and you'll find yourself making up reasons for just one more trip with the whole family.
While there are only four floor plans for this particular Dynamax rig, they are luxurious and well-appointed. Some of the many interior features include a front cab-over bunk area with a mattress and privacy curtain, premium vinyl flooring throughout, deluxe carpet with pad in the living area, slide rooms, a soft-touch padded vinyl ceiling, LED recessed ceiling lights, and residential style dinette seats with lift up storage compartments.
As a division of Forest River, Dynamax offers a comprehensive and useful 2 year warranty on all of their rigs. Plus this chassis has four wheel drive, active brake assist, a quad view camera system, and a 10,000 pound towing capacity. It's a beast, and this diesel engine won't quit on you anytime soon!
The Isata 5 is really quite luxurious inside. With blackout roller shades, shaker style cabinetry, a living room sound bar, and soft close drawer assist, the entire family will notice the amenities. And the outside is just as nice too! There's a motion activated retractable awning, LED patio lights, and an optional exterior entertainment system.
While the price tag on this rig is definitely something to consider, there's no doubt in my mind that you will notice the amenities and upgraded interior, especially compared to other Class Cs on this list. It's definitely worth checking out!
Best for Boondocking: Entegra Esteem

Looking to get off the grid with the entire family? The Entegra Esteem has you covered with both its standard and optional features. While this is another rig with a price tag to sweat about, the luxurious features make this Class C a great option for the average family of five, especially if you're looking for boondocking capabilities.
One of the first things you'll notice about the Entegra Esteem is its fully custom-molded ABS surround in the cab-over area, featuring a panoramic window and power shade. Residential kitchens with abundant counter space, recessed burners and an option for two A/Cs on a 30-amp coach are just a few of the characteristics that make the Esteem one of a kind.
With solar prep, an outdoor shower, an auto-changeover generator, and large holding tanks, this rig is ready to go wherever you want to take it. All the kiddos will have no trouble finding their favorite spot to sleep, as all of the bunks are rated for at least 300 pounds. While I wish they had a few more interior design options, the standard finishings will no doubt impress even the most discerning consumer.
Entegra Coach's industry leading 2-year limited warranty is double that of any other manufacturer and offers more coverage. On top of this 2 year warranty, Entegra Coach supports our customers with a 3-year limited structural warranty for areas like the roof, walls and floors. Plus on a sturdy Ford chassis, you shouldn't have to worry about maintenance for some time.
This rig won't make you feel like you are lacking for anything, even off the grid. It even has ample exterior storage, an exterior ladder leading to the roof, and marine-grade exterior speakers so that you can enjoy your time both inside and outside of your RV. If you're looking to get off the grid in style with the whole family, definitely give the Esteem a look over!
Most Luxurious: Newmar Super Star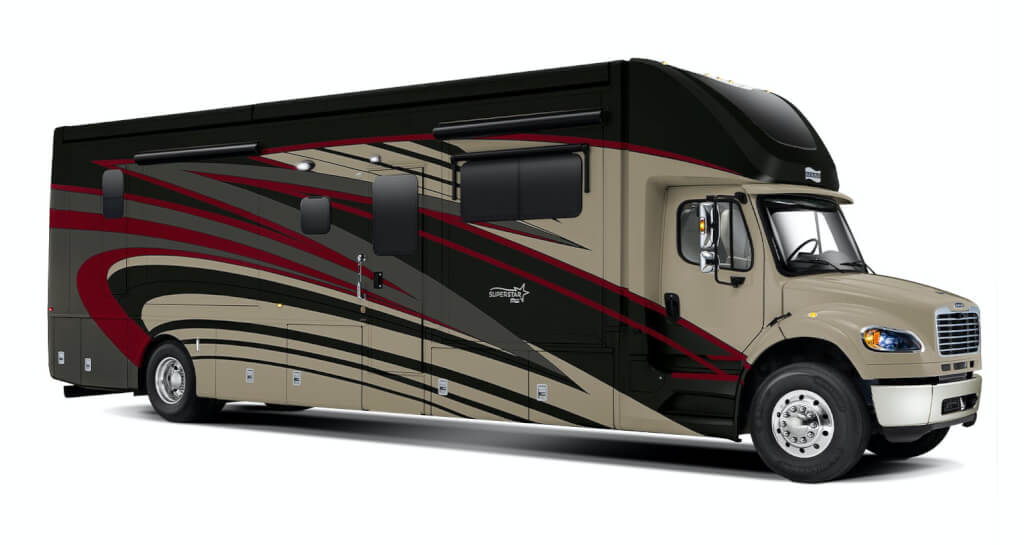 If none of these other rigs have spoken to you yet in terms of luxury and distinct interior design, then the Newmar Super Star may be the Class C for you. Yes, the price tag is a bit shocking, but you will be getting what you pay for on this one. Plus, this rig is what's known as a Super C, which means there will be ample room for the entire family! Just be prepared to maneuver a nearly 40 foot rig down the road…
The 2022 Super Star is a shining example of Newmar engineering and innovation, sitting atop the Super C chassis. The industry-exclusive full air-ride cab means an incredibly smooth ride, and a wide wheelbase on their 40-foot models makes for even better ride quality. A large sky window above the cockpit lets natural light flood the space and a power shade for privacy. There's also a full-wall slideout and exclusive step-free aisleway for more space than you thought possible in a Class C.
The Super Star Class C motorhome is available in four distinctive floor plans, three of which are new for 2022. All floor plans come with a full-wall slideout and feature hardwood fascia. When extended, it adds ample square footage to an already spacious cabin. The all-new 4065 floor plan can host the whole family with a king bed in the master, bunk beds mid-coach, and a 74-inch hide-a-bed sofa in the living space.
The Super Star offers you and your family of five a perfect retreat. Enjoy comfort throughout, with a new 9" Xite dash monitor system, Harman/JBL sound system and subwoofer, and remote-controlled exterior mirrors with defrost. After you've reached your destination, settle into the Samsung 50" 4K LED TV and Bose soundbar. And no matter the season, you'll stay comfortable with two Penguin heat pump air conditioners with wall‑mounted sensors!
What else will wow you about this rig? The Super Star's galley offers appointments and amenities fit for any five-star chef. A stainless steel Whirlpool refrigerator, flush mount induction cooktop, and a stainless steel convection microwave are all standard. You can upgrade your kitchen to include a dishwasher. Back in the master suite, you'll find a king-size pillow top mattress (which you can upgrade to a Sleep Number adjustable mattress). And there are USB chargers, plus a 43" Samsung 4K LED TV in the bedroom as well.
Not only are the standard features fantastic, but the optional add on features are too. There are far too many to list; this Super Star really is a star! And it's built on a durable chassis with a fiberglass roof, as well as a powerful diesel engine to boot. While the price point is high, this is a rig you won't want to leave.
Best for Families with Pets: Forest River Forester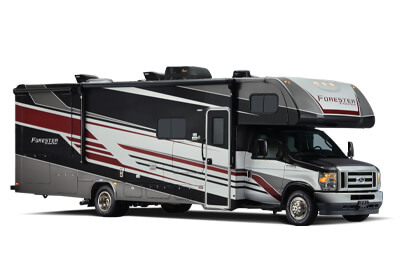 Worried about finding a floor plan that's right for you, your family, and your pets? Thankfully Forest River has you covered with their Forester model of Class C motorhome. With four different models- the Classic, LE, MBS, and TS- you will no doubt find a floor plan that suits your needs perfectly. Let's go over them in more depth.
The Classic model is built on a Ford chassis and features many convenient slide outs; the largest model is perfect for large families, as it has bunk beds! Plus this model is probably the best out of all of them for a family of five plus pets because of its ample storage solutions and durable interior design.
The Forester LE is on a Chevy chassis, making it a bit more compact, but with the same fantastic standard features from Forest River. The MBS is built on a- you guessed it- Mercedes Benz chassis, with the entire left side of the rig made up of slide outs. And finally the TS is built on a Ford Transit chassis, making it the most compact of them all.
Forester Class C motorhomes offer comfortable floor plans with spacious interior living, well-appointed décors, and several slide-out floor plan options. Plus, all Foresters are Certified Green by TRA Certification. With 14 floor plans and 3 chassis platforms, you'll have no problem finding the perfect motorhome to suit your camping style.
While there are perks to every individual chassis and floor plan option, all of these Class C's come with a 12 month warranty as well as a chassis warranty from Forest River. Solar is an option on all of these models, as well as digital antennas. Some can even come with a generator, both for gas or diesel, which may appeal to those of you hoping to camp off the grid.
While it may take time to sort through all of these models and floor plans, I think it's brilliant of Forest River to offer so many options. They pay attention to every detail, from black out roller shades to power patio awnings with LED strips. Now all that's left to do is narrow down all these great choices, but no matter what, you'll have plenty of space for fido!
Conclusion
While finding the best Class C RV for the entire family may seem like a daunting task at first, it's more than possible with this helpful list of rigs. Soon, you and your family can be hitting the road and enjoying the great outdoors all together!