Last updated on November 6th, 2022 at 09:32 am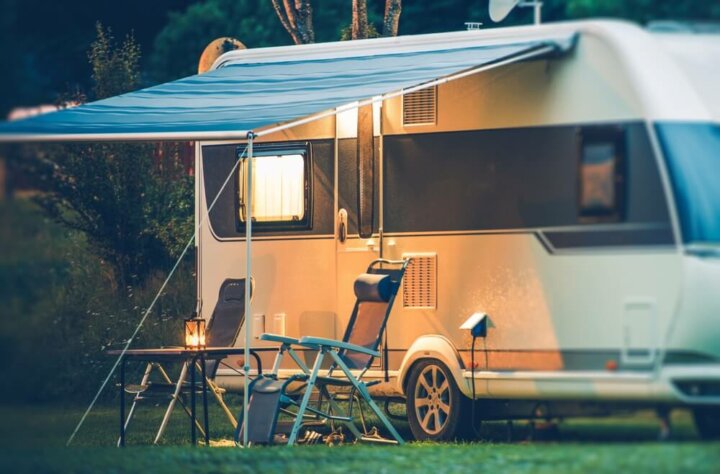 All of our reviews are based on exhaustive research, industry experience and whenever possible, hands-on testing. When you make a purchase using one of our chosen links we'll get a small percentage of the proceeds. This supports the site and keeps Jeffsetter running. You can read more here.
If you spend a lot of time on the road in your camper or RV, chances are you spend a lot of time making use of the living space outside of it, too. Having an RV awning is a great way to make sure you are comfortable when you're outside of your RV and protected from the sun and the rain.
Of course, some styles of RV awnings are bulky and some RVs just don't come with one. Whichever is the case, there are plenty of alternatives to RV awnings that offer a lot of the same benefits without the high price tag.
So, what are the alternatives to RV awnings?
Some alternatives to RV awnings include sunshades, patio awnings, mesh sunscreens, and DIY RV awnings. They aren't hard to make and require the fabric of your choice (like vinyl, canvas, or acrylic), poles, and a fastener to attach the awning to your RV. People have used things like magnets and velcro as fasteners.
Below, we'll take a closer look at what you can do with an RV awning, a few different styles that you can try, and I'll talk about how to DIY an RV awning.
What's the Purpose of an RV Awning?
The big benefit of an RV awning comes from the protection from the sun and precipitation when you're outside your RV. Think of it as a way to open up your living space a little bit without being directly in the sun or relying on shade or cover from trees.
Plus, most RV awnings are easier to set up than stretching a tarp across your outdoor living space. They also don't always take up as much room as a freestanding canopy.
Another advantage is that they can be placed over your windows for extra protection from the sun. If you don't have window tinting, this can stop the sun from fading and causing UV damage to the furniture and other fabrics inside your RV.
What Are The Alternatives to RV Awnings?
You can go down the DIY route to equip your RV with an alternative option when it comes to awnings, but DIY is not your only option so let's take a look at both of them and see which one fits you the best!
DIY Alternatives To RV Awnings
If you have someone whose handy with tools, it's honestly pretty easy to DIY your own RV awning. There are a few different ways that you can set something up and I'll go over the steps to creating a few of them in this section.
Choosing Your Fabric
There are a lot of options in fabrics that work for DIY RV awnings. The most commonly used materials for awnings are acrylic and vinyl.
Acrylic awnings are breathable but still water-resistant. They also dry quickly, however, they are not fully waterproof so some water can seep through. Plus, acrylic material stretches out over time and a stretched awning will whip around in the wind.
Vinyl awnings are more waterproof and they resist damage from things like UV rays and pollution. However, they tend to get dirtier than acrylic awnings and they can grow mold and mildew over time.
Canvas is another popular material for awnings. Canvas is thick, durable, and resists water. Depending on the type of fibers it's blended with, it can even be fully waterproof.
Finally, something like a tarp can be used for your RV awning as well. Tarps come in a wide variety of sizes and many of them have grommets (those are the metal rings) along the sides. This makes them easier to attach to your RV if you plan on using paracord.
Measuring Your RV Awning
If you already have an existing awning in place, then you can measure the RV awning to see what size frame and fabric you'll need to get the same amount of coverage. If you want more coverage, you may also be able to extend the frame a little for extra shade.
If you don't have an existing awning, then you'll want to think about how much coverage you want. Keep in mind that the bigger a sunshade is, the bulkier and heavier it's going to be. If you aren't handy with a sewing machine, you also might want to go with the size that the tarp, canvas, or other fabric you purchase is.
Deciding How to Fasten Your RV Awning
Next, you're going to want to consider how you want to fasten your RV awning to the side of your RV. If you have an existing track for an RV awning, then you could slide the end of your chosen fabric into the existing setup.
Another option is fastening the RV awning using Velcro, suction cups, or magnets. Regardless of what you choose, you want it to be strong enough to stop the awning from being pulled off in the wind. Here's a look at a really basic DIY RV awning that's fastened using suction cups.
You'll also need some tent stakes, a length of paracord (probably at least 4 feet), and telescoping poles. This helps secure the RV awning once you get set up in a park and it's easier to take down than a tent. However, these things give you the sturdiness that you need to resist some wind.
Putting it All Together
One of the great things when it comes to DIY RV awnings is that there are a LOT of different ways that you can set them up. Let's take a closer look at some of your choices.
Adding a Frame to a Canvas Awning for More Sturdiness
For people looking for a sturdier awning for their RV, using a canvas that has been fitted over PVC pipe is an option. For this DIY RV awning tutorial from Instructable, you'll need PVC framing that is 1/2″ thick (including the elbows and little T-shapes), canvas, mounting brackets and hardware, and a few tools you might already have laying around.
Basically, you stretch your canvas across the frame and tack it down. Once it's ready, affix your awning to the side of the RV, add a bar on either side for support, and you're finished.
The canvas material also might get damaged from the extra sun and weather exposure. Using a weather treatment and regularly cleaning the canvas makes it last longer and prevents mildew on your awning. You should also avoid colors that are too light (that will show a lot of dirt) or too dark (which will fade easier in the sun).
Making a Retractable DIY Awning Using a Tarp
Making a retractable awning requires some extra parts like these telescoping poles. that let you adjust how far the awning is sticking out. This gives you the option of having it lie flat during travel so it doesn't get ripped off the side of your vehicle.
You can check out this Youtube video for extra tips. While this guy is building this awning for the side of his camper, there's no reason you can't adapt it to fit your RV using the same steps. The only thing I might change is using PVC snap clamps to hold the tarp onto the frame instead.
Building an RV Awning That Slides into Your Existing Awning Channel
For people looking to replace their existing awning who already have a channel that their awning slides into, it's easy enough to make a DIY awning if you have a little sewing skill. Basically, you'll need some cable to sew into your fabric, which you can find at any hardware store.
This DIY awning also makes use of different poles and hardware to help secure it, making use of the existing system. Here's a handy video that will give you some ideas on how to get it done.
Consider Installing Your RV Awning at a Slant
Something that I've noticed with a lot of these tutorials is that the RV awning comes straight out, rather than the side farthest from the RV being left a little lower so that it comes out at a slant. For people who want a more effective rain cover, a slanted RV awning is going to help the rain roll down and away from your RV. It's easy to DIY this- just make the telescoping poles a little bit shorter.
Non-DIY Alternatives to RV Awnings
Not handy? No problem! There are still some other alternatives to RV awnings that are a lot cheaper (in most cases) than the hundreds you'd spend on replacing your RV awning.
Trees
Using your natural surroundings is one of the most effective ways to keep things cool. Not only does positioning the trees overhead keep you cool, but it can help your RV AC operate more efficiently. A more efficient RV air conditioner is going to last longer!
Of course, the obvious disadvantage of relying on trees for shade is that you can't always predict what kind of tree coverage you'll have when you go to a new campground. When it is an option though, it's a free way to keep you cool and prevent sun damage to your RV.
For the most benefit, you'll want to park under a cluster of trees that are on the west side of your RV. Parking with trees on the west side provides shade in the afternoon hours when the sun is hottest.
Sun Shades or Shade Sails
A sun shade is pretty similar to a canopy or tarp, however, it's designed especially for blocking the sun and providing some much-needed relief on those hot days.
Sun shades usually aren't fixed, so you will need to remove them when they aren't being used or when you're driving your RV. To put them up, you usually attach one side to your RV and the other side to poles or trees in the area. You can also do the same thing using a tarp.
If you are trying to shade the inside of your RV to keep things cool and aren't worried about expanding your outdoor living space, then something like this sun shade for RV windows works really well, too.
Canopy
Canopies come in all kinds of sizes. Rather than being attached to the side of your RV, canopies are free-standing. You can also buy them open, with a shade on one side, or even completely closed in. The closed-in design is a big benefit if you have problems with insects, which is pretty common when you're RVing in the warmer months.
The major disadvantage of a canopy is that it's a freestanding cover and not attached to your RV at all. You'll have to put it up when you want to use it and take it back down when you move your RV.
Plus, canopies can be bulky even when they're folded down, so you want to be sure you have the storage space to use one, too.
Can a House Awning Be Used on an RV?
Yes, there's no reason you couldn't use a house awning on an RV. Awnings for your house come in a wide variety of sizes, just like awnings for your RV. They're also pretty easy to install.
That being said, most house awnings have a fixed design and don't roll up or store as easily as RV awnings. If you are going to install one on the side of your RV, you'll want to be able to remove it so it can be stored while you're traveling, or you need the awning to fold up or roll up for storage.
Options for Extending Your RV Awning
If you have an existing awning and just wish it provided a little more protection from the sun on hot days, then there are also lots of ready-made options for extending your RV awning.
For example, this awning shade screen works with your existing RV awning but blocks out significantly more sunlight.
Final Word
Whether you're looking for a new awning because your old one needs to be replaced or your RV just didn't come with an awning, there are a lot of options out there. You also don't have to spend hundreds on having a new one installed if you're a little handy or want to use one of these ready-made awnings.
Hopefully, these alternatives to RV awnings help open up your living space, especially if you have an outdoor kitchen, so you can enjoy more shade in the summer. It will keep you cooler, but it will also protect your RV from the sun and other weather, too!