Last updated on June 5th, 2023 at 12:09 pm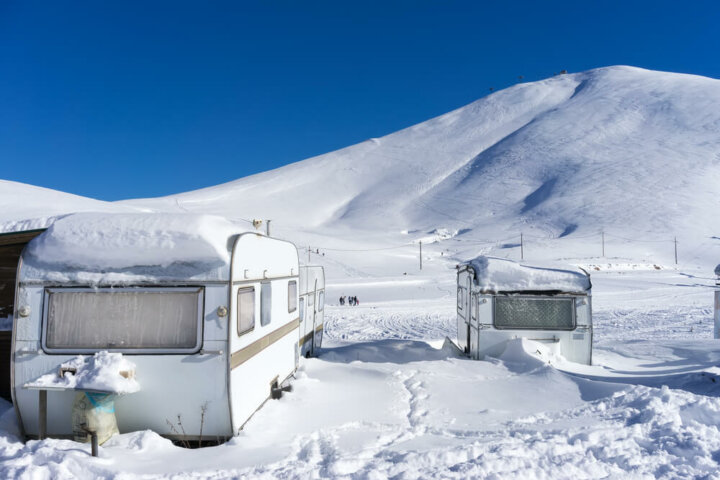 All of our reviews are based on exhaustive research, industry experience and whenever possible, hands-on testing. When you make a purchase using one of our chosen links we'll get a small percentage of the proceeds. This supports the site and keeps Jeffsetter running. You can read more here.
Antifreeze sounds like it could and should be a dangerous chemical, and if you get the wrong kind, it can be. RV-specific antifreeze is designed with RVers in mind, so it's nontoxic and safe to use with the consideration that it will end up in freshwater tanks used for drinking and washing. Automotive antifreeze, however, is toxic and should only be used in a car and kept away from pets and children.
If you're planning on winterizing your RV in the near future, then you're probably wondering whether RV antifreeze is actually safe for septic systems.
RV antifreeze is not going to harm your septic system, as long as you use the correct product and make sure to use that product correctly. The wrong type of antifreeze, and using too much can be damaging to the system. When used correctly, RV antifreeze can winterize your RV and your home's septic system.
Making sure you know the difference between RV and automotive antifreeze is important, as is knowing the process of winterizing your septic system. This article will explore that and any alternatives that might exist to RV antifreeze.
Is RV Antifreeze Safe for Septic Systems?
You can use RV antifreeze safely in both your RV and your home septic system. RV antifreeze is nontoxic, so it can go into your RV water systems without worrying about tainting the water supply that you drink and wash with. Because of its nontoxic properties, it is a safe option for your home septic system as well.
RV antifreeze will lower the freezing temperature of the water in your tanks, which means that even if the water reaches 32 degrees Fahrenheit, it won't be frozen until it gets colder. This will help prevent it from freezing in your pipes and tanks, which can cause a lot of issues and damage over the winter season.
We wrote an article about the dangers of not winterizing your RV that you can check here. The same article also walks you through the process of winterizing and the step of adding antifreeze.
Essentially, you add RV antifreeze to your RVs water system and pour it down your drains as well as the toilet. You also need to ensure that you've used enough that your faucets are running with antifreeze and that your toilet is full of it as well. This will help keep your RV water system from freezing during the winter months.
RV antifreeze can also be useful in winterizing your home septic system, especially if you plan on going away for the winter or if it is a seasonal property.
RV Antifreeze vs. Automotive Antifreeze
While winterizing your RV, it might be a good time to winterize your home septic system as well. If you live in a particularly cold or rural area, you should absolutely be winterizing your home as well as your RV. Septic systems can be incredibly costly to repair and antifreeze can and will help the pipes from freezing and bursting when it gets below freezing.
Antifreeze is a catch-all name referring to a substance that will lower the freezing point of water. Water will normally freeze at 32 degrees Fahrenheit, but with antifreeze added, it will not freeze until it's even colder out. This is useful because it keeps the water in your pipes and in your septic system free-flowing so that it doesn't burst your pipes.
To do that you will need to get the right product. When you look for antifreeze in the store, you'll notice it's usually labeled as either "RV Antifreeze" or "Automotive Antifreeze". It's really easy to read those labels and think that they are the same product.
They are not the same product and automotive antifreeze can be damaging to your septic system. The main difference is that automotive antifreeze has ethylene glycol and RV antifreeze has ethanol or propylene glycol as an active ingredient. Automotive antifreeze is a toxic substance, and RV antifreeze is non-toxic. RV antifreeze has to be nontoxic because it will usually go directly into the water supply of your RV.
Automotive antifreeze will damage your septic system because it can kill off the good bacteria that the system needs while also causing an overgrowth of the biomass in the drain field. Furthermore, this product is incredibly toxic and should not be dumped on the ground or left anywhere near pets. It has a sweet taste, which entices animals into eating it but it can cause a lot of harm when ingested.
RV antifreeze is not going to harm or damage your septic system. It's also environmentally safe, and safe for humans to ingest, but it is still toxic to pets, especially cats. If ingested, bring your pet to the emergency vet as soon as possible.
So, as long as you reach for the RV antifreeze with either ethanol or propylene glycol as its active ingredients, you won't cause harm to your septic system.
How to Winterize A Home Septic System
Using RV antifreeze in your septic system might sound a bit odd and even intimidating. As I said earlier, septic system repairs don't come cheap. How are you supposed to use it? When? Can you do too much and ruin your system?
While winterizing your RV, you should pick up some extra bottles of RV antifreeze for your septic system. This is going to be especially useful if you live in a rural area, a very cold area or if you are winterizing a cabin that you use seasonally.
You want to give your septic system the best chance possible to keep it from freezing. That means that you want it to be well insulated, even snow can help in insulating your septic tank, but if it gets compacted that can lead to freezing. Oddly enough, a lack of snow and compacted soil can also lead to your septic system freezing because it lacks insulation
There are a few things you can do to provide extra insulation for your septic system. You can let the grass grow a bit longer in the late summer and the early fall, this will help keep the snow in place and add that extra bit of insulation. It can also be helpful to layer mulch over the top of the pipes and tank to add to that insulation. Between 8 and 10 inches should provide enough padding.
Fixing leaks as they come up and regularly inspecting the pipes and other plumbing in your home will help prevent freezing as well. Something else you can do to keep the system from freezing is simply using more water than you might typically. Running the dishwasher, taking a bath, or even doing an extra load of laundry will help with preventing freezing. Anything that uses warm water will be extra helpful in this instance.
If you are not going to be returning to your cabin or home for an extended period of time, you can always have the septic system pumped before leaving. That's your safest bet because if there is nothing in the system, then there is nothing to freeze.
If your septic system does happen to freeze, that's not the time to use antifreeze. Instead, call a plumber and let them thaw it out for you.
Adding a few gallons of RV antifreeze into a 1000-gallon septic tank will not cause any problems, and should help keep your home septic system from freezing. You do not want to use too much though, because you can end up killing the helpful bacteria within your septic system that make it function and flow properly.
The video below is a quick demonstration of how to add antifreeze to your toilet at home.
Alternatives to RV Antifreeze
If for some reason, you don't want to use RV antifreeze, there are other methods to keep your pipes from freezing.
Some RVers will use washer fluid instead, but this isn't a method I would recommend. It's a toxic substance and should not be dumped into your septic system either. It is cheaper than antifreeze though, so I understand why it might seem like an attractive option at first glance.
If you go with this method, then only use a few cups of it, pouring it down each drain and your toilet should be enough. I would also recommend draining your traps and holding tanks so that you don't end up contaminating your water supply.
Another option that I've already mentioned briefly is simply clearing out the system entirely. If there is nothing in the system, then there is no way for it to freeze. For your home septic system, this means paying to have the system pumped.
For your RV, you can use an air compressor and a special plug. Start by draining the system and then attach your compressor to the plug. You want to keep the air running until there is no water left in the system. Once you are sure of this, disconnect and drain the tanks. Use antifreeze in the drains and then you're done.
This method is great, but it can be dangerous for your RV if you didn't actually get all of the water out, so be sure of that before calling the job done.
Conclusion
RV antifreeze is a non-toxic substance that can be used to winterize both your RV and your home septic system. It is safe for the environment and safe to ingest in small quantities.
Adding too much antifreeze to your septic system can result in killing off the necessary bacteria in the system, which can lead to costly repairs. It is important to make sure you know what you are doing when attempting this method for your home septic system.
Using the wrong kind of antifreeze, like automotive antifreeze will result in extremely costly damage to your septic system and can lead to sickness because it is such a toxic substance.
Making sure you use the right amount and the right kind of antifreeze will make sure you can winterize your RV and home properly before it gets too cold outside.