Last updated on June 5th, 2023 at 12:12 pm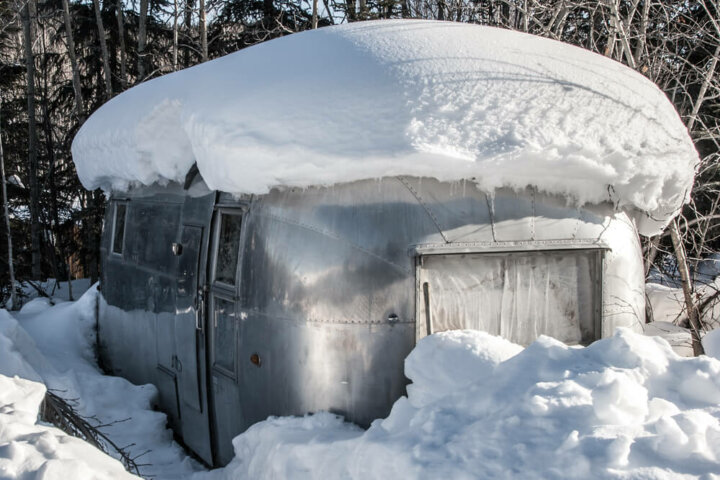 All of our reviews are based on exhaustive research, industry experience and whenever possible, hands-on testing. When you make a purchase using one of our chosen links we'll get a small percentage of the proceeds. This supports the site and keeps Jeffsetter running. You can read more here.
Winterizing your RV should be something you do each year when storing your RV over winter. Being prepared for the colder climate means your RV can be kept in tip-top shape, ready for when spring camping season begins.
Although using antifreeze for RV winterization is a popular method, many RV owners are looking for a hassle and chemical-free alternative.
So, can you winterize an RV without antifreeze?
You can easily winterize an RV without antifreeze using an air compressor that blows water out from the RV plumbing system. When used correctly, compressed air is a safe, effective, and cheaper way of winterizing your RV without the use of antifreeze, however it can be more time-consuming.

We're now going to delve a little deeper into the way you can winterize an RV without using antifreeze. Hopefully, by going into more detail about the compressed air RV winterization process, you can decide if it's the right winterization method for you.
Can You Winterize an RV Without Antifreeze?
Winterizing an RV without antifreeze requires the use of an air compressor. The job of the air compressor is to push all the water out from the RV water system, preventing the water pipes from freezing when temperatures get low over winter.
It's always best to begin your RV winterization process before the weather gets too cold, as when temperatures hit sub-zero, water lines can already start freezing and causing problems.
What Do You Need to Winterize an RV with Compressed Air?
Although you will achieve the same goal, the process for winterizing your RV using compressed air is very different from the antifreeze method. Before you start, it's important to make sure you have all the correct equipment to avoid any potential hiccups further down the line.
Air Compressor
If you don't already own an air compressor, they are a handy tool both for the winterization process and for inflating your RV tires. That's why it's useful to buy an air compressor compatible with both pumping up your tires, and completing the RV winterization process.
Blow-Out Adaptor Plug
You'll need to also make sure you have a blow-out adaptor plug that will connect to your RV water intake valve or the city water inlet along with the air compressor hose. You can buy blow-out valves in most automotive or hardware stores.
Water Hose
It's important to never use your freshwater hose during the RV winterization process, as there can be contamination from emptying and cleaning the gray and black water tanks. I don't think it's necessary to explain why this contamination is a bad idea, just take my word for it!
Patience!
Yes, it can take a bit of time to winterize your RV without using antifreeze, but if done correctly, compressed air is a fantastic winterization method and takes away the stress of using any chemicals for the process. Plus it's more environmentally friendly since you won't have to worry about disposing of RV antifreeze!

Let's not forget that no matter how time-consuming winterizing your RV without antifreeze might be, nothing beats the peace of mind when spring camping season begins and you're ahead of the game, having already taken the right steps to protect your RV over the winter season. Not to mention the money saved as you'll have no burst pipes or water damage to fix!
How Do You Winterize an RV With Compressed Air?
Winterizing an RV using compressed air can seem daunting at first, but it's arguably a far easier winterization method compared to using antifreeze.
Having the correct equipment is essential for winterizing your RV effectively with compressed air, but once you have that you only have the next steps to follow!

Step 1: Dump and Clean all RV Tanks
A big step in any RV winterization is the dumping and cleaning of all the gray and black water tanks. It's not a pretty sight when the gray and black water tanks get forgotten about and the contents sit in the tanks over winter. Save yourself the hassle and clean everything up well before storing your RV away for long periods!
Once you've cleaned out the tanks, leave the gray water valve open with your sewer hose attached. This will allow the water to flush out during the air compressor process.
Step 2: Turn Off the Electrical Power, Gas, and Water
Before starting the winterization process for your RVs water system, it's important to turn off the heater's electrical power along with the gas and water supply. You'll need to make sure the water is cool before beginning the process too as you don't want boiling hot water flooding out through your system.
Step 3: Drain Freshwater Tanks and Pipes
The freshwater drain valve and low point drain need to then be opened to allow all the water to empty. It's probably a good idea to complete the RV winterization process at a campground as you'll need to be connected to water and have access to appropriate waste drains too.
Step 4: Turn Faucets On
The goal at this stage of the RV winterization process is to drain as much water out from the system as possible, so make sure to open up all the faucets in the RV. This will help prevent water from being left behind in the lines over winter that could freeze and potentially leak and burst, causing expensive damage to the RV plumbing system.
This is a great time to also adjust the water heater's bypass valve to allow the air to travel through the water lines correctly and not into the water tank.
Step 5: Turn Faucets Off
Once all the water has been drained out from the RV plumbing system, it's time to turn all the faucets back off and get down to business using the air compressor and blow plug.
Before using the air compressor, make sure you have adjusted it to a safe setting to avoid causing any damage by blowing air into the RV plumbing system at a pressure that's too high.
Step 6: Use the Blow Plug and Air Compressor
Attach the blow plug to the RV's water intake valve, turn on the compressor and open each faucet until no more water trickles out. Once the water has finished draining out, you can turn the faucet back off and continue onwards to each water point in the RV. Repeat the process with both the cold and hot faucets.
It's crucial to make sure as much water as possible has drained out from the system. The more water that's left in the pipes, the higher the risk of the pipes freezing in winter temperatures.
I rushed this process last year with my RV and made the mistake of not allowing all the water to flow out from each faucet. Luckily there wasn't enough water left in the pipes to cause any leaking but I still definitely learned my lesson!
Step 7 (Advised): Use RV Antifreeze in Drains and Toilet
Although you can efficiently winterize your RV using compressed air instead of antifreeze, it may still be useful to put a small amount of RV-specific antifreeze in the drains and toilet of your RV to avoid any problems caused by harsh winter conditions.
Below is a detailed but simple step-by-step of how to winterize your RV using compressed air. Although it may seem like a long process, once you've completed it a couple of times, winterizing your RV with an air compressor is a breeze.
Whether you choose to winterize your RV using antifreeze or compressed air, the most important thing is that you make it part of your RV maintenance when each winter season rolls in.
What Are The Benefits Of Winterizing An RV Without Antifreeze?
Using antifreeze for RV winterization has been a trusted method for quite some time and can successfully protect your RV water system from winter conditions.
Many RV owners, however, are looking for a safer and more environmentally friendly option when it comes to winterizing their RV. Using compressed air is harmless to both you and the environment, creating complete peace of mind during the RV winterization process.
Winterizing Your RV Without Antifreeze is Safer
A big worry for many RV owners when winterizing their RV using antifreeze, is the potential for trace amounts of antifreeze to be left in the water pipes. If consumed, antifreeze can make you ill, so if you are using antifreeze for your RV winterization, be sure to also sanitize your water system thoroughly and flush any residual antifreeze out from the system.
Winterizing using compressed air doesn't carry this risk or make the water in your RV taste strange. If these are concerns on your mind, compressed air may be the better winterization method for you.
Using Compressed Air is Cheaper in the Long Run
Using compressed air for your RV winterization is also a far more environmentally friendly and cheaper option as an air compressor and blow-out plug are a one-time buy.
Antifreeze on the other hand can't be used again once it has been used for winterization and traveled through your water lines and plumbing system. It has to be drained out and disposed of correctly and bought again next winter season. In the long run, this can turn out to be rather expensive.
Compressed Air is Environmentally Friendly
Although RV antifreeze is non-toxic and can be useful, it is full of chemicals that are often harmful to the environment. Many RV owners, therefore, prefer to use the compressed air winterization method as it takes the stress out of putting chemicals through your water system.
As I already mention, it also takes away the worry of knowing how to safely dispose of the antifreeze when the de-winterization process begins.
Why Winterize Your RV Without Antifreeze?
You can of course use antifreeze to winterize an RV, but it's important to note this process takes considerable time and your RV water system will need sanitizing during the de-winterization process to remove all of the antifreeze.
When looking at the type of antifreeze needed to winterize your RV, it's crucial to choose an RV-specific antifreeze. You should never use regular, automotive antifreeze in your RV as it contains a toxic chemical called ethylene glycol which is completely poisonous.
RV antifreeze contains a chemical called propylene glycol which has very low toxicity compared with the similar-sounding ethylene glycol. It's important to know the difference between both types of antifreeze when you go to the store, as the ingredients contain very different chemicals!
What Are The Benefits Of Winterizing An RV With Antifreeze?
There is a lot of debate when it comes to using antifreeze through your RV plumbing system. On one hand, antifreeze offers great winter protection, but on the other hand, it's full of chemicals and is quite pricey in the long run.
It's important if you do decide to use RV antifreeze for your winterization method, that you read the owner's manual for instructions for your specific water heater. In my opinion, it's always better to be safe than sorry and double-check RV manuals whenever you need to.
RV Antifreeze is Readily Available
You can buy RV antifreeze from most hardware or automotive stores, meaning most RV owners should be able to get their hands on a bottle pretty easily.
Antifreeze is a Reliable Winterization Method
RV antifreeze is a reliable way to protect your RV from the toughest winter conditions. If the air compressor winterization method hasn't been done well enough, small amounts of water can remain in the lines and freeze when low temperatures hit. Having antifreeze through your RV's water system is a guaranteed way of protecting your pipes through the winter season.
The Antifreeze Winterization Process is Simple
The overall process of winterizing an RV using antifreeze is pretty simple and can be completed in a short space of time. The more time-consuming aspect when using antifreeze is the de-winterization process needed to be completed the following spring.
This video is a great example of how to winterize your RV using antifreeze. Remember to remove the filter in your RV water heater or use a filter bypass kit, as running antifreeze through the water system can damage the filter.
Slow and steady always wins the race, and this is definitely the case when winterizing your RV. It's better to do the job thoroughly and properly once than rush the process and make preventable, but expensive mistakes.
Closing Thoughts
Overall, winterizing an RV without antifreeze is a safe and effective way of protecting your RV and its components from the low temperatures winter can bring.
For any RV owners looking for a long-term solution for their RV winterization, using an air compressor and blow-out plug is a fantastic option as they only have to be purchased once, but can provide you with winter protection for many seasons to come.