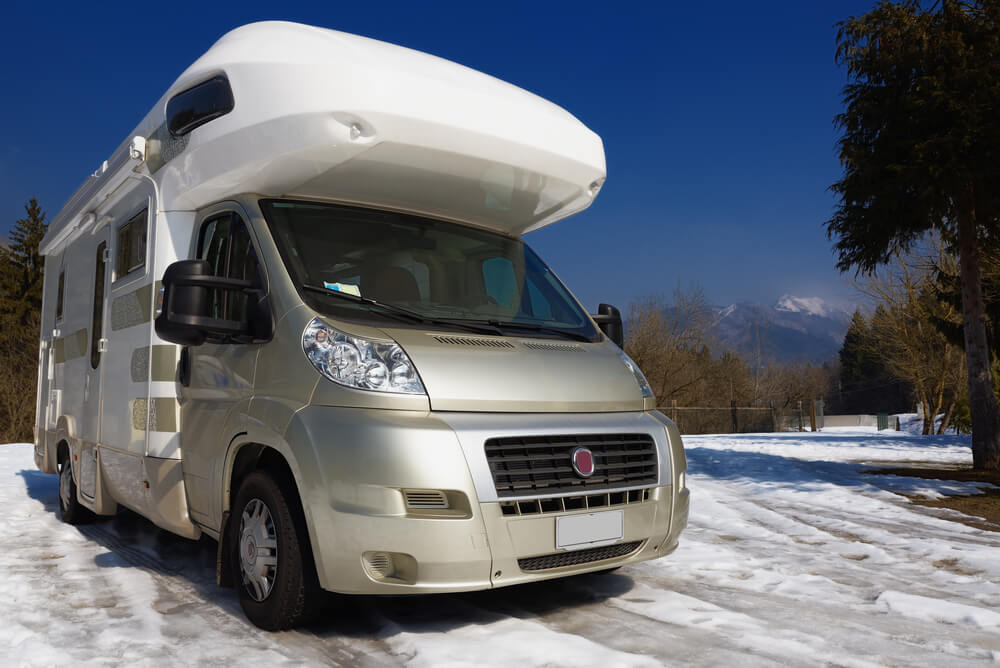 All of our reviews are based on exhaustive research, industry experience and whenever possible, hands-on testing. When you make a purchase using one of our chosen links we'll a small percentage of the proceeds. This supports the site and keeps Jeffsetter running. You can read more here.
Whether you have a class A, B, C, or towable rig, RV antifreeze can be a necessity.
What if this is the first time you're hearing about RV antifreeze? Why is it important and what is it used for? And what's the best one for you and your new rig?
Let's take a look at all things antifreeze and get your questions answered! But if you just want to skip ahead and see which anti-freeze I think is the best, you can check it out here: 
What is RV Antifreeze Used For?
If you're new to RVing or automotives in general, you may not be clear on what antifreeze is good for. One may argue that antifreeze is even more important in your RV than in your car. 
RV antifreeze is used in conjunction with your RV's plumbing system, and used solely when it comes time to store your RV for winter. This is also known as winterization, and is a very common task for RV owners to consider.
Winterizing your RV is important if you plan on storing your RV during the cold winter months, and it is a necessity if you live somewhere cold or freezing. RV antifreeze is necessary for those of you in cold climates, as it raises the temperature of water high enough to prevent freezing!
Pouring antifreeze into your RV's drains and plumbing system will assist with any water you may have remaining in your pipes come winter. The antifreeze is important as it will keep the water from freezing inside your RV's pipes and expanding them.
You can also pour antifreeze into your black and gray water tanks. Doing so will keep your waste water from freezing inside your tanks. This means an easy clean come springtime and no damage to your tanks from water expansion!
Improper winterization is often the number one cause of RV damage. If you plan to store your RV or motorhome at any point, keep this important tool in mind.
What's the Difference Between RV and Automotive Antifreeze?
You may be wondering how and why there's a difference between RV and regular old automotive antifreeze. This question comes down to the basic uses of RV antifreeze differing widely from the basic uses of automotive antifreeze.
RV antifreeze is used in the plumbing systems of your RV while automotive antifreeze is used in your car's coolant system. RV antifreeze is always less toxic, as automotive antifreeze is completely and totally poisonous and should never be consumed.
This is why it is absolutely vital to only buy RV safe antifreeze, and avoid that automotive antifreeze section of the store all together. Automotive antifreeze is often a more dense product, and is made of ethylene glycol. This sounds similar to the ingredient used in RV antifreeze, but it is very different and highly toxic.
Thankfully, RV antifreeze and automotive antifreeze come in different colors, most likely on purpose. Most people report purchasing RV antifreeze in pink or blue colors, while automotive antifreeze is often only found in green or yellow. This should be a great benefit when it comes time to go to the store and make your purchase!
The basic differences between the two products is how they interact with your RV and car. RV antifreeze is much simpler as its only purpose is to keep water from freezing. However, automotive antifreeze is used in conjunction with the engine and keeps it at a stable temperature.
It is imperative that you never use car antifreeze in your RV's plumbing system. It can purposefully damage it, as well as potentially be toxic to you and your family. Be safe, read your labels, and use non-toxic antifreeze only in your RV!
RV Antifreeze for Classes A, B, and C Versus Travel Trailers
Since you now understand the differences between automotive and RV antifreeze, you can probably make an educated guess and say that there isn't a difference between motorhome antifreeze and travel trailer or fifth wheel antifreeze. This is correct! However, don't Class A, B, and C rigs need antifreeze for their engines?
The answer to your question is yes, you will need two different types of antifreeze if you own a motorhome or recreational vehicle with an engine. However, it should be an easy distinction to make between the two. And again, do make sure you do not put RV antifreeze into your engine or automotive antifreeze into your RV's plumbing system!
Some antifreeze is made specifically for diesel engines as opposed to conventional gas setups. Understanding your motorhome and its needs is important, and something that should be fairly easy to figure out. So long as you keep the pink stuff (plumbing antifreeze) away from your engine, you should be just fine!
Types of RV Antifreeze
While choosing an RV specific antifreeze may seem silly, it is necessary for the life of your rig, especially if you plan to store your rig. Here are the most common types of antifreeze available for RVers, and what the differences are between them.
Ethanol Antifreeze
Perhaps you've heard of ethanol in other contexts. Surprise, it's also used in antifreeze! The most affordable and readily available type of RV antifreeze out there is ethanol based. 
Ethanol is, you guessed it, alcohol, and if you've ever had hard liquor around, you know it doesn't freeze solid if you keep it in the freezer. So you may have already inferred that ethanol, hard liquor's big brother, can keep your water lines from freezing come winter! However, this level of alcohol present makes ethanol based antifreeze extremely flammable. 
However, is ethanol based antifreeze safe to consume? This type of antifreeze is not recommended for consumption, and honestly not recommended much in general. Despite being the number one base for RV antifreeze, ethanol has a lot of drawbacks.
The main issue with ethanol antifreeze is its toxicity. Your water lines will need to fully purge this product come springtime, and many RV owners report their water tasting funny after the ethanol antifreeze has, in theory, left the water lines.
Ethanol antifreeze also dries out most rubber seals and other rubber gaskets you may have in your RV, which means you may find yourself replacing these do dads every few years. An unfortunate cost and an unnecessary maintenance task, even though you may be saving a few bucks on a bottle of ethanol based antifreeze!
Propylene Glycol Antifreeze
So what type of RV antifreeze isn't hazardous or poisonous? Let's take a look at everyone's preferred ingredient for RV antifreeze: propylene glycol!
What is so good about propylene glycol based RV antifreeze? Well, the easiest difference you'll notice is that this antifreeze is not toxic! If you're looking for a product that won't ruin your water quality come spring, and a product that's overall better for your plumbing system, check out propylene glycol!
This handy antifreeze base is better than ethanol in almost every way, including what it can do for your plumbing gaskets and seals. Propylene glycol is in fact a lubricant, extending the overall life and longevity of your rubber seals and gaskets. 
Propylene glycol is also not nearly as flammable as ethanol; having a product that is non-toxic and also not flammable makes for a much less scary bottle on the shelf of your garage! This product is safe to travel through all of your fresh water lines and tanks without fear of an unfortunate taste come spring.
So what's the catch, you may be asking? The only main drawback to propylene glycol based antifreeze is the cost. It averages an extra few dollars per jug of it, but with the number of perks propylene glycol has, it's a no brainer to me. However, you may have your own reasoning behind choosing an ideal antifreeze for your rig!
As we've already mentioned, there are many benefits to non-toxic RV antifreeze. One of the main benefits is simply that you won't have to worry about this product lingering in the pipes of your RV. Even if it does, non-toxic RV antifreeze won't hurt you should you happen to drink some of it.
Another key benefit to non-toxic RV antifreeze is that it assists your overall plumbing system, primarily the rubber seals around your toilet and other fixtures. And of course RV antifreeze is almost a necessity should you be planning to store your RV somewhere that reaches below freezing temperatures.
Ethanol and Propylene Glycol Blend Antifreeze
The best of both worlds, a blend of ethanol and propylene antifreeze! However, is it still non-toxic? Check the labels on each and every product you procure, just to be safe. Most blended RV antifreezes should remain non-toxic, though some blends may use more ethanol than propylene glycol.
This in between product is great for the budget and great that it is in theory non-toxic. However, some sources disagree and believe this antifreeze to still be toxic, given the presence of ethanol. Again, always read product labels, and if in doubt, stick with a propylene glycol antifreeze only.
An ethanol propylene glycol blend may be cheaper and possibly non-toxic, but it still carries with it the drawbacks of ethanol. This product is known to make your RV's water taste different come springtime, as well as ethanol dries out any and all rubber present in your RV's plumbing system.
While you may save a few bucks and get a (probably) non-toxic antifreeze, the overall response to this blended product is unfavorable. However, you may find that it suits your needs just fine!
Are There Other Options for Clearing the Lines?
While non-toxic RV antifreeze is the preference of many RVers, overall it will be the most expensive option on the market. The most affordable RV antifreeze option is going to be whatever product is ethanol based. 
This may not be ideal, but if you're concerned about your RV budget, choosing an ethanol based antifreeze will save you a bit of money. If you own an air compressor and can force the water out of your pipes with the same machine each winter, then this will probably be an even cheaper option for you.
However, an air compressor is a larger upfront cost, plus you'll need to be sure you know how to operate it. However, you may find using an air compressor solves all of your current issues with RV antifreeze, including affordability!
Many RVers report that an air compression system is all they need to winterize their rigs. However, if you live in extreme temperatures or aren't certain what the state of your lines is like right now, beginning with antifreeze might be a good idea.
What About Antifreeze Kits?
If you are relatively new to winterizing your RV, you're in luck. There are loads of resources online to help you out, including RV forums, and many stores sell antifreeze and winterization kits.
These kits often include some important (but not always necessary) items such as dehumidifiers, hand pumps and nozzles for antifreeze dispersion, and more. You may not need everything that's in the kit, but if you're just getting started, it may not be a bad idea!
The kits are often affordable but may only last one season. And, as previously stated, you may find it cheaper to only purchase select things you need rather than an entire kit. If you already own an air compressor or if your rig has ways of dispersing antifreeze already, a kit may not be the best choice for you.
The Best Antifreeze for Your RV
Planning to store your rig and know that antifreeze is going to be a necessity for you this winter? Check out the top products we've found for you and your rig!
Best Overall: Camco RV Antifreeze Concentrate
Even if you're new to the world of RVs, chances are you've seen Camco's name around. Camco manufactures everything RV, from sewer hoses to chocks to antifreeze. Plus they always make their products very user friendly!
This particular product is a two pack of highly concentrated antifreeze product. It is designed so that you can add water and have a gallon of antifreeze ready to go once properly mixed!  It is rated to -50 degrees Fahrenheit and does wonders for your RV's system come winter.
Its non-toxic, non-hazardous formula is safe around pets and kids and it is even 100% biodegradable. 
Best Completely Non Toxic Option: SMPLY. Propylene Glycol
If you're looking for an entirely non-toxic antifreeze for your rig, this SMPLY. product may be the best option for you! This particular gallon of propylene glycol is food grade and 99% pure, which means you could drink it out of the bottle if you wanted!
Not that we recommend it, but it could make a funny dare.
This stuff may be pure, which means it also isn't exactly easy on the budget. However, it is one of the few products on this list we can honestly say is totally edible, even for pets or kids. Not that we think you plan on chugging antifreeze, but it should give you the peace of mind you need when spring comes and you need your RV's water system to operate safely once more!
You should expect a 50/50 blend of this mixed with water to freeze at around -20 degrees Fahrenheit which should be plenty for most folks. 
Most Affordable: SPLASH 619526 RV/Marine Antifreeze
The best bang for your buck has got to be the SPLASH brand of RV antifreeze. A propylene glycol and glycerine blend, this gallon of antifreeze is usually the most affordable and works well. While it's nothing fancy, some folks mention it working at -50 degrees Fahrenheit or lower!
There are some things to keep in mind with this product, both good and bad. This particular brand is a bit more eco-friendly and environmentally safe than others! However, it is still not recommended for consumption, and you should especially plan to keep this product away from pets.
This brand also has specific cold weather instructions as follows from the manufacturer: "SPLASH RV & Marine Antifreeze is designed to provide burst protection to temperatures of -50°F, -75°F or -100°F. The -50°F and -75°F solution will freeze between +20°F and +16°F. The -100°F solution will freeze at approximately -20°F. Frozen or slushy antifreeze still provides burst protection."
Some people have reported their bottles freezing over while being stored. However, this product will still assist your RV's lines and prevent bursting! Though, if you live in very very cold climates, you might consider a more expensive option with an even lower freezing temperature.
Best Air Compressor: AUTDER Tire Inflator Air Compressor, Portable Car Air Pump with Digital Pressure Gauge
Looking for an air compressor option so that you don't have to hand pump antifreeze into your RV's system? Check out this three-pound air compressor from AUTDER. This little guy provides a 140PSI powerful pressure, which means that it can inflate the 195/55/R15 car tire from 0 to 35psi within 5 minutes, more powerful and faster than conventional vehicle tire pumps!
While it may struggle with large tires, it has no problem with most automotive needs. Plus it comes with three different power options: standard 110V cord, lithium battery, and 12V car connection! It also has loads of safety features, such as lights for working at night, automatic full tire detection, and more.
You may need another accessory or two in order to get your RV's system all set up, but this kit comes with multiple adaptable nozzles. This little guy may be all you need, and it comes in a compact carrying case too!
Best Hand Pump: Camco Antifreeze Hand Pump Kit
Need a way to get the antifreeze into your pipes? Check out yet another handy Camco product, this hand pump kit! It comes with everything you need to get the antifreeze into your rig, including a city water hose connection. Overall, the hand pump is easy to use and operate. 
I would say only use this product as it is designed to be used, although it does have very many potential uses! Using it when winterizing your RV is the obvious choice, of course, but you may find other uses for it down the line.
Overall, this is a very simple product with very simple operating instructions. When paired with Camco's antifreeze, you can't go wrong! Plus Camco usually has great customer service and no trouble explaining their products to those who ask.
Best Overall Kit: Camco 36190 RV Winter Readiness Kit
Yet another Camco product?! It may be surprising, but these guys know what RVs are all about, and they're always one step ahead of the competition. This Camco winterization kit should have everything you need to keep your RV dry and unfrozen this winter!
The Premium Ban Frost 2000 antifreeze concentrate, blow out plug, and hand pump kit help winterize your RV's plumbing. Plus a mini dehumidifier, refillable dehumidifier moisture absorber, hanging dehumidifier, and fridge door stay (to keep the door propped open) help keep your RV smelling fresh while closed up for storage!
You may not need all of these things, but you may find them useful should this be your first time winterizing your rig. Plus, all Camco products are fairly straightforward and have informative instructions included in this kit. Having a step by step guide to winterizing your brand new rig may not be a bad idea!
Conclusion
Figuring out your RV's plumbing system is a necessary evil of RV ownership. Improper winterization of your brand new rig could spell disaster the next time you want to take it out for a spin! Knowing how RV antifreeze can help your winterization may make all the difference for you.