Last updated on June 5th, 2023 at 12:01 pm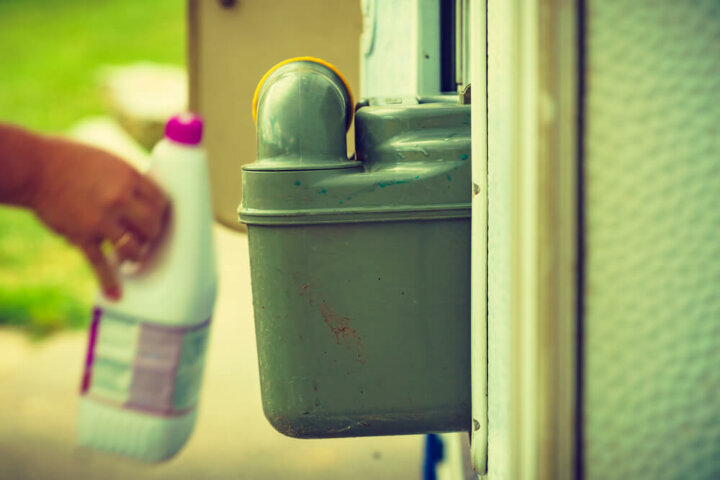 All of our reviews are based on exhaustive research, industry experience and whenever possible, hands-on testing. When you make a purchase using one of our chosen links we'll get a small percentage of the proceeds. This supports the site and keeps Jeffsetter running. You can read more here.
Winterizing your RV is essential maintenance to keep your camper in the best condition over the colder months. RV antifreeze is fantastic at preventing water lines from freezing and stopping any damage coming to your RV in sub-zero temperatures.
However, with both RV antifreeze and car antifreeze on the market, it can be confusing to know which one you need to put in your camper. So let's take a look at RV antifreeze vs car antifreeze.
RV antifreeze and car antifreeze contain different chemicals and are designed to be used in different ways. RV antifreeze contains the non-toxic chemical propylene glycol and is safe to be used in RV water systems. However, automotive antifreeze contains toxic ethylene glycol and should only be used in your car.
Both RV antifreeze and car antifreeze are great when used correctly and in the right vehicles. It's important to use only RV antifreeze in your camper as it is specifically designed to be used throughout your rig without causing harm.
RV Antifreeze vs Car Antifreeze
Knowing the difference between RV antifreeze and car antifreeze is crucial to keeping your camper safe. It can be tempting to put car antifreeze into your RV for winterization, especially if you have automotive antifreeze on hand, but it isn't a good idea as the ingredients and usage of both products are very different.
1. Ingredients
As RV antifreeze is designed to be used in your RV's plumbing, it needs to contain safe ingredients that won't cause harm if trace amounts are left in the system after de-winterization.
Propylene glycol is usually the star ingredient in RV antifreeze and is non-toxic, meaning you can use it to winterize your RV without having to worry too much about the de-winterization process and removing the antifreeze from your camper.
Car antifreeze contains the similar sounding, but very different ethylene glycol which is toxic and harmful if ingested. This is the main reason why car antifreeze should never be used in your RV.
2. Use
RV antifreeze, along with being cheaper than car antifreeze, can be used in your RV at full strength to protect it from winter conditions in your area. When preparing your RV for storage over the winter season, using antifreeze in your RV plumbing will prevent any residual water in the pipes from freezing and eventually causing cracks and leaks.
Car antifreeze is used in the engine to avoid components from freezing and keep temperatures steady. When the temperature outside drops and becomes cold, antifreeze is pumped through the system to help maintain optimal temperature and keep the car running at its best.
3. Color
RV antifreeze stands out in the store as it is usually a bright pink color, whereas automotive antifreeze is normally a green or yellow color. When you next need to stock up on some RV antifreeze, be sure to look out for a container with pink liquid, but if you're not 100% sure, it's best to ask someone and double-check.
Coming across car antifreeze that is blue or even red is possible as the ingredients manufacturers use can vary and create different colored antifreeze. As long as you stick to pink antifreeze that's labelled as RV antifreeze, you should be okay.
4. Cost
RV antifreeze is usually much cheaper than automotive antifreeze as it is less dense and contains different ingredients. Even though color and cost are initial indicators of which type of antifreeze you're looking at in the store, it's best to check the ingredients list and ask a member of staff if you're still not certain.
Compressed air is an alternative method for winterizing your RV without using antifreeze. If you're worried about the process of using antifreeze in your RV and want a chemical-free winterization method, compressed air may be the answer.
Can You Put RV Antifreeze In A Car?
Putting RV antifreeze into your car isn't the wisest idea as it isn't designed to be used in an engine. Instead, RV antifreeze is specifically designed to be used in RV winterization to protect elements such as the pipes and water heater from freezing.
Cars need an antifreeze that works in a different way and protects the engine from corrosion, rust, scales, and aids heat transfer. Unlike RVs where antifreeze is primarily used in colder months, cars need antifreeze year-round to keep their engine from overheating in hot conditions and from becoming too cold over winter.
RV antifreeze doesn't contain the chemicals needed to give the car the protection it needs to perform optimally and can instead cause damage to the car, rendering it useless on the road. RV antifreeze contains chemicals that form crystals that the antifreeze cannot dissolve. It's these crystals that can cause damage to the car engine and even start eating away at any metal they come into contact with.
Can You Put Car Antifreeze In An RV?
In the same way that you shouldn't use RV antifreeze in a car, using automotive antifreeze in an RV is not advisable. The chemicals in car antifreeze are toxic and can be harmful to people, animals, and the environment.
RV antifreeze, however, is non-toxic and although it isn't recommended to have a glass or two with your evening dinner, trace amounts left in your RV's water system after you've de-winterized your camper shouldn't be a problem.
Using car antifreeze in your RV plumbing means the entire system will need flushing repeatedly to get rid of all the antifreeze in the system. Even a small amount of car antifreeze can be harmful if ingested, so fresh water will have to be pumped through the system several times to get rid of it all.
Do You Really Need RV Antifreeze?
It's possible to winterize your RV without antifreeze, using a method such as compressed air. When using compressed air to remove any water left in your RV pipes, it's important to leave as little water as possible behind. Even small amounts of water left behind in your RV plumbing can freeze, expand and cause the pipes to crack.
These cracks can then allow water to seep out and leak inside your RV causing lots of damage, especially if you don't notice the leak right away! If you do decide to use antifreeze as part of your winterization, RV-specific antifreeze is the only product you want to be using in your plumbing.
Car antifreeze is far too toxic and is not safe to be consumed, even in the smallest amounts. Unfortunately, automotive antifreeze often has a sweet taste that can attract children, pets, and wildlife, so if you do have any lying around, it's best to keep it out of the sight and reach of little ones.
How Do You Use RV Antifreeze?
Antifreeze is a great method to use to protect the water lines in your RV and stop them from freezing. It's always best to check the manufacturer's advice in case antifreeze can't be used in your particular system.
What You'll Need:
Having the correct equipment for any job makes life a lot easier, so be sure to have everything you need to hand, so you can get your RV winterized in next to no time.
RV antifreeze
The essential component to protecting your RV plumbing is RV antifreeze. Be sure to check the label and ingredients to make sure you're using the right product in your system as car antifreeze is toxic and not safe to be used in RV plumbing.
Water Heater Bypass Kit
As antifreeze can damage the water filter, you'll either need to remove it or install a water heater bypass kit.
Step 1: Turn Off the Power and Cut The Water Supply
Before starting the antifreeze winterization process, it's important to first turn off the power and gas supply in the RV. You'll then also need to turn off the water supply, but be sure to wait a while if the heater has recently been used as the water may be very hot.
Step 2: Drain Out The Water
Once the water has cooled down, open up all the faucets in the RV to allow as much water as possible to drain out. Once no more water is coming out of the faucets, they can be turned back off again until later on in the process.
Step 3: Use The Antifreeze
Disconnect the inlet side of the water pump and connect a tube from the water pump inlet to the RV antifreeze. After turning the pump on, open the faucets throughout the RV one at a time until pink liquid starts to come through. Once the pink liquid is running out of all the faucets and the shower, it means the antifreeze has worked its way through the RV and is ready to protect your camper from the cold!
Step 4: Protect The Drains
You can never be too safe when it comes to winterizing your RV, and it's worth taking all the necessary precautions to keep your camper in the best condition possible during challenging temperatures. Pouring a little RV antifreeze down the drains in your RV along with the toilet can help protect them from freezing.
Winterizing your RV with antifreeze can seem a daunting task, especially if you've not done it before. The video below gives a detailed, step-by-step of how to correctly use antifreeze in your RV for ultimate protection against freezing temperatures.
I always think slow and steady wins the race, so take your time and even recruit a friend or family member to give you a hand if needed.
Closing Thoughts
RV antifreeze and car antifreeze are both great products, but with very different ingredients and usage. If you're looking to winterize your RV, you'll need to purchase RV antifreeze to give you the best results and to keep your plumbing system safe for use next camping season.
Using car antifreeze in an RV and vice-versa isn't recommended and can do far more harm than good. It's best to stick to what the label says and keep RV antifreeze for RVs and car antifreeze for cars!