For months now, I've been without my favorite shave ice spot in all of Hawaii. Thankfully, Kula Shave Ice North Shore is back in what is, I hope, a more permanent home for them. And, yes, their shave ice hasn't changed one bit!
It's no secret that I love a good shave ice. And it's no secret that Kula Shave Ice North Shore has been my favorite spot for this iconic local treat for a while now. Unfortunately, Kula Shave Ice North Shore has had a difficult time finding a workable permanent home. As a result, they took a rather lengthy hiatus which had me wondering if they'd ever come back. Thankfully, they have. And I shot over to them on their second day back to get my fix!
Kula Shave Ice North Shore is Back!
Previously, Kula Shave Ice North Shore was at Farm to Barn in Haleiwa. Then, they moved next to a BBQ spot in Waialua. But before we could visit them again, they vanished and began doing pop-ups only. Now, however, they've set up shop alongside the Kuilima Farm Stands in Kahuku. And, I must say, it's a great fit! Their cute little mobile stand blends in nicely with the other vendors that call this area home.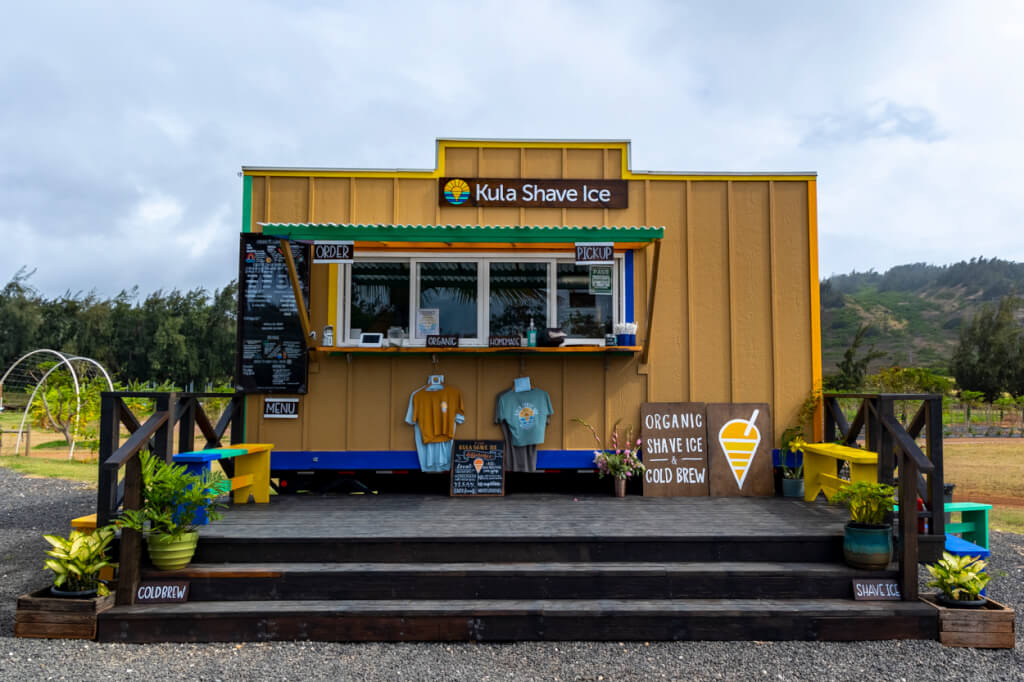 Now, I'm sure many of you – even my local readers – are wondering where the hell this place is. The short answer is 57-146 Kamehameha Highway, Kahuku, HI 96731. The long answer is that they're about a mile west (before if you're coming from Haleiwa) of the Turtle Bay Resort's entrance. If you're coming from the other direction, they're about eight miles west of the Polynesian Cultural Center. From Haleiwa, where they used to be, it's a 10-mile, nearly half-hour drive, depending on traffic. That is to say, it's a far drive no matter where you're coming from. But it's worth it.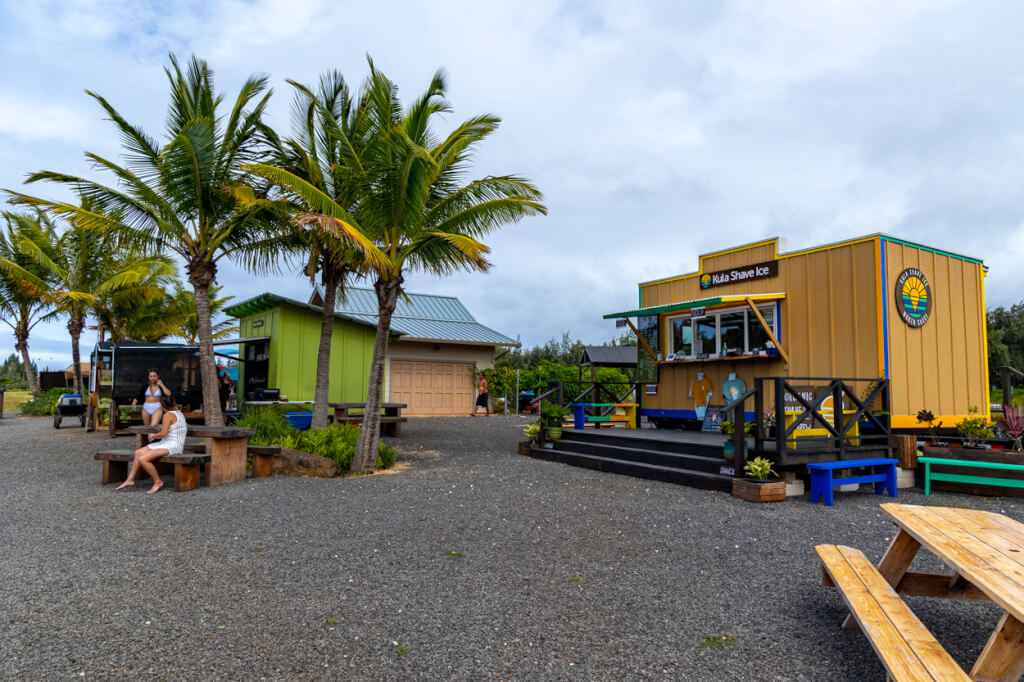 Kula Shave Ice's Shave Ice
In writing this post, I've come to realize that I've never written about Kula here on Jeffsetter. I think I was about to publish a post when they closed up shop at the Wailua location, causing me to cancel that post. Regardless, it's near criminal that I haven't written about them before especially since I was gushing about them in the local newspaper!
Regardless, Kula Shave Ice is hands-down my favorite shave ice anywhere. What sets them apart for me are their organic, homemade syrups. These aren't the sugary, artificial syrups you typically find at local icons such as Matsumoto's – nothing wrong with that! It's just that, as I've gotten older, I lost my taste for overly-sugary treats and have come to prefer more natural flavors. Unfortunately, natural shave ice can tend to be a bit bland. That's not the case here.
All of Kula's flavors Mrs. Island Miler or I have tried are vibrant and refreshing. However, my go-to combination has become a regular shave ice with lilikoi (passion fruit syrup), haupia cream (vegan coconut whipped cream), and homemade mochi. Depending on how I'm feeling, I may add lilikoi butter too. The resulting shave ice is a glorious mountain of flavor.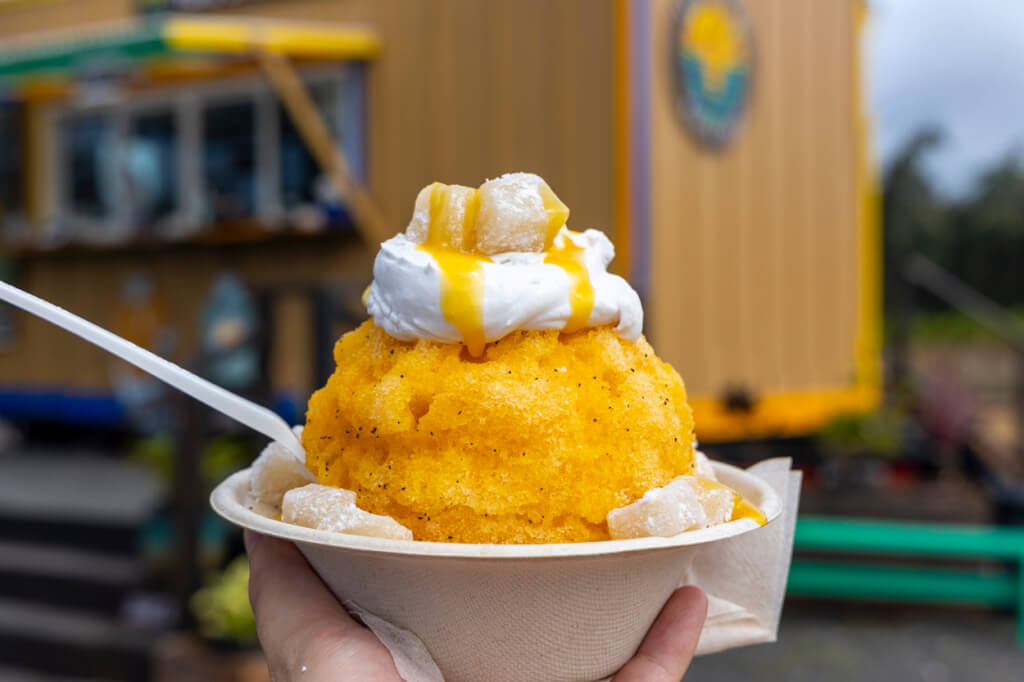 The sweet-tart lilikoi is incredibly flavorful and is offset by the creamy (but not-too-sweet) coconut, with the pillows of mochi providing an excellent, chewy counter to the feathery ice. It truly is a magical combination you won't find anywhere else besides their mothership shop in Hilo.
Final Thoughts
Though their new location is quite a bit farther away than the old ones, Kula Shave Ice North Shore is worth a special trip out there to enjoy. What's more, while you're there, you can check out the other stands and give them some business too. For my local readers, I stopped by the neighboring stand and bought a bag of Kahuku Super Sweet Corn for $5, which we enjoyed a couple of days later. They weren't lying! The corn was very sweet and tasty with a nice, firm texture! And when I say Kula Shave Ice North Shore is my favorite in Hawaii, I'm not kidding. In my opinion, they're better than Island Vintage, Ululani, One Aloha Shave Ice, and Wailua Shave Ice, though I'd still return to these places too!