When I wrote about Hawaiian's new Main Cabin Basic fare, I wondered whether the fare class would come to inter-island routes. And, the answer to that, unfortunately, is yes. Main Cabin Basic is coming to inter-island flights too.
If you don't already know what Main Cabin Basic is, it's Hawaiian's version of basic economy. And, under Hawaiian, passengers purchasing a Main Cabin Basic fare can expect:
No advance seat selections (select at check-in or assigned at the gate)
Board last (Group 5)
Changes and cancellations aren't allowed, even with a fee
No paid or Pualani Elite upgrades
No bonus earnings for Pualani Elite members
You will, however, continue to enjoy Hawaiian's joke of a meal and access to their in-flight entertainment system.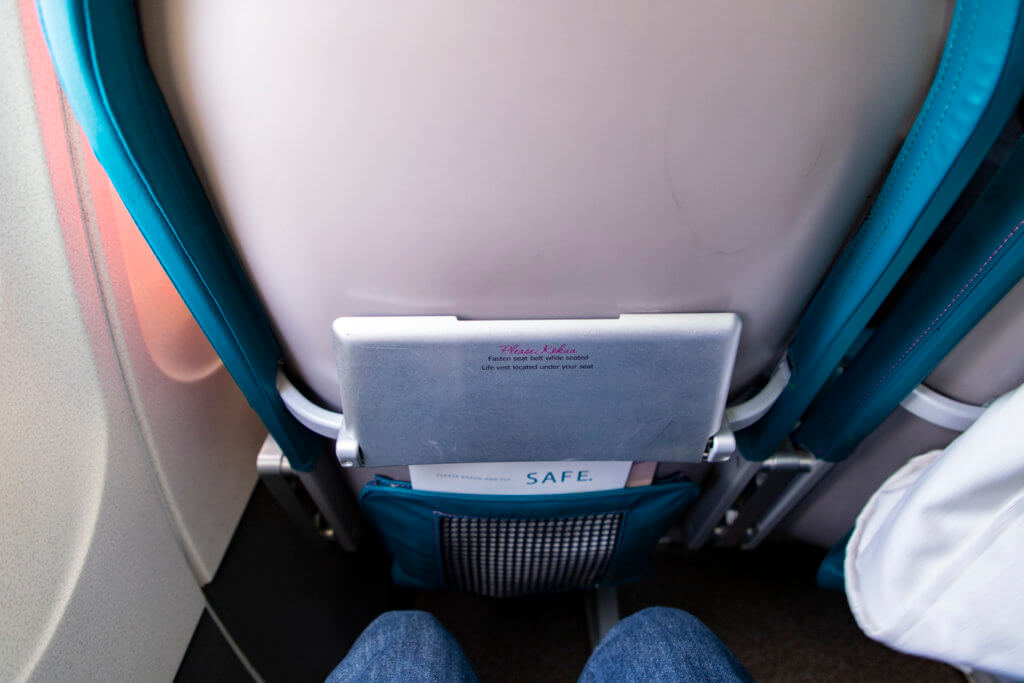 Want to keep the same level of service you had before? Well, all fare classes now cost $30 more for each segment as demonstrated by sample pricing I pulled.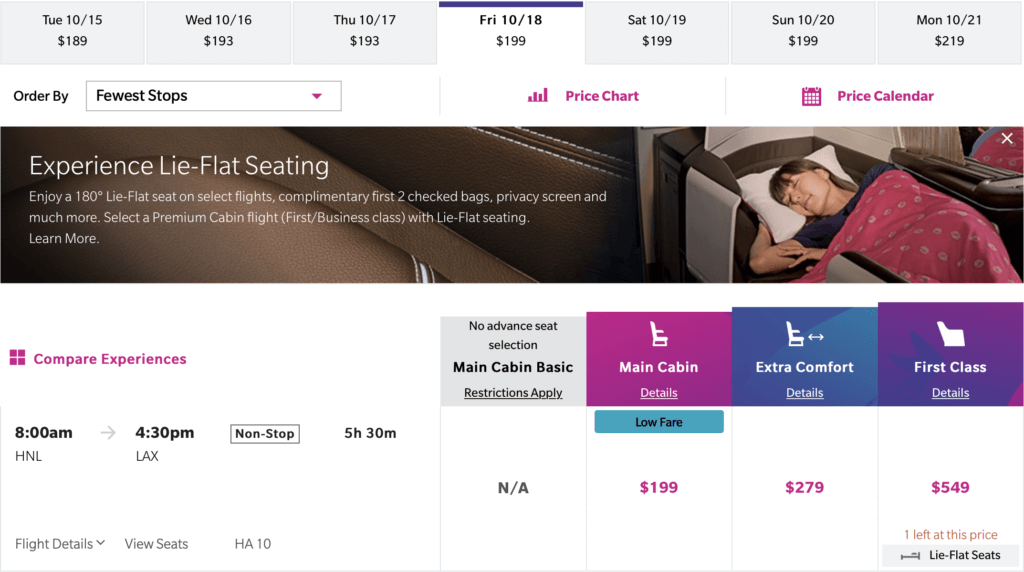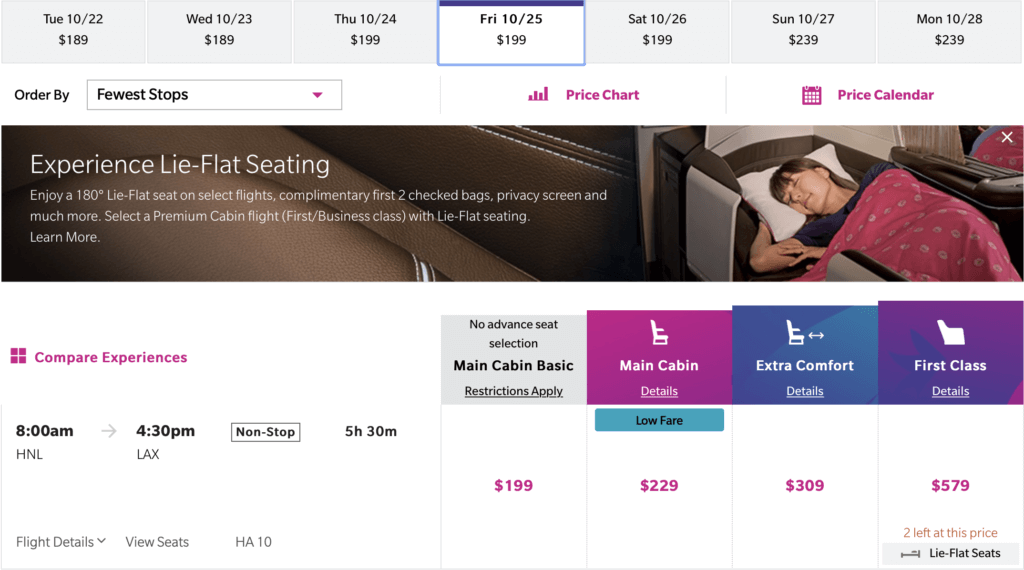 How Do I Know Main Cabin Basic is Coming to Inter-Island Flights?
When Hawaiian launched Main Cabin Basic, it was and still is available on only three city pairs. When and where we'd see the fare next is anyone's best guess, though. And, while I initially thought the fare would apply only to Hawaii – U.S. Mainland flights, I was wrong. How do I know? The Main Cabin Basic FAQ. Specifically, you'll see it in the table outlining what benefits Pualani Elite members get to retain while flying Basic.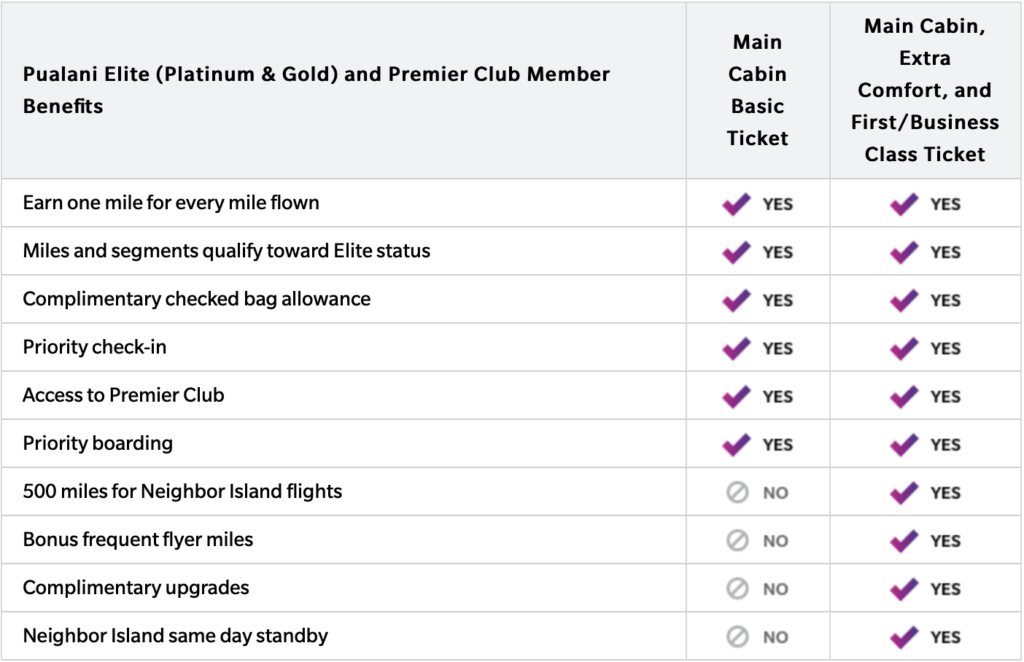 See that? It clearly states that Pualani Elite members do not get the minimum 500 miles earning rate they're normally entitled to on intra-Hawaii flights. Further, Pualani Elite members on this fare are ineligible for "Neighbor Island same day standby." And, finally, Pualani Elite members aren't eligible for complimentary upgrades, while Platinums specifically aren't able to use their upgrade certificates.
What the Heck are Upgrade Certificates?
It's worth noting that, unlike other U.S. airlines, Hawaiian doesn't have a single system-wide elite upgrade policy. Instead, Pualani Platinum members are eligible for free upgrades to first class on intra-Hawaii flights only. To upgrade to first class on transpacific flights requires one upgrade certificate to the U.S. West Coast, and two (each way) for international and U.S. East Coast flights. Gold and Platinum members both enjoy free access to preferred (inter-island) and Extra Comfort (transpacific) seats.
Two Pualani Platinum upgrade certificates are awarded when you achieve Platinum status. Then, you'll earn six more after attaining 75,000 miles in the same year. Pualani Platinum members are then eligible to earn one certificate for every additional 10,000 miles flown that same year.
Main Cabin Basic Coming to Inter-Island Flights, Final Thoughts
Though my view on Hawaiian nowadays is, well, gloomy, I didn't think they'd institute Main Cabin Basic on inter-island flights. I mean, come on. It's a 30-40 minute flight! And prices are already high, especially on time slots in which they're not competing with Southwest. I hope that, at the very least, they don't up the prices by the same $30 per segment as they did with transpacific flights.
But, at the end of the day, Hawaiian's decision to launch Main Cabin Basic on inter-island flights impacts less and less people all the time. After all, Southwest's service will soon cover all of Hawaii. And, from what I hear from others and have seen myself, it's primarily locals filling Southwest's planes. Oh, and since Hawaiian's Main Cabin Basic doesn't let you select a seat and forces you to board last, you're probably better off flying Southwest anyway. You pay one price, check-in as soon as it opens, and you'll get Group A or B boarding. And with those two boarding groups, your chances of getting your seat preference and overhead bin space is excellent!