Recently, I booked a trip to Kona for Mrs. Island Miler and I. Things are quite different from the last time we traveled inter-island, so let's talk about booking Hawaii inter-island travel in the Southwest era.
Southwest launched its Hawaii service earlier this year and, until recently, has been growing rapidly in the islands. I've always hesitated to fly with them, though, since they don't have assigned seating. But, thanks to their 5,000 points kama'aina launch offer, I've finally decided to give them a try.
Cost Comparison
Now, the reason we're going to Kona is to burn Marriott Bonvoy certificates. So, my goal for this trip was to keep out-of-pocket costs as low as possible. Looking at the cash rates for our desired travel dates, things weren't looking too bad. Roundtrip fares on Hawaiian were pricing around $124 per person.

Things were slightly cheaper with Southwest at around $118 per person.

Both of those itineraries are for early morning departures out of HNL and early evening returns out of KOA. I tried to build a similar itinerary on Mokulele, but damn… They require two stops to get from HNL to KOA and back. And they want $260 for the privilege!

Um, yeah… I'm not paying double the price to take three to four hours to fly between Honolulu and Kona. And, mind you, all of the above prices are for a single passenger; there's two of us so I'd be paying double of all the above prices.
Award Pricing
I'd really rather not spend $250 to fly us to Kona and back either, so naturally, I looked at award pricing. Hawaiian's base price for inter-island award tickets is 15,000 miles. For the flights I wanted, they were asking for 16,000 miles plus $11.20 per passenger.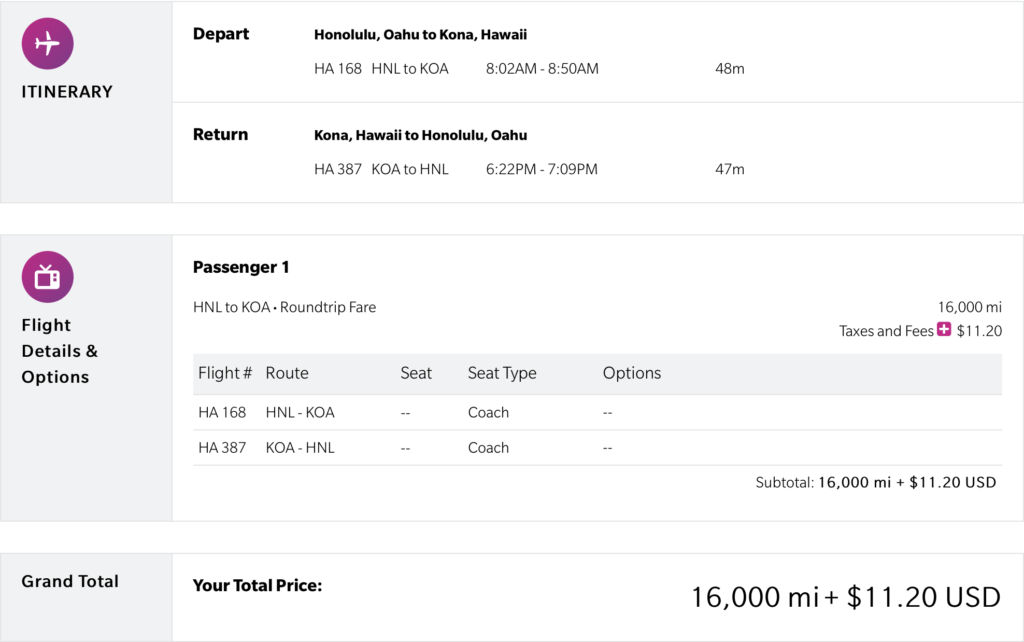 Southwest, on the other hand, was charging 7,112 miles plus $11.20 per passenger.

That's a lot fewer miles than what Hawaiian Airlines is asking for, though both Mrs. Island Miler and I had 5,000 Rapid Rewards points each. Not quite enough for the award ticket as priced.
Transferring Points
Luckily, Rapid Rewards is a Chase Ultimate Rewards transfer partner. And if it's one thing I have a decent amount of, it's Chase Ultimate Rewards. So, I transferred 2,112 points to both Mrs. Island Miler's and my own Rapid Rewards accounts.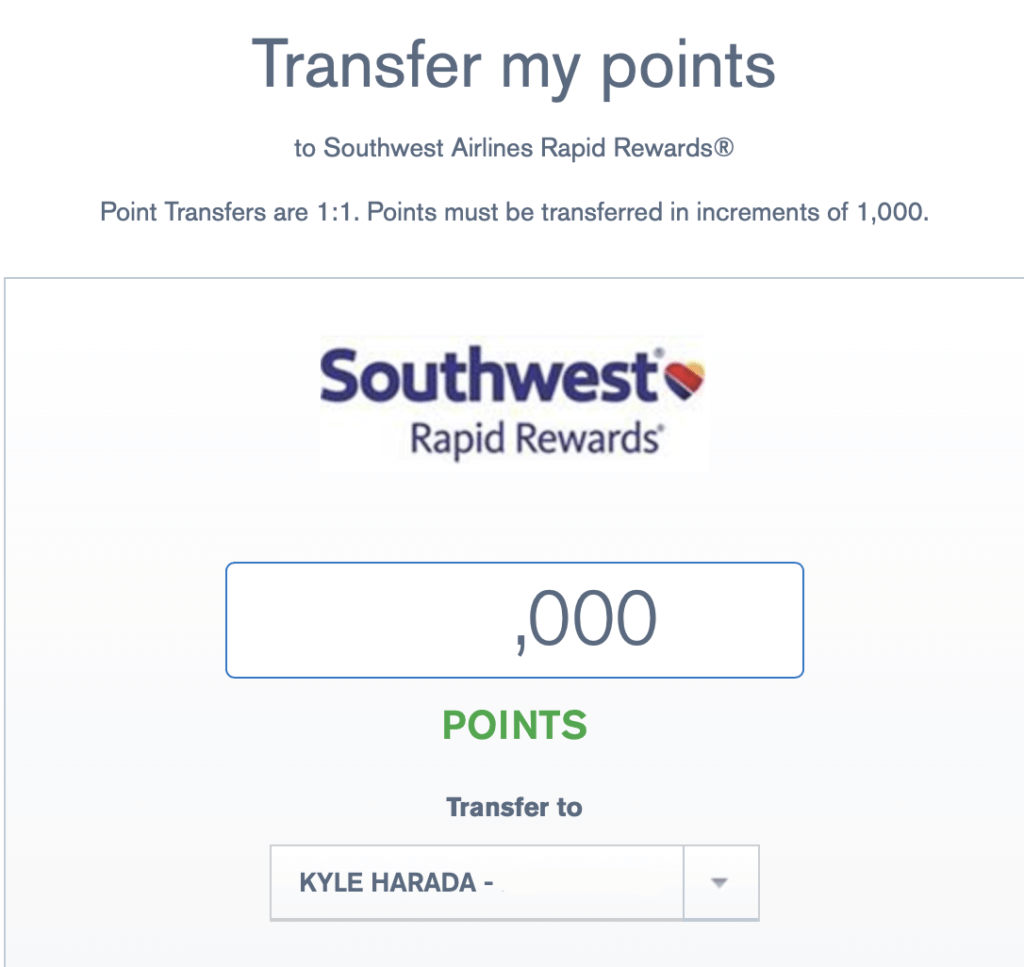 So, our total for this trip, minus the 5,000 free points, was 4,224 Ultimate Rewards points. Yeah, that may not be the best use of the points, but meh. I earned more points than that recently for making a reimbursable purchase through the Ultimate Rewards shopping portal, so I don't mind.
Given the low award cost with Southwest, we're finally giving them a try. Wish us luck! It'll be an interesting experience at the very least.
Booking Hawaii Inter-Island Travel in the Southwest Era, Final Thoughts
So, as far as cash rates go, the difference in price between Hawaiian and Southwest is minimal. Rewards pricing, though, differs immensely. Especially since Ultimate Rewards points are WAY easier to earn than HawaiianMiles. But that's not the whole story.
With Hawaiian, HawaiianMiles members pay $25 for your first checked bag each way. If you have their crap credit card, though, you the cardholder gets one free checked bag, though your companion still needs to pay unless they're a cardholder too. Southwest, on the other hand, gives you two free checked bags. But with no assigned seating, I'm tempted to spend $15 per segment per person for EarlyBird Check-In. We'll see, though, as doing so will cost me $60 roundtrip for the both of us. But that's still cheaper than the $100 roundtrip I'd spend for the both of us to check a bag on Hawaiian.
In the end, if you're paying cash, right now, Hawaiian and Southwest are pretty evenly matched. Southwest edges out Hawaiian more if you don't care about assigned seats and need to check a bag (or two) and don't have the Hawaiian card. However, if seat assignments and the possibility of sitting in a first class product matters, then Hawaiian is the better choice. Just be prepared to pay those checked bag fees.
As far as award pricing goes, though? Southwest all the way. Especially since Ultimate Rewards points transfer 1:1 to Rapid Rewards. And, remember, you earn 3x points on all dining and travel spend (including parking) with the Chase Sapphire Reserve. Plus you can earn 5x points quarterly bonus categories with the Freedom and 1.5 points per dollar on all other spend with the Freedom Unlimited. So those points add up QUICK!