Being the aviation nut that I am, it's always fun trying new airlines. And, recently, I got to try a new-to-me airline for a quick mini-vacation. So, let's talk about Southwest Airlines 1503 Honolulu – Kona service.
Why Southwest?
If you read my Big Island LUV intro post, you'd know that I got 5,000 Rapid Rewards points for joining when Southwest launched its Hawaii service. Well, Mrs. Island Miler did the same, so between the both of us, we had 10,000 Rapid Rewards points. As a result, when looking at neighbor island flights, I settled on Southwest because 1) I didn't want to pay cash, and 2) they were charging 7,112 points roundtrip on the days we wanted to travel.

Clearly, 10,000 points weren't enough for us to go entirely for free. Luckily, though, Rapid Rewards is a Chase Ultimate Rewards transfer partner. And, because I'm a Chase Sapphire Reserve (Preferred can too) cardholder, I can transfer points to airlines. So, I called up Chase and added my and Mrs. Island Miler's Rapid Rewards number to my Ultimate Rewards account and had 3,000 points transferred to each. In the future, I can do this myself.
Check-In Experience
If you've already read-up on my Southwest Boarding Experience, you'll know how vital it is to check-in as soon as online check-in becomes available. There are other (paid) ways to help you secure a better boarding position, but for this trip, Mrs. Island Miler and I both checked in ourselves 24 hours before. We ended up with boarding positions A36 and A38.
Bag Drop Experience
Southwest's ticket lobby is Lobby 6 in HNL's Terminal 2. Specifically, their ticket lobby is next to WestJet's and Air New Zealand's'. When you arrive, you can either go the self-service route and use the kiosks or go full-service.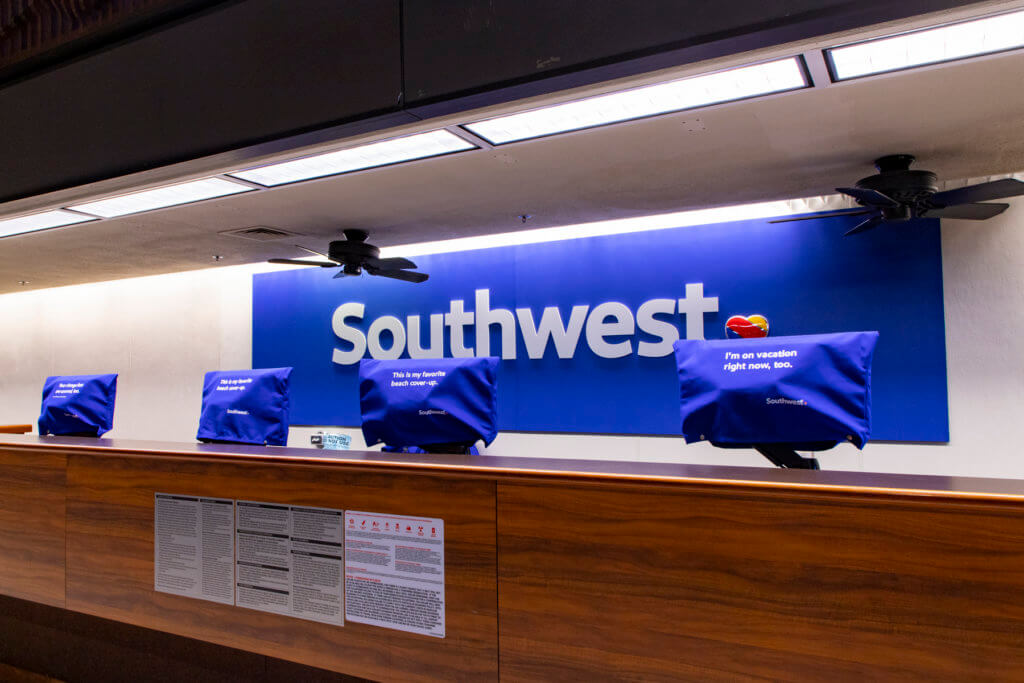 Since we already checked-in online and had our mobile boarding passes, we headed to a kiosk to print our bag tag. From there, we stood in line for the bag drop. There were only three people working the counter for bag drop and full-service, so there was a bit of a wait despite the short line. But, we completed the entire process in about 10-15 minutes.
For our relatively early 8:15 am flight, the TSA lanes closest to Southwest's lobby didn't have Pre-Check available. As a result, we walked two lobbies over towards Diamond Head (in the direction of Southwest's gates) to access a Pre-Check lane. Once in line, it was another five minutes until we made it through. And, in case you're wondering, we got to the airport sometime between 6 and 6:15 am.
Terminal
At HNL, Southwest uses G Gates in Terminal 2. For those familiar with the previous nomenclature, that means the Diamond Head Concourse in the Overseas Terminal.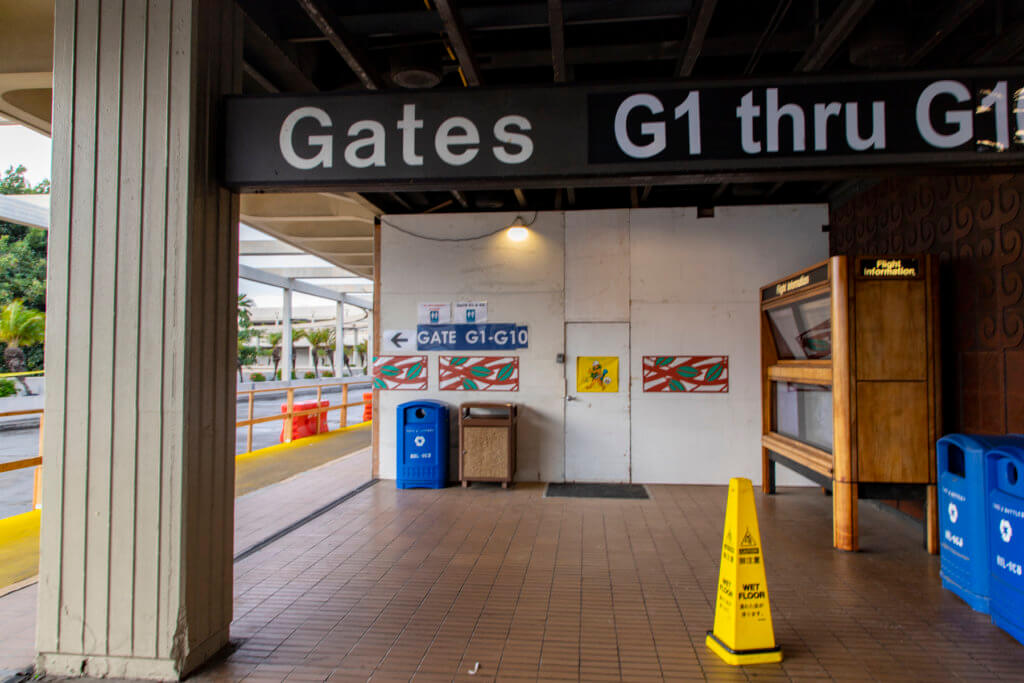 That's about a 10-15 minute walk from Southwest's check-in lobby on the far east end of the airport.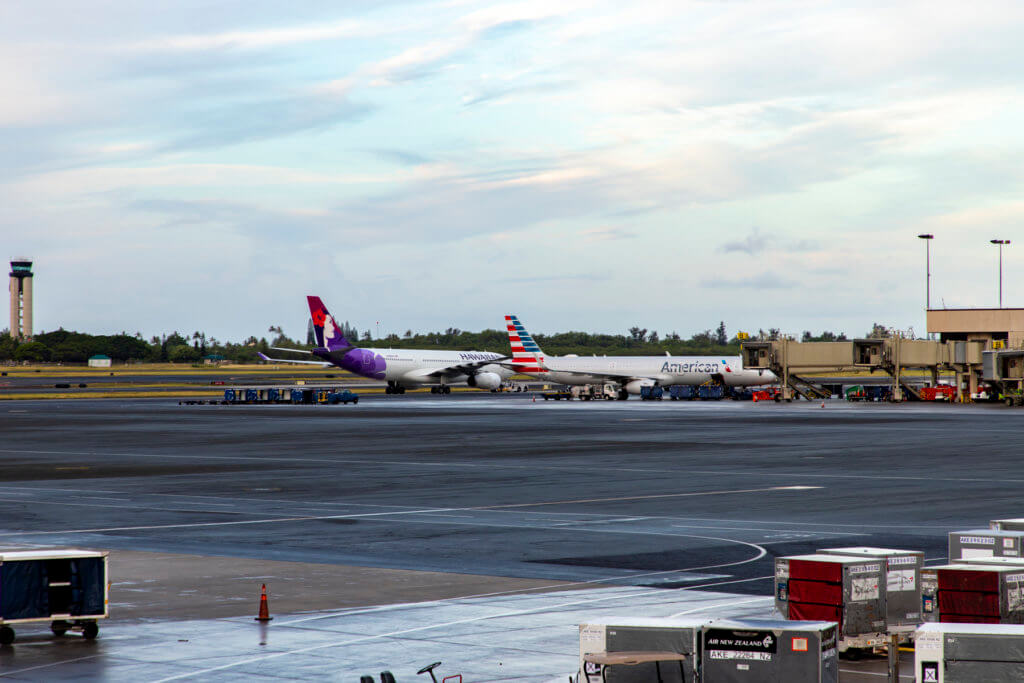 What's more, Southwests gates, which are G7 to G10, are on the ground level below the main terminal.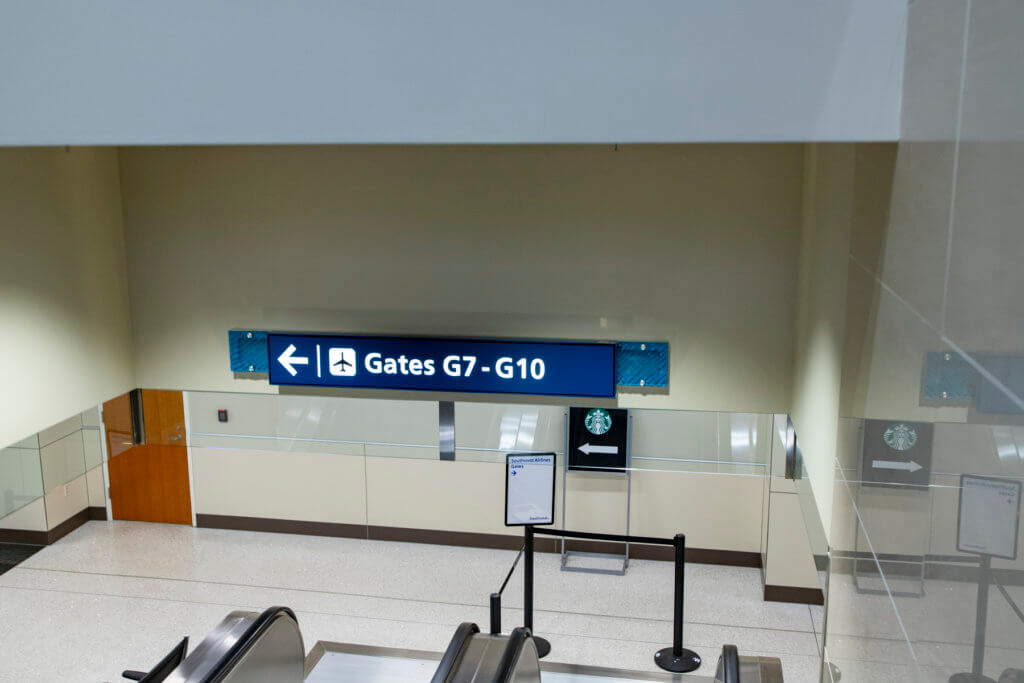 This is a new area that was going to serve Island Air, which was going to be displaced by the new Mauka Concourse being built for Hawaiian Airlines. However, Island Air folded before any of this took place, so Hawaii DOT offered the space to Southwest. It's a nice area, though a little sterile looking for my liking.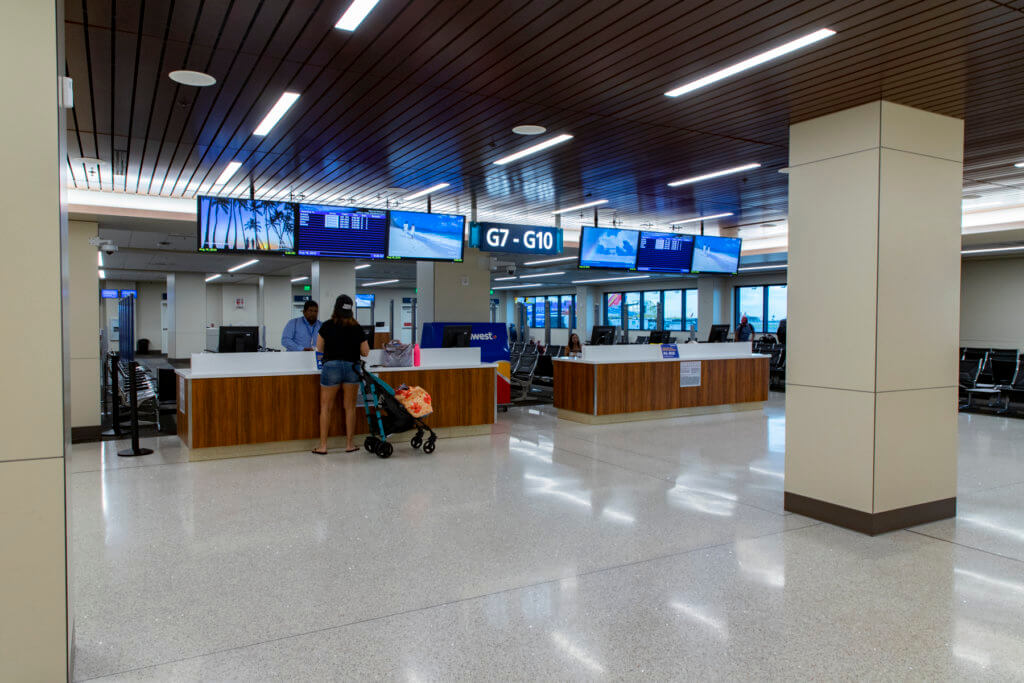 But, the seats are plentiful, there are windows, power outlets are available, the are has its own restrooms, plus there's a Starbucks down there too!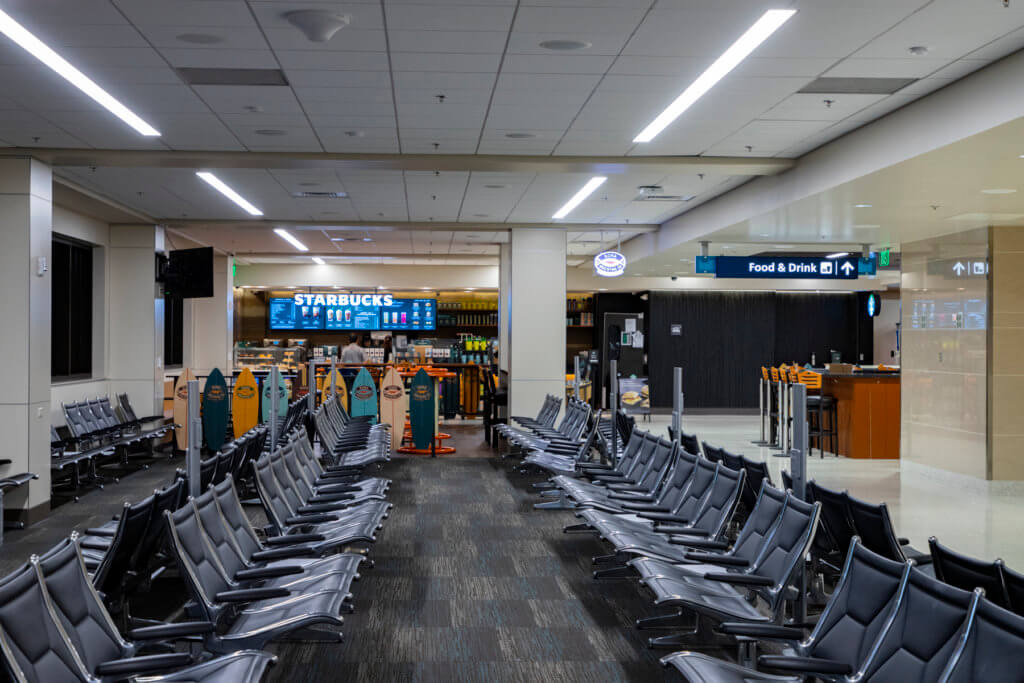 My favorite part of Southwest's terminal, though, is being able to see the aircraft out the window from ground-level.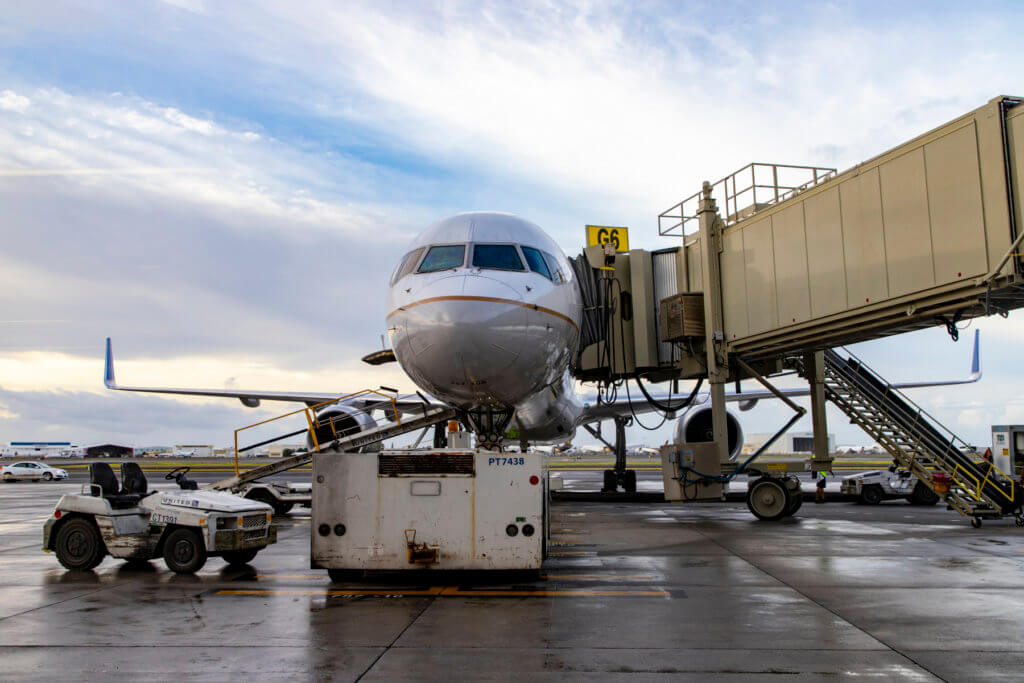 Boarding
Boarding for our flight was scheduled to begin at 7:45 am. However, pre-boarding didn't begin until 7:49 am, followed by general boarding at 7:50 am. As I outlined in my Southwest Airlines Boarding Process post, at the time of boarding, you'll line-up at a column based on your boarding position and group.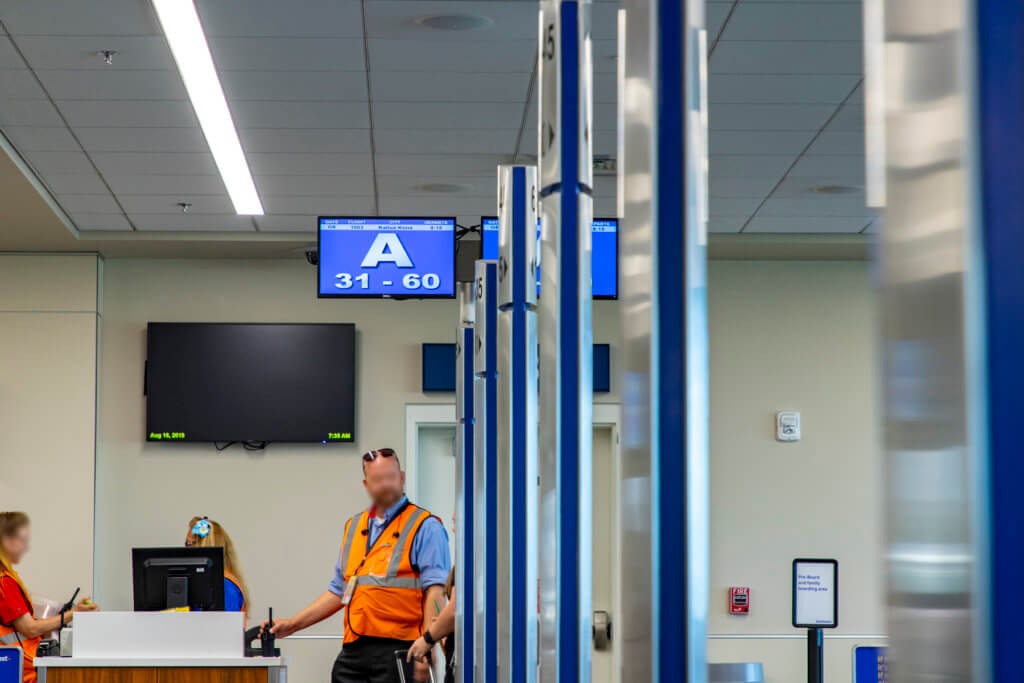 Then, at Honolulu anyway, once your boarding range is called, you'll get your boarding pass scanned and will be issued a boarding card.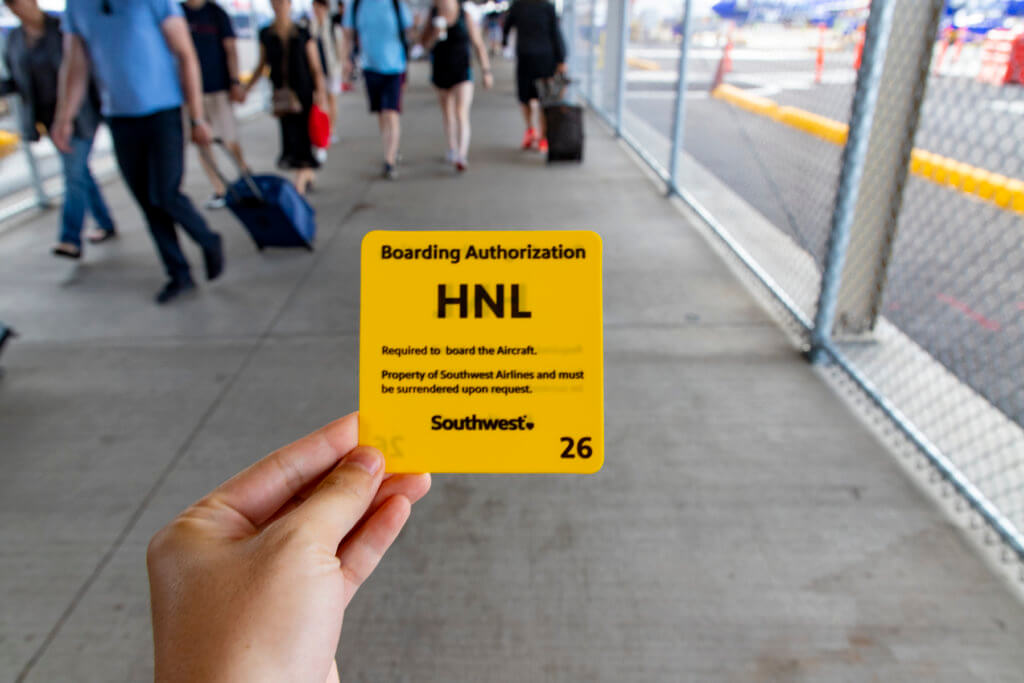 Once you receive your card, you walk out of the building, down the fenced-in corridor, and to the gate with an employee collecting the same color cards.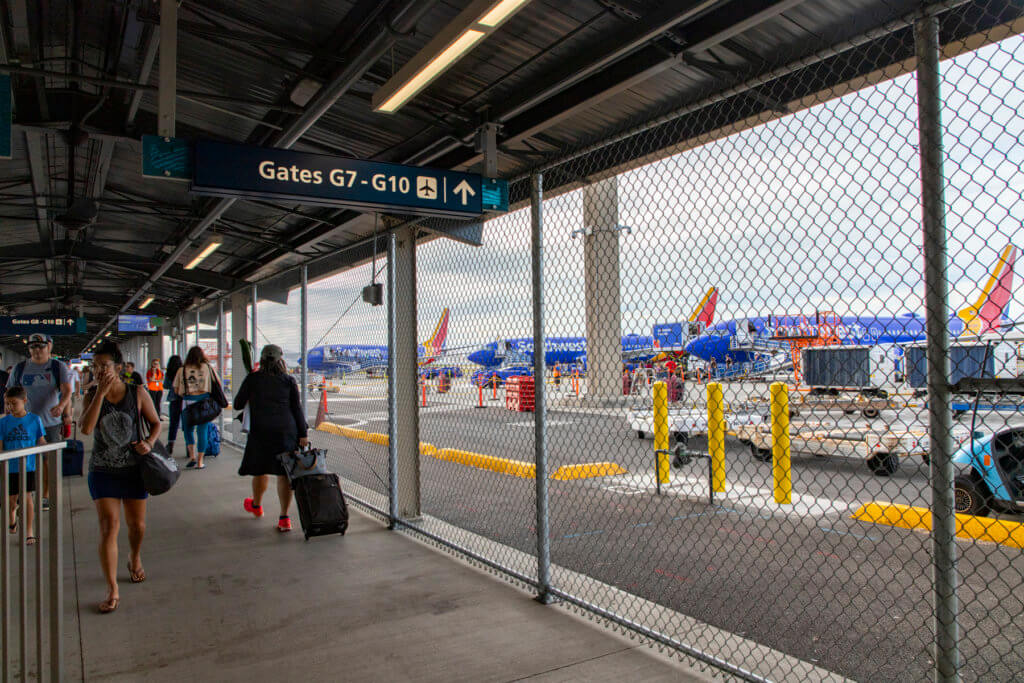 From there, you head straight out onto the ramp and onto the plane. We made our way out in the second set of Group A passengers at 7:51 am.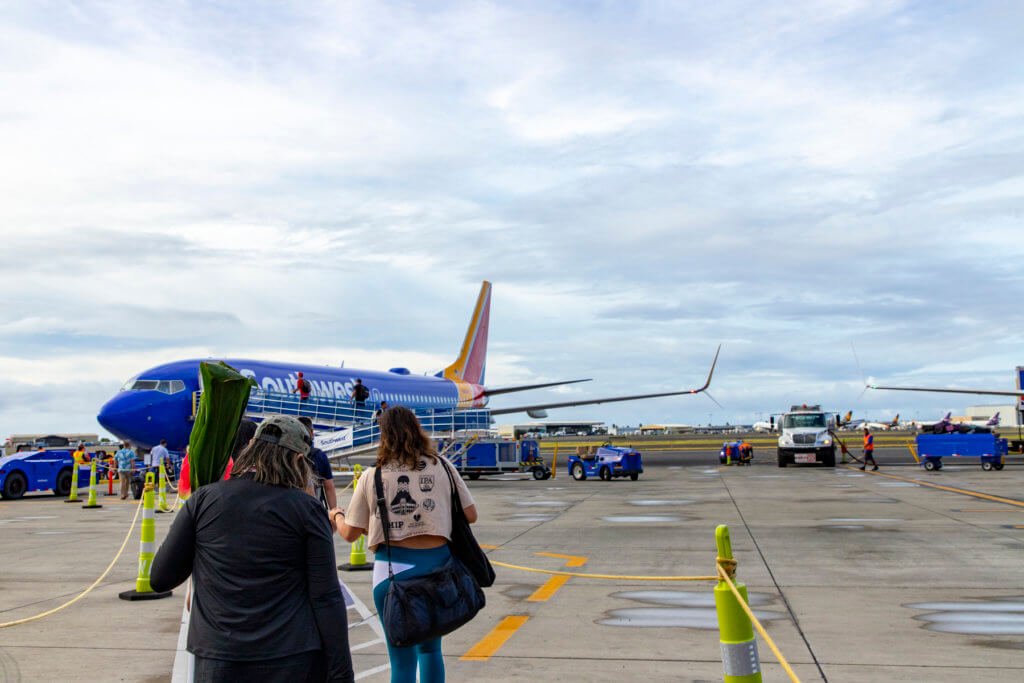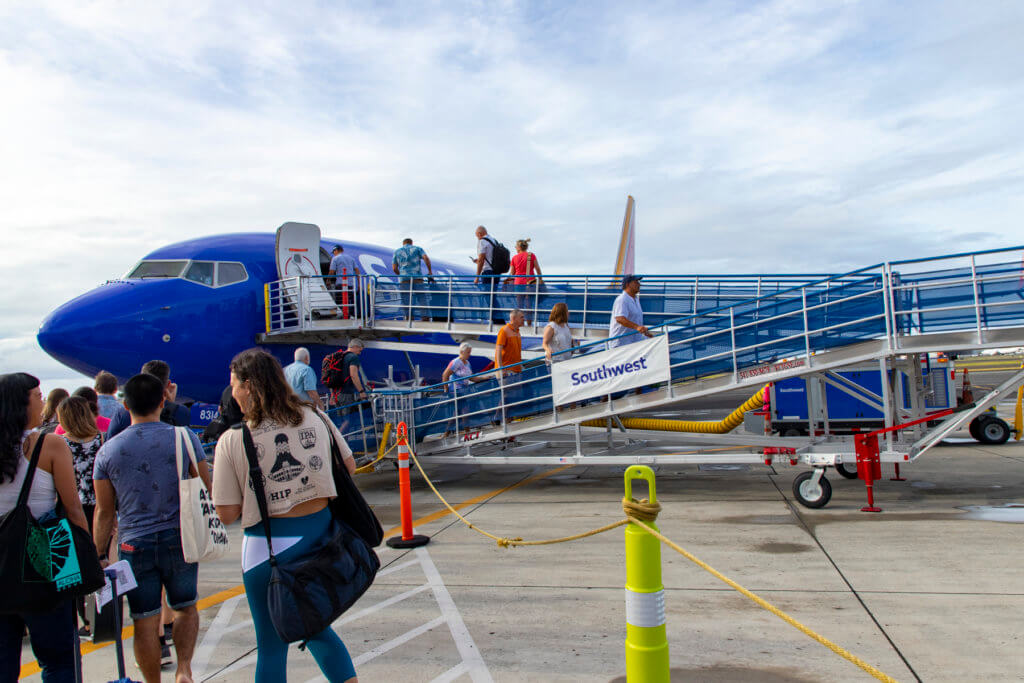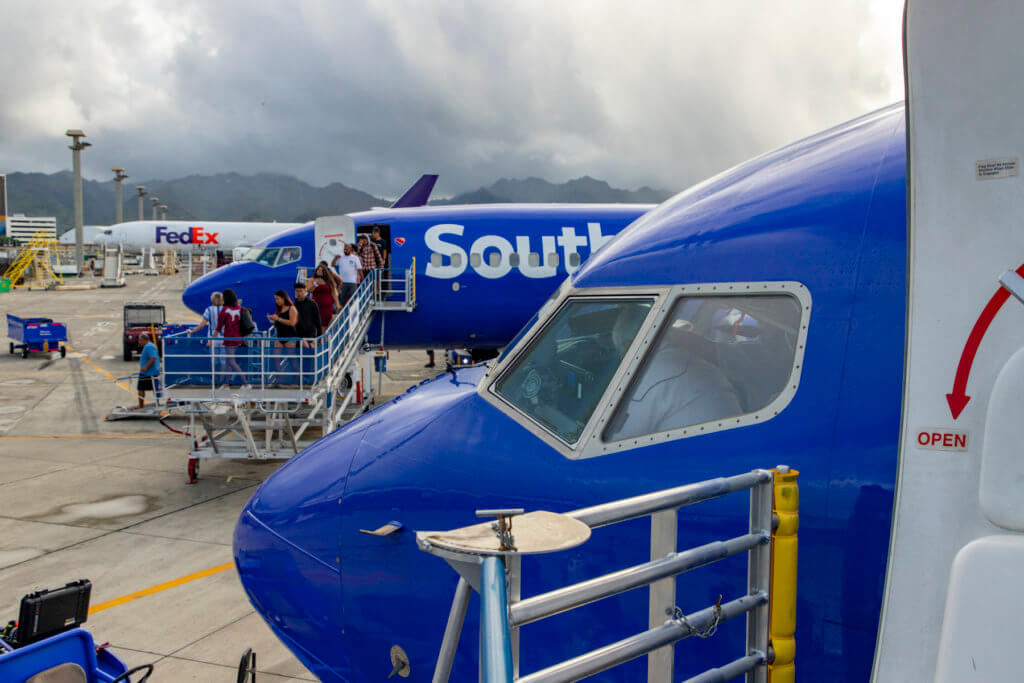 And, by 8:17 am, two minutes after our scheduled departure time, the cabin door finally closed. The reason for the delay, by the way, was a passenger trying to stow a drum they brought on board. Eventually, the flight crew took the drum and stowed it in the cockpit for the duration of the flight.
Seats
Southwest uses fairly standard leather-wrapped slimline seats with 32-33 inches of pitch.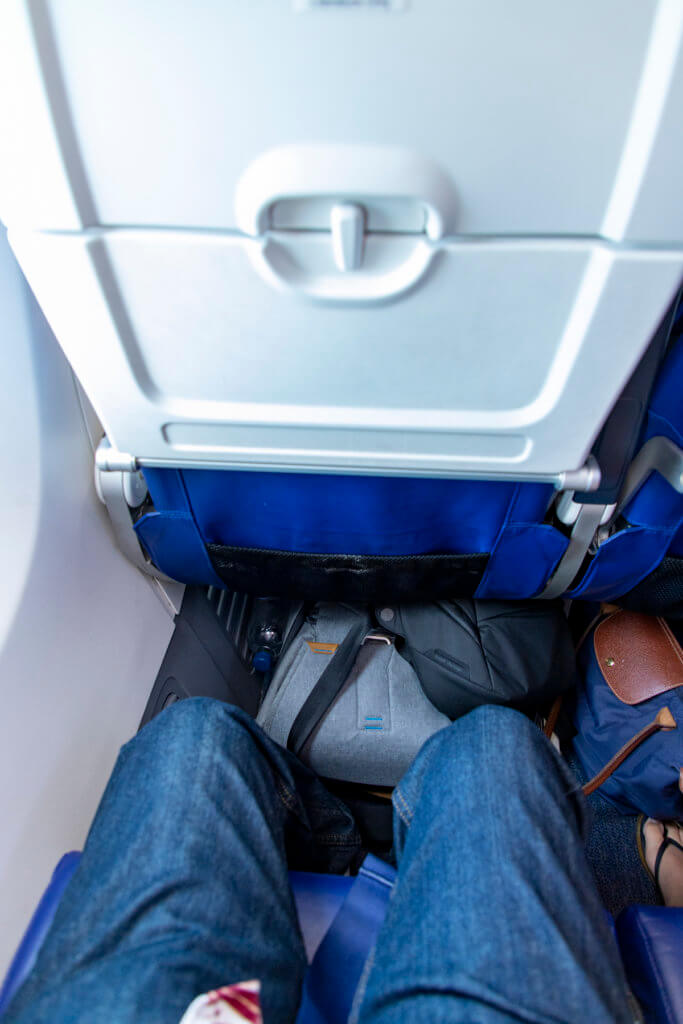 To me, they're very similar to Hawaiian's A330 seats, which means they're firmer than I'd like. But, they're also better than Hawaiian's Boeing 717 seats. The relatively new Boeing Sky Interior is also notably nicer than that of Hawaiian's aging 717 fleet. But, as you'll notice, seats are arranged in a 3+3 configuration, which is less preferable than the 717's 2+3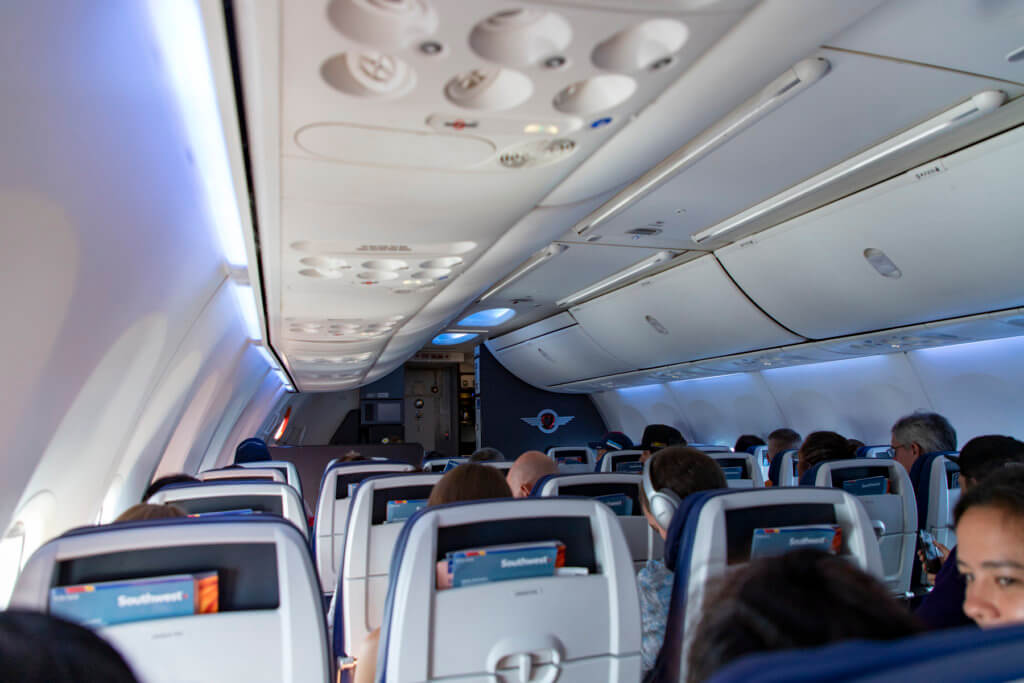 For this particular flight, Mrs. Island Miler and I took seats 7A and B. And waiting at our seats were a bag of pretzels. Nice.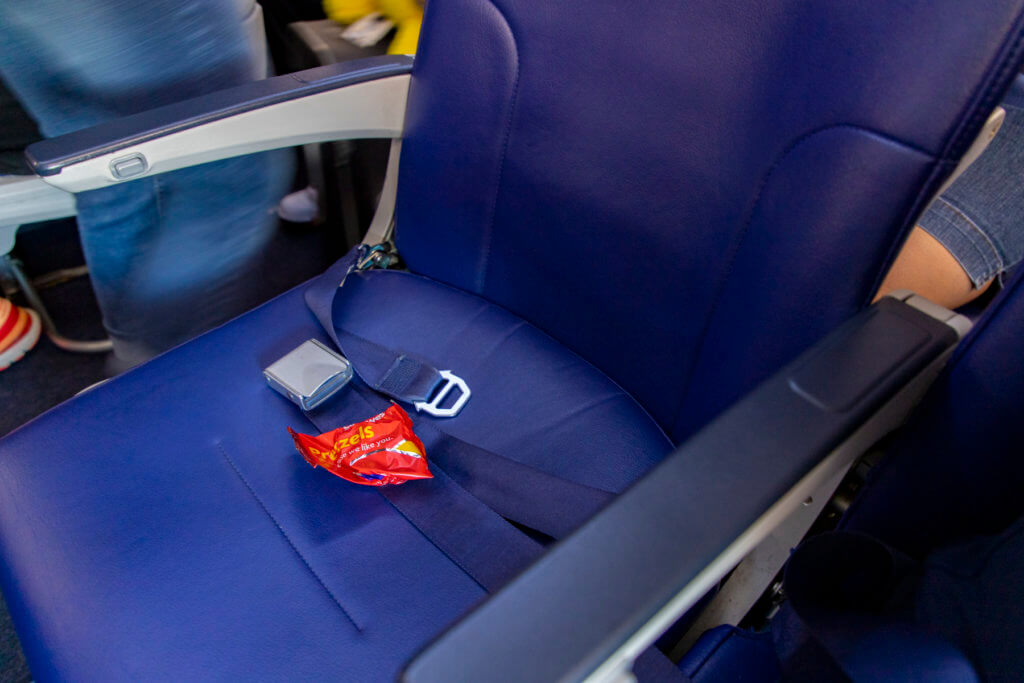 What you won't find at your seat, though, are a standard three-prong power or a USB power outlet. That's an important point to keep in mind for all those of you planning on flying them to and from the islands.
Southwest Airlines 1503 Honolulu – Kona
For our flight that morning, the first to Kona for the day, all 175 seats of our seven-year-old Boeing 737-800 (N8314L) were occupied.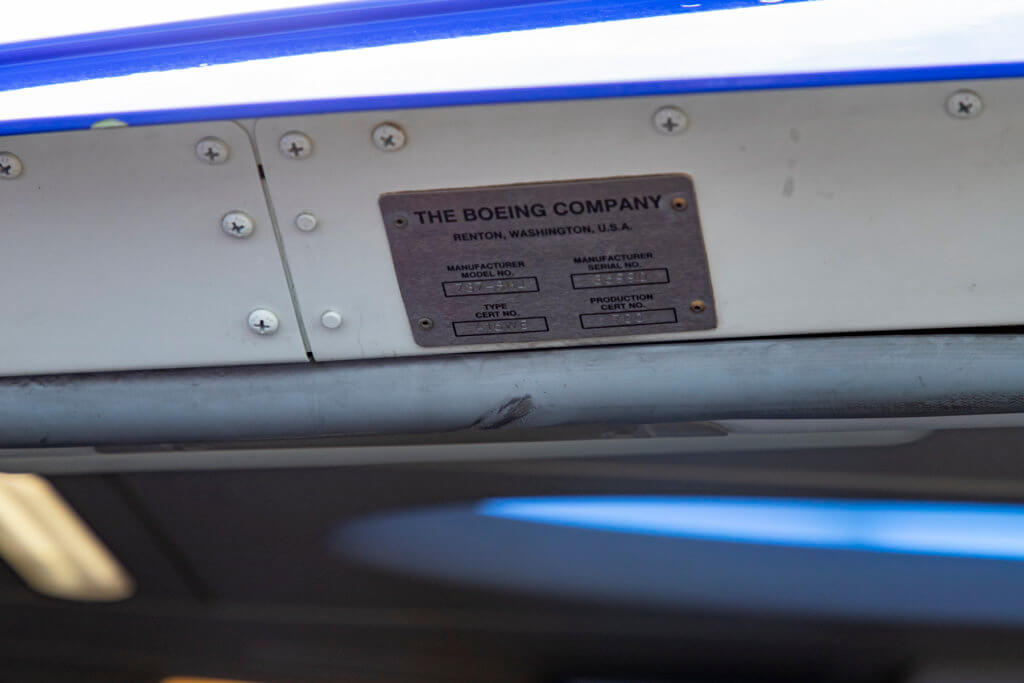 Our First Officer welcomed us aboard and informed us of a 31 minute flight time, though the FO said they could do it in 26 minutes. So, after the manual safety demonstration with some sass, we began our pushback at 8:20 am.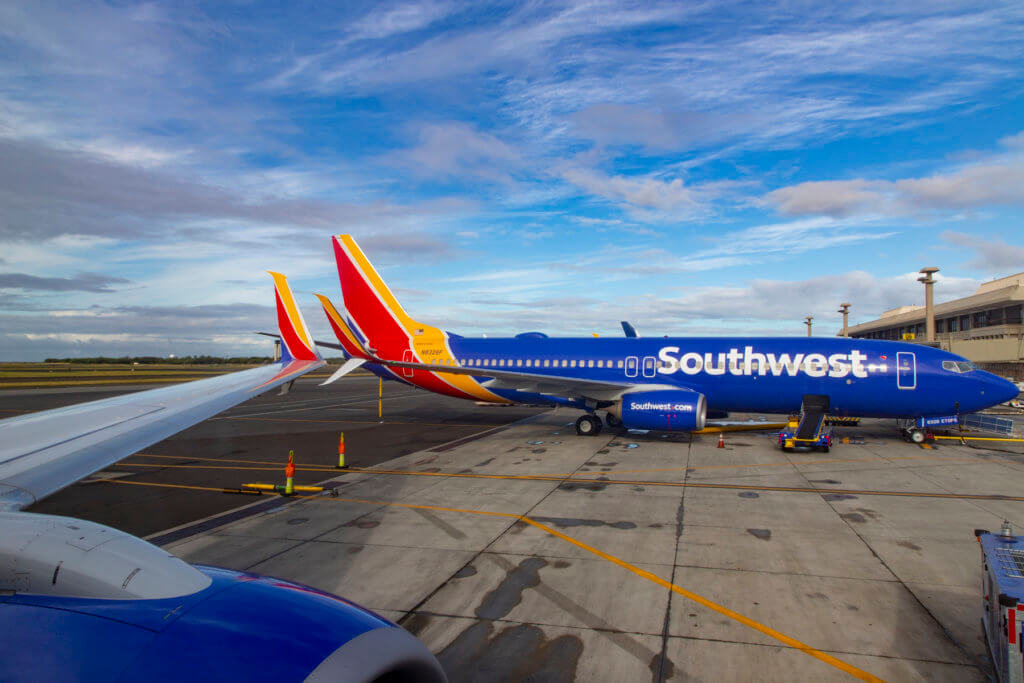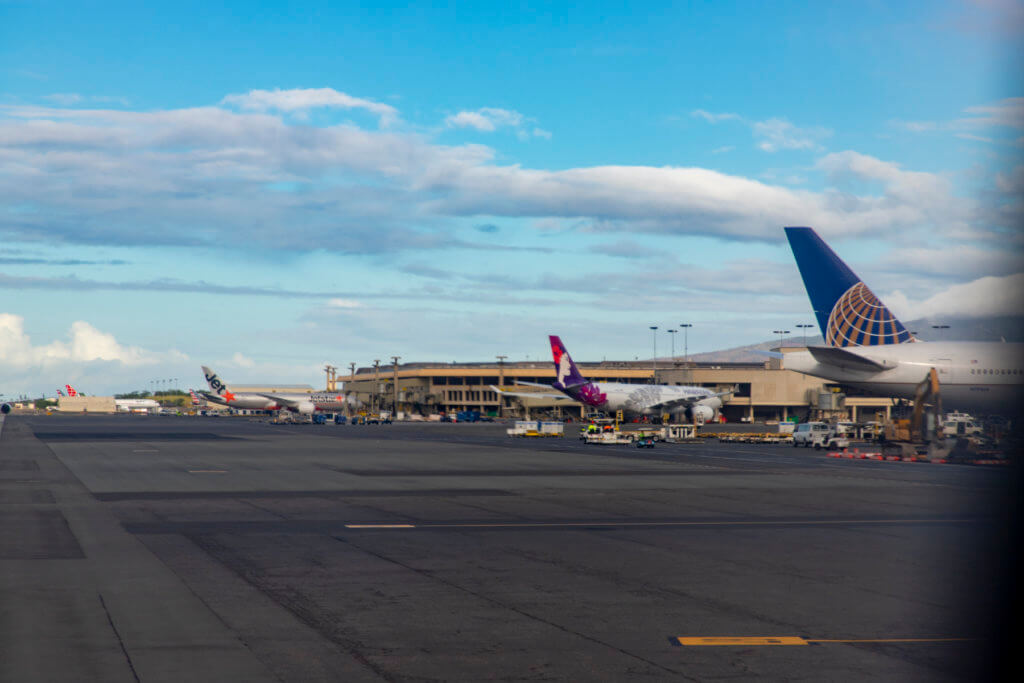 After a quick, 10-minute taxi, we began our takeoff roll down HNL's runway 8L.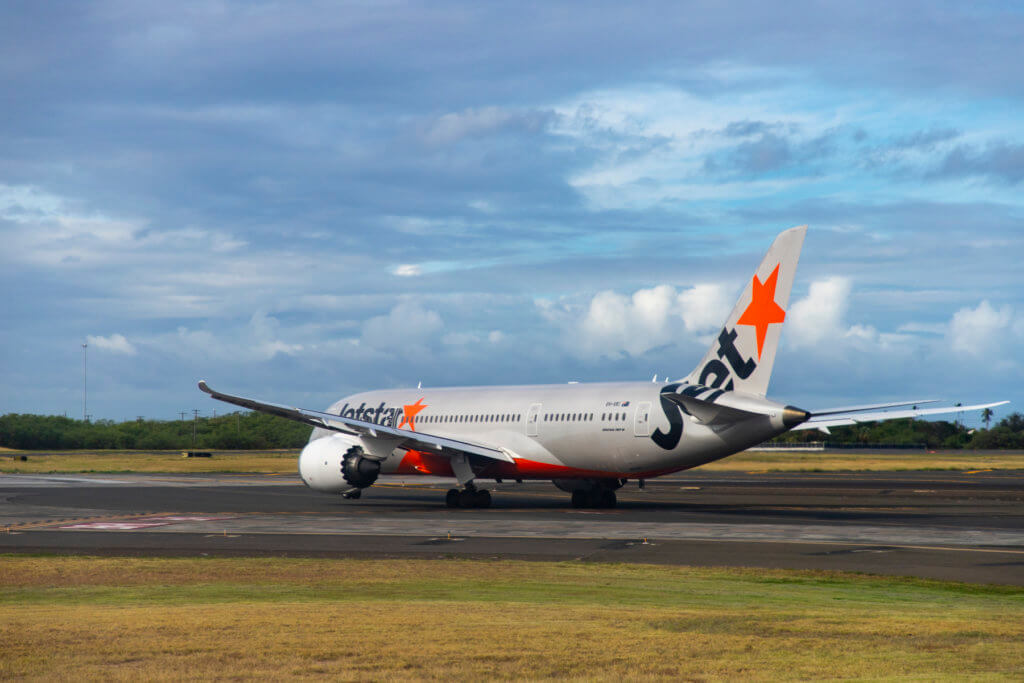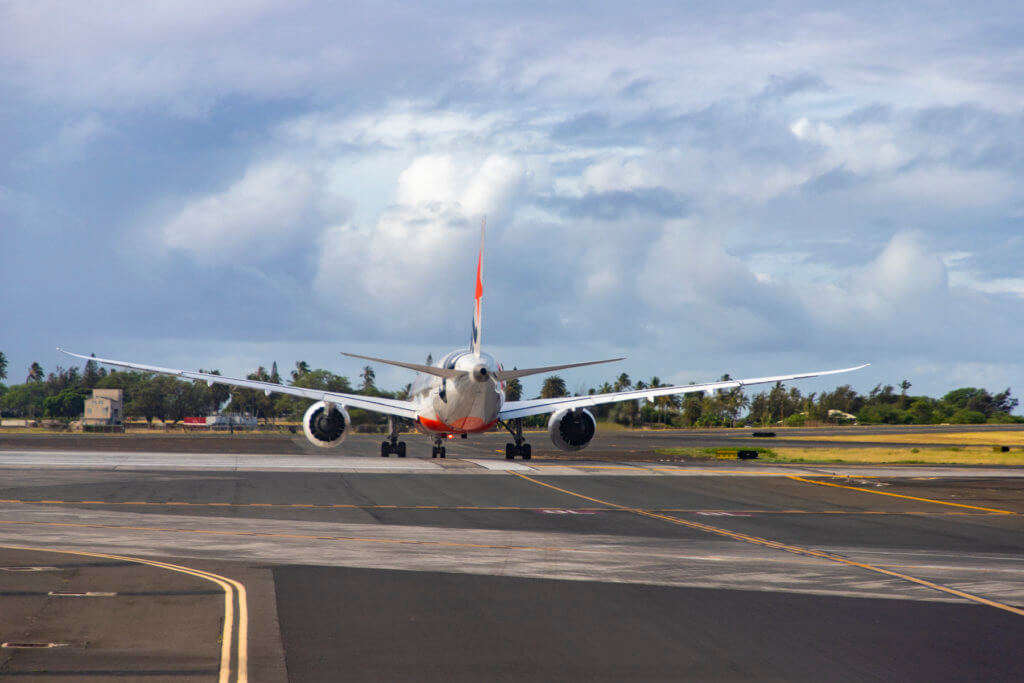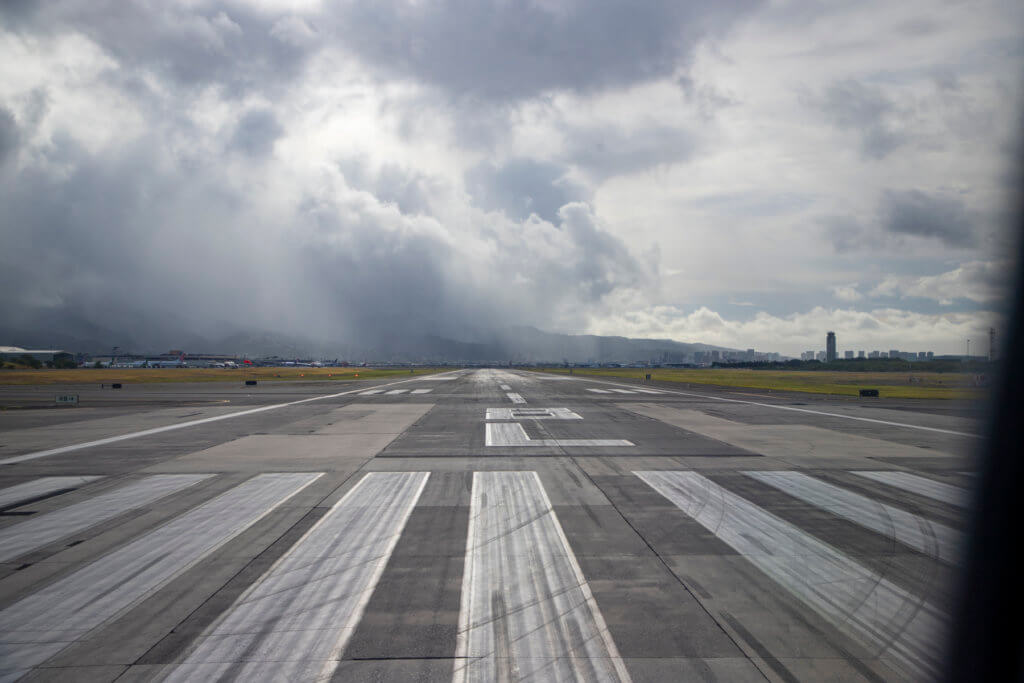 We had a smooth climb out with very little chop throughout the flight. And, despite the rain that morning, I had some decent views on the way out too.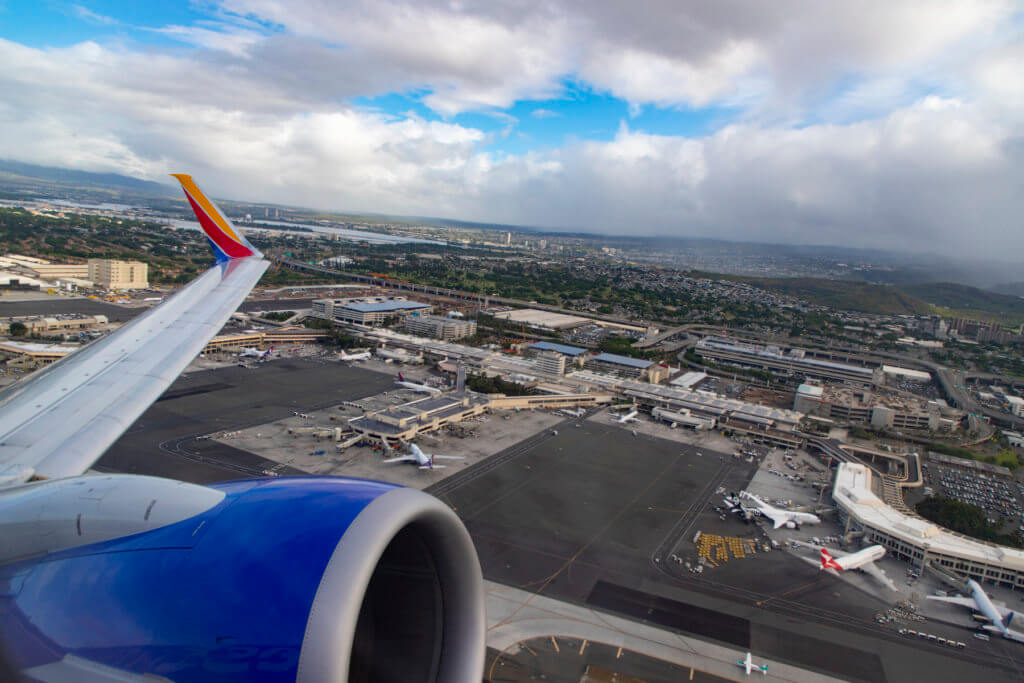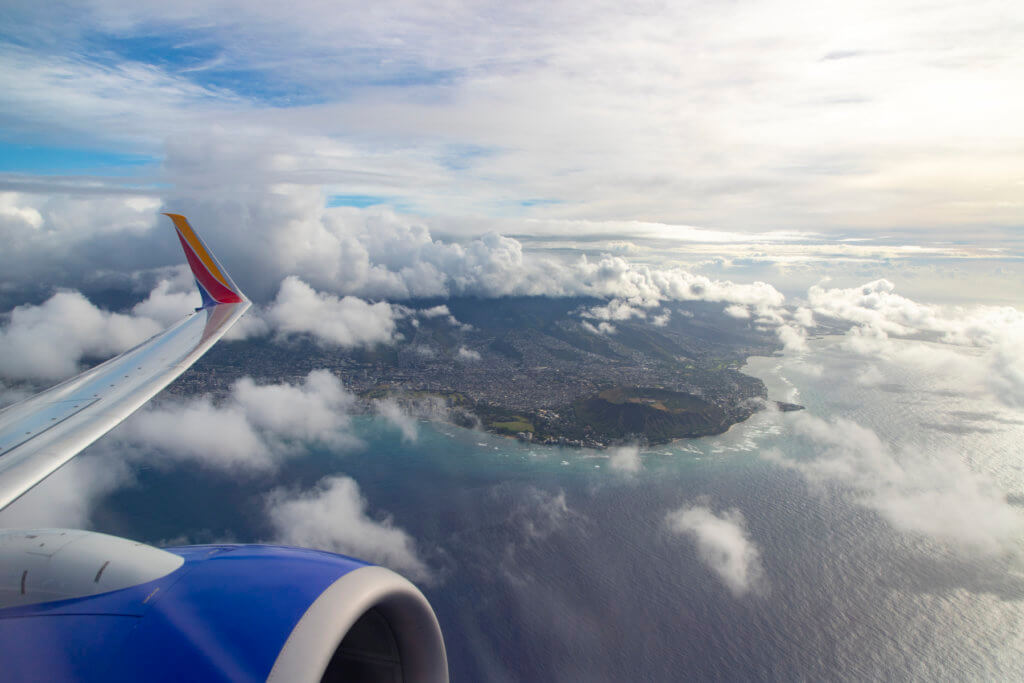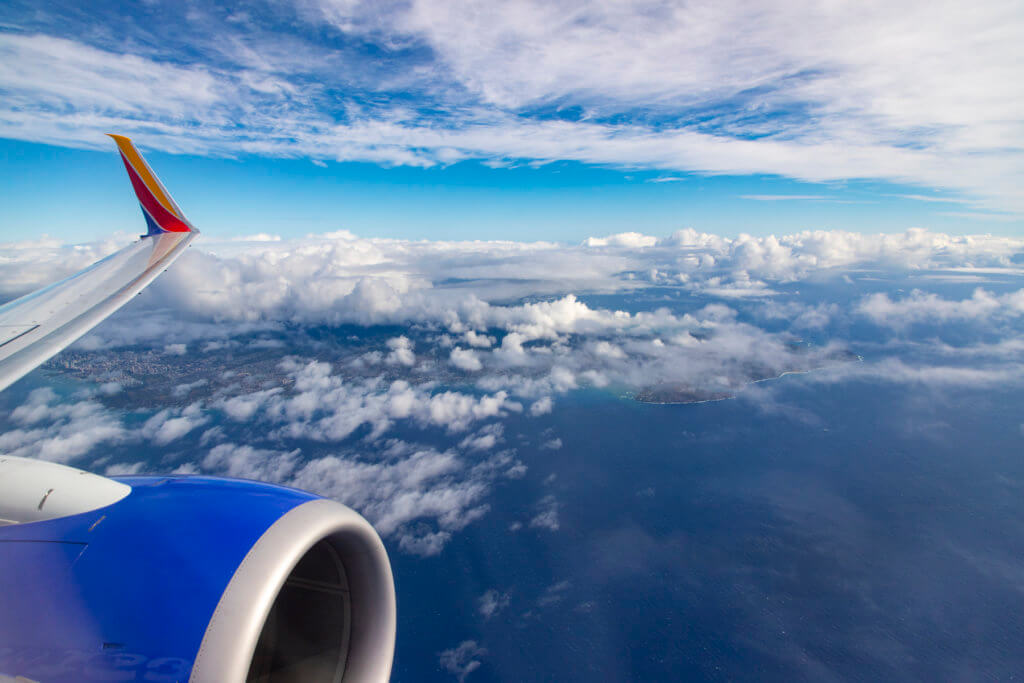 By the way, Southwest offers free in-flight entertainment including LIVE TV and free instant messaging. To access these features, and to view the in-flight map, visit www.southwestwifi.com on your personal device (make sure you're connected to the plane's WiFi first!). Full WiFi is also available for purchase, but it's a 30-minute flight at most… I don't think that's necessary.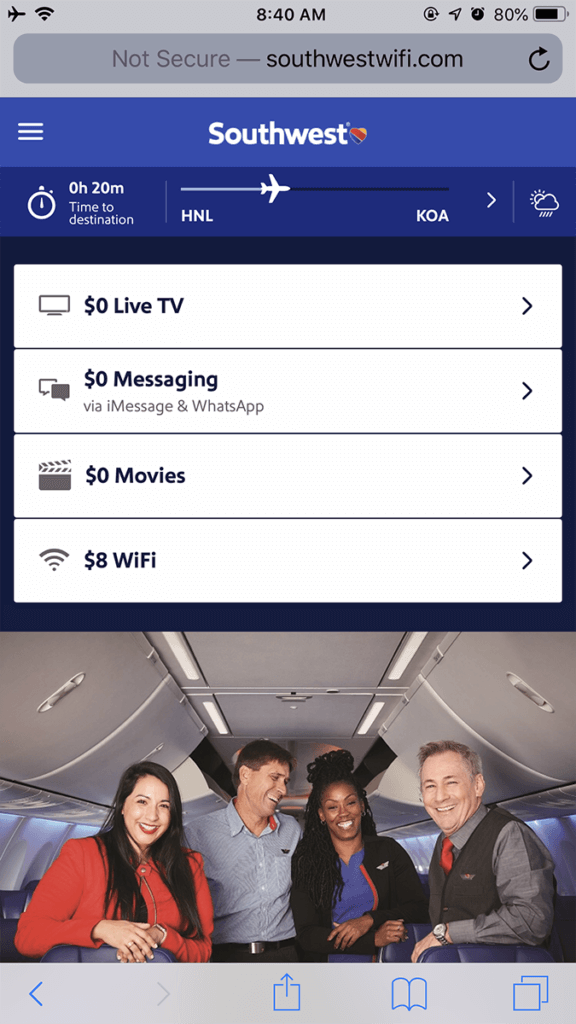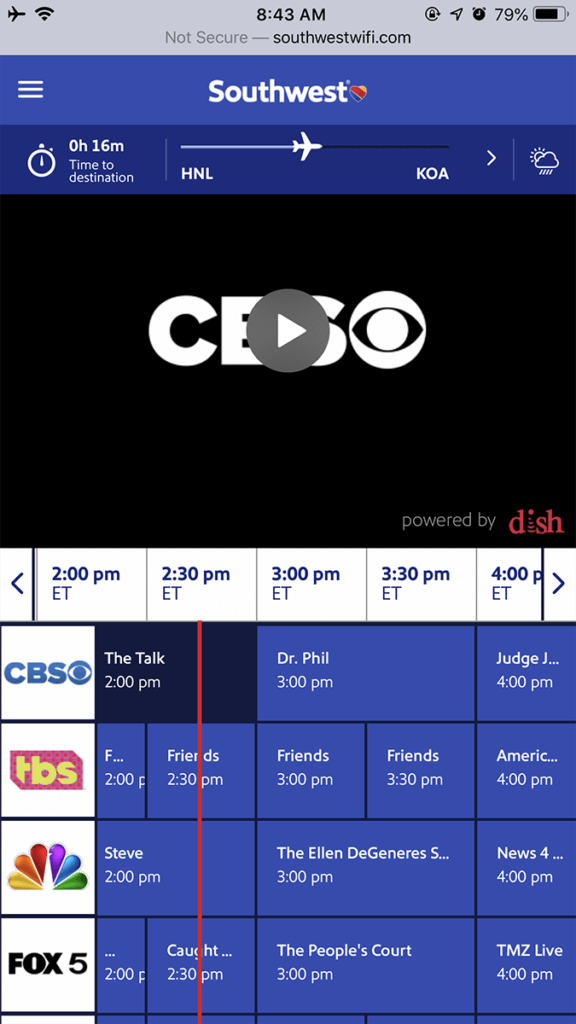 Once we leveled off near Molokai, the flight crew sprang into action, offering your choice of juice, water or other soft drinks, or a premium beverage for purchase. I opted for the juice that morning, which was cran-grape.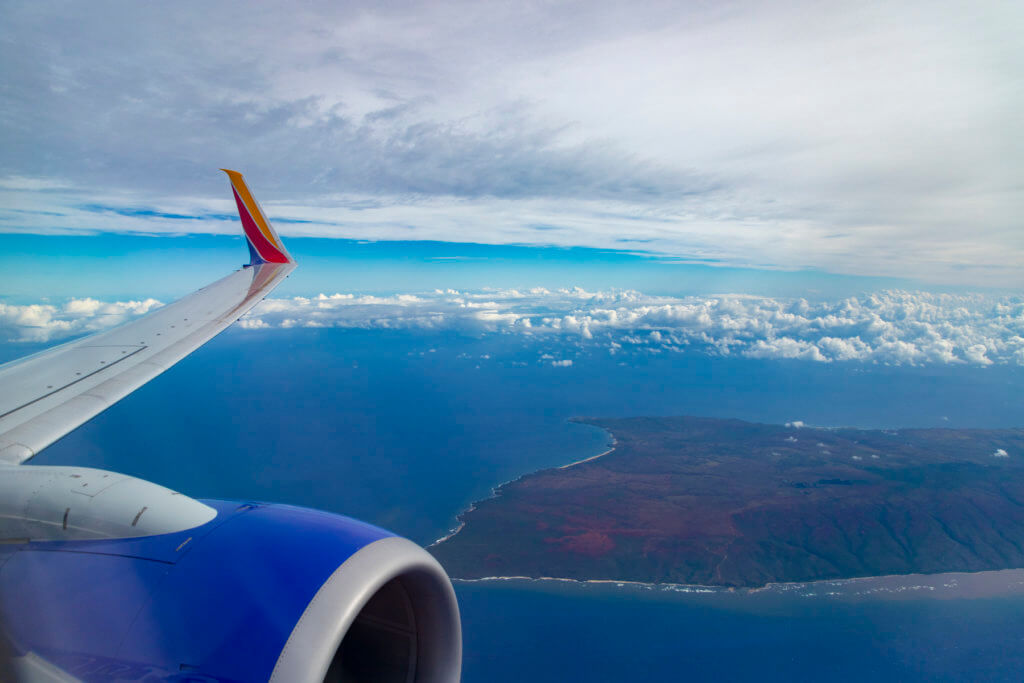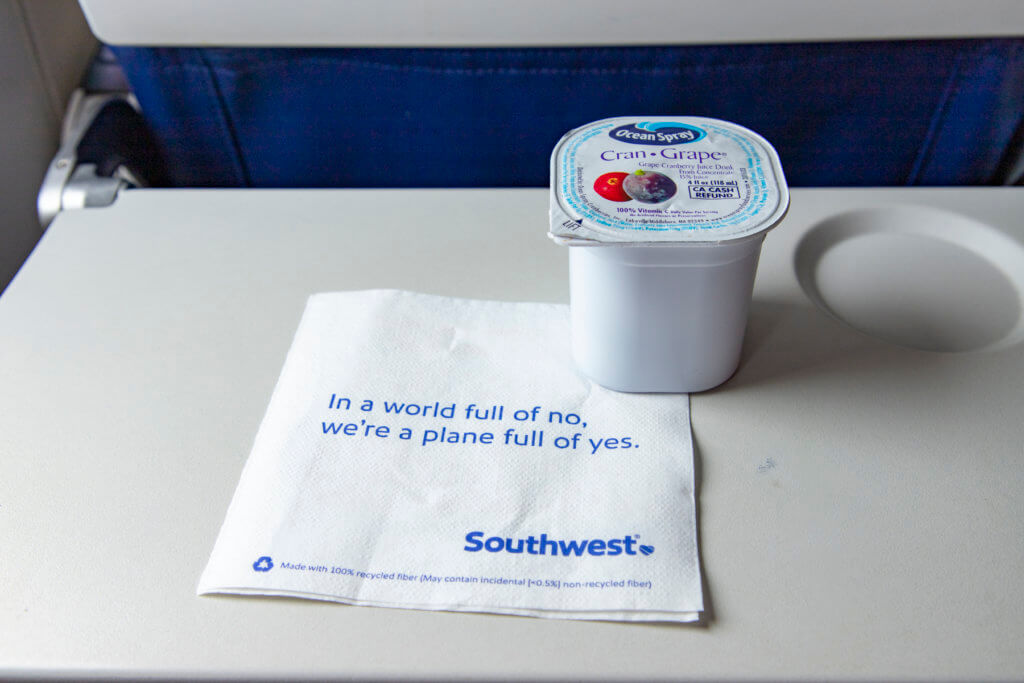 Interestingly, the containers of juice and water are served warm, which is different.
Despite the excellent in-flight entertainment options, I opted to watch the world go by out the window. After all, you can see most of the Hawaiian Islands during flights between Honolulu and Kona.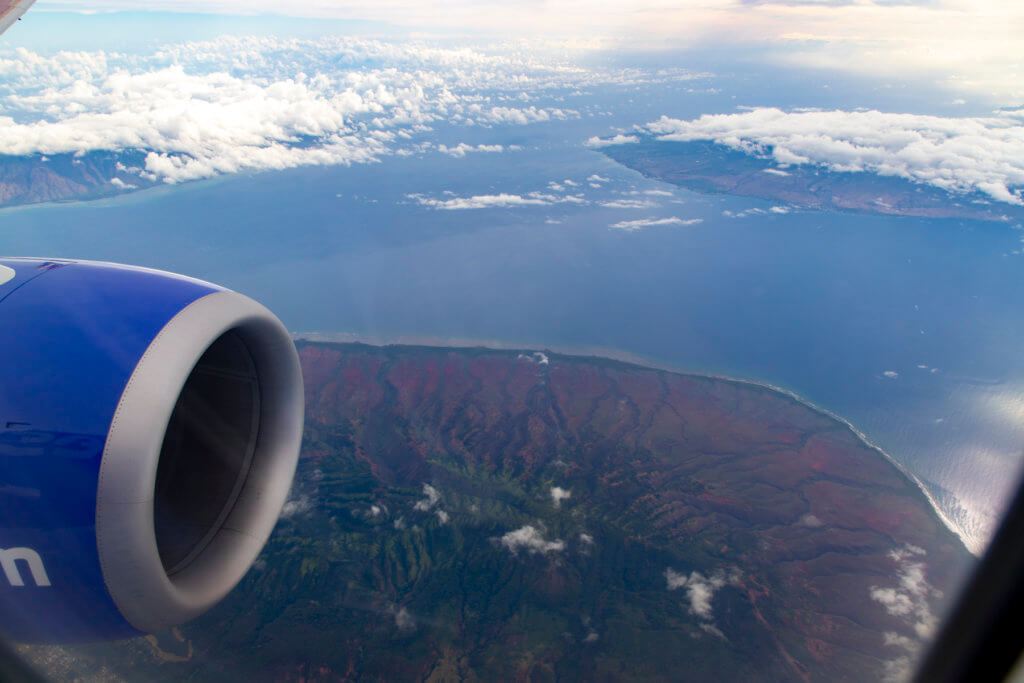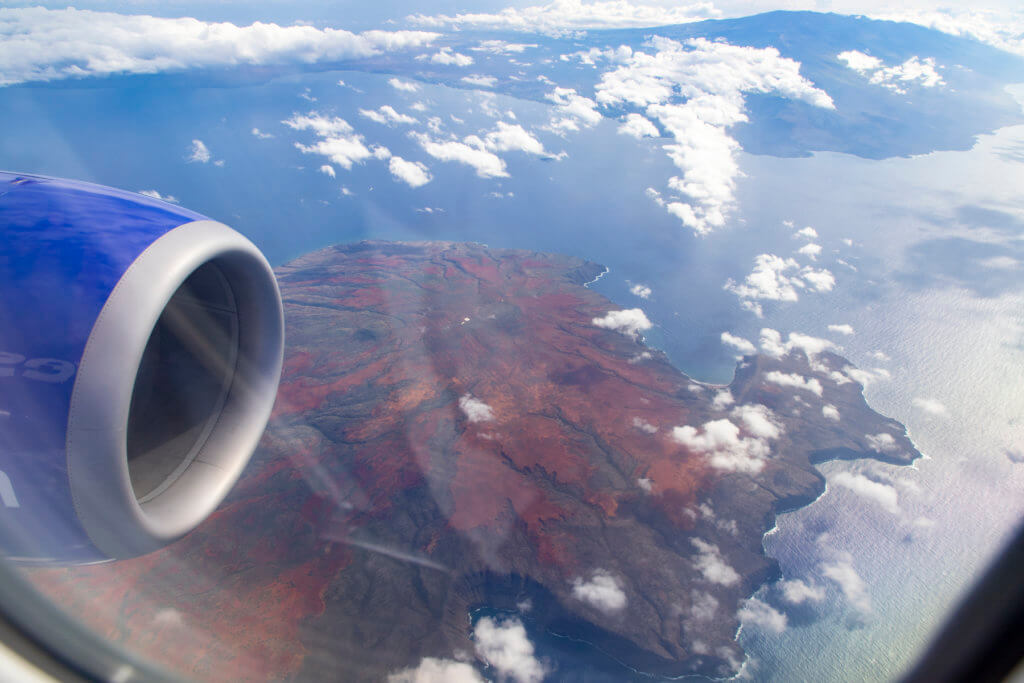 Upon completing drink distribution, flight attendants immediately began collecting used service items. They did, however, make two complete passes of the cabin.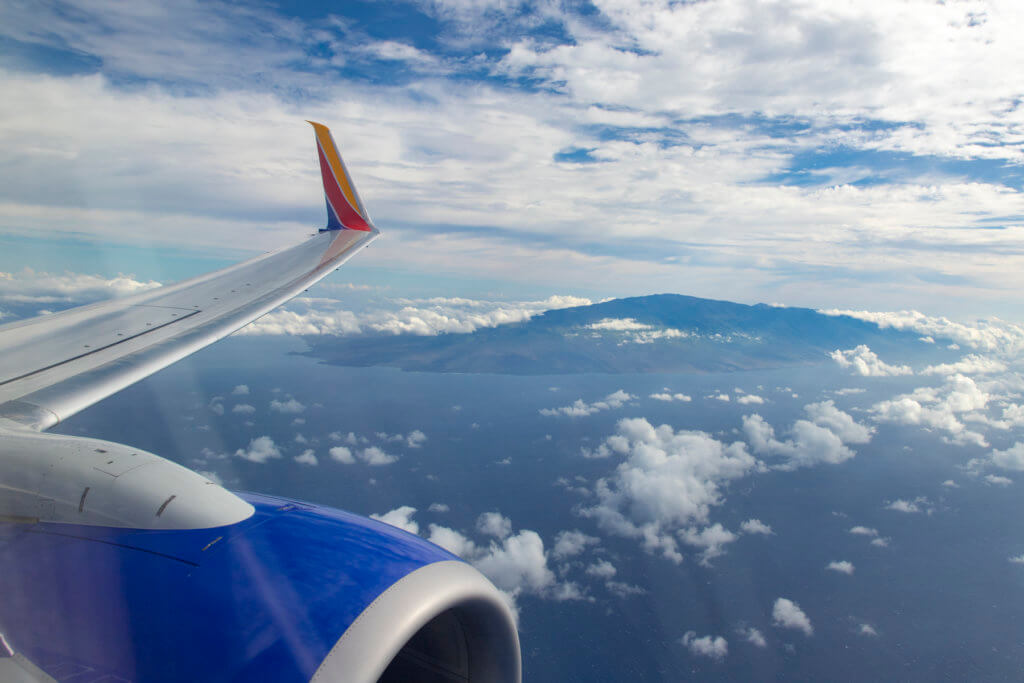 Just 15 minutes into the flight, our flight crew throttled back the engines and began our initial descent. Then, five minutes later, we began our final descent into KOA.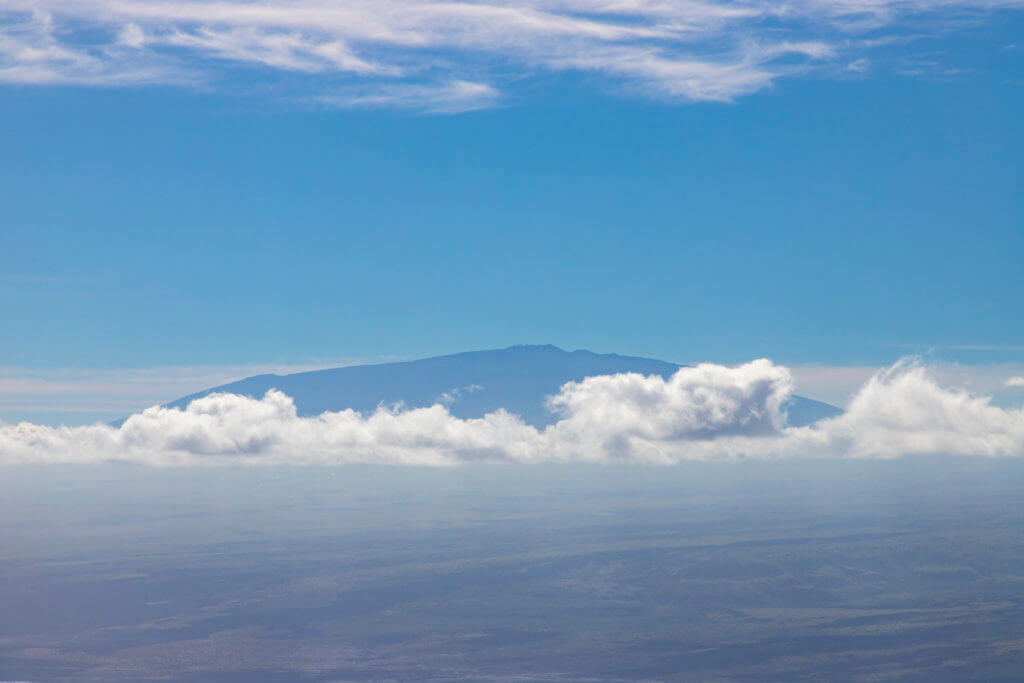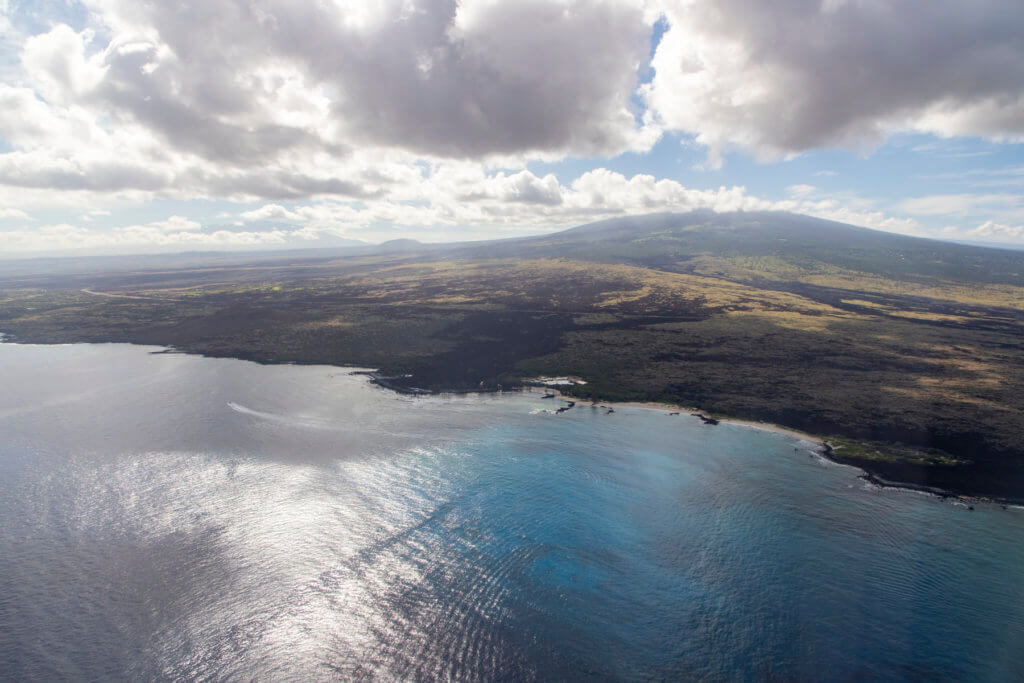 And, at 8:59 am, we touchdown in Kona, putting us in at our gate two minutes later at 9:01 am. That's a full 9 minutes ahead of schedule despite the late departure.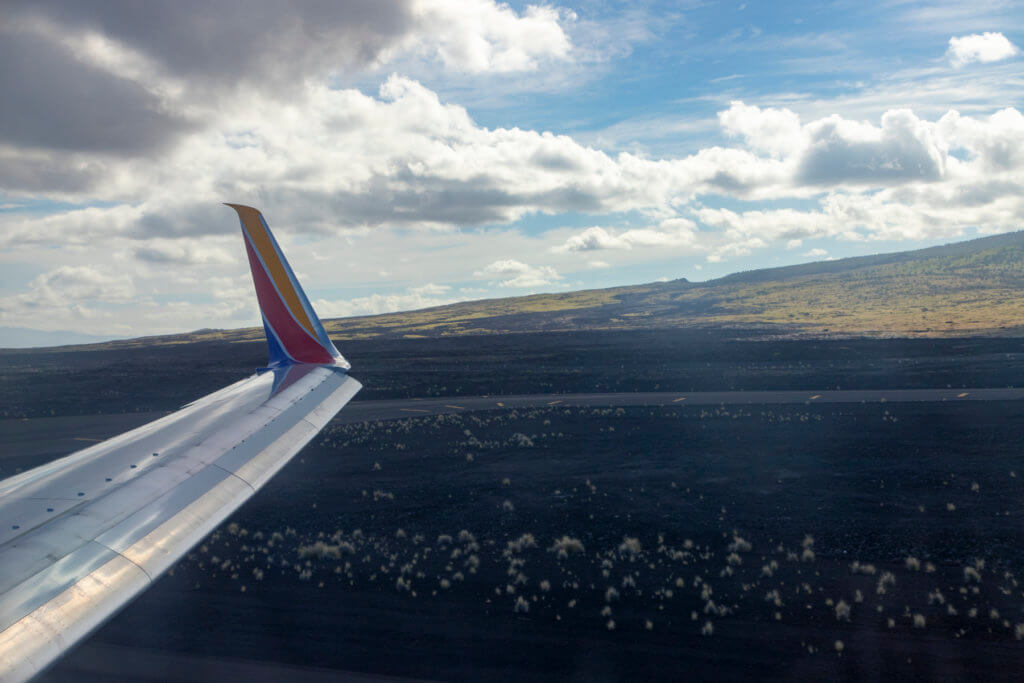 Then, two minutes after our arrival, the cabin door opened and we deplaned.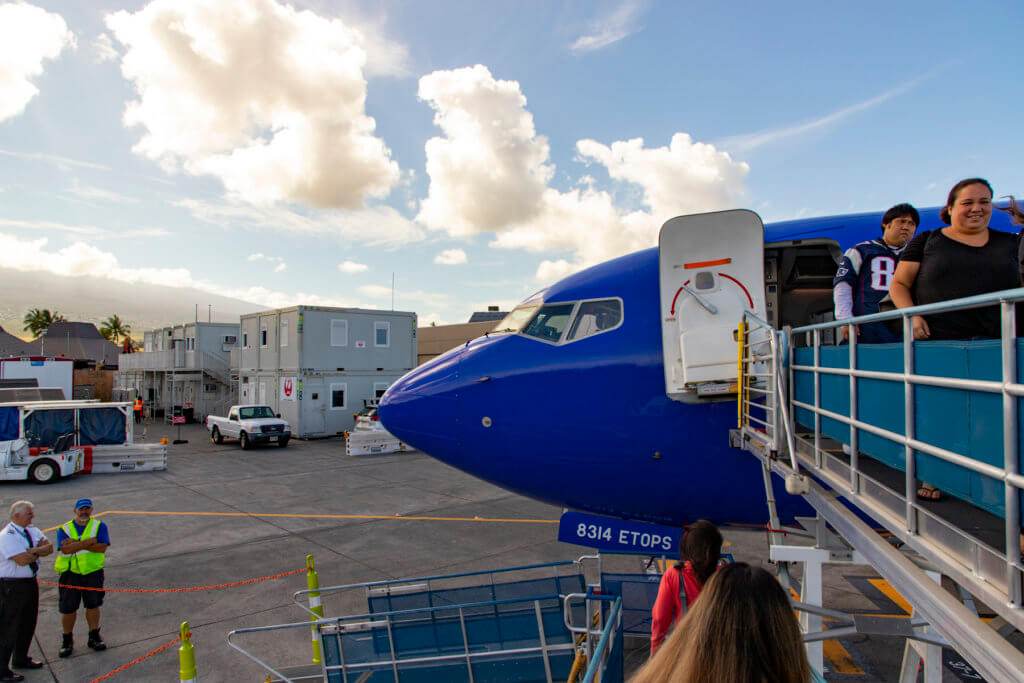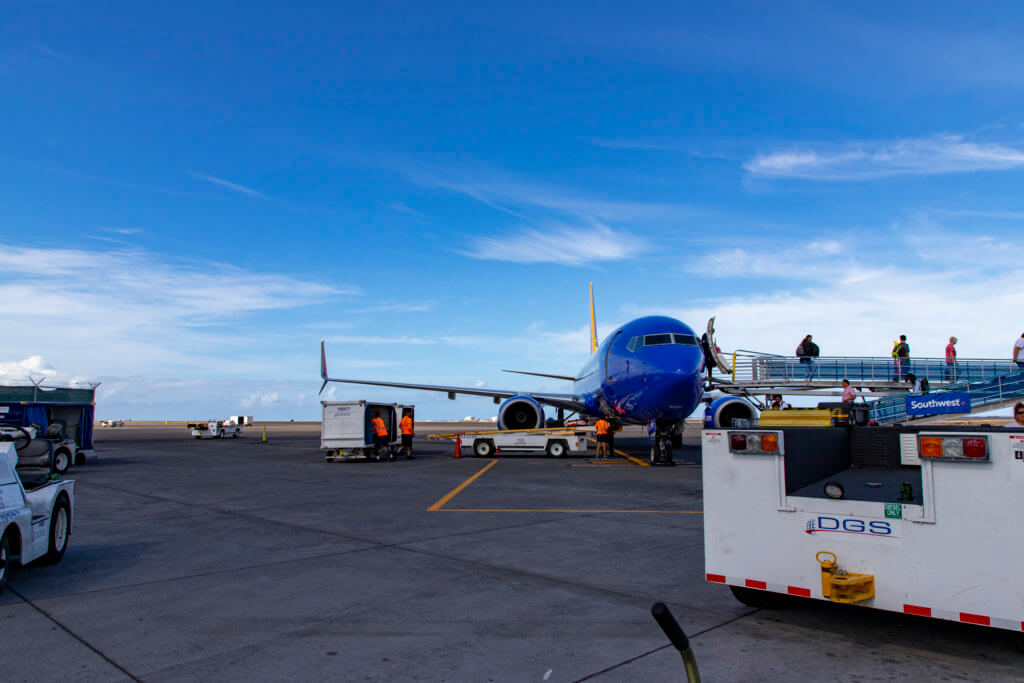 Baggage Retrieval
Unfortunately, our flight crew didn't inform us of our baggage claim number. However, we did empty out directly into claims A1 and A2, which look like they belong to Southwest.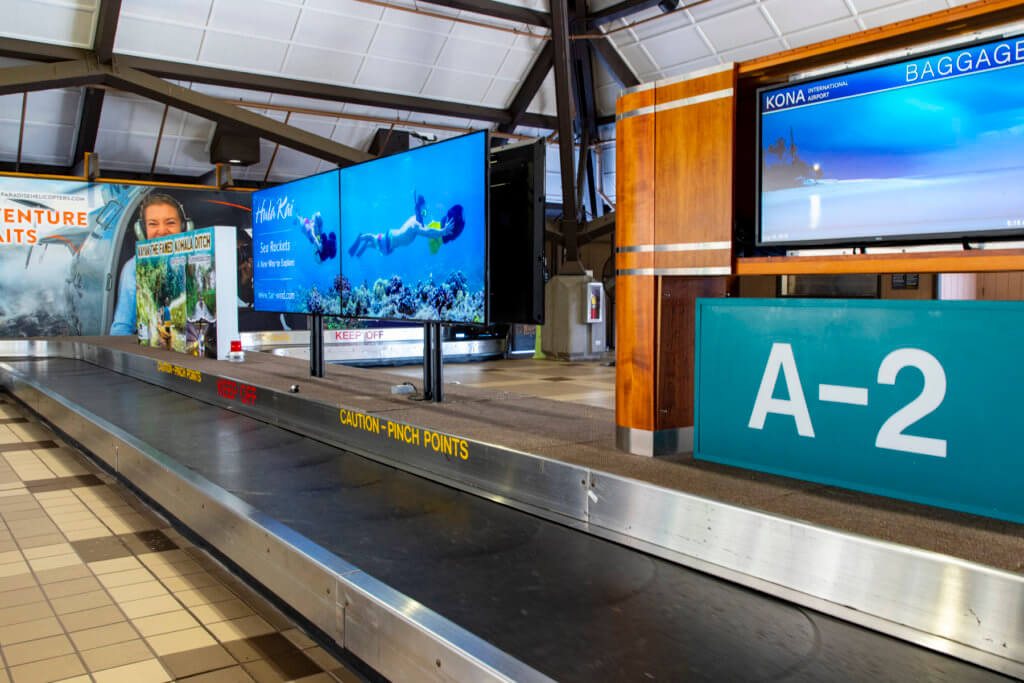 Eventually, bags began coming out on belt A2. We got our sole checked bag at 9:19 am, 16 minutes after door opening. However, it's important to note that our bag was one of the first off. Clearly, Southwest doesn't prioritize speedy delivery like Alaska and Delta do. But, you also shouldn't be waiting as long as you would with Hawaiian.
Southwest Airlines 1503 Honolulu – Kona, Final Thoughts
Flying Southwest Airlines for the first time was an interesting experience. Overall, the people are friendly and don't seem to take themselves too seriously. Service is largely on-time, though, to be fair, Southwest blocks 55 minutes for Honolulu to Kona, whereas Hawaiian blocks 47 minutes. That said, my last flight from Honolulu to Kona on Hawaiian was delayed by 45 minutes and I waited longer for my bag. So… Southwest 1, Hawaiian 0.
I will say, though, that while I love Southwest's current introductory fares (won't last forever!), no change/cancellation fees, two free check bag limit, and better on-time performance (in my experience), I'm still not sold. I really don't like Southwest's lack of assigned seating, nor do I like having to check-in at a specific time. But will I fly them again? If the price is right, then sure. And it helps that Southwest is an Ultimate Rewards transfer partner that charges less than half the number of points as Hawaiian does for an inter-island flight. But I highly doubt I'd fly Southwest between Hawaii and the mainland.
Big Island LUV
Southwest Airlines 1503 Honolulu – Kona