During our initial lockdown in 2020, I passed the time by finding Hawaii-based tree-to-bar chocolate operations and giving them a try. One of these was Maui Ku'ia Estate Chocolate. So I made visiting them on this trip one of my top priorities.
After breakfast, we headed to Ka'anapali. With little traffic, we got there in good time – about 45 minutes. That means we got to our hotel, the Westin Maui, way ahead of standard check-in time. Unsurprisingly, that also meant that our room wasn't ready yet. No matter, not wanting to stray far from the hotel, we headed over to Foodland Farms in Lahaina to stock up on some water and then went up the street to Maui Ku'ia Estate Chocolate.
Maui Ku'ia Estate Chocolate
As far as I know, Maui Kui'a Estate is the island's second tree-to-bar producer, the first being Maui Gold. It's also the first chocolate producer in West Maui, occupying space once used by the Pioneer Mill Company to grow sugar cane. While you can take a tour of their cacao farm, you'll need to book that experience in advance. We didn't do this and opted to pay their gift shop and cafe a visit instead.
Location
Maui Ku'ia Estate overlooks the town of Lahaina up the hill from and to little to the west of the Sugar Cane Train's Lahaina Station. In fact, their gift shop and cafe are immediately across from Star Noodle's original location – they're not on Front Street. Parking is available in their covered lot, while the area usually has ample street parking too.
Gift Shop
The gift shop and cafe are actually one and the same at Maui Ku'ia Estate. Here, you'll find their complete collection of chocolates, including flavored ones, bean-to-bar chocolates, and chocolates from select farmers from around the world. The cafe has a few baked goods and drinks and is located next to a window looking into their production facility. The shop also offers shirts, hats, cooler bags, and a few other knick-knacks for sale too. We ended up shopping after our tasting (more on that later in this post) and left with a substantial amount of chocolate for our families.
Before we shopped, though, we decided to take advantage of their Wednesday all-day happy hour special! As of our visit, the happy hour special grants you 50% off a nine-piece chocolate tasting flight (dine-in only), Lilikoi Chocolate Mousse, Hot Chocolate, and the Brownie of the Day. We both went with the nine-piece chocolate tasting flight, which came out to about $10 at the time.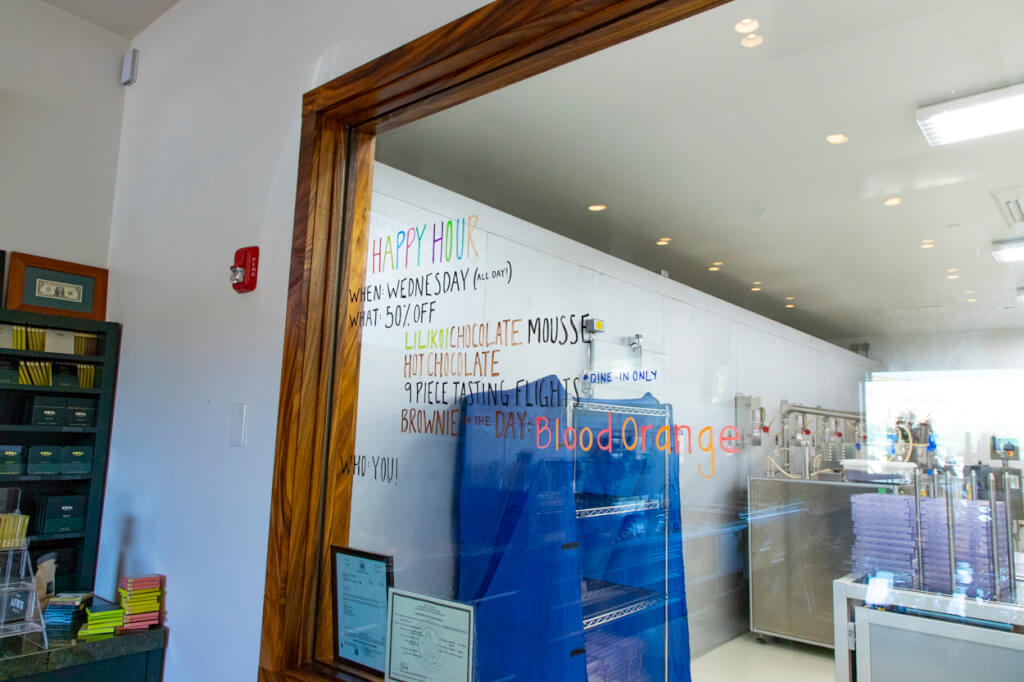 Tasting
To do our tasting, we were taken to a table out front and were each served a plate of individually wrapped chocolates of our choice and some water.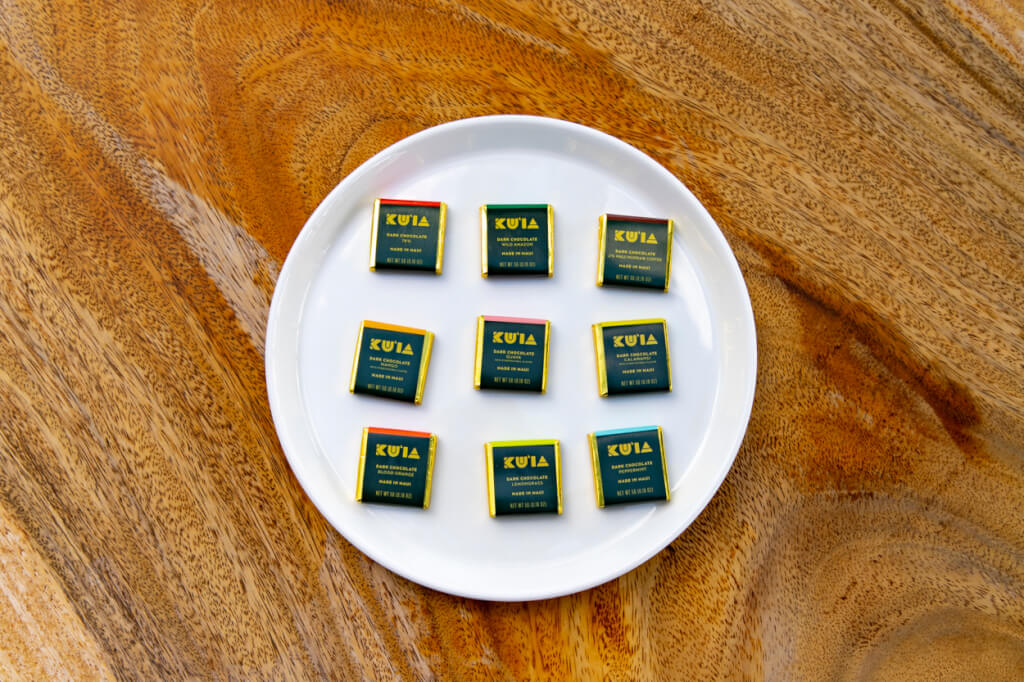 Usually, I'm not a fan of flavored chocolate. But, since that's what most of their chocolates are, I decided to give them a shot. Of the flavors, the plain old chocolate one was my favorite with the coffee coming in second. Of the remaining flavors, the mango and orange tasted the most like their actual fruits. I'm not a fan of orange chocolate, though, and the blood orange one here is no exception. However, I did find the lemongrass to be very intriguing with its floral and sweet lemon flavors. The calamansi was interesting too, possessing an almost tutti-frutti flavor profile. Unfortunately, the guava was nearly indistinguishable, and I wasn't a fan of the almost toothpaste-like style of the peppermint. That said, some of the flavors I didn't care for are among their best sellers, so what you think of them will greatly depend on your own personal preferences.
Brownie
Aside from the tasting, I got myself a brownie to enjoy later. I had heard great things but was a little concerned due to the light color and chocolate drizzle. Luckily, my fears had no merit. This brownie was a great balance of fudgy and cakey with added crunch from the cacao nibs sprinkled on top. This is easily one of my favorite brownies in Hawaii.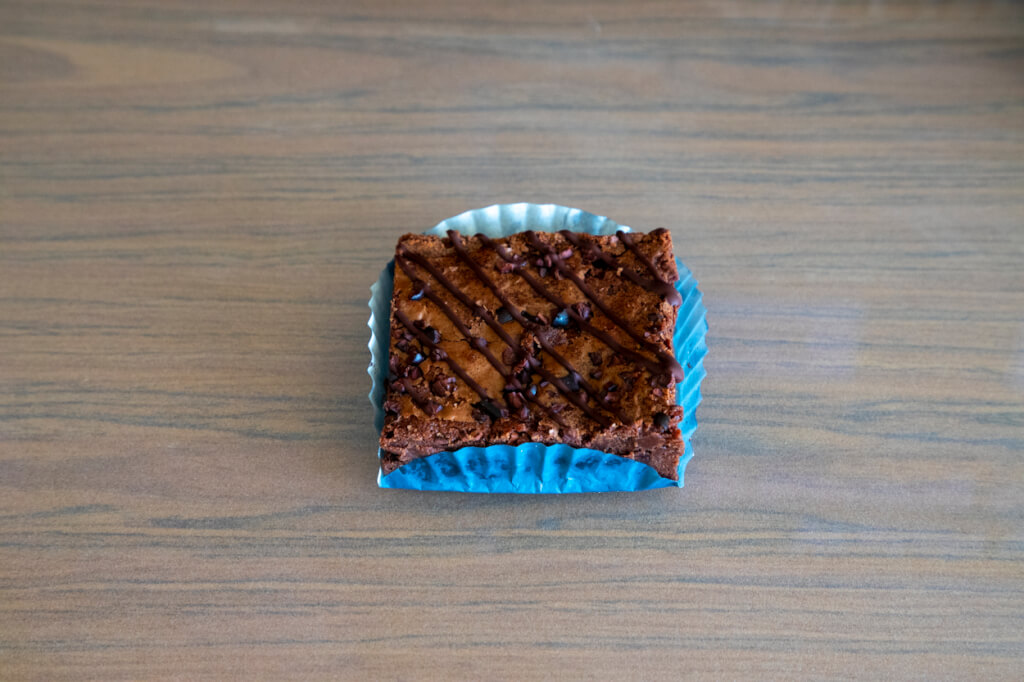 Final Thoughts
For all you chocolate lovers out there, I firmly believe that Maui Ku'ia Estate is a must-visit site when you're in Lahaina. Plus, you can make your visit as involved or not as you like. Given more time, I'd like to do the farm tour one of these days, but visiting just for the tasting and shopping was cool enough. Heck, I'd probably come back just for the brownie! And it's not like this place is difficult to get to either. It is, by far, one of the most convenient places to visit in the area. And for those of you that can't make it to Hawaii, you can always order online. They ship!
Grand Maui Adventure