Knowing that our room wouldn't be ready for a while, I made brunch reservations for our day of arrival on Maui. Wanting to try something new this time, I chose SixtyTwo MarcKet in Wailuku for our first meal on-island.
Typically, when we fly into Maui, our first order of business is to get something to eat. Usually, that means a stop at Sam Sato's. However, one of my goals for this trip was to break us out of our habits and try something new. After doing a bit of research, I settled on SixyTwo MarcKet owing to their intriguing menu and the pedigree of chef-owners.
SixtyTwo MarcKet Location
As its name suggests, SixtyTwo MarcKet is at 62 North Market Street in the center of old town Wailuku. It's a charming little spot near the historic Iao Theater. It's a very walkable area with tons of shopping nearby, though parking is at a major premium. Some stalls are available in the Theater's lot out back (free), though they fill up quickly. Metered street parking is also available, though you may have to circle around a few times like we did to snag one. If all of those fail you, you can also park at Wells Park (about 0.5 miles away) and walk over, or park at one of the Da Bee Shuttle's designated lots (free) and take advantage of their complimentary shuttle service. By the way, I urge you to make reservations when dining here. We came on a non-holiday/school break Wednesday, and they were SLAMMED.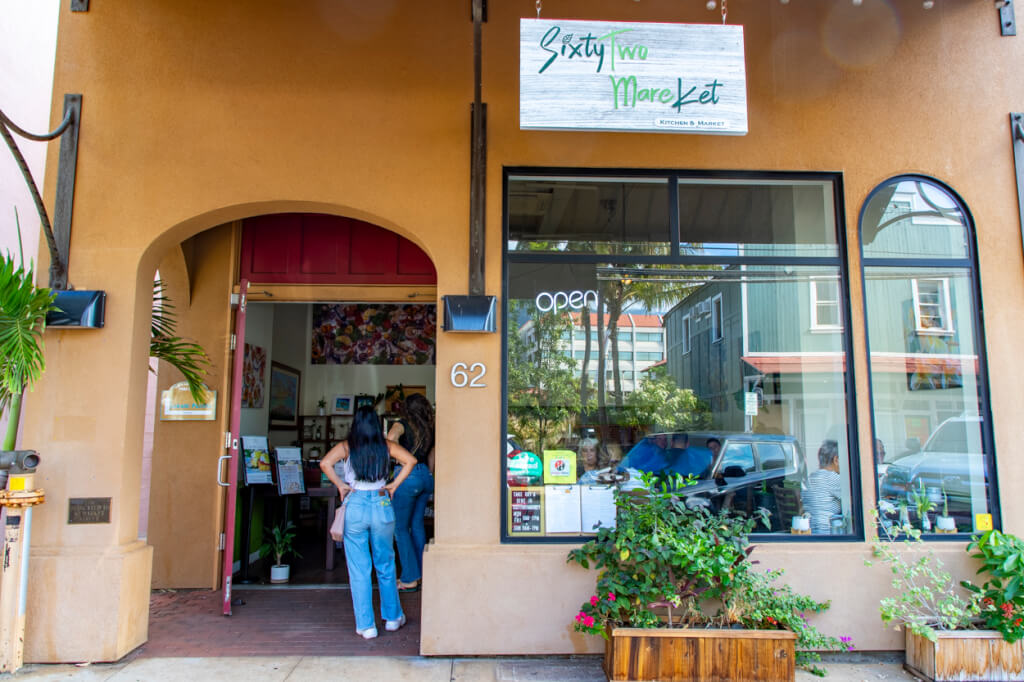 SixtyTwo MarcKet Service & Ambiance
Overall, I say service was good. They were slammed and you could tell due to the wait times and whatnot. But the staff was just about always friendly and were always doing their best – no complaints. The restaurant was a bit loud, though that's also to be expected, while the overall decor felt a little rustic and homey all at once.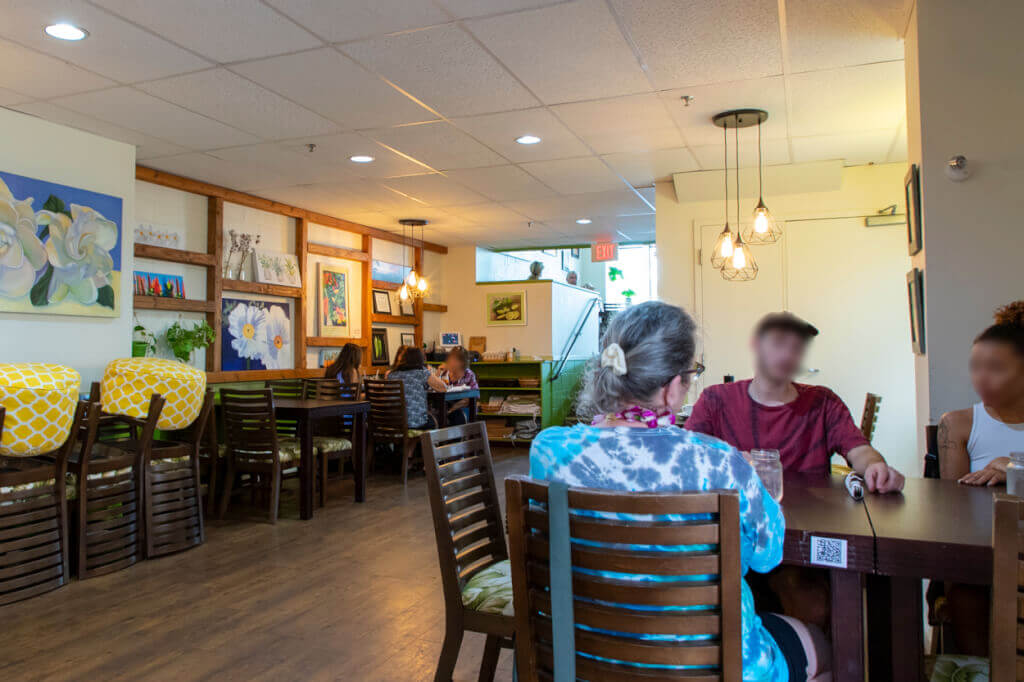 Food
The menu at SixtyTwo MarcKet changes with the seasons. When we popped in last November, they were on their fall menu. That means a few special dishes made with pumpkin, squash, etc. Otherwise, their menu consists of a mix of classic and modern dishes ranging from their take on an eggs benedict (they swap cornbread for an english muffin) to bubble egg waffleIsland Milers.
While we were hungry, we weren't overly so and decided to split the seasonal Wailuku Town Stuff Brioche French Toast ($11) and the Bacon Mushroom Omelet ($12). Mrs. Island Miler also got an iced coffee.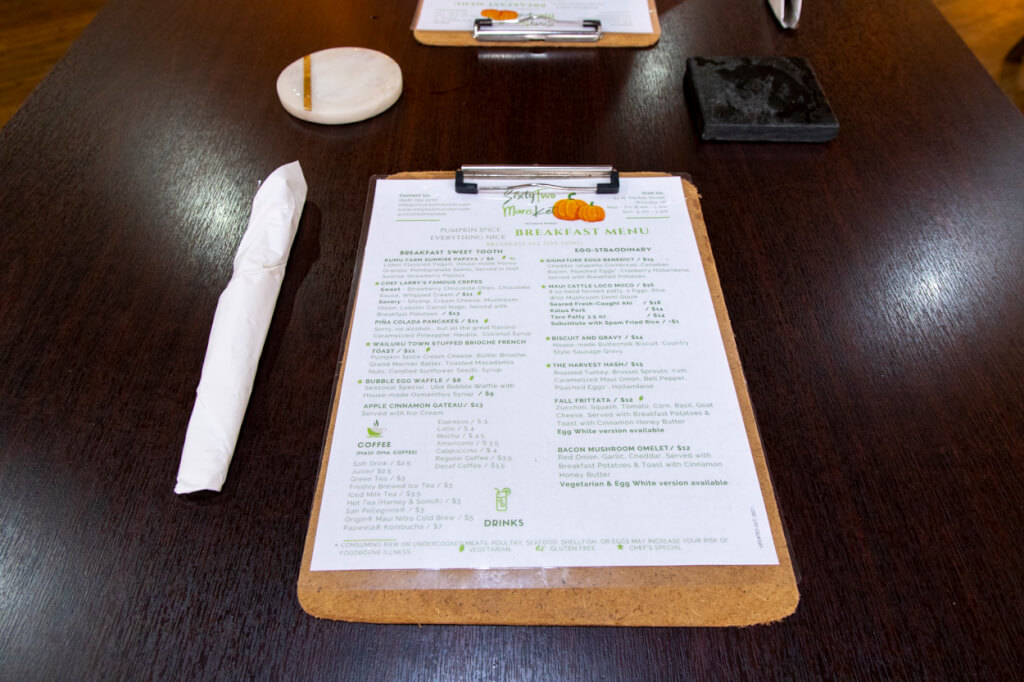 The Bacon Mushroom Omelet is probably one of the least intruiging items on the menu, but it's what I felt like eating, okay? Honestly, I wouldn't gotten the benedict if the cornbread wasn't a jalapeno cornbread, but oh well. The garlic in the filling really helps to punch of the savoriness of the dish, while the roasted potatoes were nice and crisp. If I had to nitpick, I'd say that I wish the toast came plain buttered instead of their usual cinnamon honey butter. I also wish the omelet wasn't cooked so hard. How marvelous it would be to have the omelet slightly runny and eat that with buttered toast?
Both Mrs. Island Miler and I love pumpkin items so the french toast was right up our ally. These THICK pieces of french toast were pillowy soft with a nice, balanced amount of sweetness. Do I wish there was more filling? Sure. But what filling was there was phenomenal! It's like pumpkin pie filling meets cream cheese. Heck, the thing was so good as is that we didn't touch the butter or syrup. Toasted macadamia nuts and pepitas help to add some texture to the dish.
Final Thoughts
We both enjoyed our brunch and SixtyTwo MarcKet and will likely return. In fact, this may become our new go-to day-of-arrival brunch spot on Maui. It does take a bit of planning, though having the reservation is better than waiting for ages at Sam Sato's. And if, for some reason, we can't get a reservation, we'll simply do takeout. That said, SixtyTwo MarcKet is a great example of the evolving dining scene on Maui. Sure, they're still far from the culinary excitments on Oahu, and, in my opinion, are behind the surprising surge in creativity coming out of Hilo. But, things are getting really exciting for foodies on Maui!