Last updated on February 13th, 2022 at 08:03 pm
For this trip to Maui, I chose to get our car from National Car Rental Kahului. The overall experience was similar to that of Vegas, only there was no shortage here, though the car I ended up with wasn't as good as the one I had in Sin City.
After quickly securing our bags from our carousel, I dashed across the street to Maui's newish consolidated car rental center tram. Sorry, I don't have any photos of this or the facility, as I was rushing around like crazy! That said, I wasn't originally planning to take the tram, but it was there when I got there, so I hopped on board. After a quick 5-minute ride, including one stop across the airline check-in lobbies, we arrived at the CONRAC. I got off and took the elevator up one level to National Car Rental.
National Car Rental Kahului
Once upstairs, I proceeded to the Emerald Executive area, where I was waved on to select a car. Unlike Vegas, the area was completely filled! That said, there were only a few varieties of vehicles there that day, including Dodge Challengers, Nissan Maximas, Jeeps (not Wranglers), some Chrysler Pacificas, and Nissan Frontiers. I totally would've gone with the Challenger, but I needed more baggage case than that. So, I ended up picking a Maxima instead – a choice I'd later regret. With that, though, I hopped into the car and proceeded to the exit. Once there, my paperwork was quickly processed, and I was on my way.
Mrs. Island Miler was still at the terminal, trying to secure a rare Starbucks cup for her sister, so I swung back around to get her.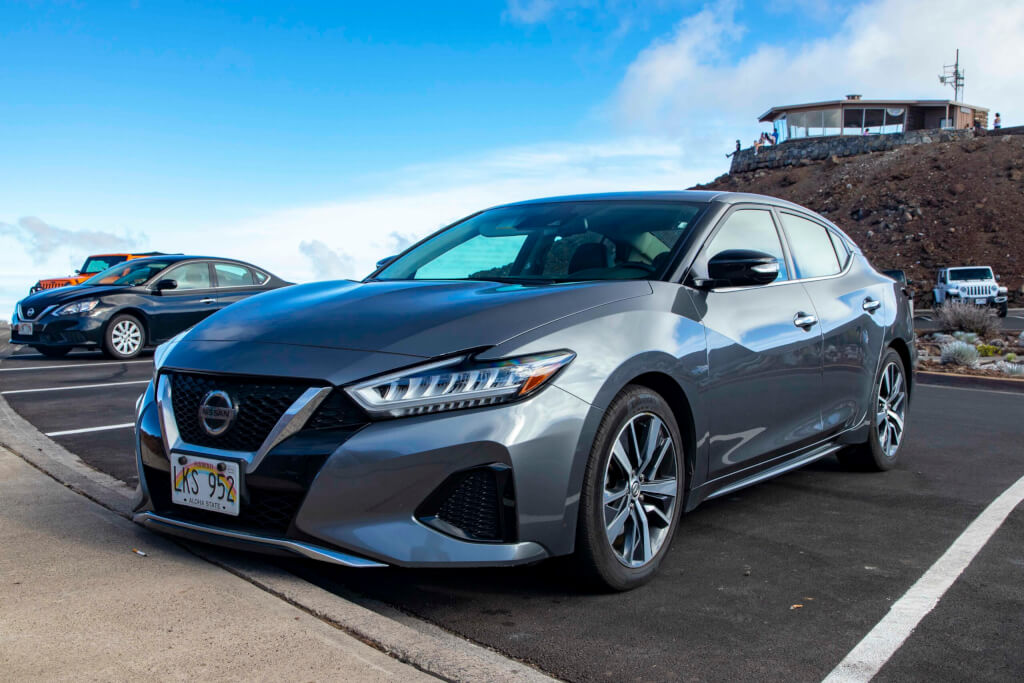 Nissan Maxima
The last time I had a Nissan as a rental, I hated it. The car was gutless and the CVT transmission had a weird rubberbandy feel to it. Not to mention the interior felt cheap as hell. Thankfully, things weren't so bad this time around. The late-model Nissan Maxima I got felt like it had adequate an adequate amount of power. Its interior, while still not that great, was comfortable enough and was a step up from last time. Then again, this is Nissan's range-topping vehicle, so it should be better than the Altima I had last time.
I will say, however, that Apple CarPlay was kind of finicky on this vehicle. It wouldn't always connect when we plugged either of our phones in, leaving us to fiddle with it to get the navigation going. Also, in what came as no surprise to me, the CVT transmission in this car is still miserable. It felt every bit as rubberbandy as the Altima I hated and zapped much of the power from the car.
Vehicle Return
Returning our car was just as easy as picking it up. I pulled into the National return line, the employee asked me a couple of questions, and we were on our way. The receipt for our rental showed up in my account very soon after we walked off with the exact price I expected to pay.
Final Thoughts
As was the case in Vegas, this rental was drama-free. I wasn't really a fan of the car, though, and will avoid choosing it in the future if I can. That said, it was probably a better pick than the Jeeps they had available. Heck, if there were Mustangs available, I probably would've gone with that instead. Alas, the Mazda CX-30 we had in Vegas is still my favorite National car to date. Nothing, however, beats the Mazda CX-5 we got in Portland. Well, nothing except for the Silvercars we used to rent. Oh well.
At any rate, National Car Rental Kahului is a fine experience. They have a good selection of cars and the service was quick, friendly, and painless. I can't ask for any more from a car rental!
Grand Maui Adventure
National Car Rental Kahului