Aside from checking out Waicoco, my other restaurant goal for our Maui trip was to finally try Sale Pepe Maui. Hailed as one of the best restaurants in the islands by many of Hawaii's top chefs, Sale Pepe has long been on my to-try list. And I'm glad we finally got here.
Sale Pepe's origin story is part of its charm. Qiana, a native of Brooklyn, New York, met her husband, Michele, a native of Milan, Italy, at Michele's restaurant in New York. The two vacationed on Maui while dating and eventually married during one of their visits! They loved Maui so much, however, that they decided to close Michele's restaurant in New York and relocate to Maui, where they opened Sale Pepe.
That's incredibly fortunate for Maui residents, as authentic, quality Italian cuisine is exceedingly difficult to find in Hawaii. In fact, on Oahu, I'd say that only Piccolo Onda, Brick Fire Tavern, and Fatto a Mano do it right. All the other great Italian places on Oahu have a heavy Japanese influence which isn't bad but isn't what you want when you're looking for the real deal. And of these, only Sale Pepe and Brick Fire Tavern are sit-down restaurants.
Sale Pepe Maui Location
Part of the reason we haven't been to Sale Pepe before is its location. Typically, we stay in Kahului or Kihei/Wailea. However, Sale Pepe is over in Lahaina, which is quite a drive from Kahului. Specifically, you'll find Sale Pepe tucked away towards the back of the Old Lahaina Shopping Center, closer to the Front Street side. The center has a large parking lot, though it's often filled. So arrive early enough to give yourself ample time to look for a stall.
Reservations, by the way, are a must if you don't want to wait a LONG time. This restaurant is quite popular and seems to always be packed! Fortunately, reservations are easy to make via Resy. Just be aware of the late cancellation/change fee of $15/person for any changes you make within 24 hours of your reservation.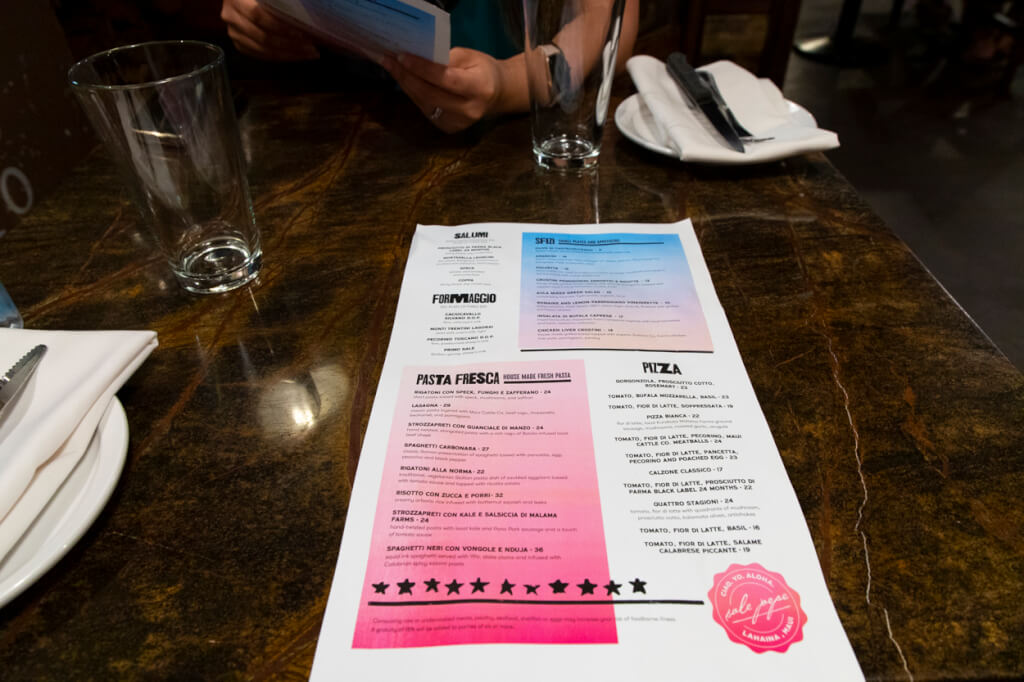 Sale Pepe Maui Service + Atmosphere
A white tablecloth experience this is not. I'd describe Sale Pepe as a more rustic/homey place with absolutely no pretense. At its core, it's a neighborhood restaurant, and it definitely feels the part. Sure, it can get a little loud in there, but Mrs. Island Miler and I never had an issue communicating with each other or our server. Service, by the way, is also great. Our server was friendly and provided just the right amount of attention.
Food
For lovers of Italian food like us, deciding what to order is, perhaps, the most difficult part of a Sale Pepe visit. However, we eventually settled on the Chicken Liver Crostini, Olive di Castelveltrano, Proscuitto di Parma Black Label, Quattro Stagioni, Spaghetti con Tartufo Nero, and Tiramisu.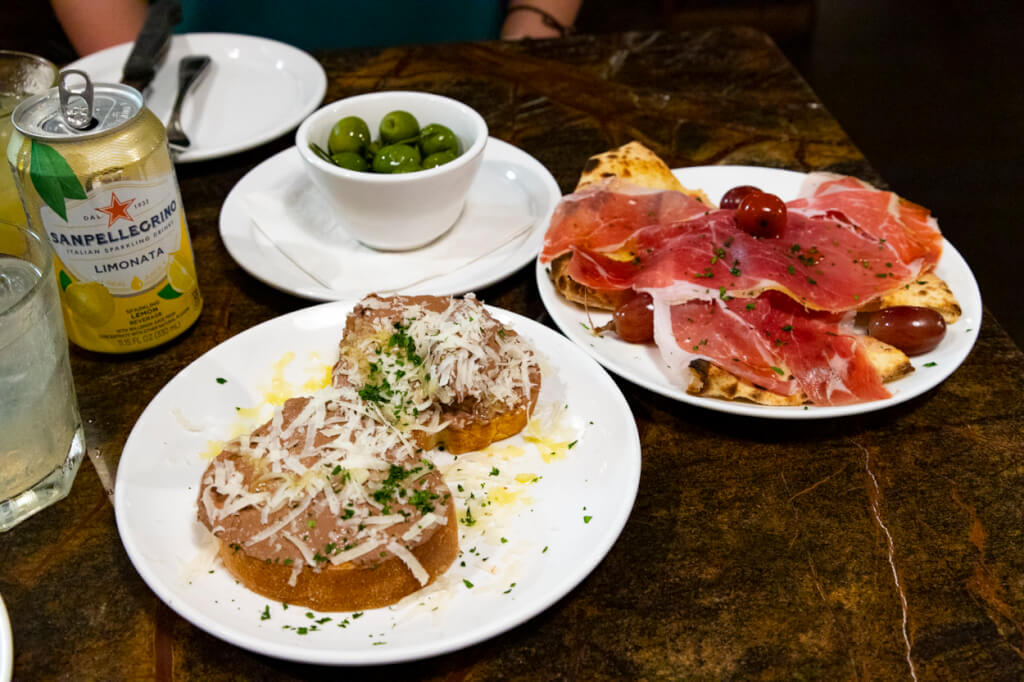 Chicken Liver Crostini
Chicken liver pate/mousse can go one of two ways – really great or really bad. Sale Pepe's version is really great! It's creamy, meaty, rich, and packs tons of umami while having absolutely no grit. It pairs perfectly with their charred, house-made bread and the accompanying parmesan and parsley.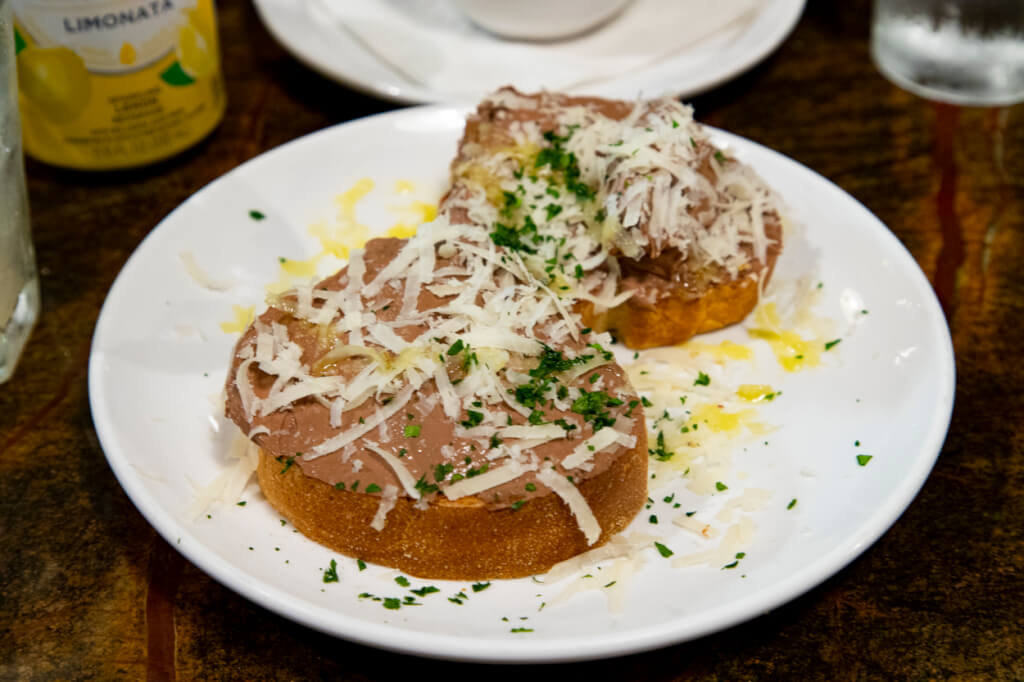 Prosciutto di Parma Black Label
We love good charcuterie. And while my favorite ham will always be Iberico types, Italian Proscuitto is great too. Here, they serve it up with a naked pizza crust along with pickled grapes and tomatoes. The grapes were on the stronger side, which we liked, and helped to cut the richness of the ham.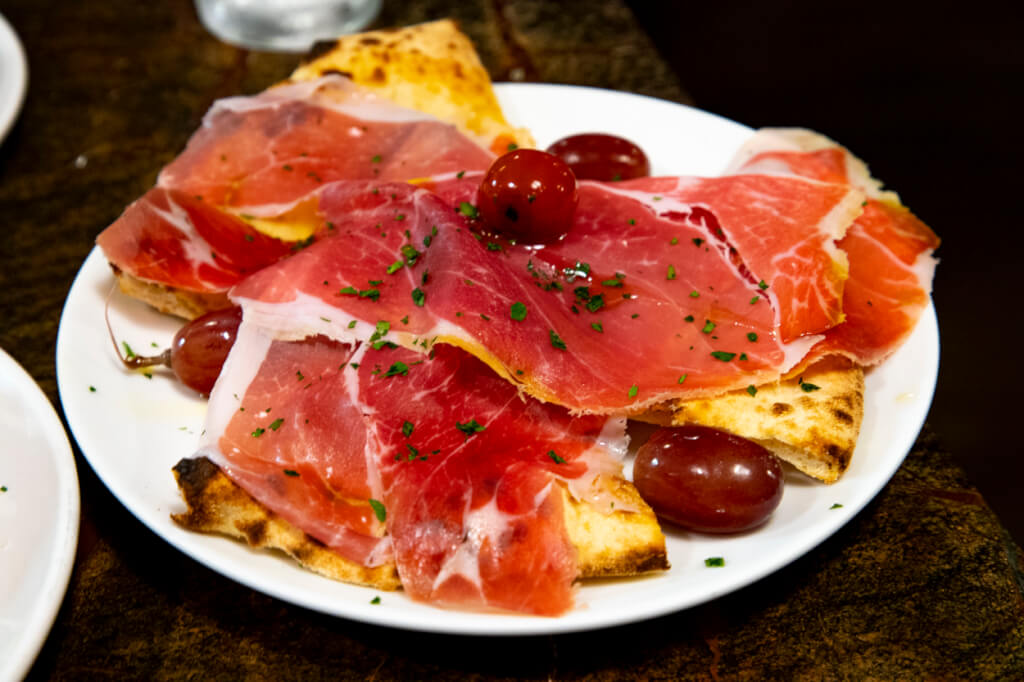 Olive di Castelveltrano
Here, Castelveltrano olives are presented warm, having taken a trip into the wood-burning oven with some rosemary and olive oil. While green, this variety of olive is more similar in flavor to the standard black olive, though they pick up some of the rosemary and smokey flavors in this prep.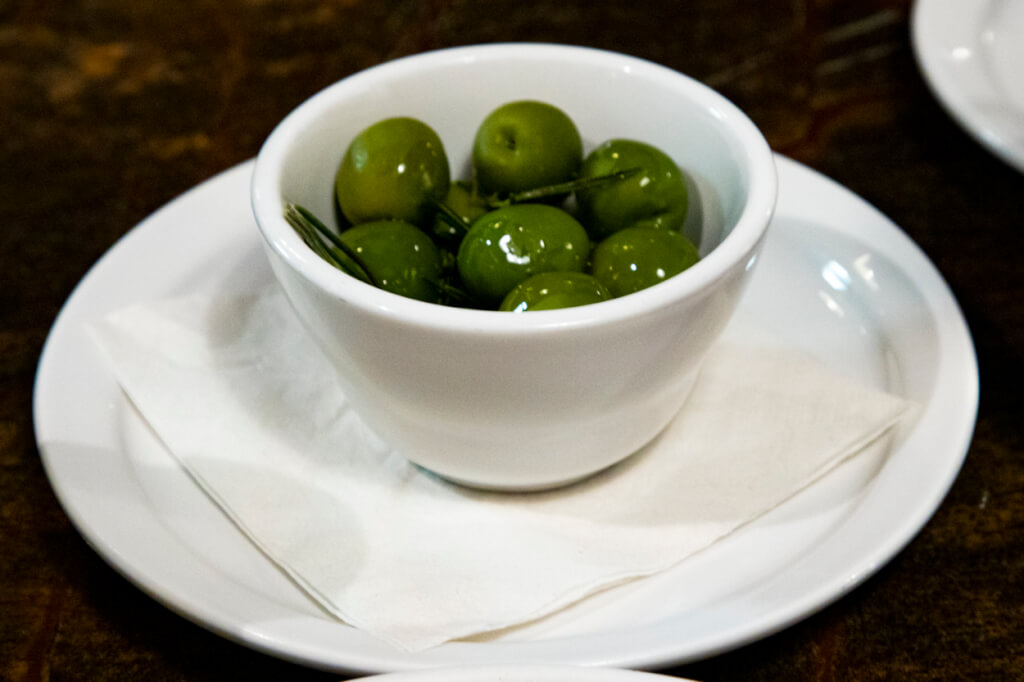 Quattro Stagioni
Can't decide what pizza you want to try? Order Sale Pepe's Quattro Stagioni. As it's name suggests, you get a whole pizza split into four sections featuring different toppings. The whole thing is covered in their tangy, flavor-packed sauce and fior di latte. However, one quadrant comes topped with mushrooms, another with prosciutto cotto, another with kalamata olives, and another with artichokes. Of the four, the ham was probably my favorite. The meaty, yet tender, and salty ham helps to punch up the flavors of the sauce and cheese. The mushroom was good, though a bit watery, while the artichoke was probably my least favorite segment.
The crust, by the way, is airy and has a nice amount of charring from Sale Pepe's wood-burning oven. This is definitely one of the better pizza crusts in Hawaii.
Spaghetti con Tartufo Nero
On special that night was Sale Pepe's house-made spaghetti tossed in olive oil with black pepper and parmesan, then topped with a generous shaving of black truffles. First off, let me say that I often prefer dried spaghetti over fresh. Dried pasta provides an al dente bite thats usually abscent in fresh preparations. However, that's not the case here. Sale Pepe's fresh pasta has a pleasant and interesting texture to it. It has more of a bite and chew than you typically find with fresh pasta, being better than the fresh pasta recipe I use at home. I love it!
As for the overall dish itself, it's very nicely balanced. I do wish that they'd use proper Perigord truffles instead of the lesser Burgundy truffle, though I still found the value to be worthwhile.
Tiramisu
Though we were already quite full, we decided to close the night out with a Tiramisu. This is another one of those dishes that many other places get wrong simply because they're trying to fancy it up or make prep easier. Not so here. Sale Pepe's version combines real ladyfingers with coffee, mascarpone cream, and a dusting of cocoa powder. That's it. That's exactly how I make my tiramisu and how we enjoyed it back in Italy. Absolutely perfect! Including their use of a glass to serve it, making it far easier to eat than from a plate. I wish everyone would stick to this style of tiramisu!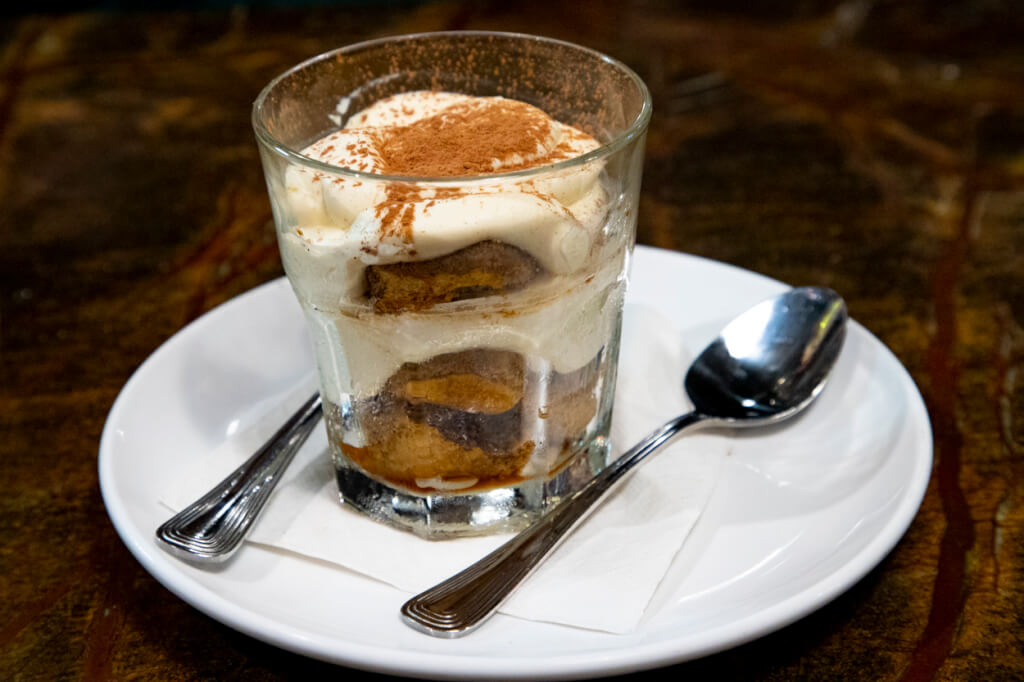 Final Thoughts
Dinner for the two of us including soft drinks, tax, and tip came out to $152.04. That's a good deal in my book considering the quality and quantities we enjoyed that night. So not only does Sale Pepe offer fantastic Italian food in a comfortable setting, but they do it at reasonable prices. There's no doubt in my mind that we'll be back someday. Heck, writing this posting is making me want to hop the next flight over. I'd even be willing to plan a day in Lahaina to enjoy a meal here if I'm not staying in the area during my next visit. Sale Pepe is that good. And I highly suggest giving them a try if you're looking for a great meal at any price point!