Monkeypod Kitchen by Peter Merriman is set to open its fourth location later this year. It'll be the brand's second Oahu location and its first inside a hotel. And while its menu will be similar to its other locations, it'll have some unique offerings. So where's it going? That's right, Monkeypod Kitchen is opening in Waikiki!
Monkeypod Kitchen is Chef Peter Merriman's casual concept.  It's similar to his more upscale Merriman's restaurants in that they source the majority of their ingredients from local farmers. However, the vibe is more relaxed with a focus on more of a family-style type of service. The first restaurant under this concept opened in Wailea, Maui, back in 2011. Then, in 2013, Monkeypod Kitchen made its way to Oahu, opening in Ko Olina Resort's Ko Olina Station center. And since its opening, the place has been consistently packed. We used to eat there at least a couple of times per year, primarily when staying at Aulani.
The final new Monkeypod Kitchen to open before now was in Ka'anapali back in 2017. However, Moku Kitchen, a Kakaako (Honolulu)-exclusive version of Monkeypod Kitchen, did open in October 2016.
Monkeypod Kitchen is Opening in Waikiki
So that brings us back to their upcoming location in Waikiki. As I mentioned earlier, this new location brings a couple of firsts to the chain. So let's talk about the first, first – a hotel location. As you might recall, I recently reported that the Outrigger Reef Waikiki Beach is wrapping up a top-down renovation project, including a new-to-the-property restaurant concept. Well, that restaurant concept is Monkeypod Kitchen. More specifically, Monkeypod Kitchen is taking over the former Shorebird space. This means that the Waikiki Monkeypod location will have excellent waterfront and Diamond Head views.
Now, the second first coming to the Monkeypod Kitchen Waikiki is breakfast service. To date, all of Peter Merriman's restaurants are open for only lunch and dinner. But, given that Monkeypod Kitchen will be the Outrigger Reef Waikiki Beach's signature restaurant, it makes sense that they're adding morning service here. And that's exciting to me. I can't wait to see what kind of breakfast dishes Chef Merriman comes up with.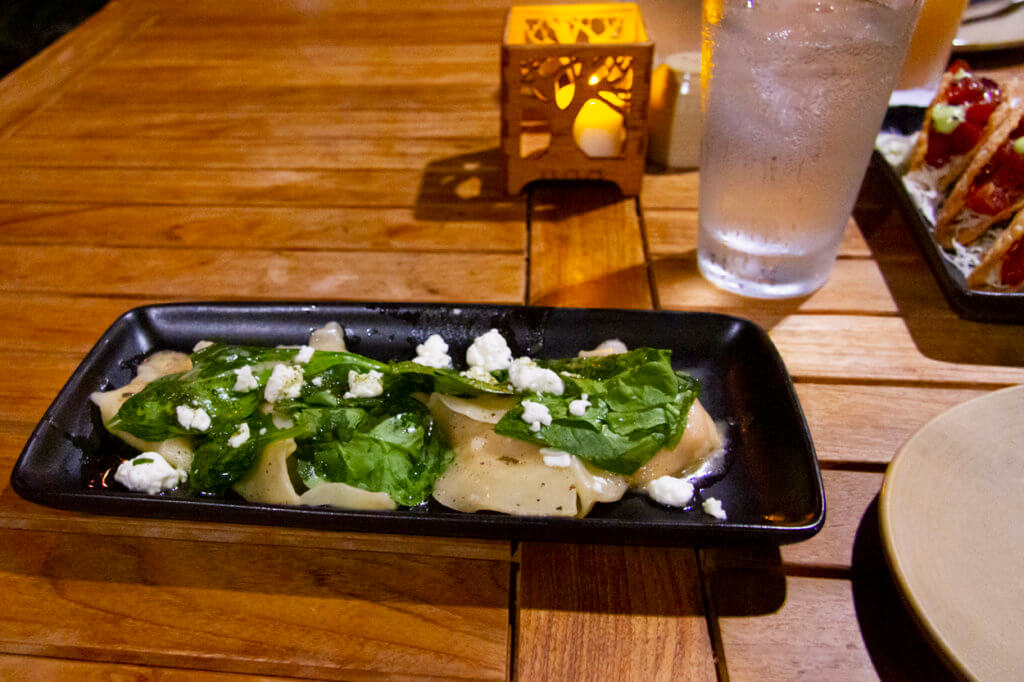 Opening Date
While the Outrigger Reef Waikiki Beach Resort plans to reopen next month, we'll have to wait a bit longer to check out Monkeypod Kitchen Waikiki. The restaurant is projected to open this fall – likely around the time the new rooms at the Outrigger Reef become available too.
Monkeypod Kitchen is Opening in Waikiki, Final Thoughts
I've said it before, I'll say it again – the Outrigger Reef Waikiki Beach's renovation project is looking exciting. Not only are the property's upgrades looking good, but now we learn they're getting a Monkeypod Kitchen too? Fantastic! That said, it's been quite a while since I dined at a Monkeypod Kitchen. As is the case with Merriman's, I feel like Monkeypod is a bit overpriced. Especially since there are other great farm-to-table restaurants that are hyper-local that offer better value. But I do love their Pumpkin Patch Ravioli, the fries, the Poke Tacos, and the Roasted Chicken Wings. Oh and the chocolate pie at Moku. They used to make a burger that I loved, but that was discontinued years ago. Still, if you're near one, I encourage you to give them a try!