As has been the case over the past few years, my overall collection of credit cards continues to decline. I don't think that trend will continue this year, as the mix of cards in my wallet should hold steady, but my spending strategy will be different this year. So let's cover my 2023 card strategy.
Despite the recent change in cards in my wallet, I think my overall strategy has remained relatively stable – I base spending decisions on what points I need. And if you've been paying attention to my recent posts at all, my points-earning priorities will be reasonably easy to predict. So let's get into it.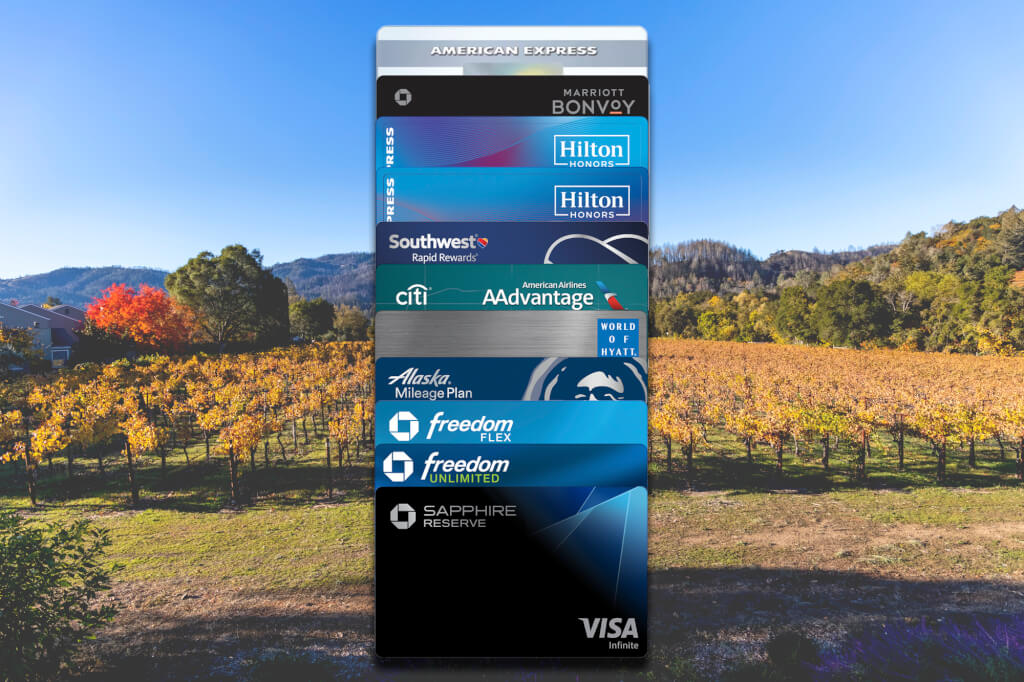 My 2023 Card Strategy
As I mentioned earlier, I don't think I'll be changing my mix of cards much this year. That means the following cards should remain in my wallet for the foreseeable future:
American AAdvantage MileUp
American Express EveryDay
Chase Freedom Flex
Chase Freedom Unlimited
Hilton Honors
Hilton Honors Surpass
Marriott Premier Visa
Ok, so there is a possibility that I'll downgrade my Sapphire Reserve to the Preferred this year, depending on how tight my budget gets. Plus, since I'm starting a new job, I can't travel anyway. But we'll see.
I'm also not entirely sure why I'm continuing to keep the Marriott Premier Visa. Perhaps it's because it still has an $85 annual fee rather than the $99 of the newer version? But I could also drop it down to the no annual fee card.
Spending Strategy
Of course, the other facet of my 2023 card strategy is my spending strategy. Last year I burned a sizeable amount of my Ultimate Rewards points. These points are my go-to these days, primarily for transfers to Southwest Rapid Rewards and World of Hyatt. In fact, I may transfer some soon for my one trip this year. We'll see. As such, earning Ultimate Rewards points will take top priority for me. That means:
Freedom Flex: quarterly bonus category merchants
Sapphire Reserve: travel + dining
Freedom Unlimited: drugstores, dining establishments with questionable merchant categories, most unbonused categories
World of Hyatt Visa: Hyatt spend, some other non-bonused spend
Alaska Air Visa: gas station and cable purchases
American AAdvantage MileUp: iTunes/iCloud purchases – just to keep the card active
The spending portion of my 2023 card strategy is a bit nebulous, but I'm debating whether or not I want to earn some Hyatt EQNs and points, even though I could definitely earn more Hyatt points via Ultimate Rewards instead.
My Marriott Premier Visa likely won't see any use this year, which is why it may get the boot in favor of the free version of the card. My Alaska Air Visa also likely won't see any use since I don't plan on flying with them this year, though it still earns its keep thanks to its companion certificate. The Southwest Priority Visa likely won't see any use this year, though it also gets to stay thanks to its annual bonus.
The Hilton Honors and EveryDay cards also likely won't see any use, though I don't really mind as they both have no annual fee.
Final Thoughts
Ok, so I'm not entirely set on my 2023 card strategy, but there are many unknowns affecting my decision-making. I'm going to keep things intentionally fluid, but the focus will remain on Ultimate Rewards earnings.
What are your card priorities this year?