Given how much I eat, I think I will start a new annual retrospective series – my favorite bites of the year. And, of course, that means, in this case, I'll be covering my favorite bites of 2021.
To keep things simple, I will be picking my top 12 bites of each year moving forward. But, as the series' name implies, these are just bites – note entire meals. That makes things significantly more challenging to narrow down than my all-time favorite meals rankings. I even considered splitting these rankings into two different lists – one for savory dishes and one for sweets. Unfortunately, I didn't have enough sweets to fill a separate list, so here we are.
With that all said, I had MANY amazing bites this year. Unfortunately, some of these won't make the list because of my self-imposed limit. So don't read too much into certain dishes' absence from this list. Oh, and I'm trying to limit the list to new-to-me bites. That means many dishes I love but have been eating for a while aren't eligible to appear on these lists. I'm looking at you, Kula Shave Ice, Palace Saimin, Papa Kurt's, etc.
My Favorite Bites of 2021
Without further adieu, here are my favorite bites of 2021.
12) Humuhumunukunukuapua'a Seared Ahi & Foie Gras (Maui)
The Grand Wailea's signature restaurant, Humuhumunukunukuapua'a (HumuHumu) is pretty good for a resort restaurant. I'll have a full review of the place during my Grand Maui Adventure trip report, but, for now, I want to talk about one dish – the Seared Ahi & Foie Gras. Now, this concept isn't new. I've had something like this before at the defunct Kaiwa restaurant in Waikiki. But the version HumuHumu serves comes in a bowl of heady pho broth. Beef, fish, and foie gras? I know. It sounds like an odd combination, but it works! After all, ahi is the steak of the sea. Here, that concept is taken to the next level by adding an intense, rich pho broth that literally perfumes the whole dish with a mild beefiness and tons of aromatics. Mushrooms help to amp up the textural experience, while crunchy sugar snap peas help to cut the richness.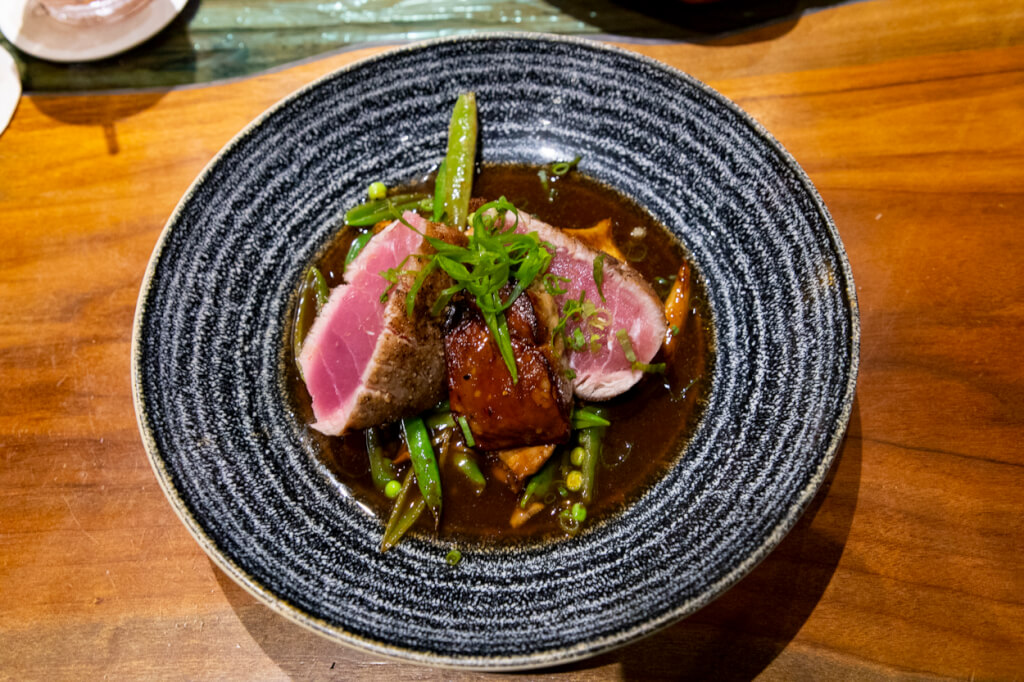 11) Sprinkles Pumpkin Cupcake (multiple states)
I LOVE pumpkin pie. It's one of my favorite things on the plant. But, I'm not a fan of the whole "pumpkin spice" craze… I just don't get it. So when Mrs. Island Miler told me about the Pumpkin Cupcake at Sprinkles, I was skeptical. To my great surprise, though, this was a fantastic cupcake! Not only did it have great pumpkin flavors, but it had fantastic spice too, including in the frosting! What's more, the overall cupcake isn't overly sweet. My only regret is that we got only one and couldn't get it shipped to Hawaii.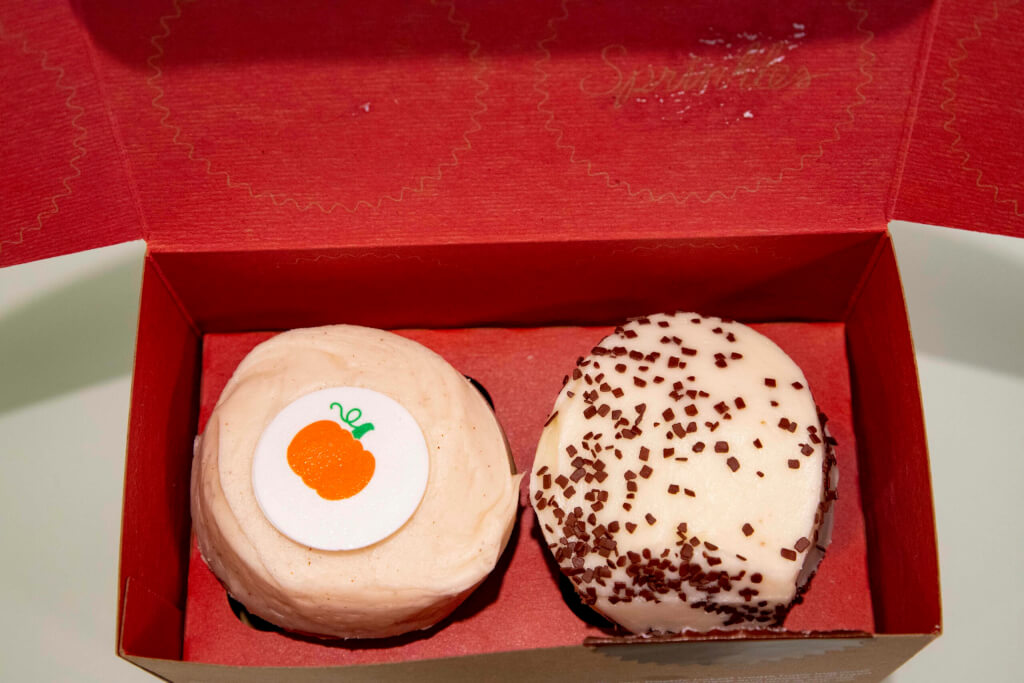 10) Double Fat Ice Cream Pumpkin Ice Cream (Oahu)
I LOVE pumpkin pie. It's one of my favorite things on the plant. But, I'm not a fan of the whole "pumpkin spice" craze… I just don't get it. So when my buddy Brandon Lee of Double Fat Ice Cream put out a pumpkin ice cream, I knew I had to try it. Brandon is a no BS kind of chef, so I knew this wouldn't be some gimmicky kind of flavor. In fact, it tastes exactly like pumpkin pie filling, only, it's ice cream. Now if only I could get him to make more so that I can buy a pint, quart, or half-gallon of the stuff!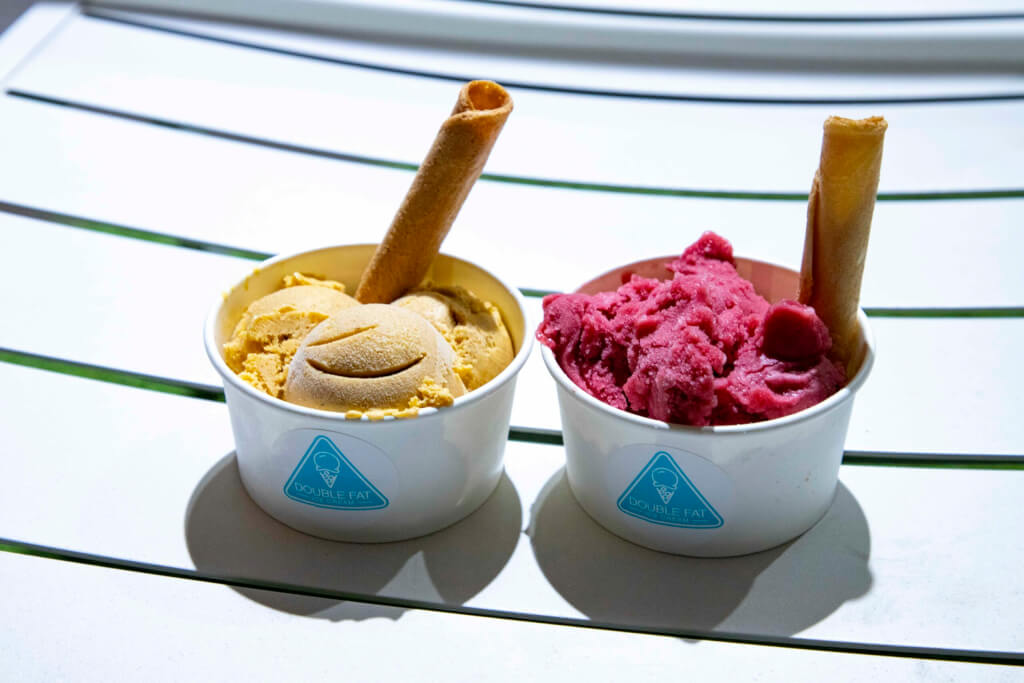 9) Hau Tree Kurabota Pork Chop (Oahu)
These days, I think I'd rather have a really good pork chop over a steak when I'm dining out. The Kurabota Pork Chop they were serving at Hau Tree earlier this year was one of these pork chops. There's a lot going here. The wonderfully bronzed pork chop is lacquered in an umami-sweet-funky black garlic honey and a tacky, slightly acidic pomegranate sauce with pomegranate seeds. Under the pork chop his a broasty mix of charred Brussels sprouts and romanesco, while pickled mustard seeds and crispy bread crumbs on top. Utter perfection except for the fact that the chop was cooked a bit too well.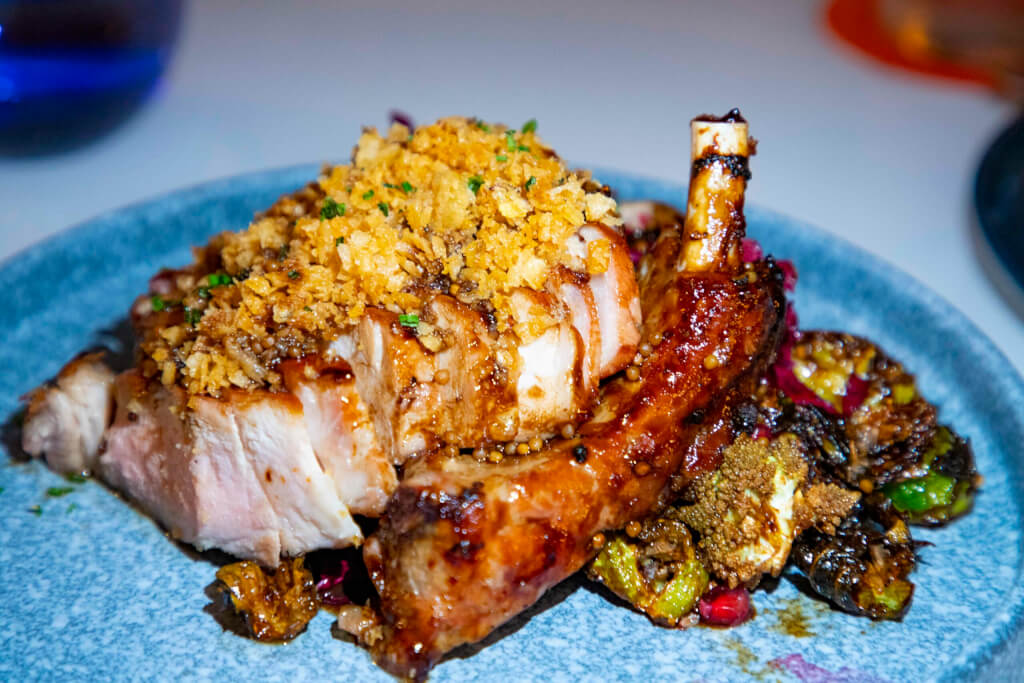 8) Mahina & Suns Monchong (Oahu)
Monchong (Sickle Pomphret) is one of my favorite fishes to eat cooked and being a trailblazing hyper-local chef, I knew Chef Ed Kenny's Mahina & Sun would do the fish right. In this case, it's a perfectly seared hunk of Monchong in a light, fennel-scented tomato broth. Accompanying the fish were crispy green beans and buttery, intoxicating wedges of ulu.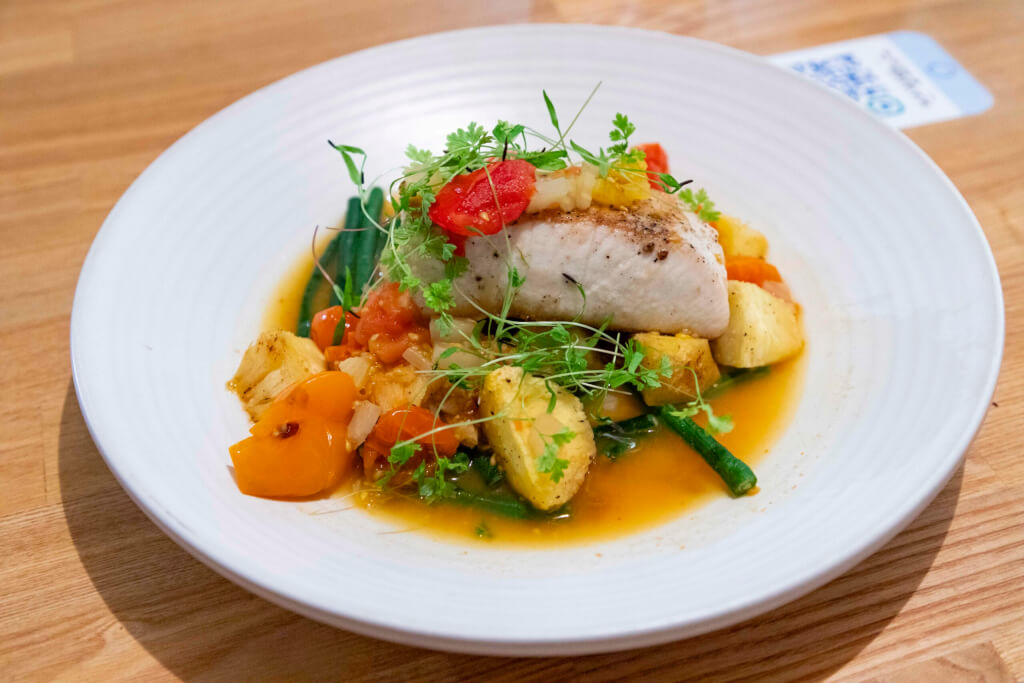 7) Donut Dynamite Pumpkin Brulee Malasada (Maui)
Like HumuHumu, I'll have a full review of Donut Dynamite coming as part of my Grand Maui Adventure trip report, but the malasadas at Donut Dynamite are some of the best I've ever had! They're crisp on the outside, pillowy on the inside, and have just the right amount of heft to them. Of course, the one I had was made even better thanks to the inclusion of an incredible pumpkin filling! Seriously, the filling was like the best pumpkin pie I've ever had, only more liquidy.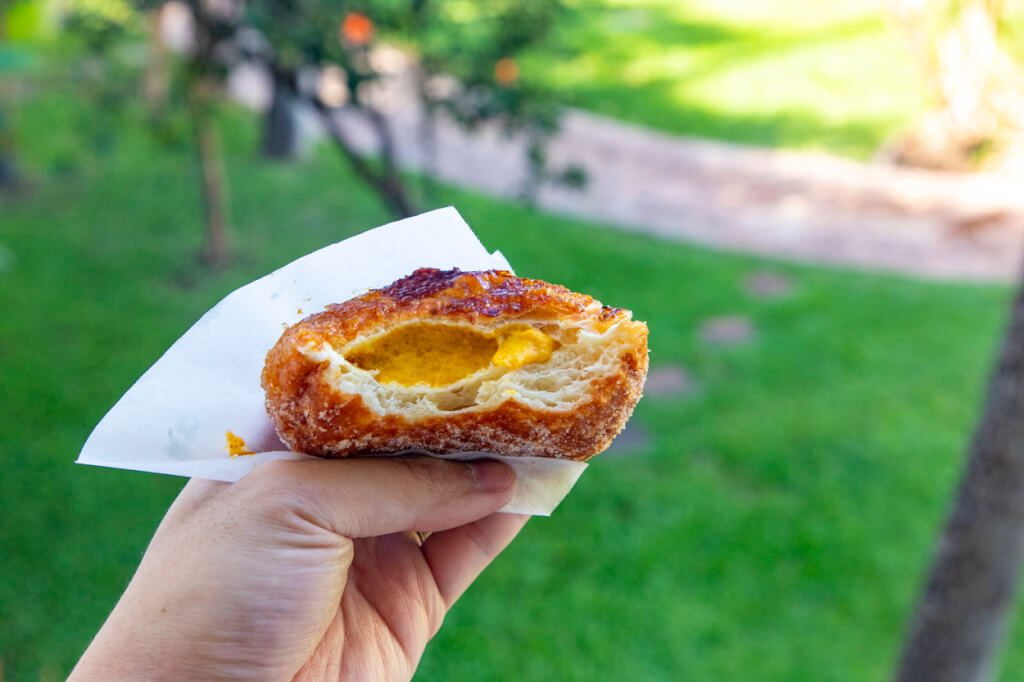 6) C4 Table by Colin Hazama Slow Cooked Fuji Cold Ginger Chicken (Oahu)
Cold ginger chicken is a local staple. It's so popular that you can find it in fried rice form, as cold ginger (ahi) poke, and even as bottled sauces. But the cold ginger chicken – the Slow Cooked Fuji Cold Ginger Chicken at C4 Table by Colin Hazama takes the humble dish to the next level. Here, you get what I believe is a brined and sous vide chicken breast that's tender and juicy topped with a cold ginger sauce that tastes like it's been spiked with garlic, lime, and cilantro. While that alone is "broke da mouth" Chef Hazama serves it with a side of duck fat jasmine rice and a generous topping of chicken skin ulu crunch. Some shiitake mushrooms and greens help to add a counter to all the richness, grounding this fantastic dish just a little. That said, I love Chef Hazama's Pork Belly Congee equally as much!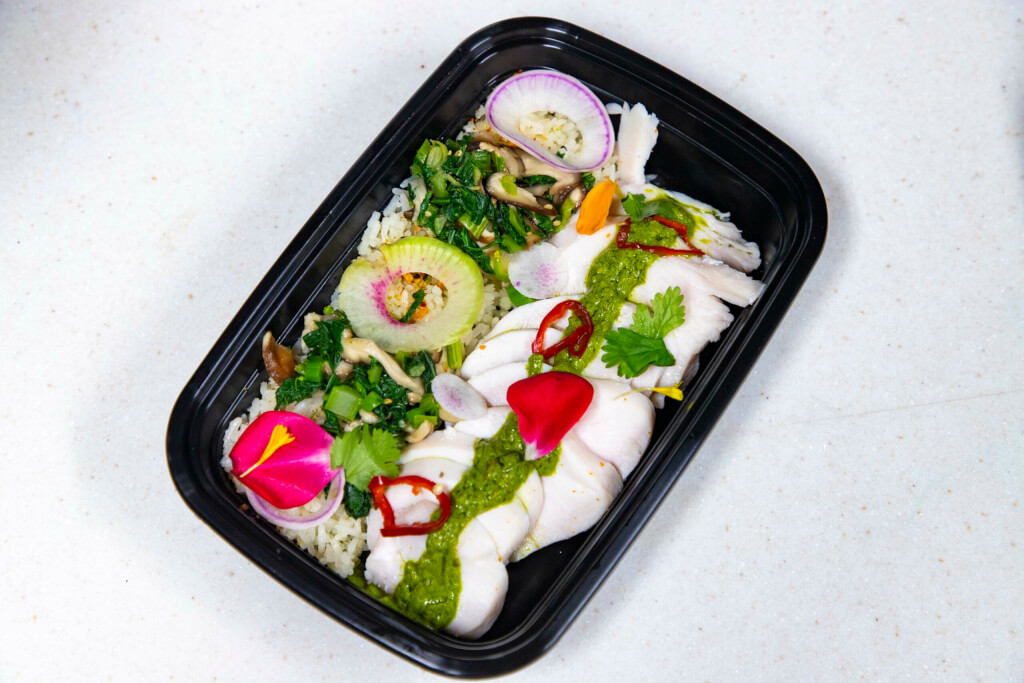 5) e! by Jose Andres "Wonder Bread" (Las Vegas)
Say what you want about it, but Mrs. Island Miler and I enjoy a bit of molecular gastronomy. And this dish in particular was a perfect example why. A full review of e! by Jose Andres is on its way, but suffice to say it was a meal filled with adventure and wonder. This particular dish, which our attending chef referred to as "Wonder Bread" really looks like the childhood staple. Yet, the bread isn't really bread. It's actually an airy, crispy green apple concoction. And sandwiched inside is foie gras, crisp + juicy nectarines, and slices of Alba white truffles. Sublime.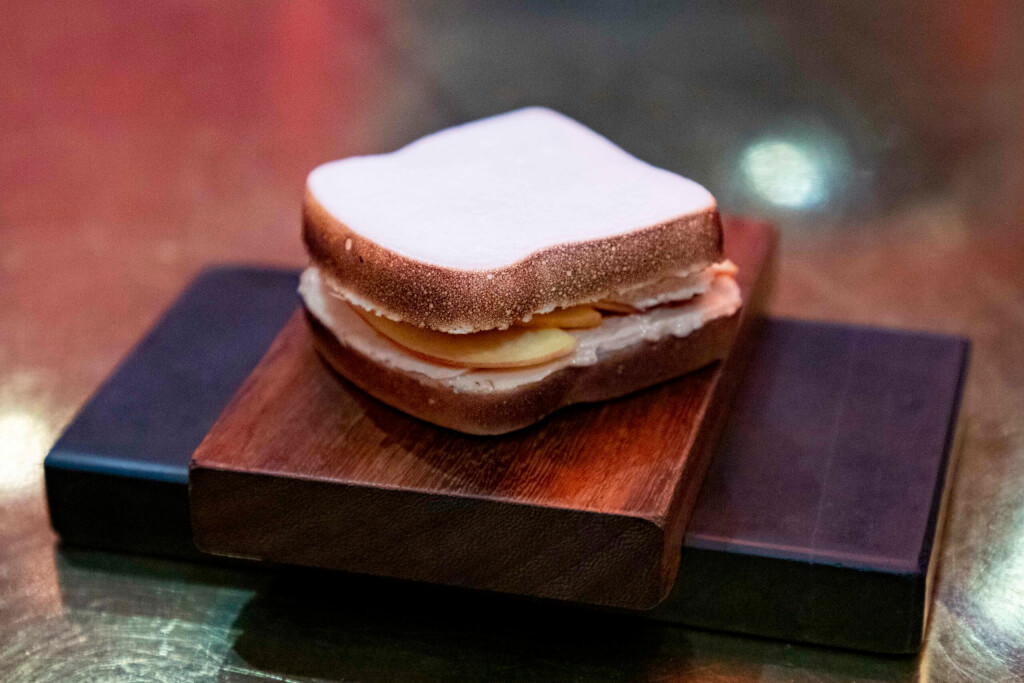 4) HeiHo House Coppa Di Testa
This one surprised the hell out of me. It sounds simple, right? The description goes on to say bittermelon, jabong, and tofu "swiss." Um. Okay? That sounds nasty. As these things go, though, the dish ended up being fantastic!There's absoltultey no bitterness to it, or if there is, it perfectly compliments the richness from the house-cured coppa and mentaiko aioli. But what really sent my tastebuds over the edge was the blanket of herbs, which included mint, shiso, and parsley, among other, adding an incredible grassy, floral note to the dish. 🤯 Too bad I can't ever get it again.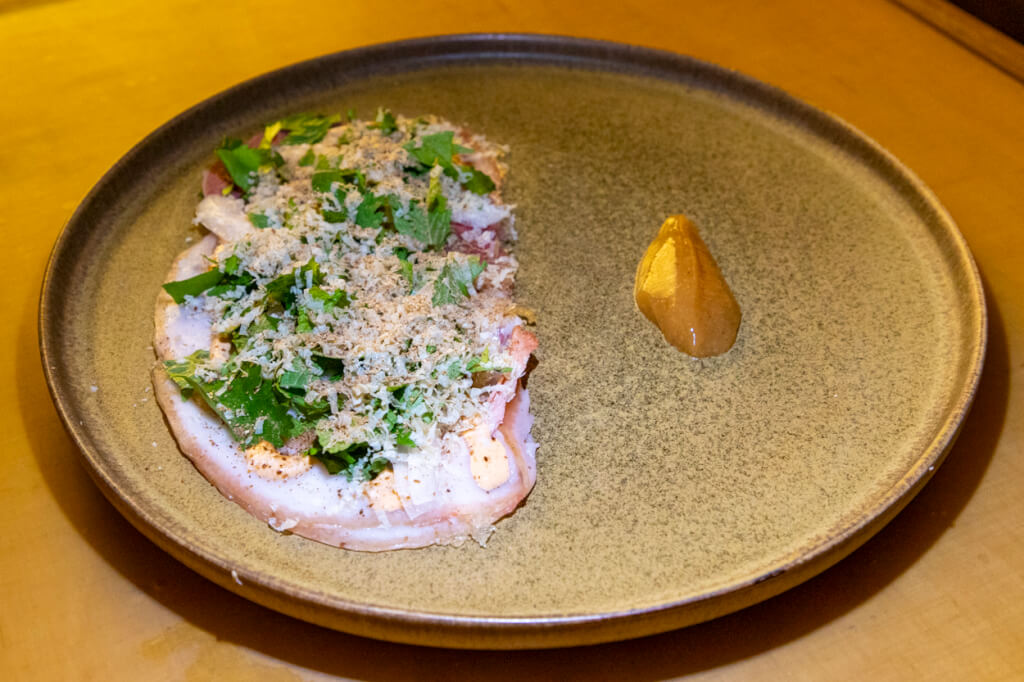 3) "Tofu Salad" Na'au Hilo (Oahu/Hawaii County)
Chef Brian Hirata makes a lot of great dishes, which made it hard to choose which dish to feature on this list.  In the end, though, I ended up choosing the one that tastes the most familiar – the Tofu Salad. But, not only was this dish tasty, it was masterfully prepared. The Akule specifically blew me away, as it was smoked but had this fantastic toothesome texture that's somewhere between cold and hot smoked salmon. Of course, this smoky salty fish compliments the bean sprout namul, spicy watercress, creamy tofu, and acidic dried tomatoes extremely well. Amazing.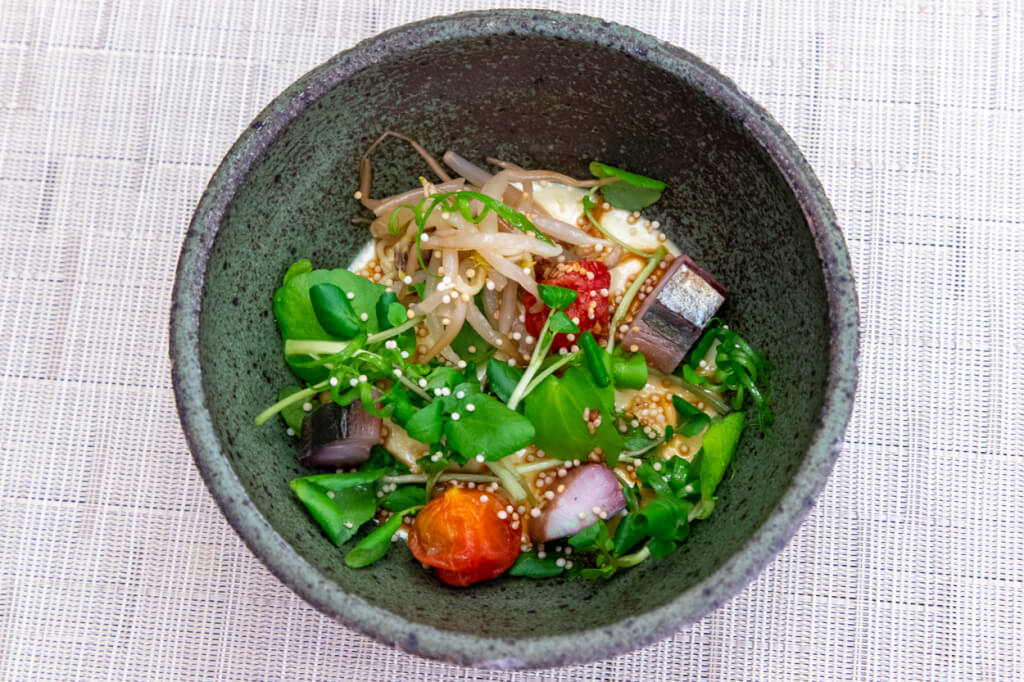 2) PAI Honolulu's Smoked O'io and Lobster Bisque (Oahu)
Full of savory, smokey, roasted flavor, this bisque is unlike any other I've ever had before. It's a masterpiece of textures and flavors. The deep, umami of the soup is amplified by the seared O'io filet (a rarity thanks to the fish's boniness) and crispy shrimp head, while hunks of sweet shrimp meat and sweet corn provide nice flavor contrasts. The corn also provides a textural contrast, along with crispy puffed taro. Pea tendrils bring in a light vegetal flavor to give diners one more contrasting yet complementary flavor and texture.
It took immense self-control to not pick this plate up off the table and lick every last drop of this soup up.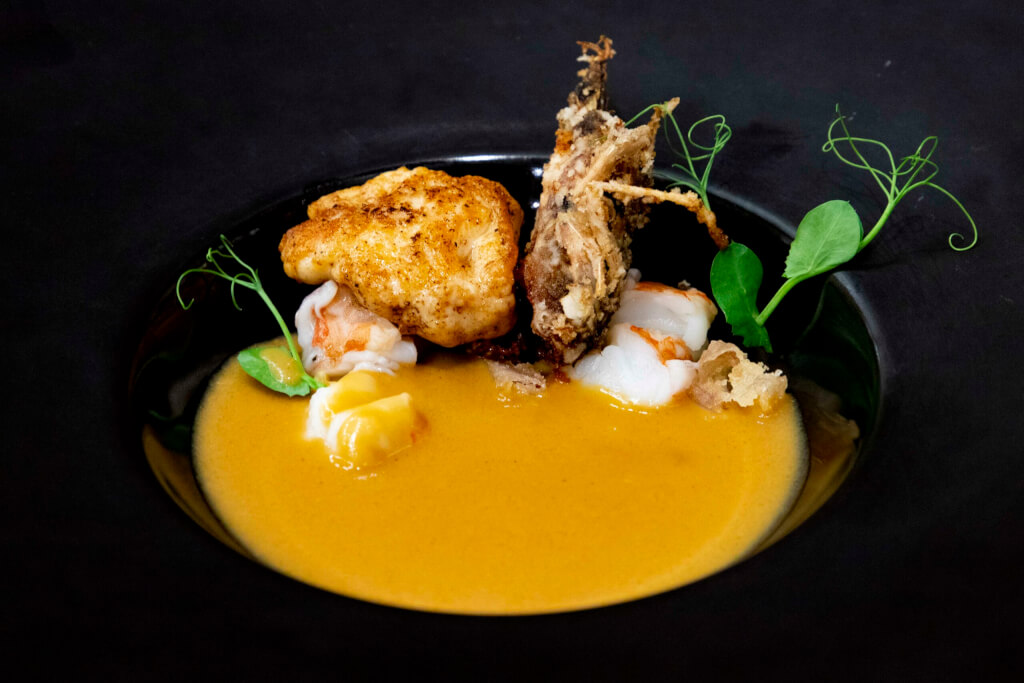 1) Taco Maria Pescado a la Veracruzana (Irvine)
Every time I see butterfish (black cod) on the menu somewhere that isn't prepared in the usual Japanese methods, I order it. Why? Because I love the fish and love seeing it presented in different ways. And this preparation at Taco Maria has got to be the best way I've had it yet. Here, the perfectly flaky fish sits atop a deeply flavored concasse of local Momotaro tomatoes and is covered in these incredible dried olives, crispy-fried capers, and verdolagas. Take all of these elements and shove them in one of Taco Maria's signature blue tortillas with an array of Mexican herbs and you've got one of the best bites of food in the world. I could eat this EVERY DAY.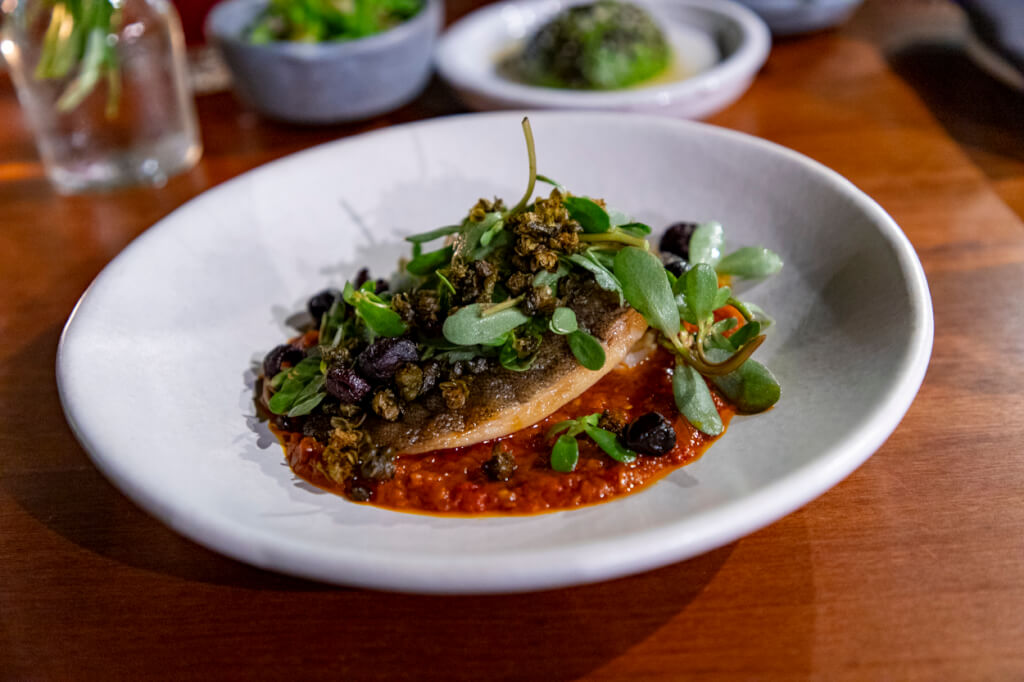 Final Thoughts
As I said earlier, there were many things I ate this year that I loved. But, the above are my favorite bites of 2021 that were new to me, and they were all great! Of course, there were other dishes that I really loved too, but these were simply the best. What's more, many of these options were quite surprising to me, even though I knew the restaurant is good, which is what I like.
What were your memorable bites of 2021?