2014 has been a year of transition for me. From my threats to leave the state of Minnesota to avoid an airline to actually moving to San Francisco, life has been one great adventure in 2014.
I successfully challenged to United Platinum status, only to realize that I don't really love flying United.
While I thought that United Platinum status would come at the expense of the Delta Platinum status that I have held for the past 5 years, I have found myself so close to re-qualifying for Delta Platinum that it is worth putting in a little effort to be Platinum for another year.
Just how close am I to qualifying? $208 in spend and less than 10,000 MQMs.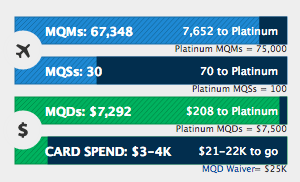 With only one trip left in the year – a trip to Minnesota and South Carolina over Christmas, I don't have enough butt in seat miles planned to reach the number of MQMs needed to re-qualify for Platinum. Tickets are also $1,800 for the Christmas-time ticket.
Since I would rather have the cash (and my routing was only 5,268 miles), I booked the Christmas trip for 60,000 Skymiles. This is a great value per point spent, but also a lot of miles to spend on a domestic trip.
But it also left me short on MQMs and MQDs.
To get the additional MQMs, I could plan a mileage run in December, but I have decided to avoid non-essential travel for the remainder of 2014. I am simply burned out after already traveling over 120,000 miles in 2014 and spending 150+ nights away from home.
Delta's Solution: Buying MQMs and Earning MQDs
With this conundrum, the easy solution is to buy my remaining status from Delta. They actually sent me an email offering to buy MQMs last night, with a landing page dedicated to the purchasing of MQMs.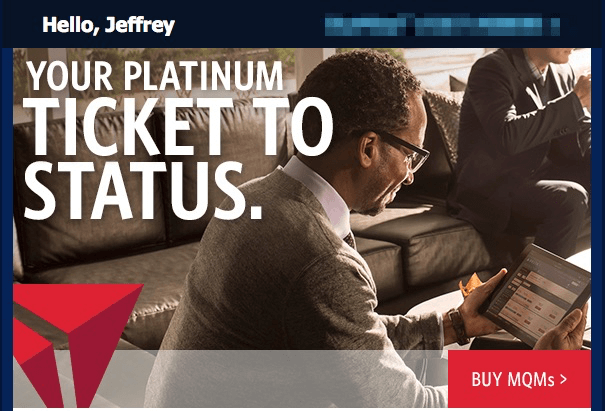 They promised I could buy up to 10,000 MQMs with this offer and the dollars spent would qualify as MQDs

Sounds good, right? But we all know that this will likely cost an arm and a leg.
How much?
Way too much.

I could purchase 10,000 miles for the same amount as my exorbitant Christmas flight would cost to pay for in cash. Again, I'd rather have the cash, as I don't view Platinum status worth a $1,725 out of pocket expense.
My Creative Solution: Get the Delta Reserve Card and Chop My Flight into an Award Ticket/Paid Ticket
Again, I wanted to do this in the cheapest way possible. I would happily pay exactly $208 to reach exactly $7,500 MQDs if that were an option. I would also prefer to get the MQMs for free if that were possible.
Enter the Delta Reserve card, a credit card that I have actually held for several years. More specifically, I held the business version of the Reserve Card for lounge access and the MQM spend bonus.
However, with the limitations on lounge access to only one person and my ability to spend $60,000 a year to reach the MQM bonus going away, I had decided to cancel the card before my annual fee was due in November.
With that card canceled, I decided to look into the personal version of the card. Signing up for the personal card provided me with the same benefits as above, but also had the additional benefit of giving me 10,000 MQMs when I made my first purchase.
Rather than having to spend $1,725 to get the 10,000 MQMs I needed, I could do it for the $450 annual fee of the credit card. Plus, I received all of the other benefits of the reserve card like lounge access.
I have already made the first purchase on the card, so I am certain the MQMs will post in 2014. Now it's time to figure out how to reach $208 in MQDs.
Looking at the routing of my award ticket, I decided to look into which segment was the cheapest for paying cash to fly.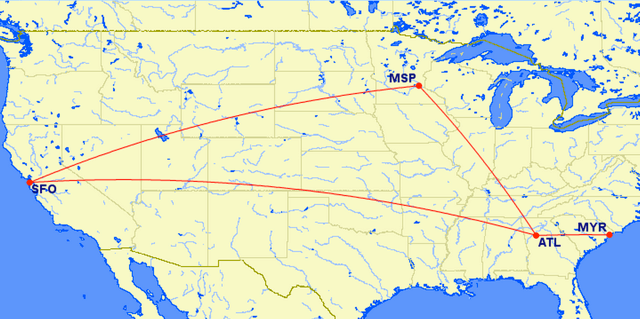 As you can probably guess from the routing, the cheapest segments were those from Atlanta to Myrtle Beach. Each segment was less than $200 in base fare.

Unfortunately, less than $200 wouldn't let me reach my MQD needs, so I needed to book this as its own ticket, round trip. This ended up costing me $418.20 to achieve

The rest of the route would still be a 60,000 mile award ticket, which is still a valuable redemption for Skymiles, since the ticket would be around $1,400 in cash.
Getting Delta Platinum Status in the Cheapest Way Possible
For my needs, this was the cheapest way I could achieve Platinum status with Delta. While it wasn't cheap to get this done, I am happy to maintain Platinum status for 2015 for less than $1,000.
I'm amazed at how many MQDs I was able to rack-up this year from business travel ($7,300 in mostly reimbursed travel is insane), but I also had fun in piecing together the puzzle to maintain status.
In 2015, I will be Platinum with Delta and United. Who knows whether I will have status in either airline by 2016.
For now, I will enjoy the occasional upgrade and my modest gift for requalifying.