While we were staying at the Ritz-Carlton Residence Waikiki Beach, I made it a point to finally give La Vie Waikiki a try. After all, they are one of the most exciting recent additions to Honolulu's dynamic restaurant scene. And, I'm glad to say that the experience pleasantly surprised me!
Why La Vie Waikiki
La Vie Waikiki opened in 2019, taking over the space formerly occupied by BLT Market – a casual concept by BLT Restaurants. That former restaurant looked interesting but wasn't all that unique. I guess that's why they lasted only about a year. And, boy did La Vie Waikiki shake things up when they came in.
The concept at La Vie is definitely inspired by modern French cuisine, but with a focus on local ingredients. Even the way the menu is presented is much more modern than most restaurants. Here, you choose between three and four courses, though the actual dishes you receive are up to you. If you want to have all appetizers or all desserts, you can! It's a much more democratic way of dining, if you ask me, though it also makes choosing much more difficult too. So, it's easy to see why I'd want to check out La Vie Waikiki. Especially since we already checked out Sushi Sho Waikiki.
Location
La Vie Waikiki occupies a classy, open-air space immediately across from the Ritz-Carlton Waikiki Beach's front desk. And, to be honest, the open-air atmosphere here was a factor in choosing to dine at La Vie Waikiki. After all, many studies have shown that enclosed restaurants pose heightened transmission risks.
Service
From before we even arrived at the restaurant, service has been phenomenal. When confirming our reservation, I did have to talk to a live person over the phone. this is part of their COVID compliance practices since they took down my contact information during the call, as is required by state emergency orders. They also took this time to note any allergies too.
When it came to our actual dining experience, the excellent service continued from the moment we stepped up to the restaurant. Every single staff member we interacted with was genuinely warm, friendly, and enthusiastic. You could tell the entire staff loved what they do and has a passion for the cuisine. It was such a refreshing experience.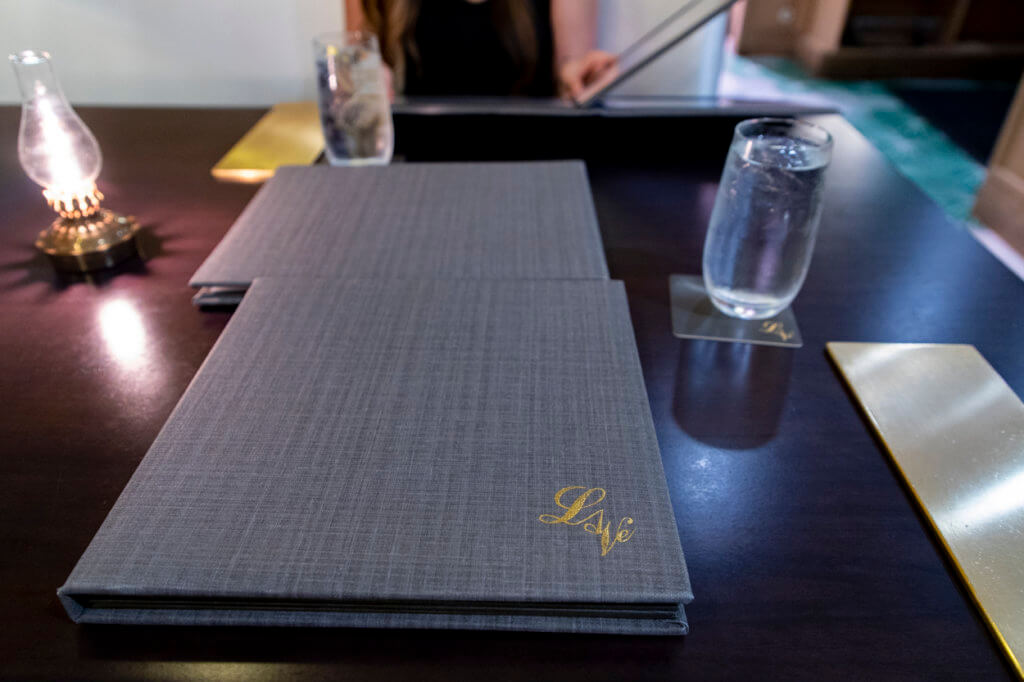 By the way, those brass plates are where they place your utensils. It's a great health & safety touch during these unusual and uncertain times.
Menu
As I mentioned before, La Vie Waikiki offers two basic options – three or four courses at $79 and $105, respectively. You can, however, choose from a few seasonal upgrades under the "Chef's Selections" section as well. For our dinner, the Mrs. and I both chose four courses, though we chose different paces for our meal. The Mrs. went with two appetizers, an entree, and a dessert. I, on the other hand, went with a single appetizer, two entrees, and a dessert. And though we usually try not to do this, we did end up ordering two of the same thing.
Our Dining Experience
Without further adieu, here is what we ordered.
Drinks
To kick things off, we ordered a couple of cocktails. Mrs. Islander went with a Toki Tea, which is a blend of green tea infused Suntory Toki with lemon and soda, while I went with the Ko Hana Tai, featuring Ko Hana Kea Rum, yuzu, Giffard Orgeat, and Cointreau. Both were refreshing and tasty, providing an excellent counterpoint for the rich dishes to come.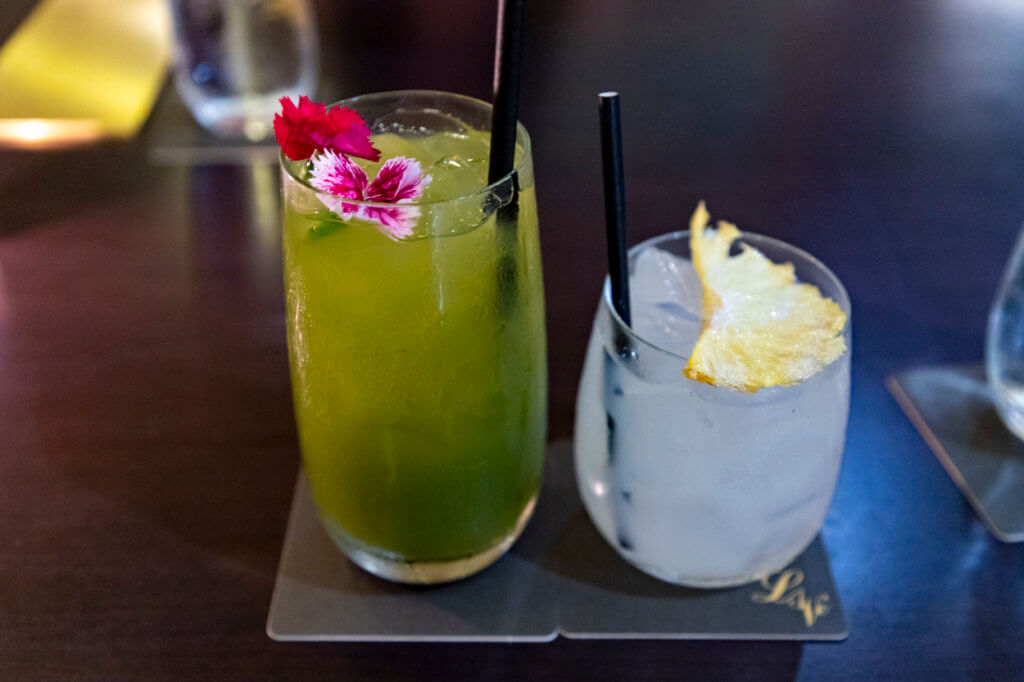 First Course
For her first course, Mrs. Island Miler went with the Kusshi Oysters Mignonette – a half-dozen Kusshi oysters with a cornichon and mustard oil mignonette. This was a beautifully balanced dish. The mignonette accentuated the briny sweetness of the fresh Kusshi oysters, while providing a little zing to keep things interesting.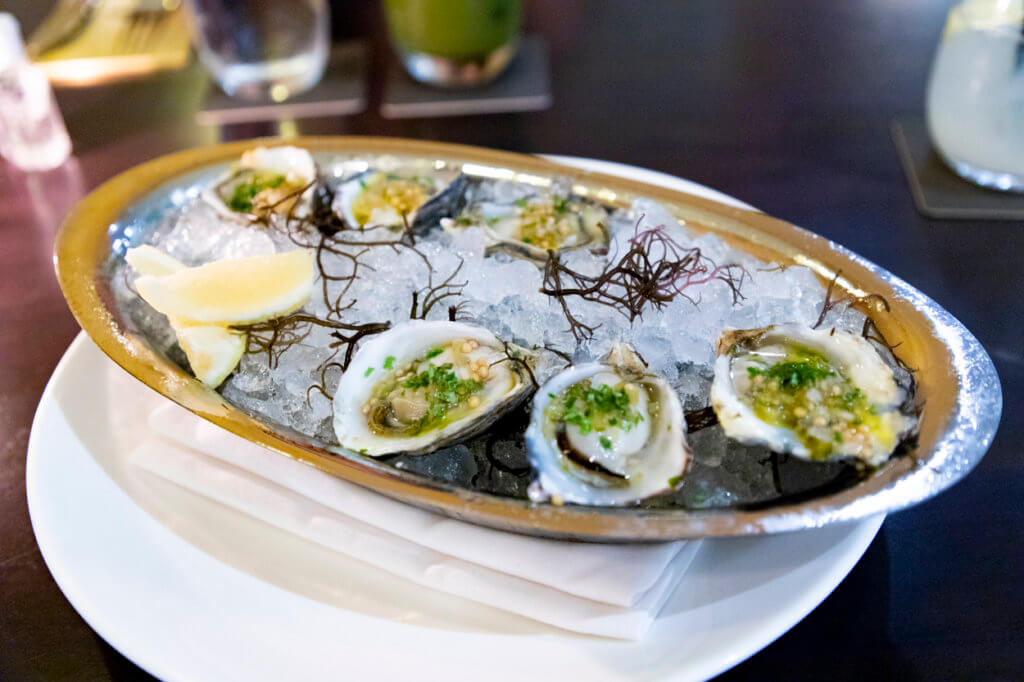 For my first course, I chose the Foie Gras Veronique – seared foie gras with poached grape, Royal Tokaji gelee, roasted baby beets, pickled onions, and almond cream. This was also an excellently balanced dish. The rich, warm foie gras paired nicely with the acidity of the onions and grapes, the sweetness of the Royal Tokaji gelee, and the sweet earthiness of the beets.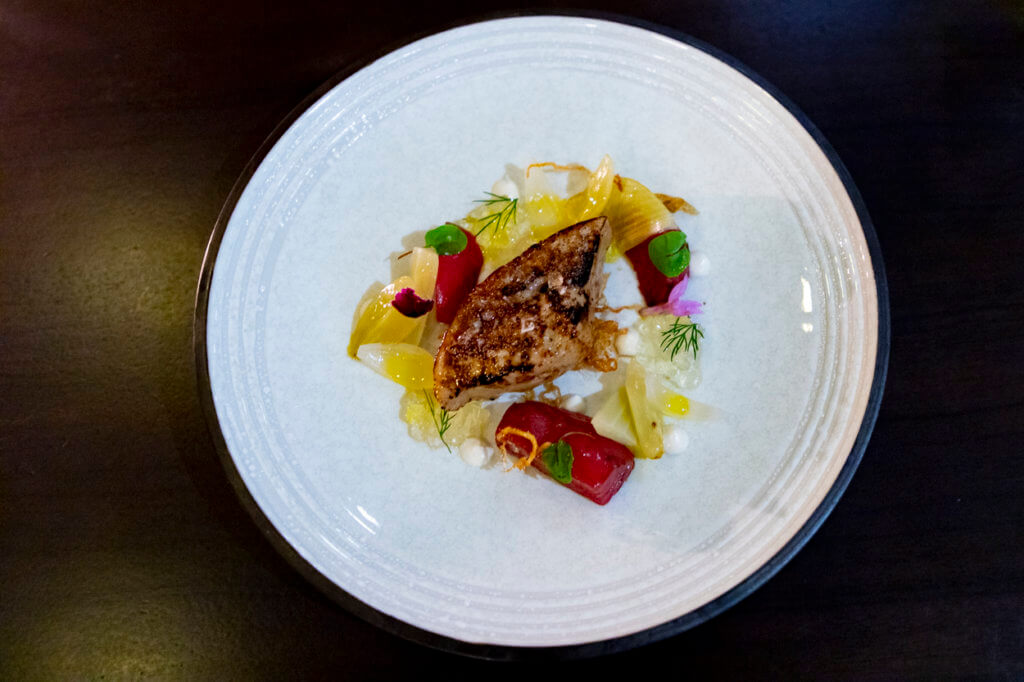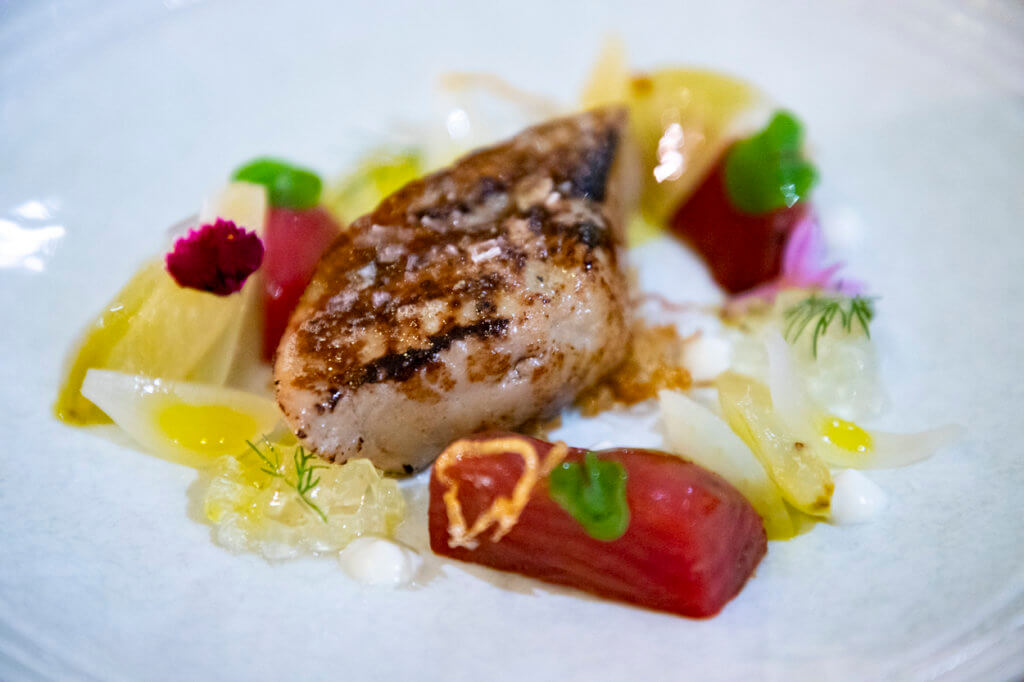 Bread
As any good French restaurant would, La Vie Waikiki does a presentation of bread. But, this isn't just any bread. You're presented with a slice each of a warm, toasted, savory mushroom babka along with a side of porcini and black truffle butter. Talk about decadent. Here, you've got a buttery, rich, umami-filled bread that you can slather with porcini and truffle butter? I could sit there and eat this all night!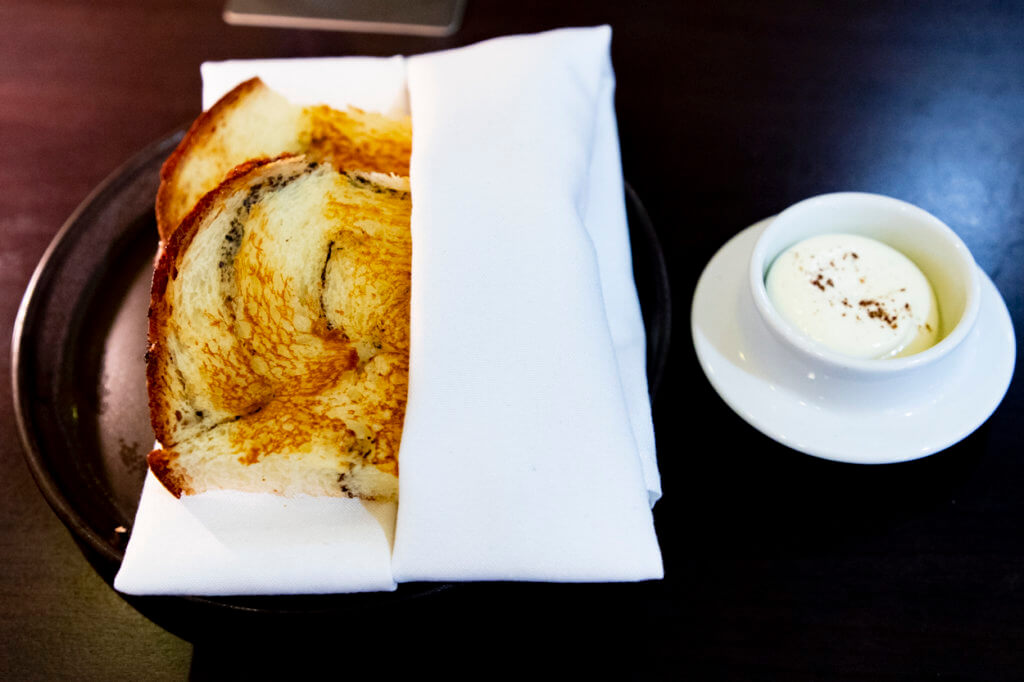 Second Course
For her second course, Mrs. Island Miler chose from the Chef's Selections list. Specifically, she chose the Alaskan King Crab Gratine (an additional $15). Here, you get one-and-a-half split Golden Alaskan King Grab legs slathered with a shellfish sabayon that's torched with paprika and served with a couple of lemon wedges.  It's a gloriously rich, warm, buttery, luxurious dish that perfectly showcases the crab. Side note: while smaller than the famous red king crab, golden king crab tastes similar and is, perhaps, sweeter.
For my second course, I ordered my first of two main courses the Truffled Kanpachi Meuniere served with truffle brown butter air, roasted Thumbelina carrots, carrot puree, crispy lentils, kale chips, and slivers of lemon zest. Yes, this dish is traditionally made with sole. But, again, La Vie Waikiki tries to sources locally as much as possible. And the mild, yet rich, Kona Kanpachi works extremely well here. Especially with the glorious, crispy skin. The slivers of lemon provide a nice contrast to the salty richness of the dish, as do the carrots. Oh, and those crispy lentils? They're like the best thing ever! I want to know how to make them so I can make a bunch and snack on them at home.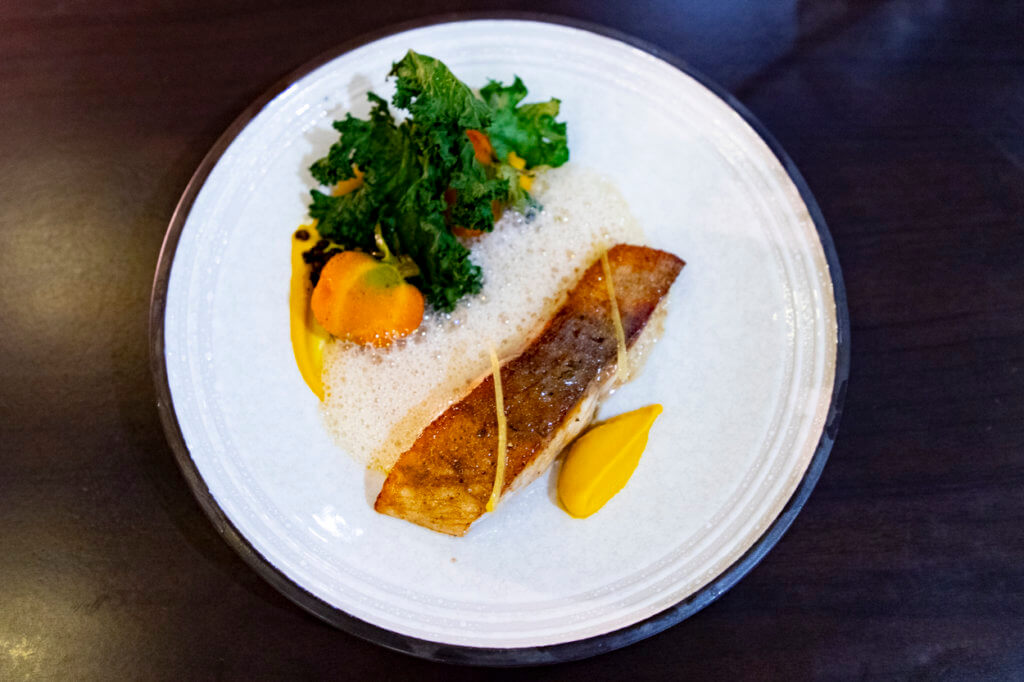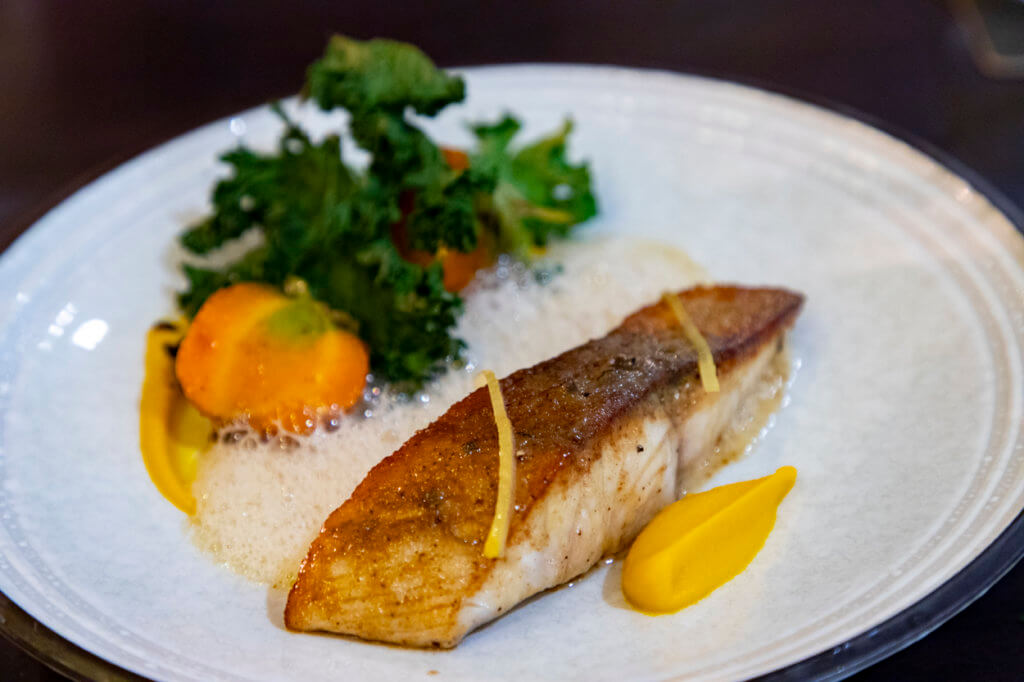 Mocktail
After finishing my Ko Hana Tai, I switched over to a non-alcoholic drink. This time, I went with the Passionfruit Pop, featuring lilikoi, peach, and shiso. I loved this drink! It tasted primarily of lilikoi (passion fruit) with an interesting twist of shiso (Japanese Perilla) on the finish. I just wish it was a little more tart and a little less sweet.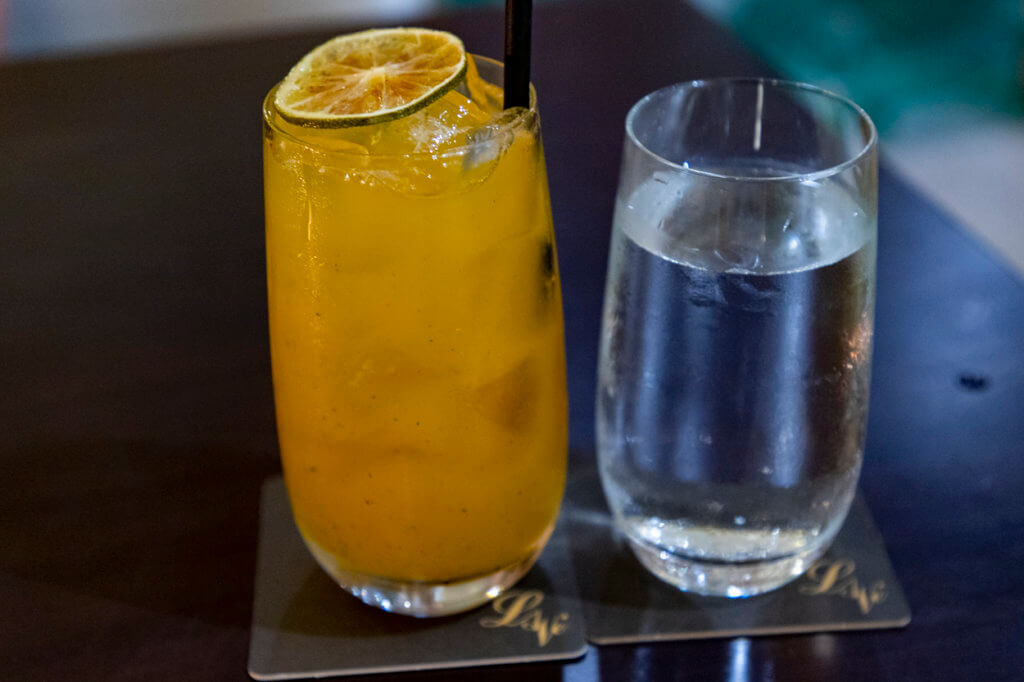 Third Course
For her third course, Mrs. Island Miler went with the Truffled Kona Kanpachi Meuniere, so I won't go over it again here. For my third course, though, I went with a special of the knight. A popular dish from La Vie Waikiki's Fête de la Cuisine NOLA special event, Foie Gras Et Ritz Salé. Yup, more foie gras! But, in this version, the foie isn't the main component of the dish – the homemade rabbit andouille sausage is. Served on a bed of spicy dirty rice in a pool of pecan-bourbon gastrique with candied walnuts and mirliton pickle, it was an intriguing dish. It was incredibly rich, hearty, and deeply savory cut with a mild burn, with some sweet and acidic notes.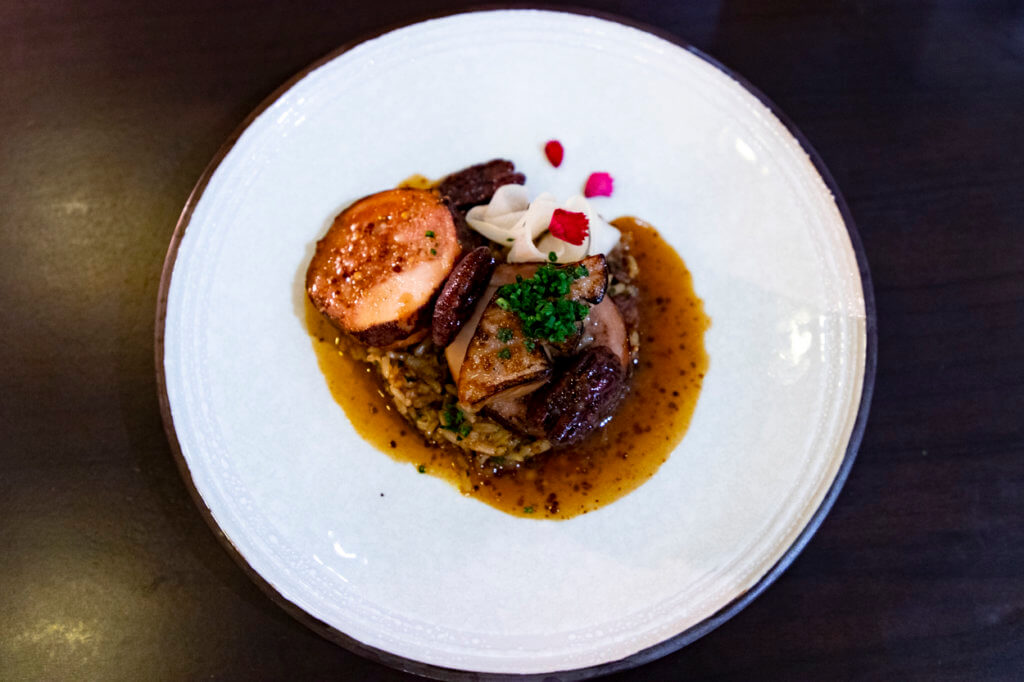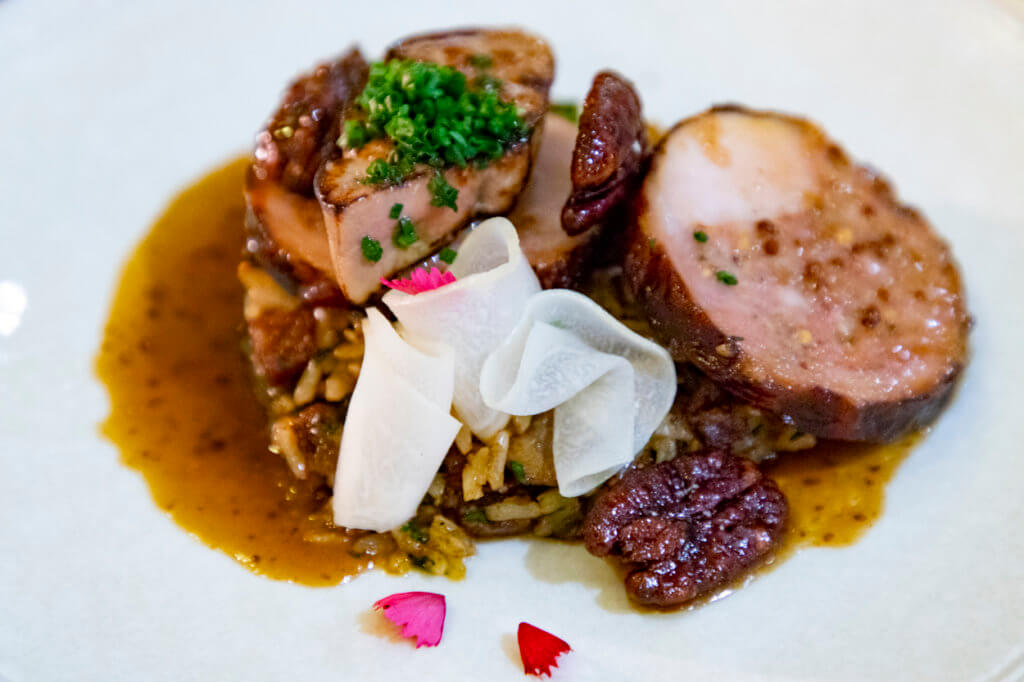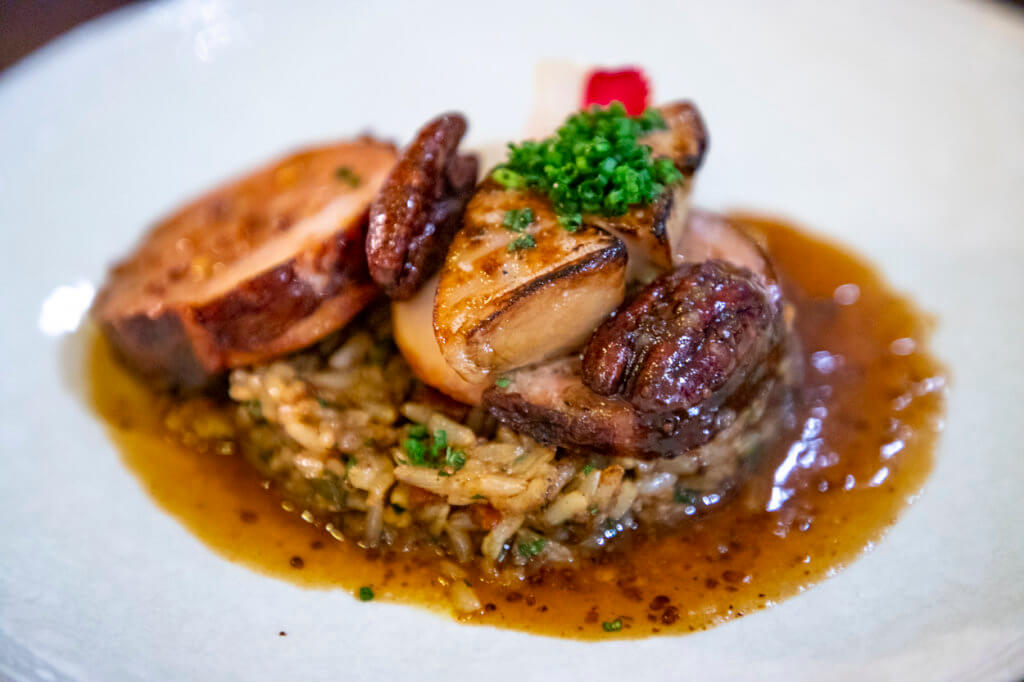 Dessert
To end the night, Mrs. Island Miler surprised me a bit and ordered the Baba Au Rhum, also known as rum cake, served with a side of jasmine-infused citrus and Chantilly. While rum cake tends to be quite heavy, this was dessert was on the lighter side. Not really my kind of thing, but she enjoyed it, which is the main thing.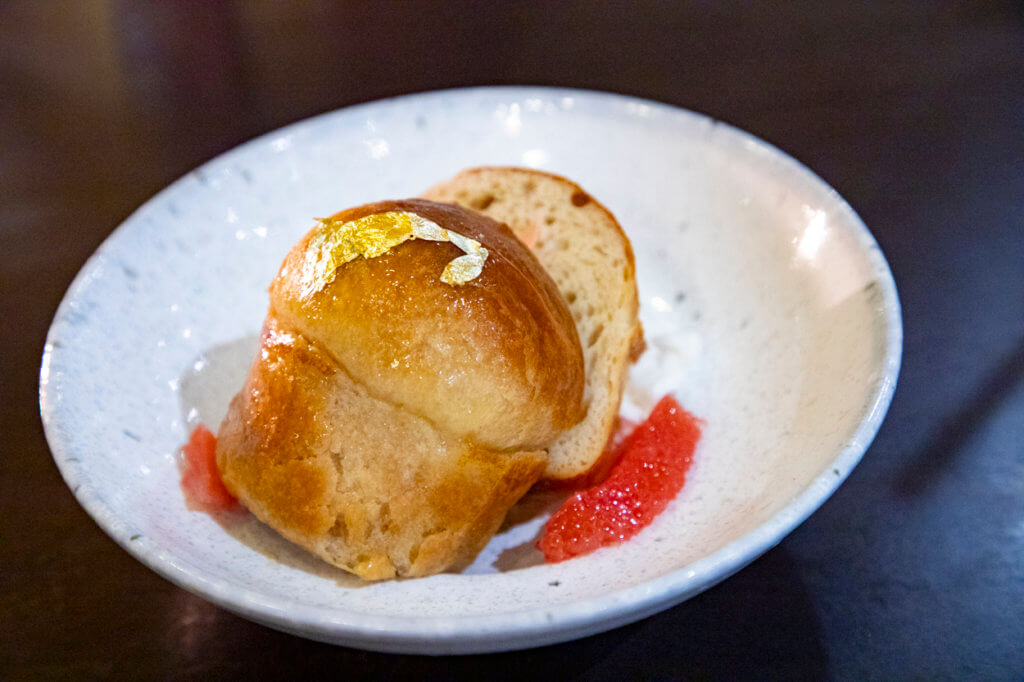 My dessert, on the other hand, went in the complete opposite direction. I ended up ordering the signature Chocolate Souffle. Served with poached blueberries and a coumarou creme Anglaise poured tableside, this was an airy, yet rich, pipping-hot dessert. Honestly, I wish it had more of a chocolate punch, but it was good nonetheless. When we eventually make our way back here, though, I'd like to try the lilikoi tarte – if it's still on the menu.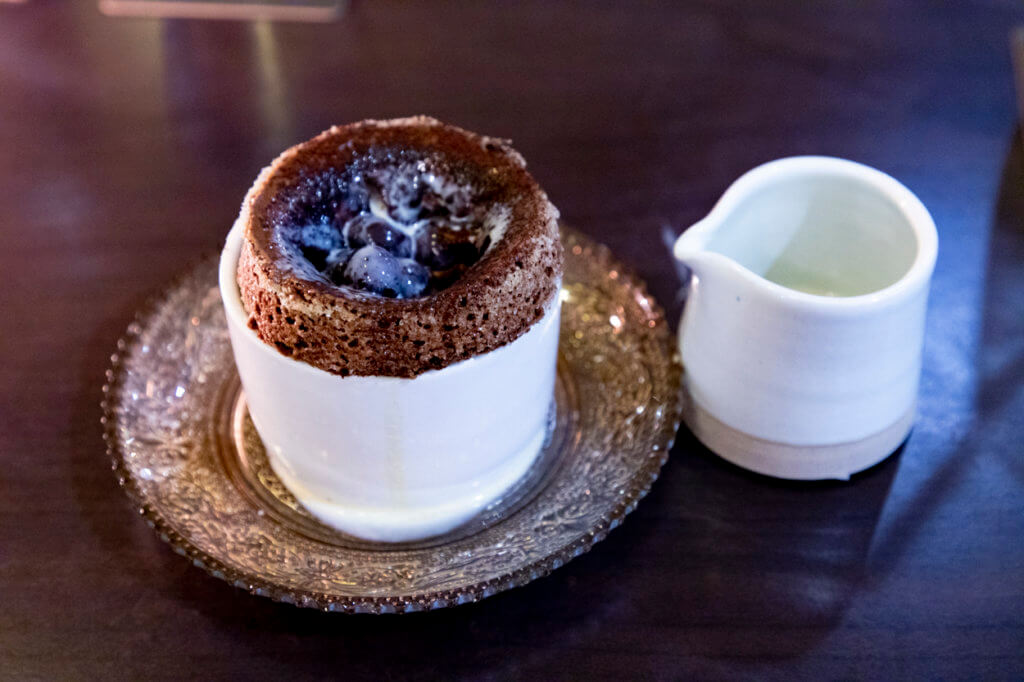 La Vie Waikiki, Final Thoughts
Dining at La Vie was a great way to close out what was already a wonderful day. The experience helped to elevate the best Waikiki staycation we've had to date. Plus, we finally got to try a restaurant I've been eyeing out for some time now. True, I didn't love everything I had, but do you truly ever love everything? Remember, I had a dish I borderline didn't like at all at the French Laundry. Yet, I'd return there and here again in a heartbeat. The overall experience was simply amazing, and the cuisine like no other here in Hawaii. I highly encourage anyone looking for something a little different to give them a shot.
Pandemic Waikiki Staycation
La Vie Waikiki
Quiora Waikiki