The Pig and The Lady is one of the hottest restaurants in the state.  Heck, it's one of my favorite restaurants in the world.  Period. They're known for their take on modern Vietnamese cuisine, as well as their outstanding dessert program.  So when it was announced that the P&L team would be opening a new restaurant, it sent ripples through the local restaurant scene.  That new restaurant, Piggy Smalls, just opened on Friday, October 14, 2016, to MUCH anticipation.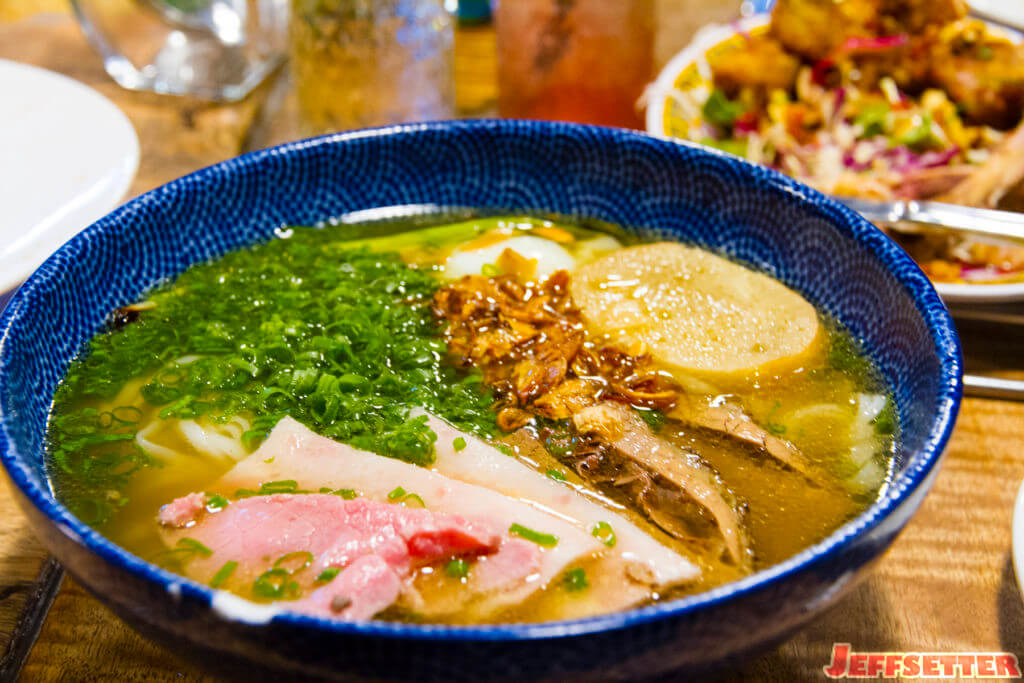 The Pig and The Lady really built it's reputation on its pho.  So much heartier and more flavorful than even the best traditional pho serve elsewhere.  Over time they created more dishes and became even more famous.  And today, P&L really upped their game with their offerings.  While their pho dishes still play an integral part of their menus, more highbrow but equally inventive dishes have begun to takeover.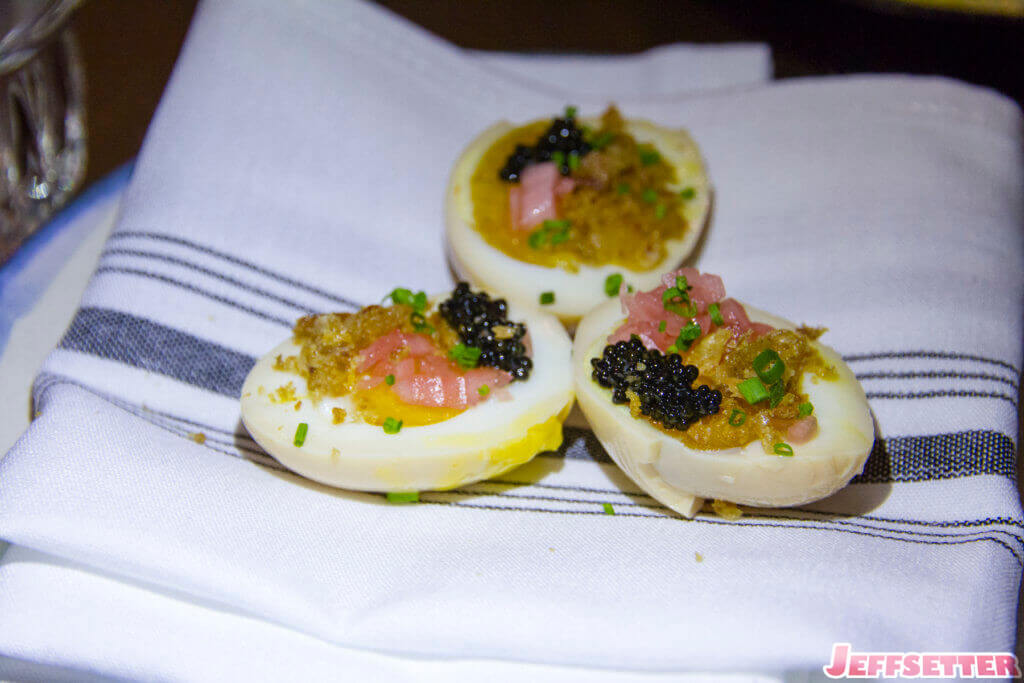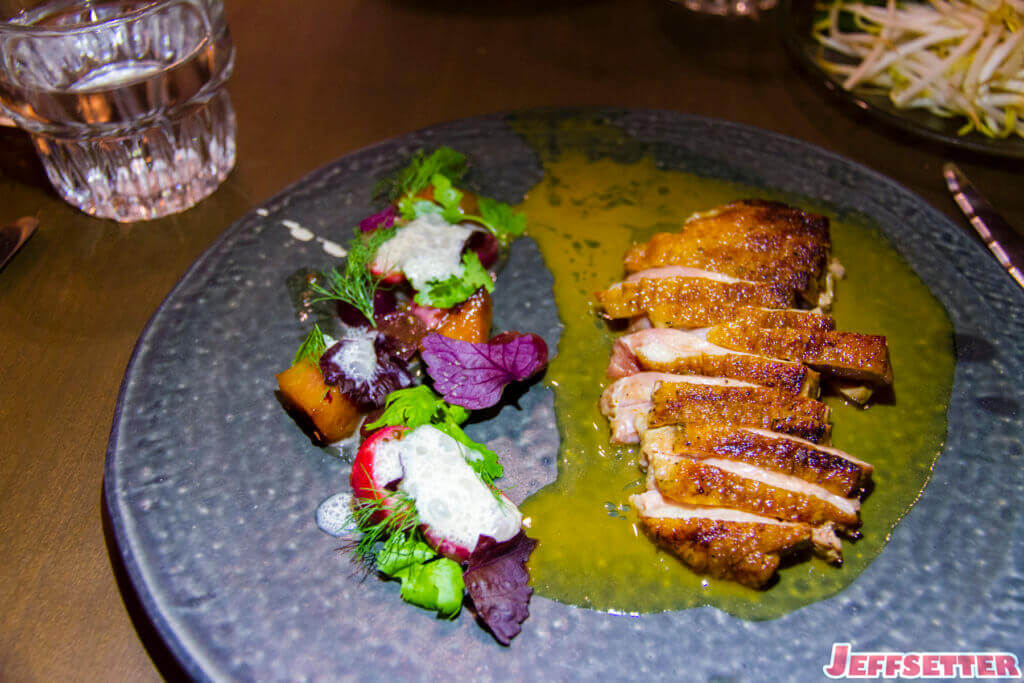 Enter Piggy Smalls.  Located at the Ward Shopping Center, Piggy Smalls is the more casual brother restaurant to The Pig and The Lady.  They're open seven days a week for lunch and dinner service with no downtime in between.  Eventually brunch/breakfast service will be added, too.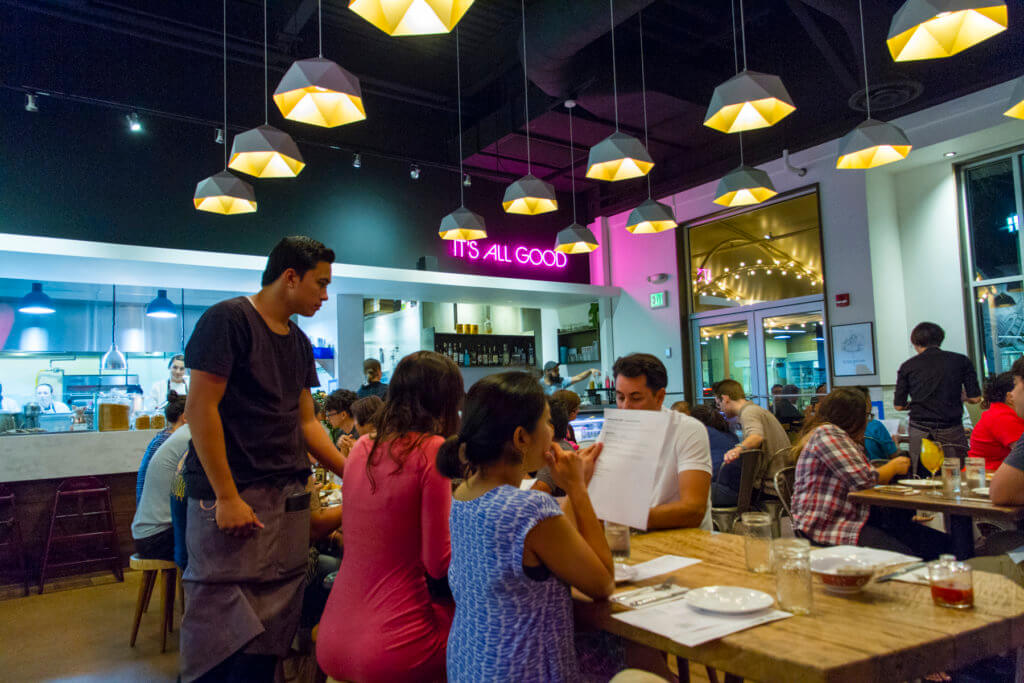 Piggy Smalls is, well, small.  It occupies the space once held by Kua'Aina Burgers, so this isn't your traditional restaurant space.  The decor is also decidedly more modern than that of The Pig and The Lady.  The difference, though, is fitting.  While there are some similarities in their menus, they are two different pigs.  Piggy Smalls' menu is more diverse, in my opinion, with North African, Middle Eastern, and European influences.  The menu is more vegetarian friendly, too.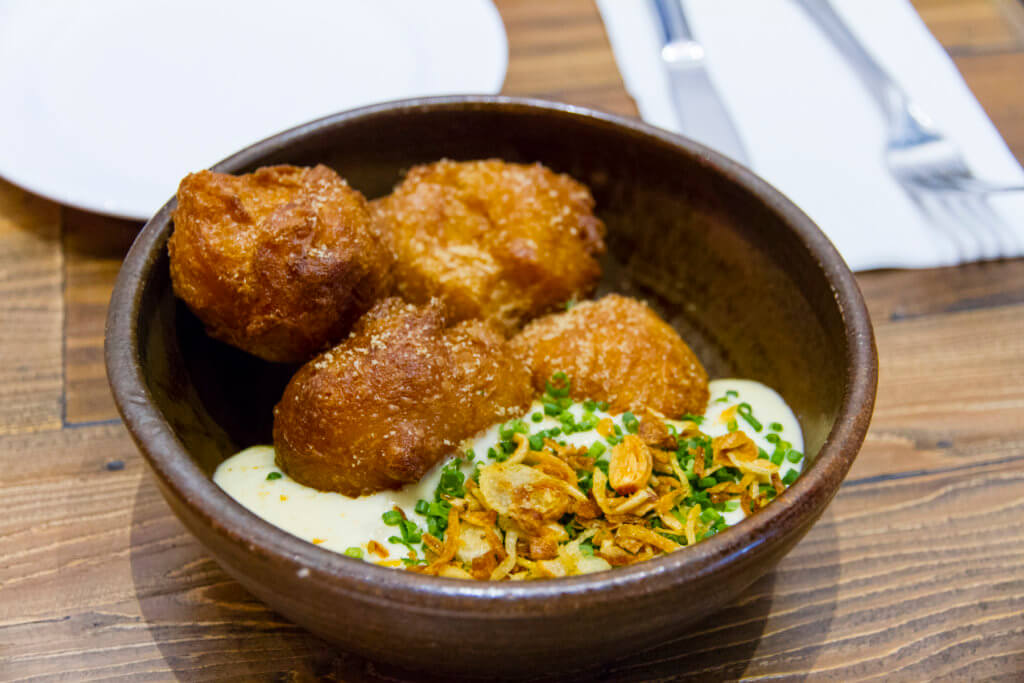 For our first visit, the 2nd day of business for them, we decided to start with the Loaded Baked Potato Beignets.  Unlike the time we had beignets at P&L with Jeffsetter + AJ, these beignets came out cold and were likely pre-made.  No matter, though, the texture and flavors were spot on.  Way lighter than they sound, too.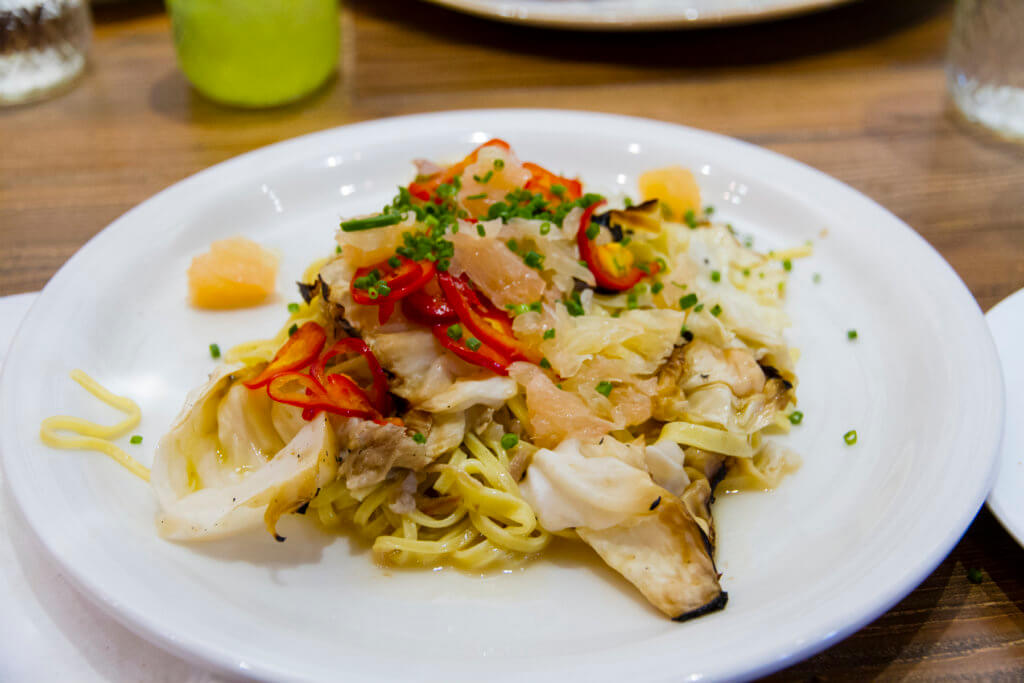 For my main, I decided to give the Tajarin a try.  House fresh pasta with smoked suckling pig, grilled cabbage, parmesan, dill, caramelized onions, pickled jalapeños, and grapefruit.  The pile of jalapeños on top were a little disconcerting, but the dish wasn't spicy at all.  To me, the Tajarin reminded me of a local favorite, kalua pig and cabbage.  It was comforting, tasty, and balanced.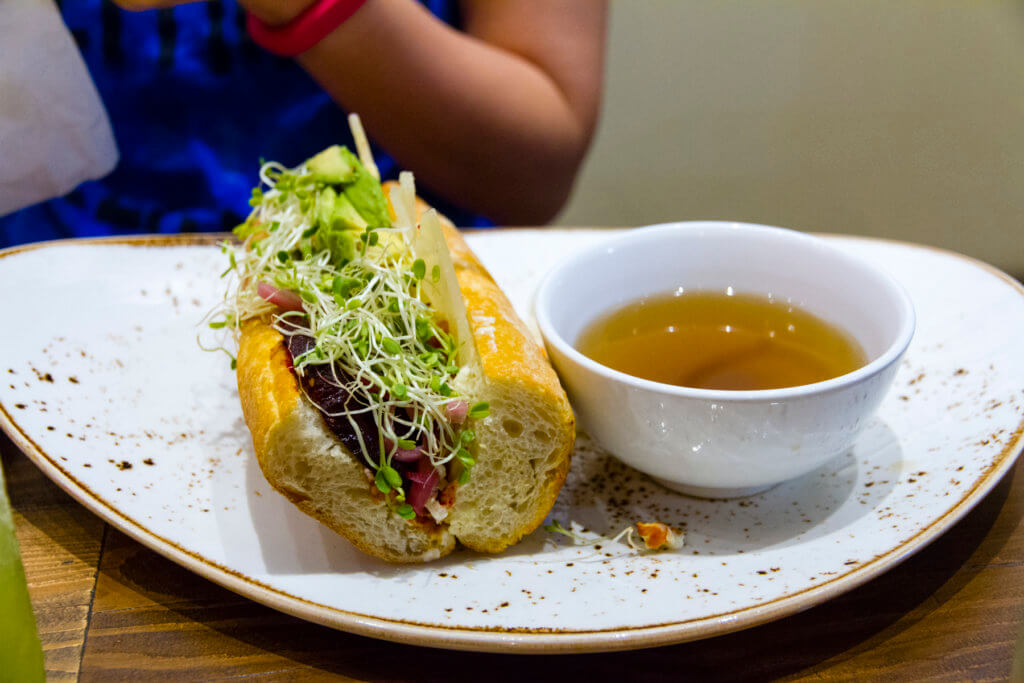 The wife went the other way with her order and got the Beet Box banh mi.  This vegetarian sandwich piles roasted beets, smoked chorizo chickpeas spread, avocado, marinated peppers, manchego, pickled red onions, and sprouts on a crusty baguette.  While my pasta was good, this banh mi blew me away!  It was smoky, earthy, sweet, savory, slightly spicy, a little tart, and creamy.  This was definitely a vegetarian dish I could get behind.  A little messy to eat, but man was it tasty.  Will definitely need to try the Pho-Strami banh mi next time, made with Chef de Cuisine Brandon Lee's own pho-spiced pastrami, which is made in-house!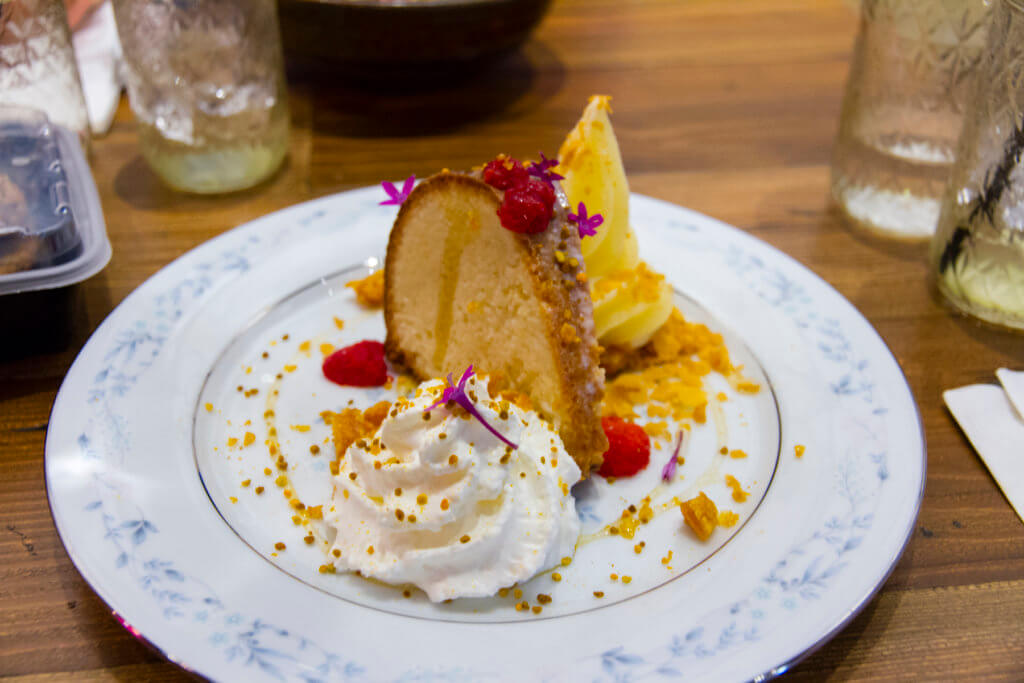 For dessert I ordered the crowd favorite, the Milk & Honey.  This wedge of soft sponge cake is soaked in four kinds of milk and served with honey comb candy, bee pollen, edible flowers, raspberries, and whipped frangelico.  I went the ala mode route and added a swirl of buttermilk custard and calamansi sorbet.  This was a really good dessert, but a little too sweet for my liking.  But that's just personal preference really.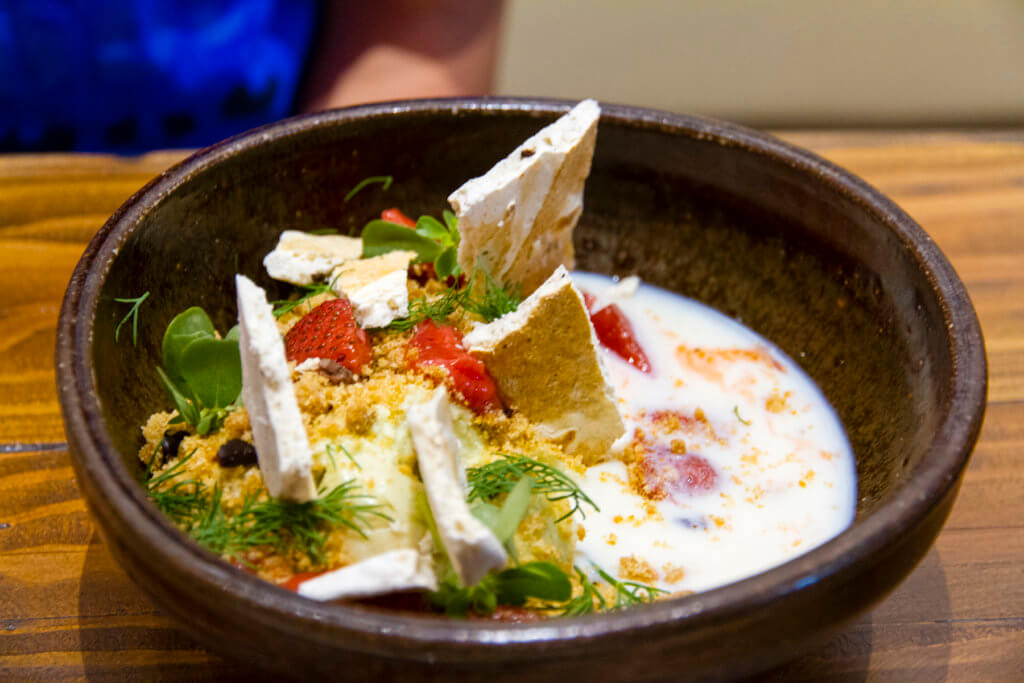 The wife went with Pastry Chef Gino Onjano's personal recommendation, the Sweet Avocado Dofu.  The dish combines avocado and Mrs. Cheng's maple soy milk with corn crumble, Hawaiian vanilla roasted strawberries, and black pepper meringue.  This dish was only slightly sweet, with savory, earthy, and peppery notes.  It was really nicely balanced and so refreshing!  I'd recommend you go with this one, too.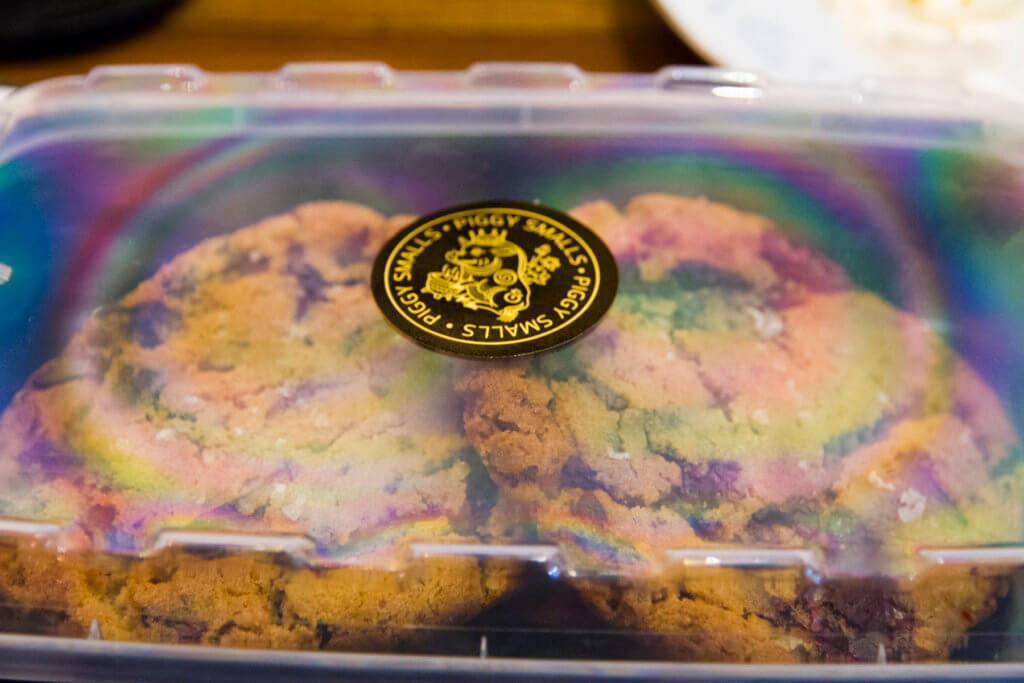 To close out the night, we got some Salted Chocolate Cookies.  They're made with Valrhona dark chocolate and are sinfully delicious!
Despite being opened only two days, the service that night was flawless.  Yes, the new team is lead by and had help from P&L veterans, but for a restaurant in soft-opening, I was amazed.  That being said, reservations are not being accepted at this time and won't be for the foreseeable future.  Not too bad, though.  We walked in around peak dinner time and was able to get seated within 30 minutes.  I doubt the wait will always be so minimal, though.
In total, the above dishes, plus two limeades came out to about $75.  Not bad.  Prices are only marginally cheaper than at P&L, but the quality justifies it.  Which is better?  They're both awesome!  Both are worth a try, and we'll be splitting our time between the two now.