Restaurant Week Hawaii, now in its eleventh year, wrapped up this past Sunday.  And, despite being out of state for the first few days of Restaurant Week, I was able to make it to two restaurants this year.  So let's do a Restaurant Week Hawaii 2018 recap.
For as long as I can remember, the Mrs. and I have always made it a point to use Restaurant Week Hawaii to try a new restaurant.  And for 2018, this continued to be the case.  However, like last year, I ended up at one new restaurant and a repeat.  So, first, let's take a look at my repeat restaurant visit.
MW Restaurant
It's been a while since I've been to MW Restaurant, but a friend of mine works there now, so I wanted to try to visit him.  Plus their Restaurant Week menus looked good.  They even included (of course) the restaurant's signature Mochi Crusted Fish.  However, I didn't order the fish.  Instead, I ordered a Restaurant Week special on their lunch menu.  Specifically, I got the "Kalua Pig and Cabbage."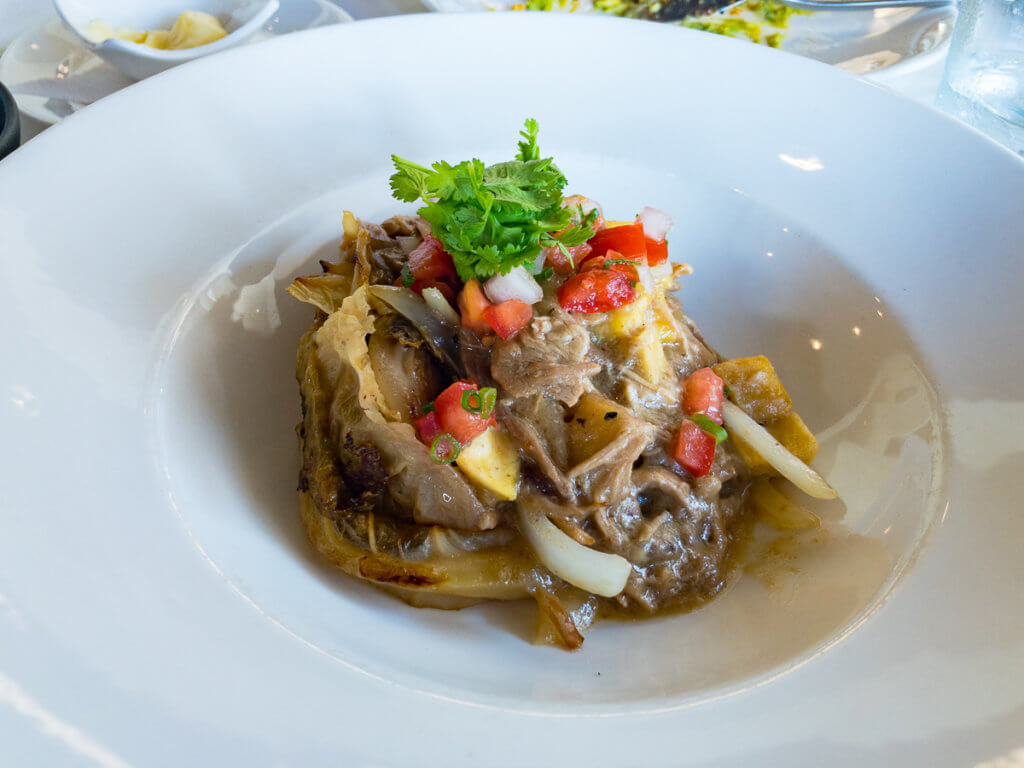 The dish doesn't look all that attractive, but boy was it delicious.  This version of a humble local favorite is comprised of a truffled kalua pig hash along with charred savoy cabbage.  I'm a sucker for caramelized cabbage, and the cabbage in this dish was phenomenal.  Sweet, vegetal, smoky, and slightly burnt, it paired perfectly with the salt, smoky, slightly truffley kalua pork hash.  Too bad the accompanying bowl of rice was a bit mushy.
The other two courses of the lunch menu were a choice between a Kauai Shrimp Bisque or Salad and Chocolate Brownie Cookies.  For my starter, I went with the Kauai Shrimp Bisque, which was a creamy and pure essence of shrimp with a nice burn on the backend.  The cookies were chocolaty and gooey, as I'd expect from MW, though they're a bit sweet for my liking.
In addition to the regular Restaurant Week menu, we also got to sample a couple of appetizers off the regular menu too.  The first starter was the Poke Nachos, which are high-quality, fresh, creamy, slightly citrusy, and pairs nicely with the light, crispy wonton chips.  I also got to sample the Pork and Foie Gras Wontons, which were a bit heavier but were meaty and delicious too.
d.k. Steakhouse
The second final restaurant on my Restaurant Week Hawaii 2018 lineup was d.k. Steakhouse.  Neither the Mrs. or I or our friends that joined us had tried d.k. Steakhouse before, it's long been on our list of places to try.  And, with a special $65/person menu, Restaurant Week was the perfect time to give the place a try.  Of course, many other people had the same idea too, so the restaurant was quite busy that night too.  Despite this, though, service was flawless and attentive throughout our experience there.  In fact, our server even offered to pack extra bread and tarragon butter for our friend along with her leftover entree.
For Restaurant Week Hawaii 2018, d.k. Steakhouse offered a 4-course dinner starting with a Torched Peppered Avocado with herbed-whipped burrata, pickled red onion, baby arugula, red wine vinaigrette, and charred local relish, as well as a Roasted Garlic Kabocha Ravioli with mascarpone, sage, butter, fig balsamic, and a sage pesto.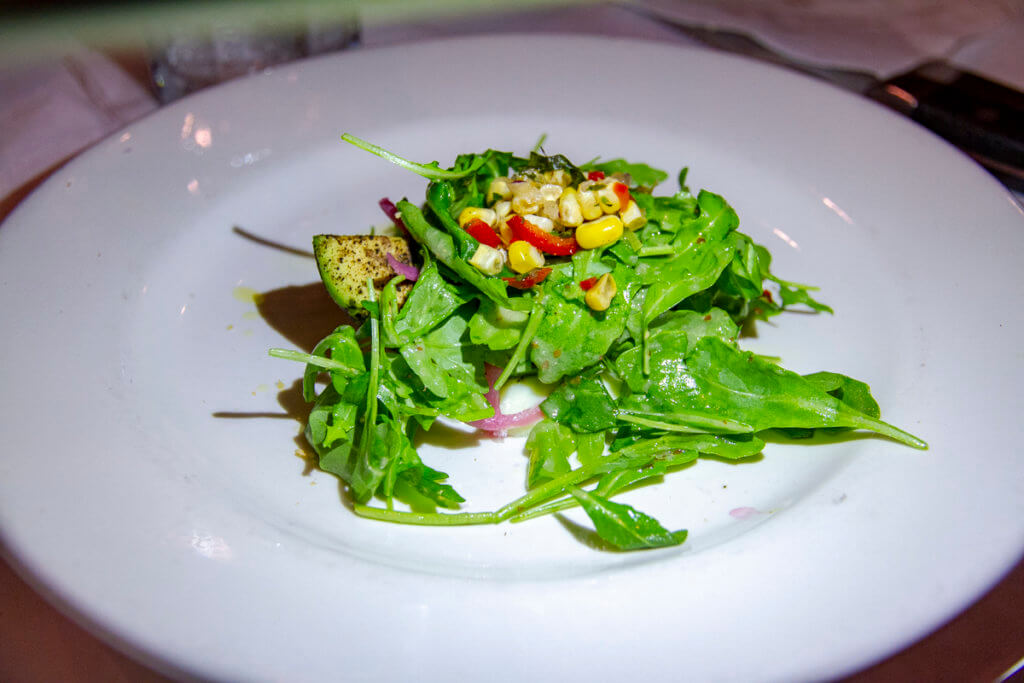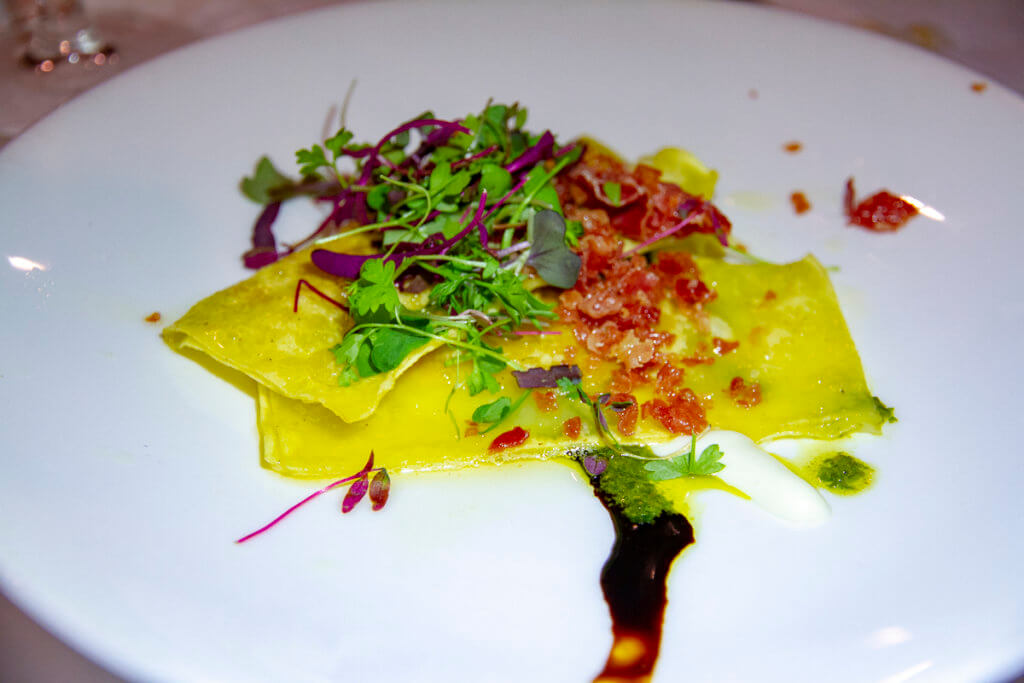 Both dishes were good if a little small.  I don't remember there being any burrata in the avocado dish, though.  The ravioli didn't have a whole lot of filling either, though it was tasty and cooked perfectly.
For the main dish, you could choose between a Roasted Garlic Saffron Seafood Stew or a 15-Day Dry Aged Boneless Ribeye.  And, naturally, I went with the ribeye.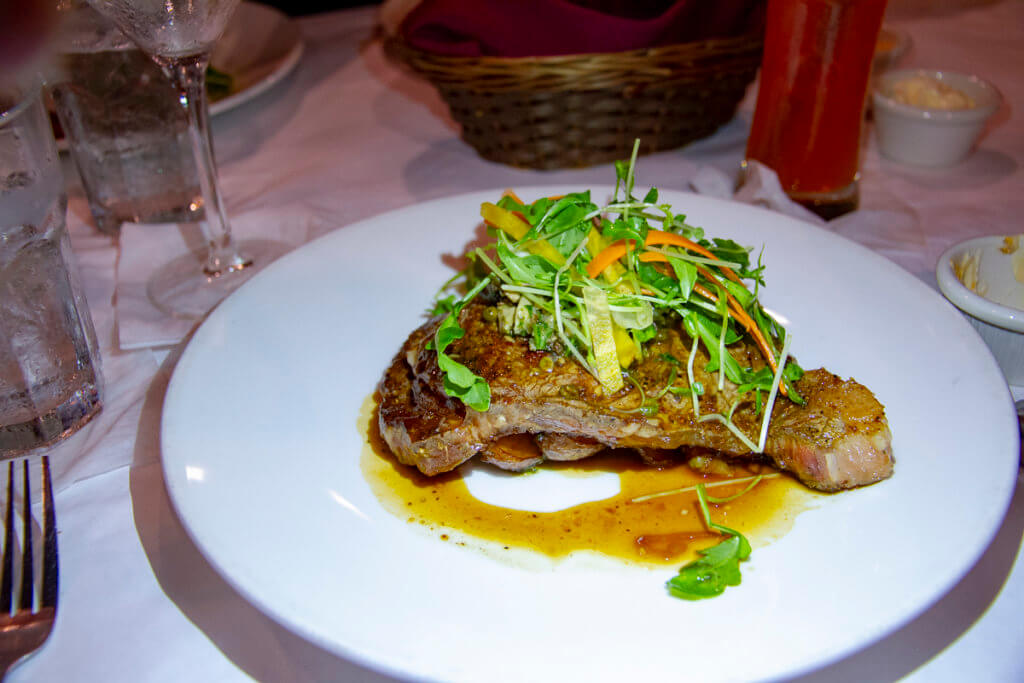 The ribeye on offer that night came in at 10oz, which came atop crushed fingerling potatoes with baby arugula, roasted mushroom medley, gremolata, and a red wine peppercorn jus.  My steak was a perfectly cooked medium, though I wish there were more of a crust.  Don't think this was possible thanks to the thinness of the steak, however.  And, the gremolata and other toppings overwhelmed the flavor of the beef itself.  So while the dish was a nice size, it wasn't that great of a steak, especially since there was quite a bit of connective tissue in it.
Dessert was your choice of a Strawberry Panna Cotta or gelato.  I went with the dark chocolate gelato, while everyone else went with the pannacotta.  Unfortunately, I forgot to take a picture of dessert, but everything was good.
Restaurant Week Hawaii 2018 Recap, Final Thoughts
Though I went to only two restaurants this year for Restaurant Week Hawaii, 2018 was better than last year.  That's because, unlike our experience at Nobu Honolulu in 2017, I didn't leave any restaurant still hungry.  And while I liked my lunch and MW Restaurant, I don't think d.k. Steakhouse was as good as it could have been.  I'm not sure what made them present their steak the way they did; the garlic totally overpowered the meat.  So, I'll just have to give them a try again.  But for now, Stripsteak continues to be my favorite Honolulu steakhouse, though I'd never order their dry-aged steak ever again.