After settling into our suite at the Royal Hawaiian, we decided to get some lunch. Given the pandemic, that's a bit more difficult than you'd think. But, I remembered seeing something I wanted to check out. That's how we ended up taking advantage of the amazing Tsurutontan Waikiki deals.
As was the case back in December, many restaurants in Waikiki are still closed. However, my own rule of eating exclusively in open-air restaurants makes finding a place to eat even harder – especially since we already hit places like Island Vintage Wine Bar last time. Thankfully, though, many places offer takeout too. What's more, some of these places, such as Tsurutontan Waikiki, offers amazing deals!
Tsurutontan Waikiki Location
I've been to Tsurutontan Waikiki for traditional dine-in in the past. Located in the Royal Hawaiian Shopping Center, it's a short, easy walk from the Royal Hawaiian hotel. Specifically, the restaurant is up on the mall's third floor, not far from the food court and Tim Ho Wan.
By the way, if, like us, you're doing takeout, I highly suggest calling ahead. This not only ensures you get what you want but also makes for a more convenient experience. You can, after all, call in your order for a later pick-up time. In our case, I called in for an ASAP pick-up and was quoted a 10-minute timeframe.
Takeout Menu
If you're taking your food to-go, Tsurutontan has three menus available for you – the Happy Day All-Day menu (available for dine-in too) or the Takeout Special Menu, and a Weekly Lunch Special. All offer great deals, though the two takeout only options are the best value. What's more, both takeout specials offer a ridiculous amount of food. So let's talk more about those two options.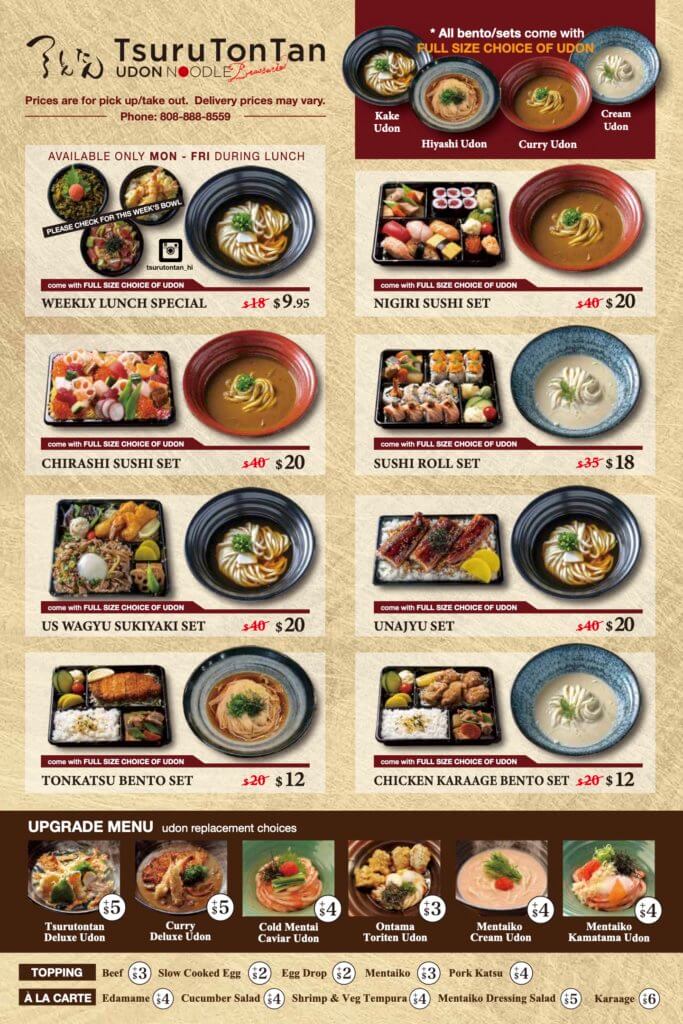 As you can see, both of the takeout menus are on this single sheet. Prices for weekends and dinners come in at $12 to $20 and include both a bento and full-size udon. Better yet, you get to four udon flavor choices, including hot and cold options. If you choose, though, you can even upgrade your udon to more luxe options.
If you're looking for lunch on the weekday, the deals are even better. For $10, you can get a full-size udon of your choice along with a set donburi (bowl) of the week. However, you'll need to check out Tsurutontan Waikiki's Instagram to find out what bowl is on-offer this week.
The Food
During our visit, we decided to get a Sushi Roll Set and a Nigiri Sushi Set. These sets cost us $18 and $20, respectively, though, at normal prices, it should've been at least $47.50 and $60. Even at the happy hour prices, these sets should've cost us $36 and $38, respectively. Crazy, right? In actuality, my set, the Sushi Roll Set, did come out to $22 since I upgraded to the Cold Mentai Caviar Udon for an extra $4. Here's our full spread.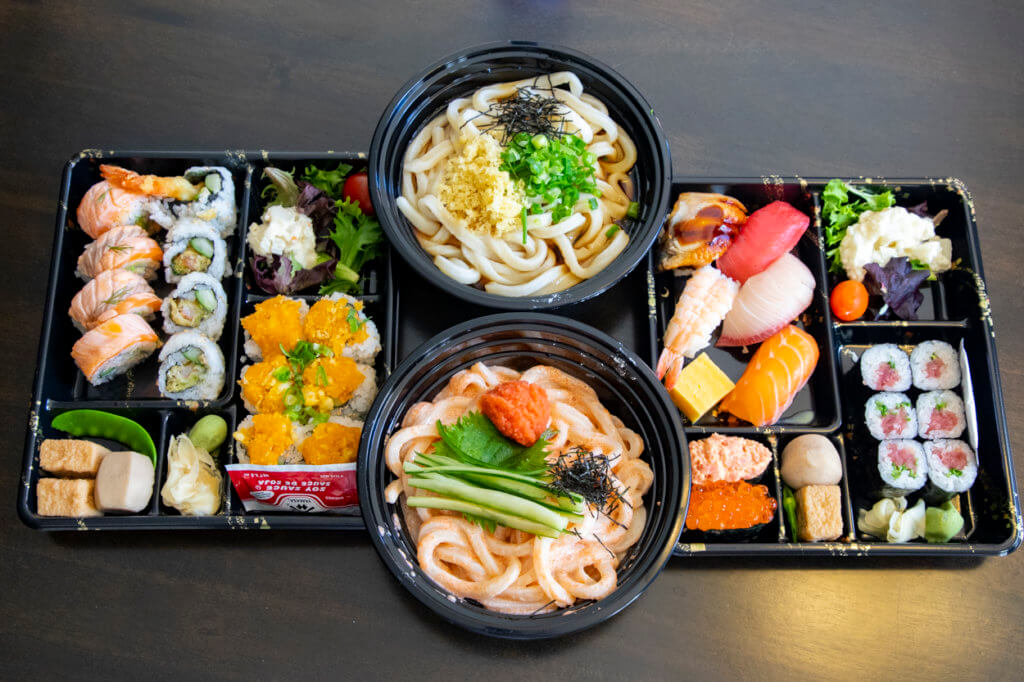 That's A LOT of food!! Seriously – this is enough to feed four people. We struggled through all of this and couldn't finish. That said, the quality is all there. My Cold Mentai Caviar Udon, for example, had a nicely balanced, fresh-tasting sauce, and perfectly chewy noodles. That's great because low-quality and old mentai (salted and spiced pollock roe) can have an off-flavor to it, which wasn't the case here.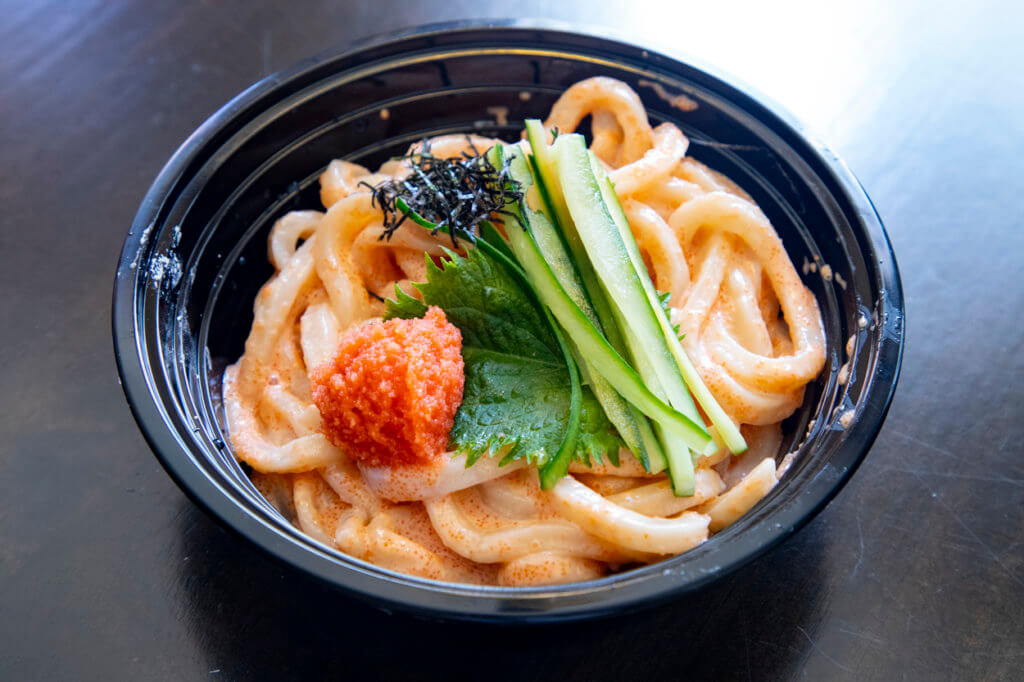 My roll sushi was also good, granted you like spicy as the crab salad in the salmon-topped one is spicy, as is the crunchy-topped spicy ahi rolls.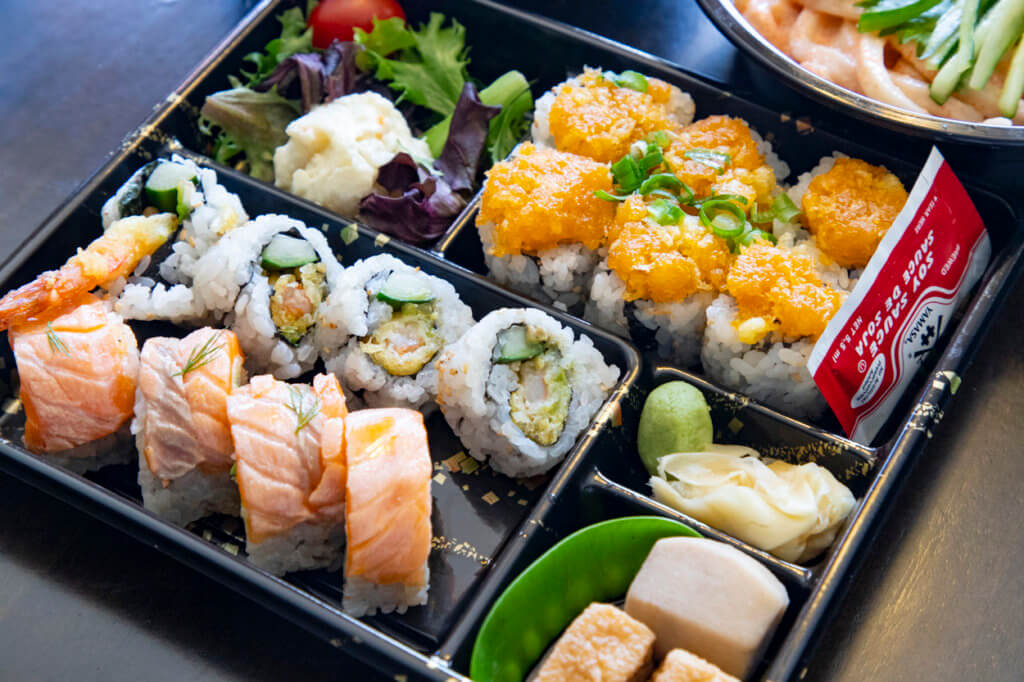 For Mrs. Island Miler's set, the udon had great flavor and texture too – Hiyashi (cold soy-based) Udon – while she liked the nigiri. The negi toro roll was also quite nice!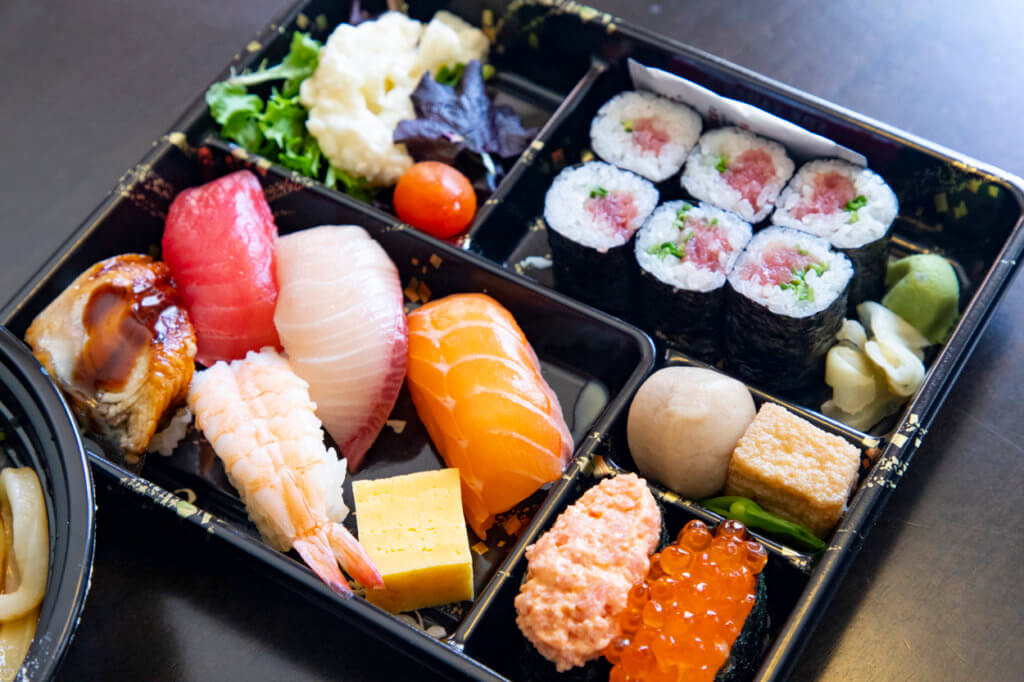 Weekday Lunch Special
On a separate occasion, my mom picked up lunch for everyone to take advantage of Tsurutontan's amazing Weekday Lunch Special. So, here's what that looks like.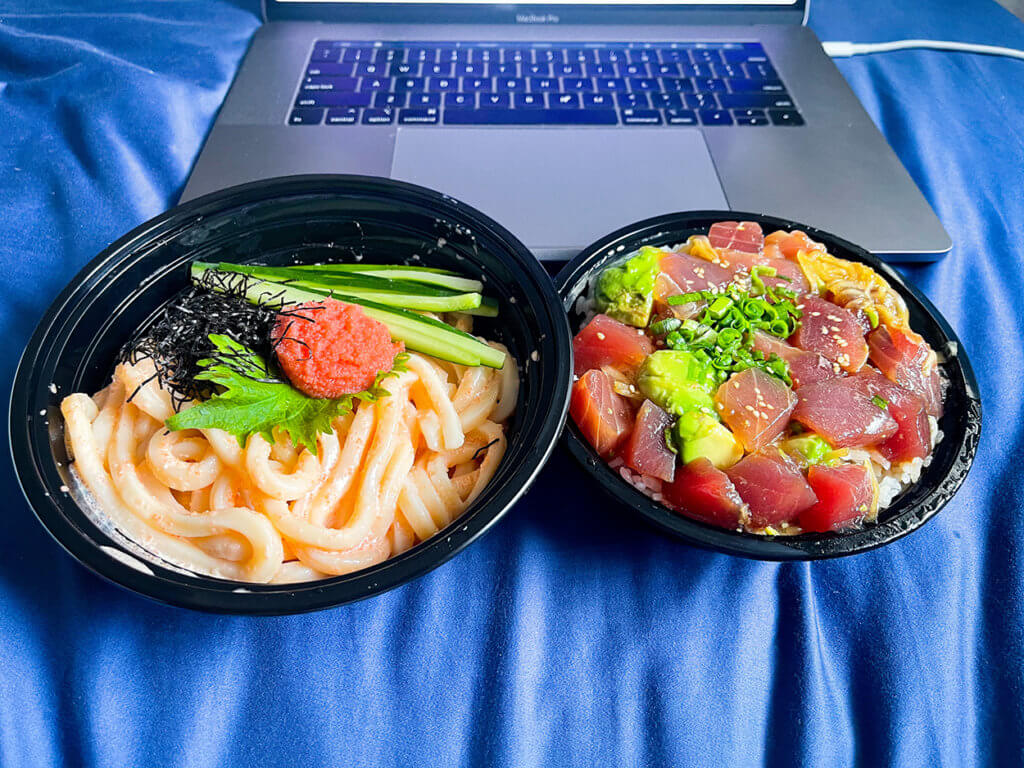 That week, the bowl on offer was the Ahi + Avocado Poke bowl. For $10 (or $14 in this case with the Mentai Caviar Udon), it's an incredible value. Again, the udon here is full-size, but that poke bowl is no slouch either. I was, admittedly, a little nervous about the poke bowl. But the poke was fresh and, despite its mundane look, very flavorful! I loved how the toothsome ahi mixed with the fatty hunks of avocado, green onions, and marinated white onion. It was legitimately tasty and VERY filling. In fact, I couldn't finish both dishes together. I ate the poke bowl and saved the rest of my udon for later. And, remember, this is all just $10. How crazy is that?
Tsurutontan Waikiki Deals, Final Thoughts
I know this pandemic has been hard on everyone. It's been especially hard on our service industry though. That's why seeing these incredible deals is bitter-sweet. On the one hand, I love having them, but I also know it comes from a place of pain. So, especially to my local readers, please get out there and do what you can to support your fellow residents. It doesn't matter if you're dining in or taking out, patronizing a local business (preferable) or a big chain location, by giving these places business, you're helping people keep their livelihood. And, especially when you run across outstanding savings like this, please do tip generously. I most certainly do, even when paying full price and especially at somewhere I'd usually dine in at. After all, it's not the restaurant's fault that I'm choosing to take-out rather than dine-in.
Royal Weekend Staycation
Takeout Review: Tsurutontan Waikiki
Restaurant Review: Hau Tree
Restaurant Review: Mai Tai Bar (Royal Hawaiian)
Royal Hawaiian Center Finds