During our stay at the Sheraton Waikiki, I once again decided to check out the property's on-site breakfast options. Sure, there are other options conveniently located nearby, but I wanted to be able to report on the full experience for you all 😉. So we checked out the Sheraton Waikiki Breakfast at KAI Market.
When we stayed at the Westin Moana Surfrider and the Royal Hawaiian Hotel, eating breakfast on-property was a no-brainer. Not only is it more convenient, but both properties have signature dishes. That's not the case at the Sheraton Waikiki. However, for consistency's sake, I decided to have us dine on property during our recent stay anyway. Plus, like the other two stays, I had a breakfast voucher once again.
Sheraton Waikiki Breakfast at KAI Market
KAI Market is the Sheraton Waikiki's dinner buffet restaurant. I've been here once long ago when Kyo-ya first opened the venue. At breakfast, though, KAI Market functions as a traditional sit-down restaurant with both indoor and outdoor seating available. The views, unfortunately, are probably the weakest of the three Kyo-ya properties, nor do they seem to give preference to elite members here.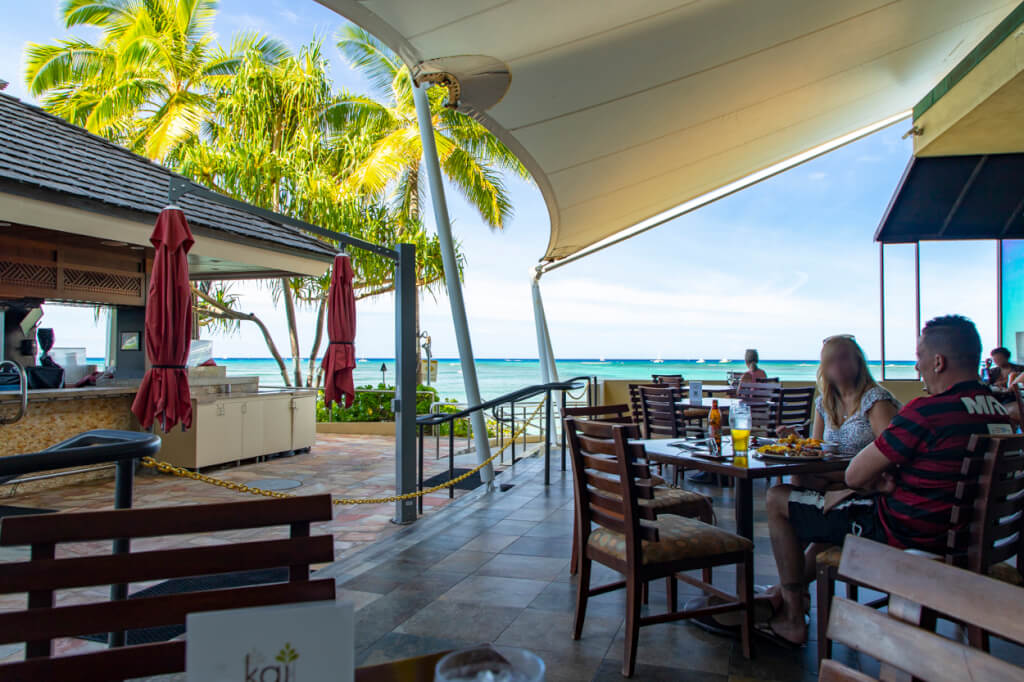 Service
Service at KAI Market is completely fine. Our waitstaff was neither friendly nor rude – they appeared to be just going through the motions. What irked me the most, though, was their unwillingness to explain things. This is particularly true of the elite breakfast voucher since I was told that I can either choose a continental breakfast or 10% off. What made no sense to me about this arrangement is that voucher wouldn't cover items that cost the same or less than the continental breakfast.
KAI Market Breakfast Menu
Of the three Kyo-ya breakfasts we had, I did feel like KAI Market had the most variety on its menu. The prices, though, are also the most outrageous. Take that continental breakfast option, for example – it's $30 and gets you pastries, fruit, berries, and yogurt. Seriously? At the same time, you can get an American Breakfast (three eggs, breakfast potato, and bacon or Portuguese sausage) for the same price! Hell, you can get Vanilla & Orange Sweet Bread French Toast or Kahanamoku Buttermilk Pancakes for $29 too. So, WHY can't you use the voucher for these items, hmmm? 😡
What We Ordered
If you haven't already guessed, we didn't order the continental breakfast option. Pastries, yogurt, and fruit? Not my idea of a great Sunday breakfast. So, for her breakfast, Mrs. Island Miler went with the Vanilla & Orange Sweet Bread French Toast with bacon – Portuguese sausage was an option too. The dish was fine, coming with a side of whipped fruit butter, fruit sauce, and maple syrup. Strangely, the maple syrup came in two half containers, while I'm sure the butter could've been placed on the plate like the sauce. But, hey, whatever. At the end of the day, the dish was delicious if not a little mediocre.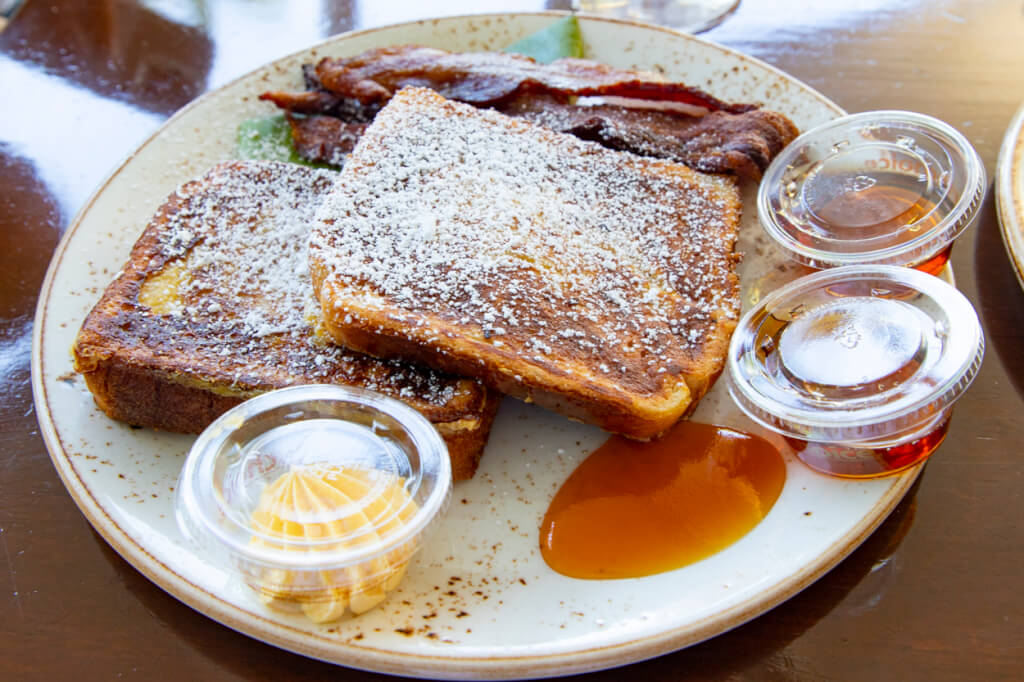 For my breakfast, I went with the Eggs Benedict ($31). The offering here is pretty standard – english muffins, ham/Canadian bacon, poached eggs, hollandaise, paprika, and breakfast potatoes. The potates were far better than what I had at the Royal Hawaiian, but was still kind of soggy and underseasoned. The benedicts, though, were tasty. I do wish the hollandaise were a little less vinegary – hey, use lemon instead – but not enough to bother me.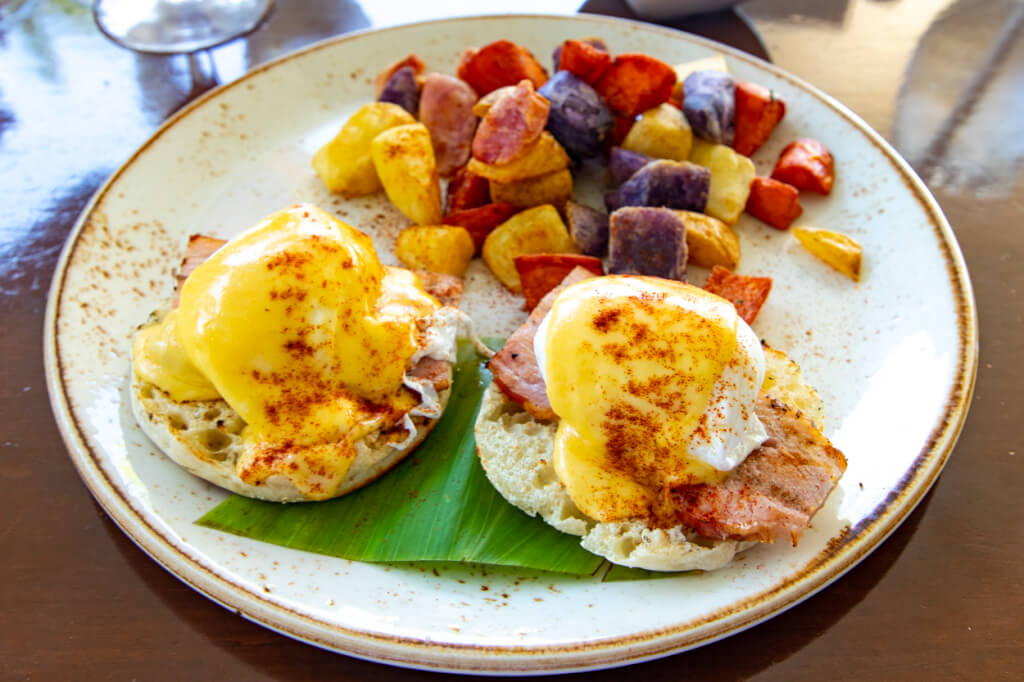 I know you all are wondering how the poached eggs were, huh? I'm happy to say that they were perfectly poached. Just take a look at the gloriously runny gems! Even better, there was a thin layer of fudgy, gently cooked yolk too.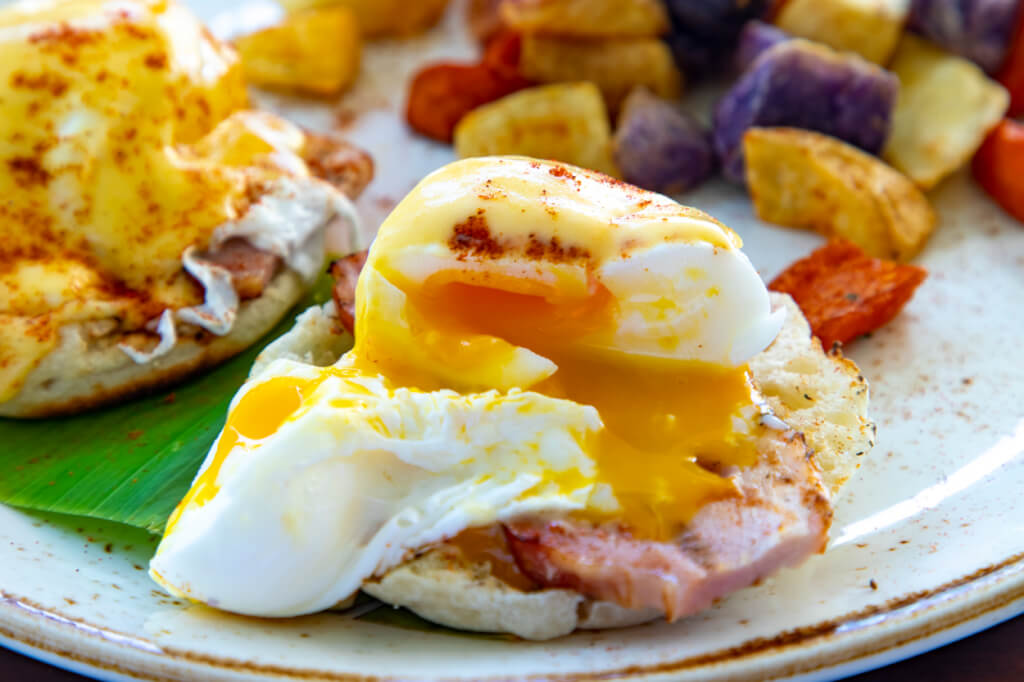 Final Thoughts
Look, the breakfast at the Sheraton Waikiki is the pinnacle of mass-produced resort food. However, at least the quality is decent. Prices, on the otherhand? I thought they were a bit much. What's worse is that they really cheap out on the elite breakfast benefit. I can't believe all they gave me was a measily 10% discount on this $62 tab. They could've at least discounted the value of the contiental breakfast from what we ultimately chose – especially since the lounge isn't open. But, that goes to show how much the Sheraton Waikiki appreciates its Titanium Elite members.