During our recent stay at the Royal Hawaiian, a Luxury Collection Resort, the only on-property restaurant open at that time was the Mai Tai Bar. This, of course, is due to the pandemic. And because I wasn't given an elite benefit choice at check-in and was given a breakfast voucher, here's my Mai Tai Bar Breakfast review.
Now, normally, I wouldn't eat breakfast on-property at the Royal. As you'd imagine, the prices here are quite high, and the menu looks quite underwhelming. But, since I had a free breakfast voucher, I decided to check them out. After all, I might as well use the benefit, right?
Mai Tai Bar Location + Ambiance
The Mai Tai Bar is located right off of the beach. To access it, guests need to head to the back of the Royal Hawaiian and to the left. In fact, it's immediately off the ocean-front lawn. You can't miss it, thanks to the dozens of pink parasols that make up the "roof" of the bar.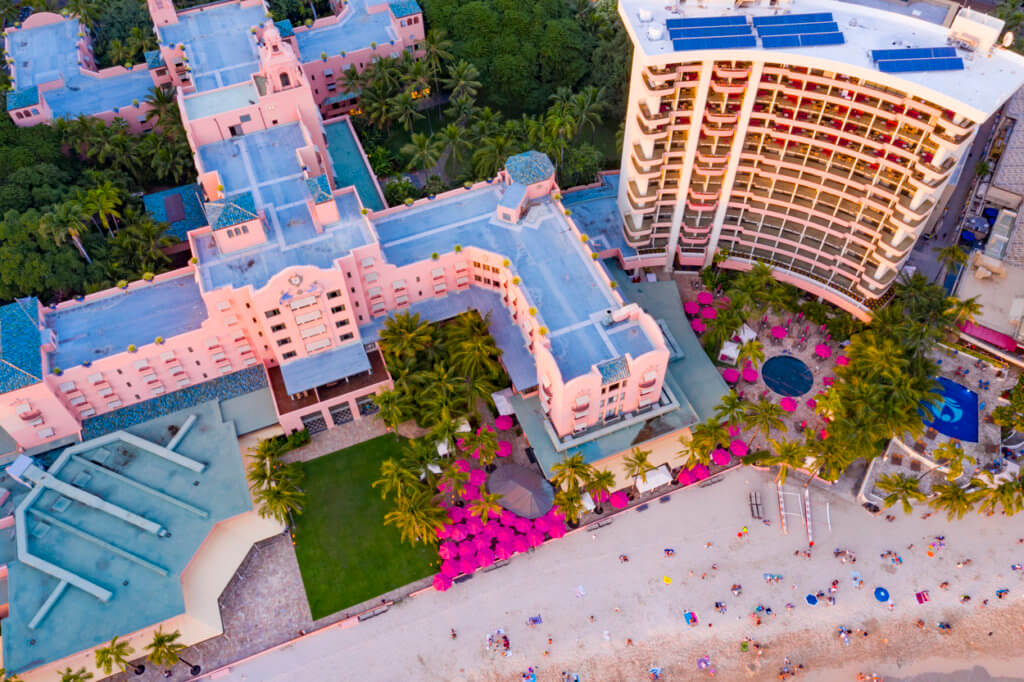 As you might imagine, the Mai Tai Bar's location means you have wonderful views of Waikiki Beach and Diamond Head. It's also a relatively tranquil area, save for the sounds of families at play on the beach. The umbrellas, of course, don't provide full coverage. As a result, some seats are exposed to the sun, and the bar overall gets quite hot. So, if you're planning on dining here for breakfast, the earlier, the better.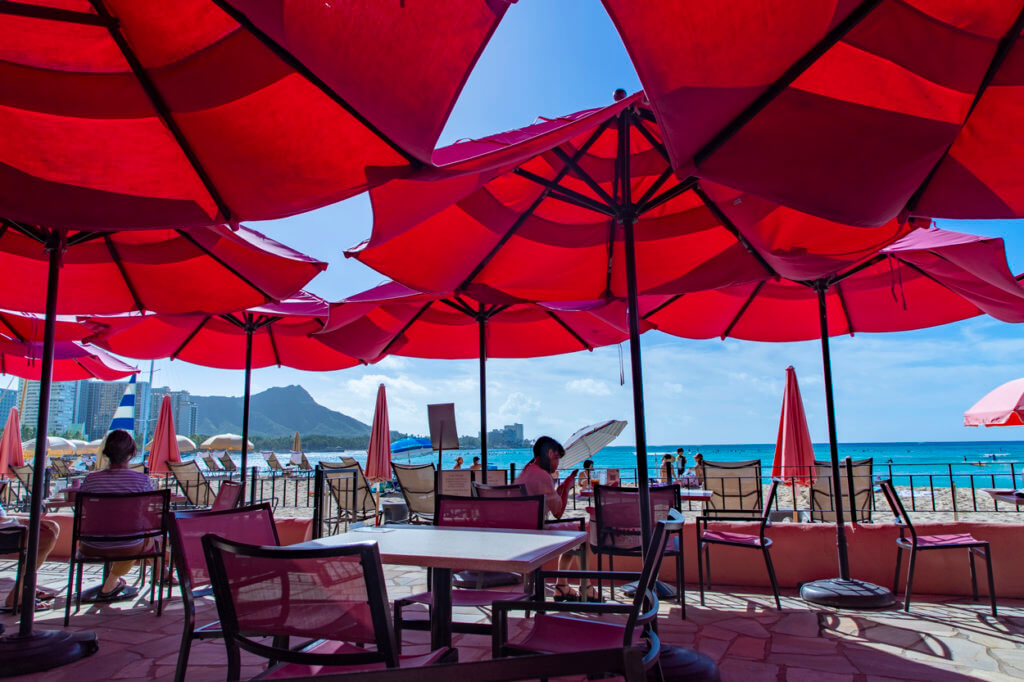 Mai Tai Bar Service
The service at the Mai Tai Bar was wonderful. Our server, in particular, was incredibly warm and accomodating. I likened her to a typically local aunty. She'd periodically stop by our table to make sure we're doing ok and to "talk story." That made our experience there all the more personal. Even better, though, was the fact that our server balanced her attention to us very nicely. She didn't hover but didn't vanish for long periods of time either. Perfect.
Mai Tai Bar Breakfast Menu
Thanks to the pandemic, the Mai Tai Bar has a tiny breakfast menu. In fact, there are only three starter options and five mains. There are also two kid's selections, along with a selection of coffee, teas, juices, and milks. For those that want a more curated experience, the Mai Tai Bar does have a set continental breakfast option that allows you to add on an entree for an extra charge.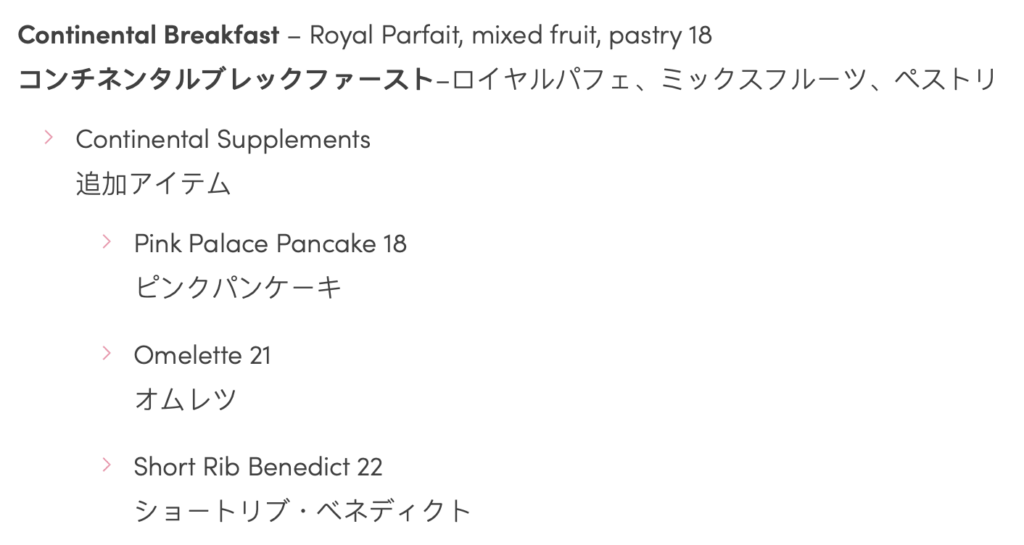 As far as our voucher goes, it is valid for the continental breakfast (Royal Parfait, Market Fruit & Berries, and Pastries). However, our server informed us that we could choose any of the continental breakfast upgrade options in place of the set itself. Nice!
Mai Tai Bar Breakfast
For her breakfast, Mrs. Island Miler chose the Royal Hawaiian's signature Pink Palace Pancakes. The pancakes come in a sizeable stack plated with haupia sauce, berries, shredded coconut, and maple syrup. Unfortunately, aside from the color, these are standard pancakes – and not very good ones at that. They're on the doughy side and sat in a very thin puddle of haupia sauce. There definitely wasn't enough sauce for use on its own, so we ended up using the maple syrup, which drowned out all the other flavors.  That's all very disappointing considering the fact that these pancakes cost a shocking $22.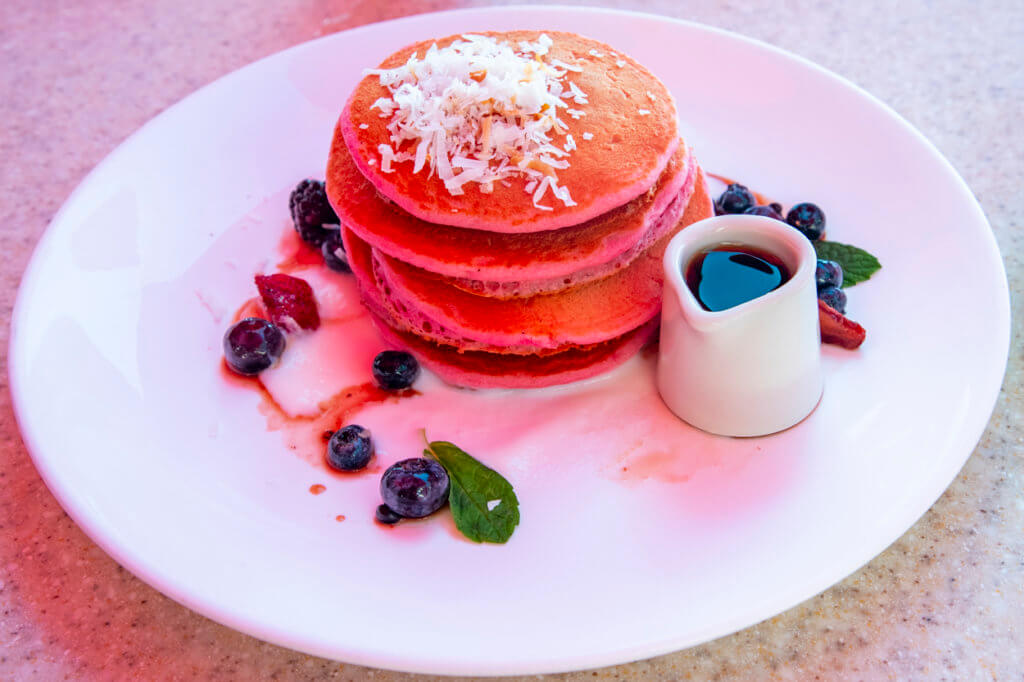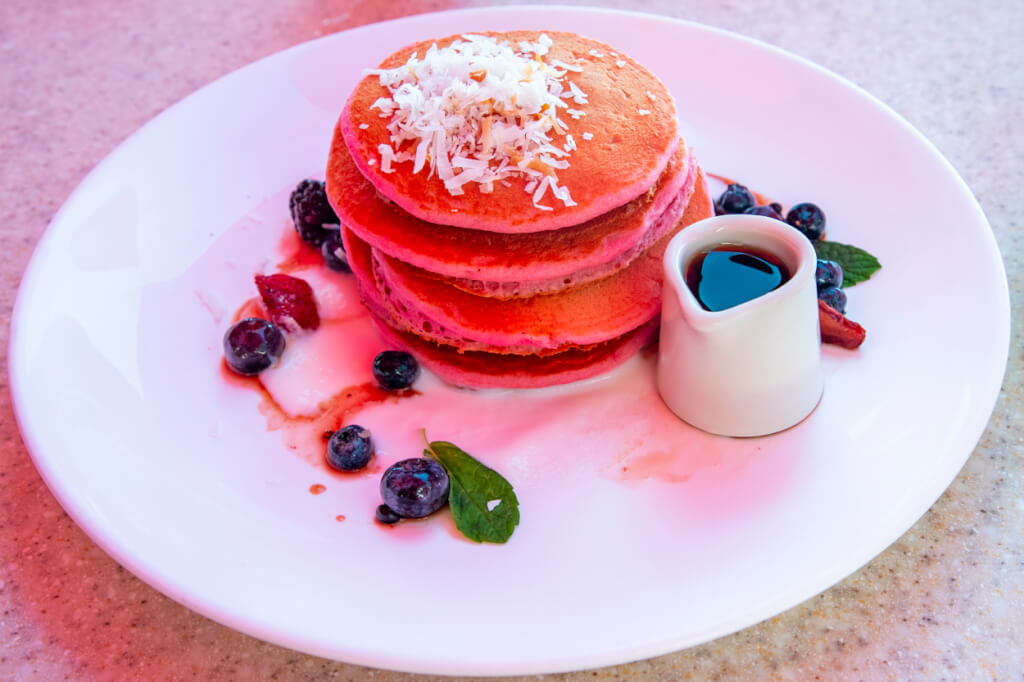 For my breakfast, I went with the Omelet. Here, the large, fluffy omelet comes stuffed with cheddar cheese, tomatoes, green bell peppers, onions. The omelet also comes with a side of breakfast potatoes and your choice of bacon, ham, or Portuguese sausage. Much like the pancakes, the omelet is very mediocre. There was too much egg, not enough filling, and it was very underseasoned. Even worse, the potatoes were soggy – almost mushy, and the bacon was floppy. I have a feeling that they cook these items en masse early in the morning and keep them in warmers. That's incredibly disappointing for something that normally goes for $18.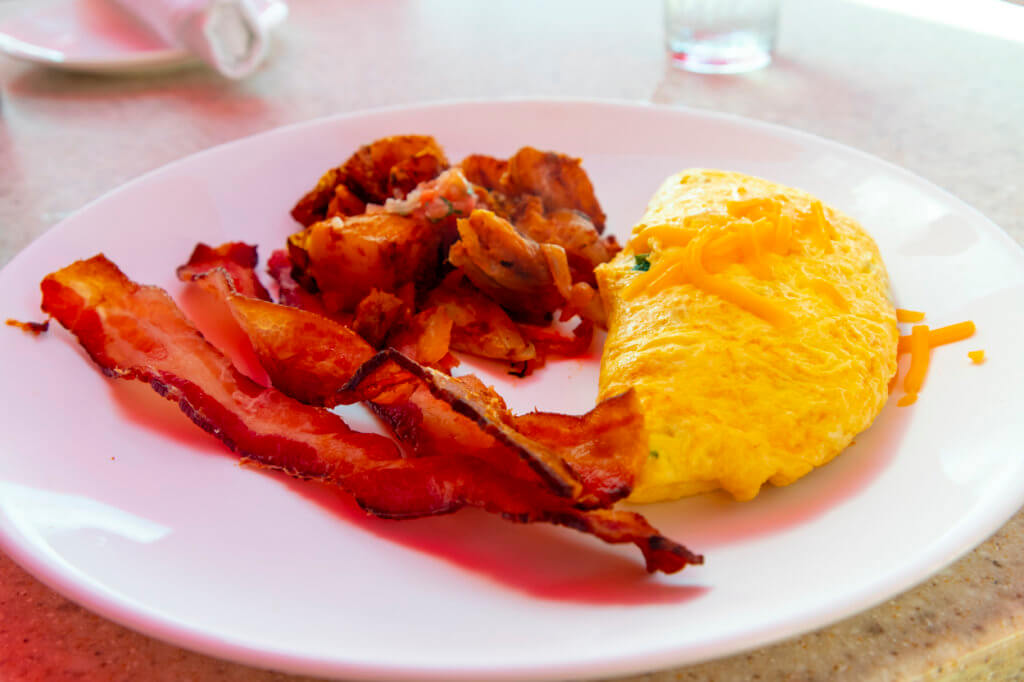 Mai Tai Bar Breakfast at the Royal Hawaiian, Final Thoughts
Had I paid for this meal on my own, it would've cost me $47 before tax and gratuity. That's grossly overpriced for what you're getting. I could've gone to Zippy's and gotten a better quality meal for about $15. Yes, I get that hotels always overcharge for breakfast, but these prices feel more like extortion. To put things into perspective, breakfast at the Ritz-Carlton Waikiki costs slightly less and is of much higher quality. Even the incredibly expensive breakfast at the now-defunct Herringbone Waikiki was a better deal.
Had I not gotten the voucher, I likely would've walked over to Royal Hawaiian Center and gotten some acai bowls from Island Vintage instead. And if you don't get a voucher, I highly recommend going elsewhere too.
Royal Weekend Staycation
Restaurant Review: Mai Tai Bar (Royal Hawaiian)
Royal Hawaiian Center Finds