I knew Southwest Airlines would put up a fight when entering the Hawaii market. But this image clearly shows that Southwest has very strong ambitions in Hawaii. SAVAGE!!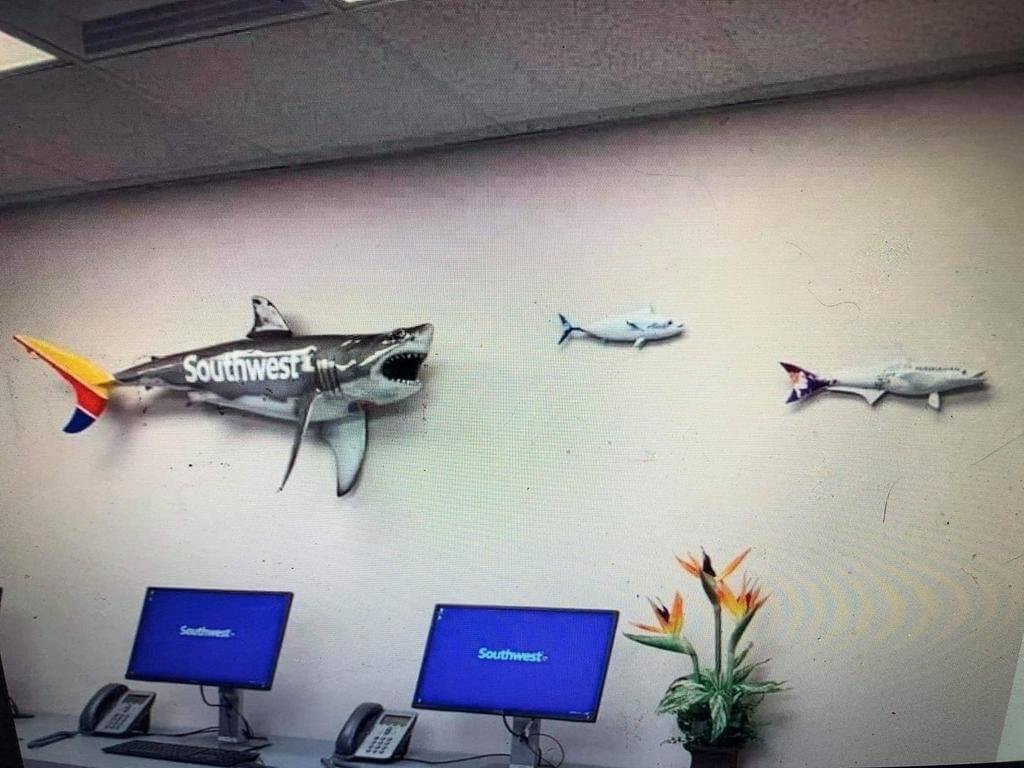 The image you're seeing comes from inside Southwest's ETOPS Center, where pilots prepare for Hawaii flights, at Oakland International Airport. And in case you're having a hard time deciphering that picture, it depicts Southwest as a great white shark chasing two smaller fish representing Hawaiian and Alaska.
That's a bold statement for sure, though one the public isn't supposed to see. Southwest, according to the Pacific Business News (pay wall), isn't commenting on the shark imagery. And it appears that even Airline employees are mixed about the appearance of the artwork. Some are saying that it gives the wrong message, especially regarding Hawaiian and Alaska. Another employee claims humility isn't Southwest's strong suit. Either way, let this be a warning to Alaska and Hawaiian; Southwest isn't messing around.
Southwest to Hilo?
In the meantime, Southwest's VP of Network Planning, Adam Decaire, is on the Big Island meeting with community members. During his meeting, Decaire spoke about flying into Hilo and driving over to Kona while East Hawaii residents pleaded with him not to forget them.
In response, Decaire says Southwest is aware of the Hilo airport and what they think it can do. He did not make an official statement but did say "maybe, maybe not. I just don't know. Just a teaser out there for you guys."
Fingers crossed! If it's one intra-Hawaii route that desperately needs competition, it's the Honolulu-Hilo one.
Southwest Has Very Strong Ambitions in Hawaii, Final Thoughts
I can't believe the audacity of this piece of wall art. I mean, I'm sure Southwest didn't intend for the public to see this, but in the age of smartphone and social media, it's inevitable that it would leak. And Southwest should've known better. After all, Hawaii residents shunned Mesa Air's go! subsidiary for their arrogant and predatory business practices.
It was widely known that Mesa Air's goal to put Aloha Airlines out of business and they succeeded. Thanks to them, we've long been stuck with what is essentially a monopoly on inter-island routes. So, hopefully, history doesn't repeat itself with Southwest. I'm hoping they, and Hawaiian (and Alaska), stick around for the long-term. Competition is good, and the more of it we have, the better.