For me, a trip to Portland is never complete without a stop at my all-time favorite donut. And, while I ordered my usual, we also got to try the summer flavors at Blue Star Donuts for the first time.
After settling into our room at the Hi-Lo Hotel, the Mrs. and I set out to find some brunch. We hadn't eaten since our usually terrible foodcourt meal at HNL shortly before our flight, so we were starving. This time around, we decided to check out Tasty n Alder for brunch. Naturally, there was a wait, so we headed a few steps down the street to their flagship location on SW Morrison which has, sadly, permanently closed thanks to the pandemic.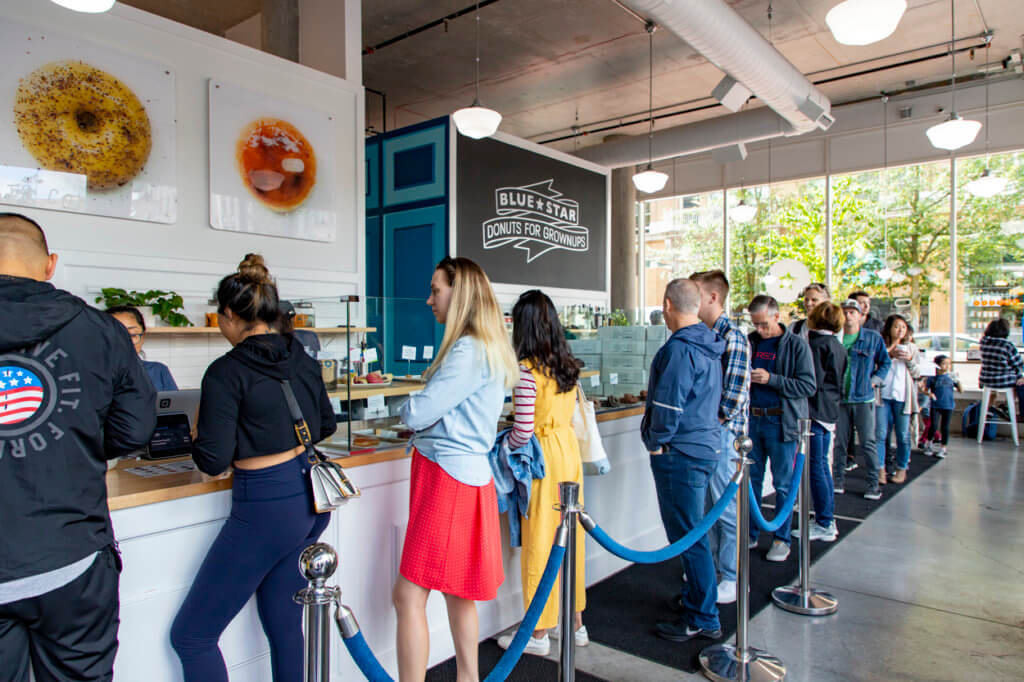 The Donuts
Blue Star Donuts is famous for their brioche-based donuts. They're light and fluffy, but have enough body and chew to make for a well-rounded sweet treat. Especially when you toss in their high-quality, natural glazes and fillings that provide just the right amount of sweetness.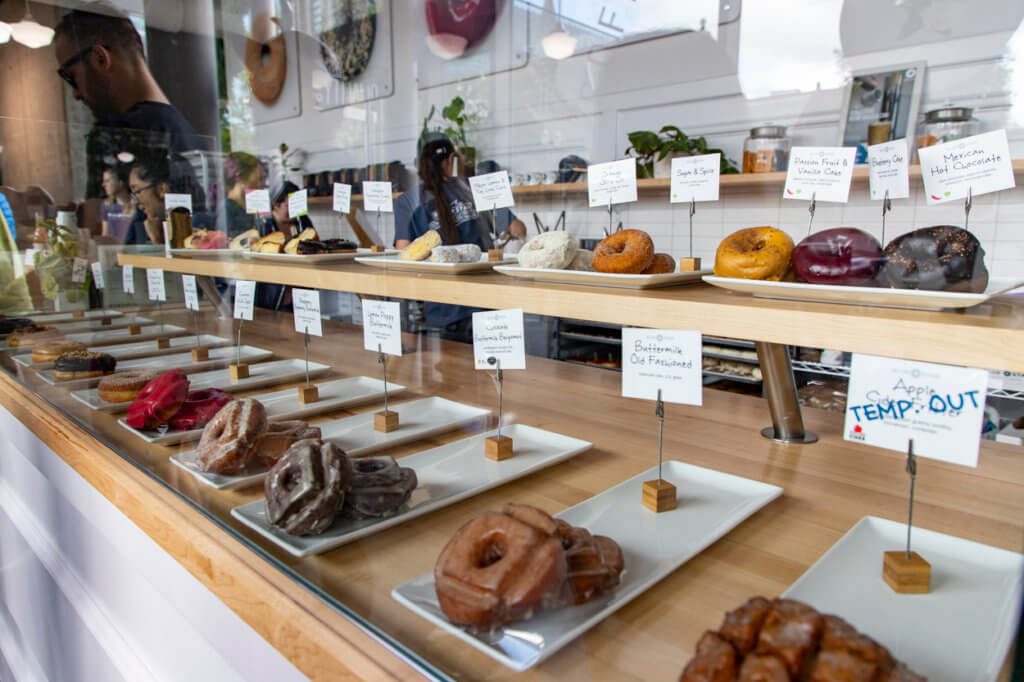 My go-to is always, ALWAYS, the Passion Fruit Cocoa Nib (brioche). I love its tart-sweet, slightly spicy flavor, with mild bitter undertones from the cocoa nibs. The Blueberry Bourbon Basil is another I'd go for, along with he Hard Apple Cider Fritter, and Real Maple Bacon. I never did get to try the Chocolate Almond Ganache since I never see the damn thing, but it is on my must-try list.
The Summer Flavors
During this particular visit, though, they had a few seasonal flavors as well. There was a Loganberry with Salted Lemon Crumbles, a CBD Chocolate Hazelnut Custard, and a Raspberry Rose Pistachio. And, if you've been reading this blog for a while now, you can probably guess that we bought all of them to try.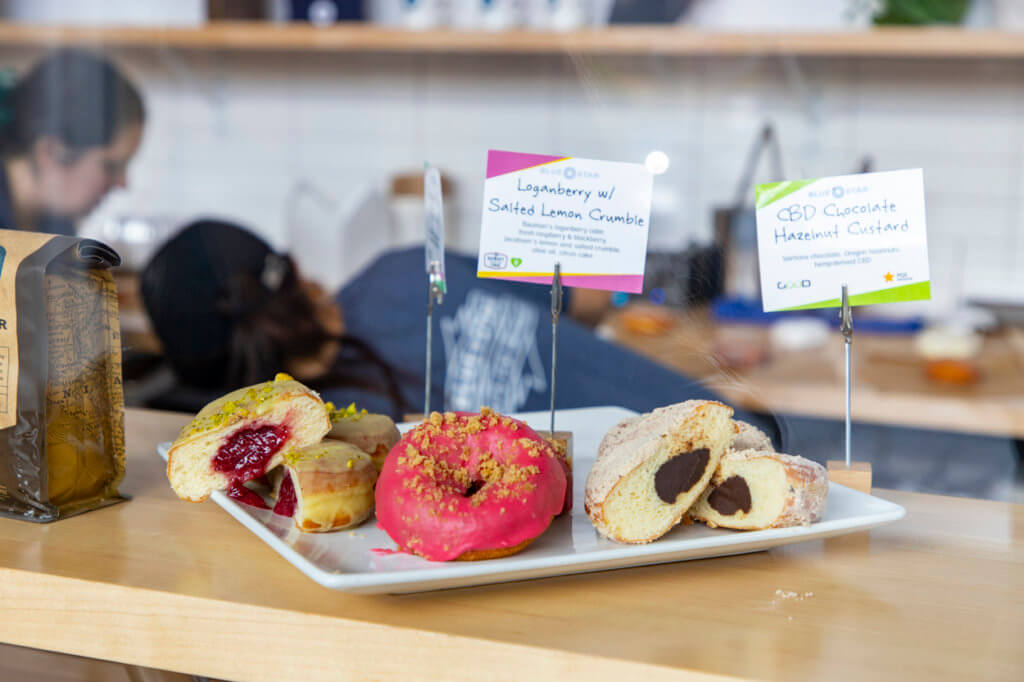 To be honest, I think the CBD one was more of a novelty. The texture of the filling was too thick and the chocolate flavor wasn't that great. But, the Loganberry was a nice, bright donut, with the lemon crumbles adding a nice punch to the sweet-tangy loganberry glaze.
Mrs. Island Miler had the Pistachio one all to herself since I had my Passion Cocoa Nib donut to get through, but she seemed to like it as well.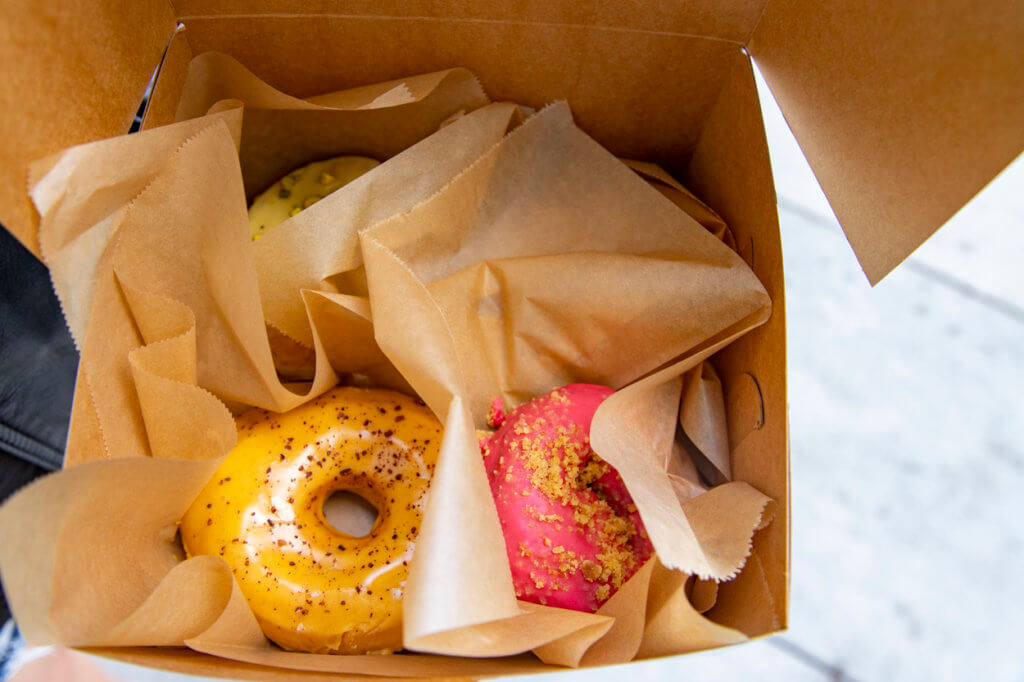 Summer Flavors at Blue Star Donuts, Final Thoughts
Admittedly, this wasn't our only visit to Blue Star during our long weekend in Portland. We did make a stop at the airport location for a few more donuts. That time, I got to try the Valrhona Chocolate Crunch, which I thought was ok. But, that's probably because I waited till I got home to give that one a try. More on that location later.
At any rate, I love Blue Start and am sad that I'll have to drive out farther next time I visit to get one of their awesome donuts. But visit them again I will. I can't skip out on my Passion Cocoa Nib donut!
Tasty n Alder Brunch
If you're wondering about our brunch, I'm not writing a post about it because my photos came out really bad. Suffice to say, it was pretty good. The Mrs. and I split an order of french toast, while she got some coffee and granola, while I got their Big Bop Bacon & Eggs. I love that they serve their bibimbap in a hot cast iron bowl so that the rice crisps up. But, damn was that thing spicy!
Of course, my all-time favorite dish here is their incredible Cedar Plank Salmon. So, I'll likely stick to dinners at Tasty n Alder.
Long Weekend in Portland
Summer Flavors at Blue Star Donuts