For our long weekend in Portland, I made it a point to stay in a hotel I've been wanting to check out for some time now. So, I booked us a room at the Hi-Lo Hotel, Autograph Collection, in downtown Portland.
Hotels in Portland are quite pricy. Not as bad as Seattle, but close! However, I've wanted to stay at the Hi-Lo Hotel since they opened not long after our first visit to Portland back in 2015. And, since this was my second trip to Portland in 2019, I made it a point to finally give the Hi-Lo a try.
How much did this stay cost me? Honestly, I don't remember the breakdown. However, my total for three nights came out to $649, inclusive of taxes, parking, and one sit-down breakfast.
Hi-Lo Hotel Location
One of the reasons to stay at the Hi-Lo aside from its eclectic design is its location. You see, the Hi-Lo Hotel is in the center of downtown Portland. In fact, it's just two blocks away from The Nines, and three blocks from both the Portland Marriott City Center and Pioneer Place. That makes the hotel's location a very walkable one.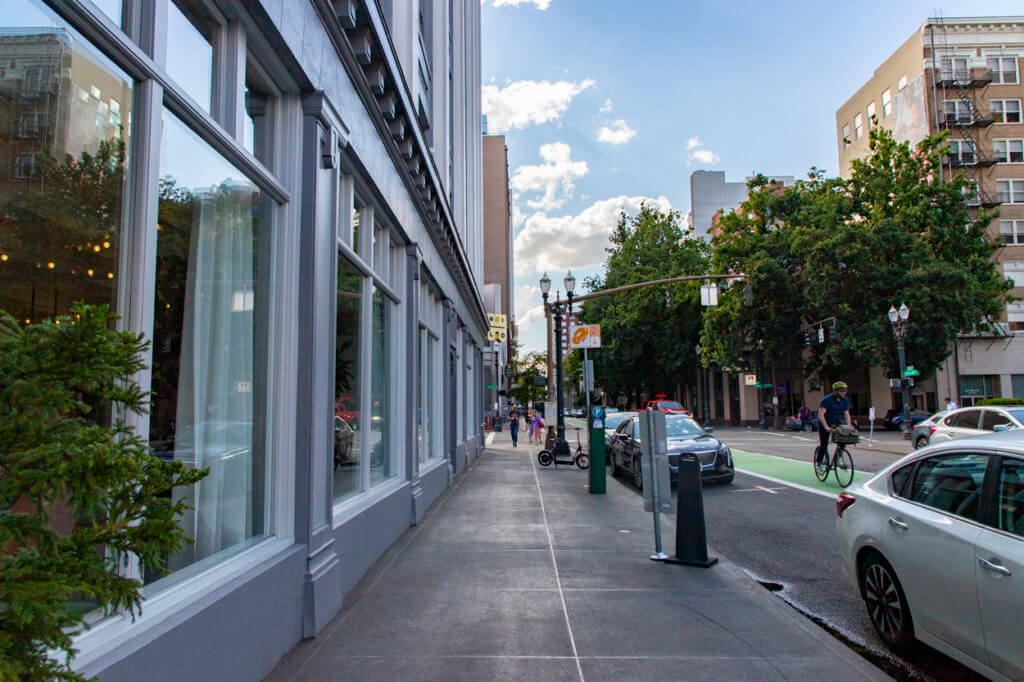 Parking
The parking situation at the Hi-Lo Hotel is probably the one aspect about it that ended up being really negative. It's valet-only and there was no one really ever at the valet stand. In fact, when we first arrived, we ended up just leaving our car out front because no one showed up for about 10 minutes. Later on that day, we called ahead to have our car brought around. If I remember correctly, I called won about 15-minutes before. When we got down, no car. Another 15 minutes passed and I inquired with the front desk. They had no idea. Five minutes later, I ended up calling an Uber because we were going to be late for our reservations. I have no idea if our car was ever brought around, but yeah.
This slowness was pervasive throughout our stay. And, to me, that's completely unacceptable. Especially when the nightly parking rate is $46. I should've done my research and simply parked the car in the lot across the street. It's literally right across the street and costs $25 per 24-hour period.
I don't think this is an issue with the employees, though. This is likely more a management issue. You see, every time we did see the valet, they always greeted us warmly and held opened the door for us. Problem is, there's only ONE valet. That's it.
Check-In
Valet aside, I'd say that service at the Hi-Lo Hotel is one of their major strengths. Every person we interacted with was genuine, friendly, and professional. The front desk is, admittedly, a little small, but we didn't have to wait too long. And once we were helped, we got through the process quickly.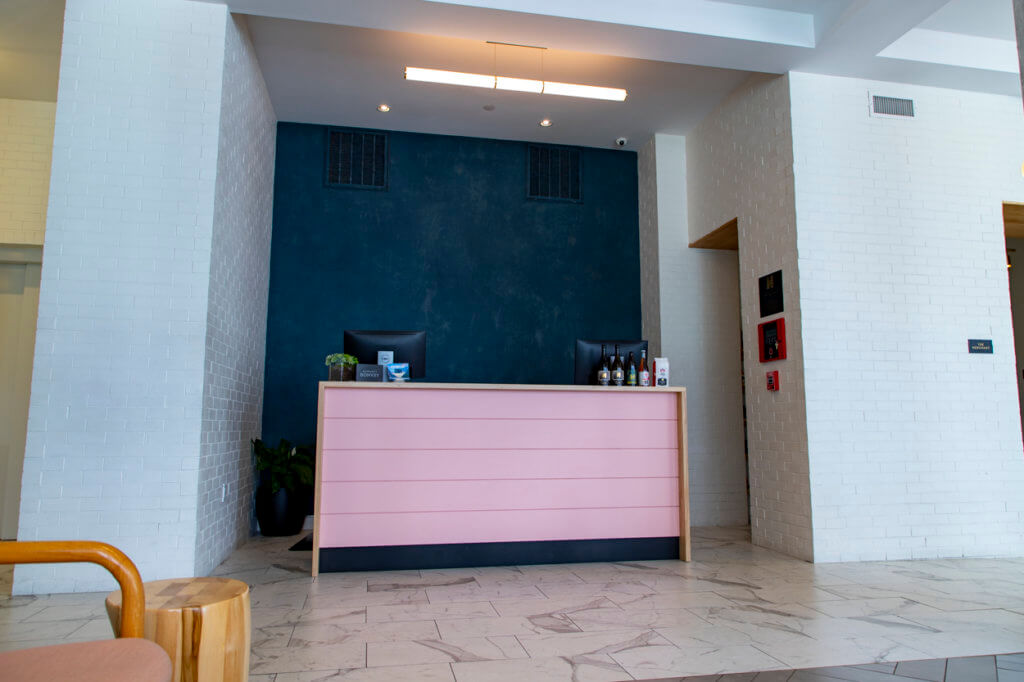 Unfortunately, a room wasn't ready for us when we arrived. That's understandable, though, as we checked in around 9 am. They did, however, get us into our room about 30 minutes later.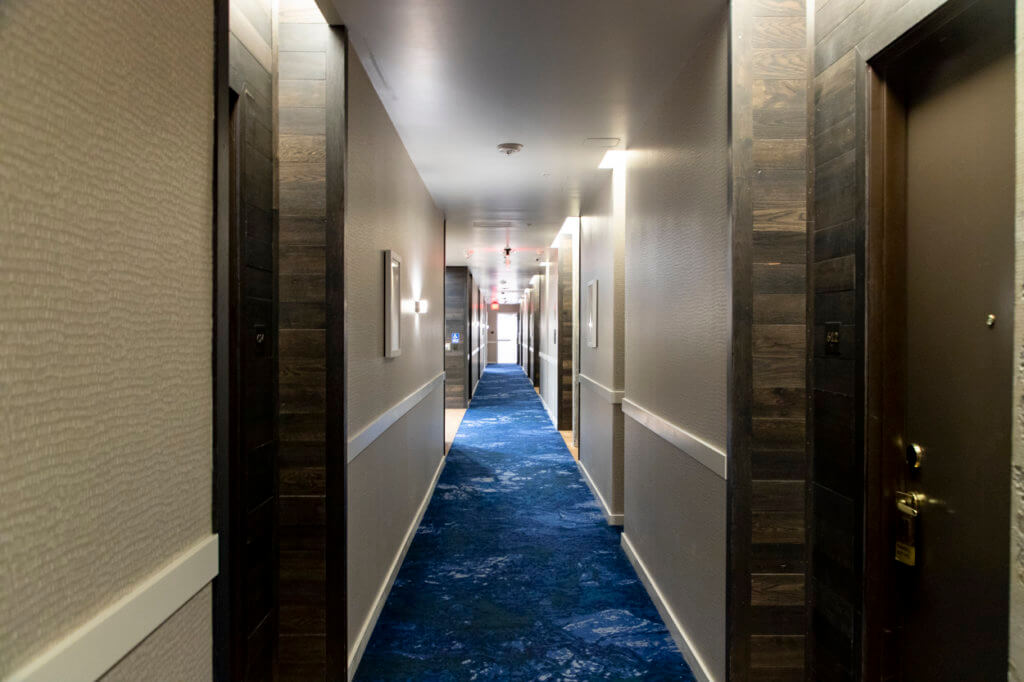 Hi-Lo Hotel Standard Room
For our stay, we got assigned a standard room on the top floor. I'm not going to lie, the room is a bit on the smaller side, but it didn't feel claustrophobic. In fact, it felt very open thanks to the large windows and HIGH ceilings.
What's more, despite its diminutive size, the rooms are just are gorgeous in-person as they are on the hotel's website. The smart use of space definitely helped too. As you can see, we had a king bed on one end of the room along with a desk, a small sitting area, and a tiny closet with a couple of drawers on the other side. It's worth noting, though, that the room doesn't have a fridge and that one of the drawers is actually a safe.
Now, you might be wondering where the TV is. It's in a rather awkward position right next to the bed within a gorgeous reclaimed wood wall. I want to say the TV swivels out, but I'm not sure – we never used it.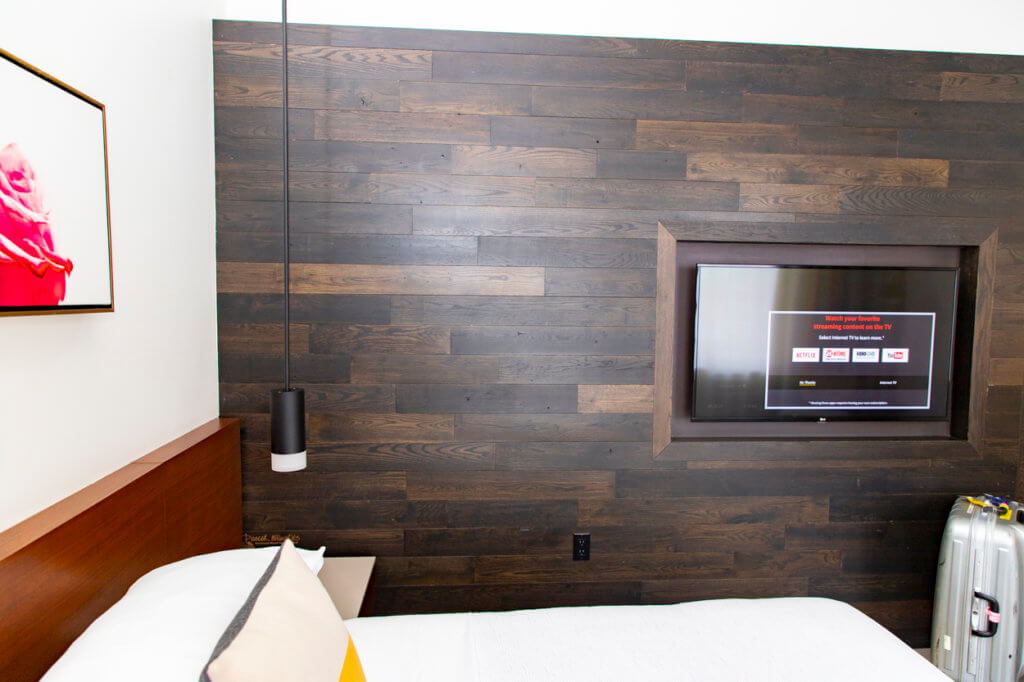 Hi-Lo Hotel Standard Bathroom + HVAC
Back towards the room entrance is the bathroom. As you'd imagine, it isn't terribly large either, but was still thoughtfully laid out and was adequate for us. Heck, it's WAY better than the similarly sized bathroom we had at the Hyatt Place Waikiki or the Portland Marriott City Center.
Yes, there's no shower/tub here. But, who doesn't love a good rain shower with separate sprayer bar? Even better, the controls were on the opposite side of the shower stall so you don't get blasted with gold water when you first turn it on.
As far as toiletries go, you can see that they're of the dispenser kind. These have been very controversial, to say the least. However, the clear dispensers here look as classy as you can make them and should help allay at least some concerns regarding tampering. And if you haven't noticed, this isn't Paul Mitchell Tea Tree. No, the Hi-Lo gets their toiletries from Maak Labs, which is the same company The Laylow Waikiki uses. And, while I thought the scent was ok, I feel like most people are either going to love it or hate it.
By the way, in case you're wondering, the toilet paper here SUCKS. It's like sandpaper…
As far as water temp and pressure goes, these were both great. The same can't be said, however, for our room's HVAC. First off, it's confusing to use – and I'm familiar with Mitsubishi Electric a/c controls. Even worse, though, is the fact that we seem to lose control of the temperature at night. I woke up multiple times throughout our stay sweating, despite setting the temperature quite low.
In-Room Amenities
Wi-Fi at the Hi-Lo Hotel is complimentary, though elite members get free Wi-Fi as a benefit either way. Each room also comes with a hairdryer, iron + ironing board, note pad + pencil, and coffee maker with coffee kits and tea.
Each room also comes with a glass carafe (and cups) to take advantage of their water purifying stations and ice makers on each floor. Located by the elevator, I was surprised by how small the machine is!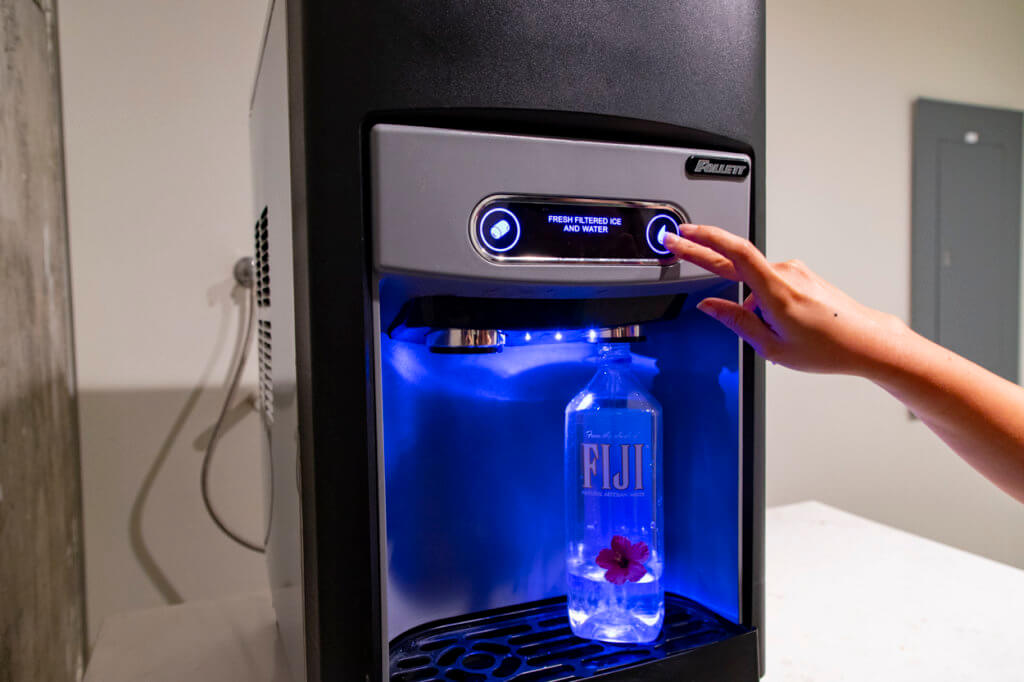 The property does also have a fitness center, though we didn't check it out. And their "The Merchant" shop is really more of an alcove near the front desk. Granted, they do feature a lot of great, Made-in-Oregon stuff in the shop.
View
Given the Hi-Lo Hotel's central location, I wasn't expecting much of a view. I mean, we had a gorgeous view of the Portland skyline and Mount St. Helens from the City Center, but that's also a taller builder. Here? Let's just say the view couldn't been worse.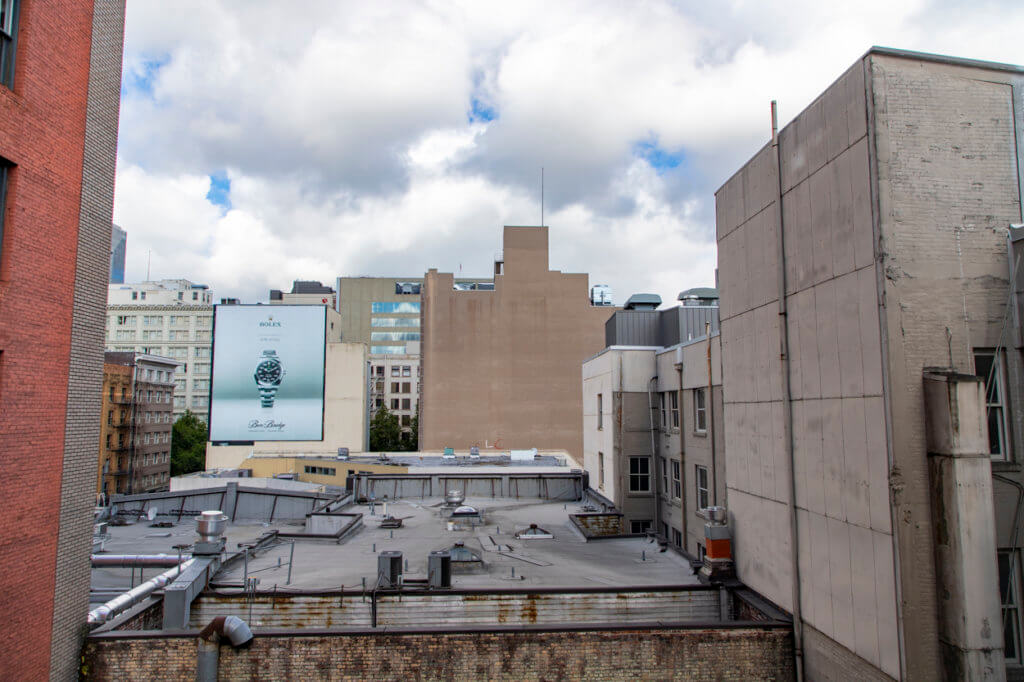 Hi-Lo Hotel, Final Thoughts
Maybe I hyped up the Hi-Lo Hotel too much in my head? I mean, after YEARS of waiting to check this place out, I finally got to. And, yeah, the staff was great and the rooms are gorgeous, but there were glaring issues too. The valet situation was, of course terrible, I hate not being able to effectively be able to control my room's temperature, and why would a self-proclaimed luxury hotel cheap out on toilet paper? At the end of the day, though, I'd definitely give the Hi-Lo another shot. I think the deserve it, and I learned a couple of lessons I'll keep in my for next time too.
Long Weekend in Portland
Hotel Review: Hi-Lo Hotel, Autograph Collection