Last updated on November 20th, 2017 at 03:03 am
If you were expecting to find a surf competition, or very agile goats then you won't be disappointed to find a post about delicious creamy cheese at the Surfing Goat Dairy.
What?! That doesn't make any sense?
Well, it does because if you like surfing goats then you obviously like their solidified juice……aka Goat Cheese!
Complete and udder logic. – Get it? It's a pun. Waah wahhhhh. That pun is for you Mr. J. He has given me too much authority on this blog. I can now post uncensored. Readers, you have been warned.
Ok seriously. The goats don't surf, but this is some really yummy cheese.
We stopped at the Surfing Goat Dairy on our way back from the Haleakala Crater sunrise. Kyle suggested a visit in his guest post on things to do in Maui. Aloha Kyle! Hope all is well.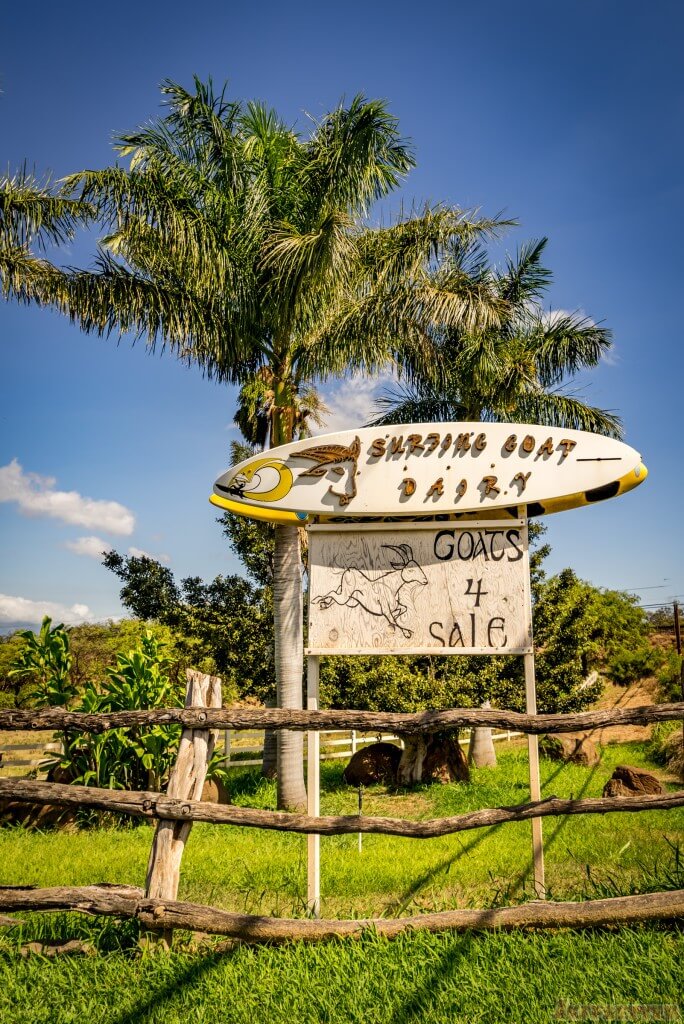 We were both pretty cranky from our early morning start. However, this stop was worth it! And believe it or not, we were not cranky when we left. Who could be cranky after cheese?! (I suppose the lactose intolerant.)
While the Surfing Goat Dairy does not have any actual surfing, there are plenty of boards for relaxing.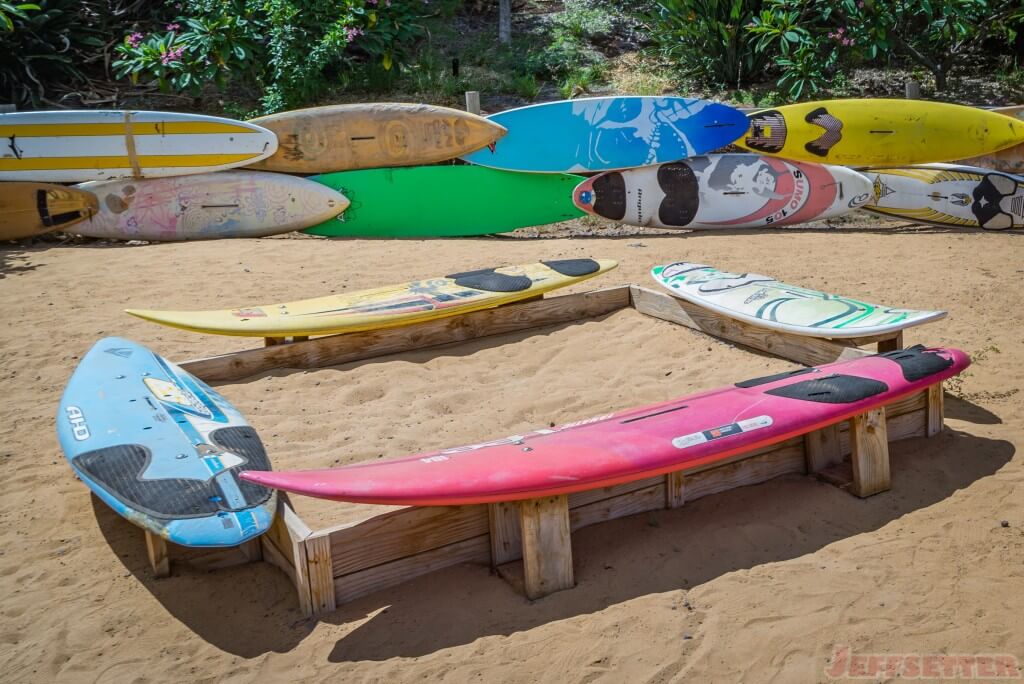 When you arrive at this working farm, you see the main store surrounded by several open air buildings for tastings with the farm and dairy buildings in the background.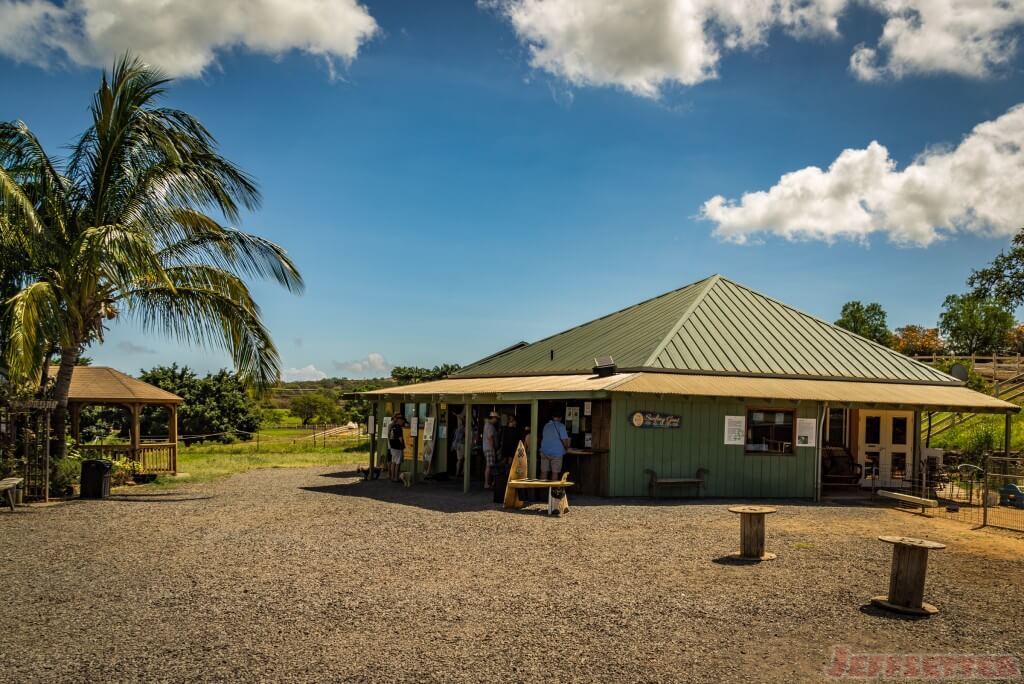 At the main store, you can purchase cheese (obviously why it's called a store).  You can also sign-up for a tasting, a tour or both.
We intended to just do a tasting, but we had never toured a dairy.  Well, maybe we did on a third grade field trip or something (which is kind of like my grandfather saying he didn't want to go to DC with the family because he had already been there – in 1922).
Staying on point, we decided to do both a tour and a tasting. We signed up for the casual tour, which was $12 a person and included a tasting. They do have more intense tours, but this 20 minute overview was enough for us.
Since the dairy was not busy, the Jeffsetters ended up with a private tour and tasting led by the best tour guide ever! We loved her personality and knowledge of the dairy.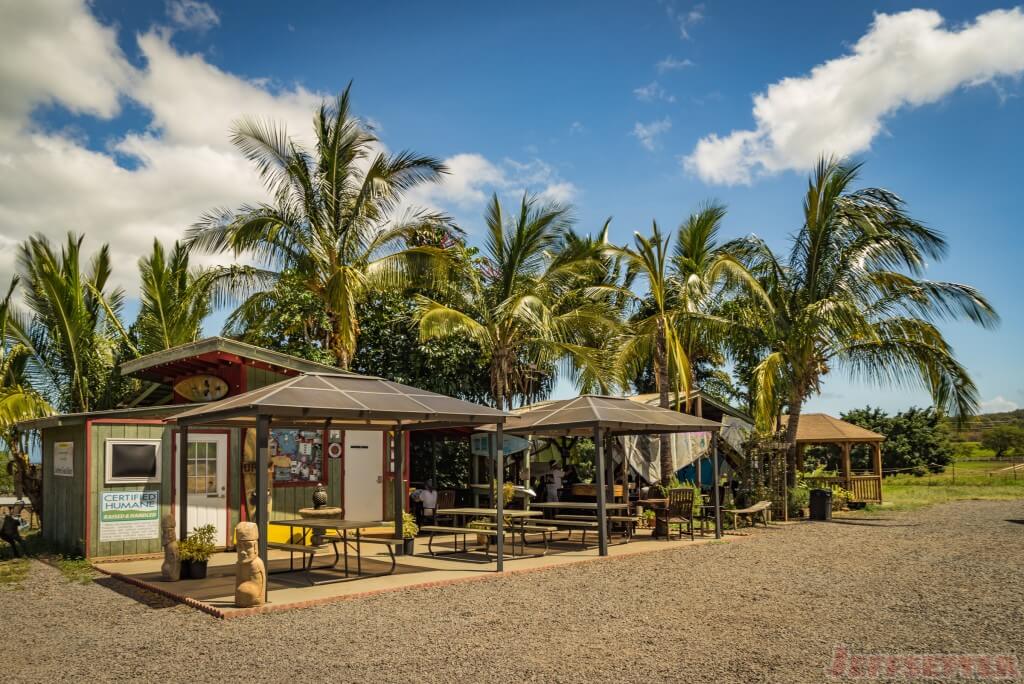 Seriously, we were very impressed by this young lady. Since I waited so long to write this post, I cannot remember her name. For shame!
I will ask Mr. J. He probably made a note of it somewhere. He is organized like that. I, on the other hand, prefer ordered chaos.
Anyway – she was/is a senior in high school (either class of 2015 or 2016) headed to college in the fall to become a teacher. As she told us about the different cheeses and gave us a tour explaining the process from baby goats to packaging, she had great presence. She was engaging and humorous. I can definitely see her becoming a successful teacher.
I knew I liked her when a guy walked by carrying a bunch of equipment sweating in the hot sun, and she jokingly mocked him. Our jaws must have dropped because she looked at us, shrugged and said "oh, he is the intern."
He had to be in his 20s working hard, and this high schooler half his size is giving him shit. Ha! Love it!
We wish her all the best!
UPDATE: Our tour guide was Maggie! She is in school and doing well. Thanks for reaching out and good luck!
Wait, did I say baby goats? (Did you look back to see if I really did? Ordered chaos.)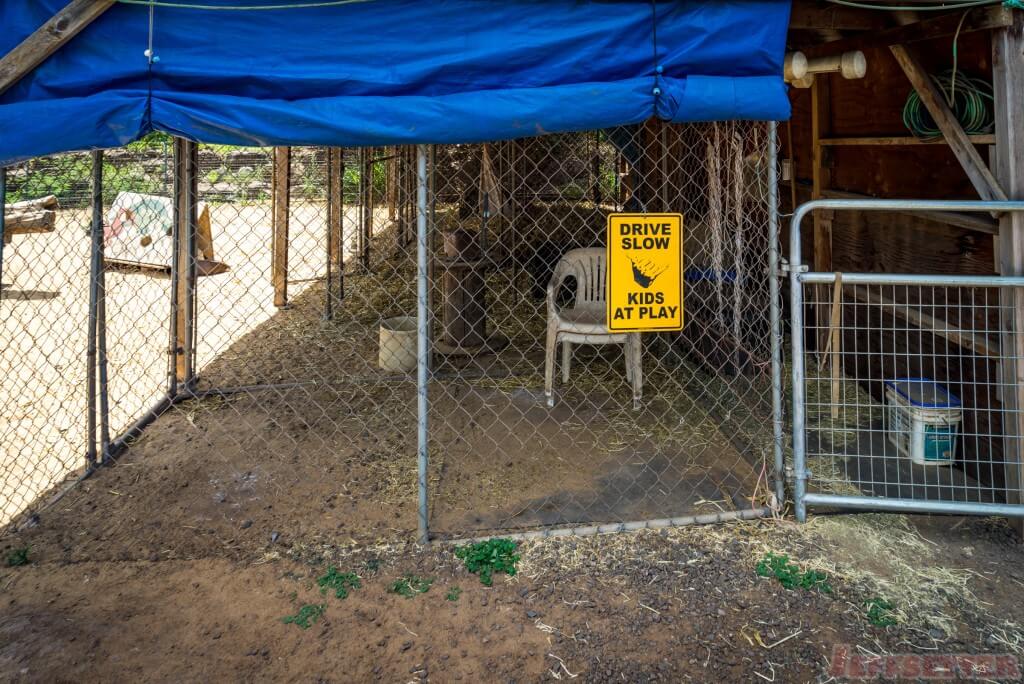 Just as promised, adorable baby goats.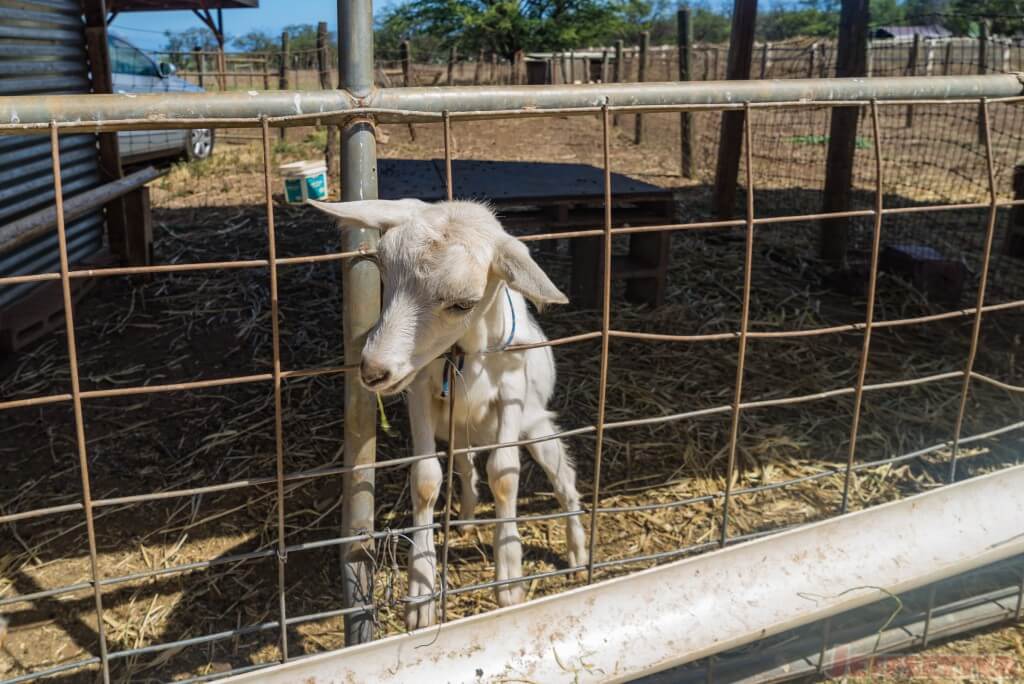 Lots of baby goats!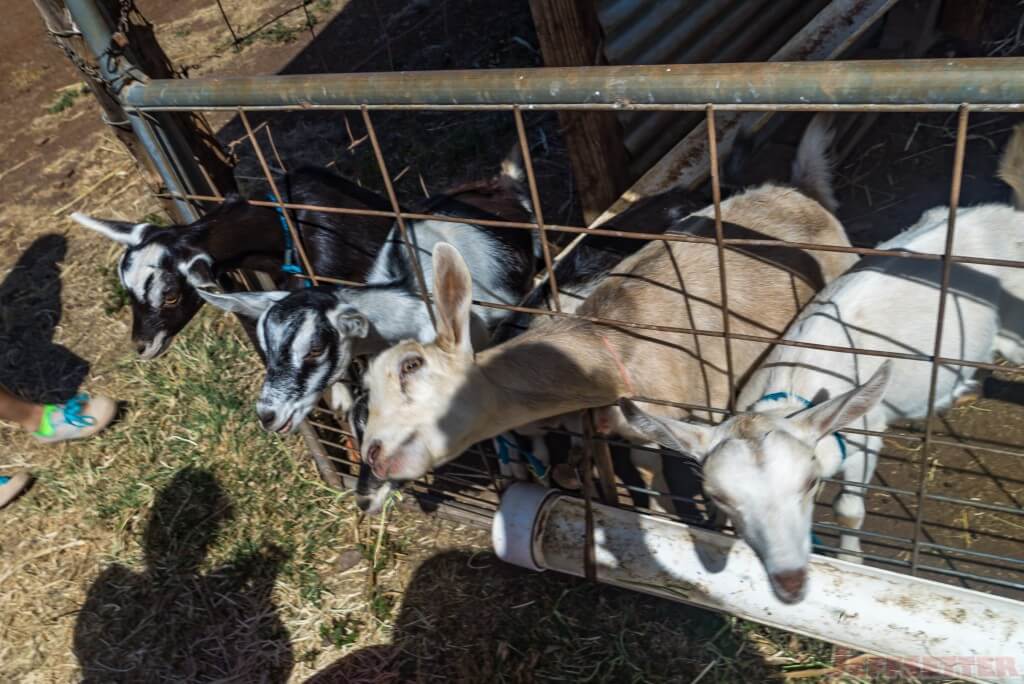 And, you get to feed them.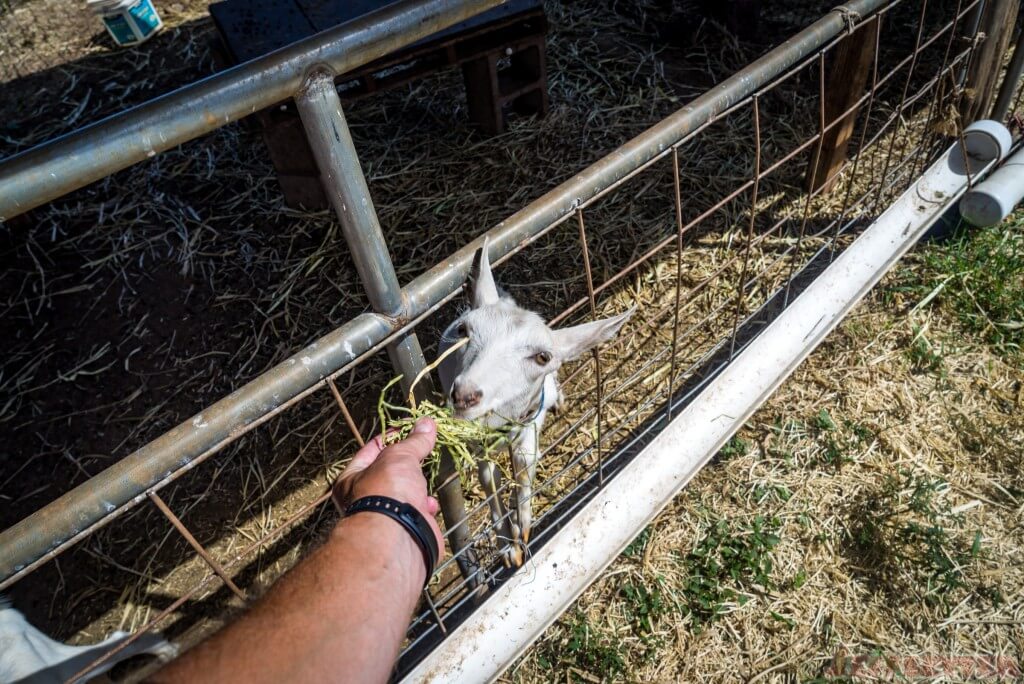 After washing our hands, we moved onto the best part, the TASTING!!
The tasting is mostly of their cheese spreads and quite informative. Very fresh, not the typical pungent goat cheese that may be familiar to you.
The only cheese I did not care for was the Olé,  a blend of jalapeños, artichokes, lime juice, cilantro. Just not for me, even though I normally like all these ingredients.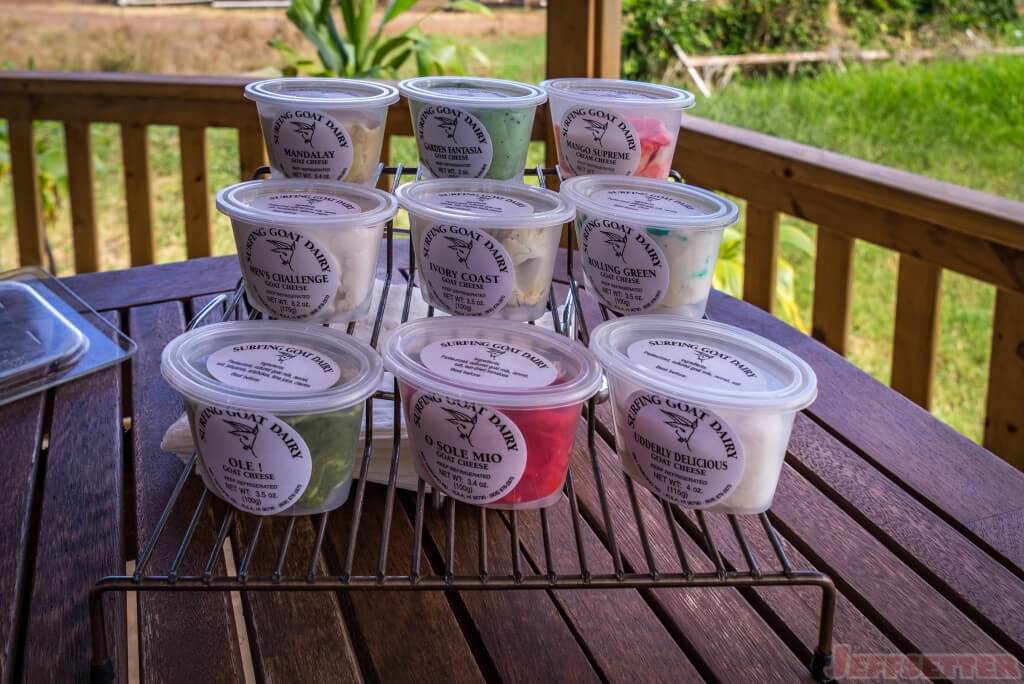 I wanted to buy one of each (except the Olé), but Mr. J reminded me that we are on a budget. He is such a stickler, and unfortunately right.
Honestly, budgeting has been the most difficult adjustment for me in our nomadic life. I cannot recall the last time I was on a budget. And by budget, I mean a budget where I could not buy as much cheese as I wanted, not that I was freely spending money and buying lambos everyday (the car or the Green Bay stadium).
In a final decision, we bought the Mango and I thought just a plain goat cheese in olive oil – something with Gold in the name. I did not see our second cheese in the product list on the website. Then again, my memory could be a tad faded.
I would strongly recommend the Lililkoi (passion fruit) quark. I debated on the quark, but decided I wanted the Mango for a specific dish I was making.
All in all the Surfing Goat Dairy is a great stop in Maui. If you are a fan of cheese, I would highly recommend trying out their products.
The dairy really does have an interesting story and fabulous cheese, which you can check out in person on a tour. If you don't have time for a visit, you can check out their story and buy cheese from the website.
Til next time…….