The last time I stayed in a junior suite at the Waikiki Beach Marriott was way back in the before times of 2019. This was before the pandemic and before the property completed its renovations. So I was curious to see how the refreshed Waikiki Beach Marriott Ocean Front Junior Suite is.
I planned a brief staycation at the Waikiki Beach Marriott during our long Kamehameha Day weekend. Per the usual, I booked a standard room using the property's then excellent kama'aina rate. I then applied a suite night award to the stay, which cleared a few days before check-in. Unlike my not 2021 Honolulu not Marathon staycation, one-bedroom suites weren't an option when selecting your SNA. Rather; junior suites were the top-grade rooms available. But that's fine with me, as these rooms have an advantage over most others at the Marriott – the view. It's worth noting, however, that the Waikiki Beach Marriott Ocean Front Junior Suites are now available exclusively as two-queen rooms.
Check-In
Like our last visit, our room was available before my requested noon check-in time. Thanks to my rate, I did have to stop by the front desk to complete the check-in process and get our keys. The associate helping us that day was, as always, fantastic. Unfortunately, some policies seemed to have changed a bit, though. For one, they could only honor a late check-out time of 1 pm for our room type. Apparently, these junior suites are reserved for Platinum and Titanium upgrades and need to be cleared out earlier. I was offered the ability to stay until 4 pm, though they'd need to move me to a different room at 1 pm. I declined.
Waikiki Beach Marriott Ocean Front Junior Suite
After finishing the check-in process, we headed back to the Kealohilani Tower and headed to our room. Unsurprisingly, the rooms haven't changed a whole heck of a lot from our last stay in them. Immediately upon entering, you'll find the massive bathroom to your right and the closets to your left. However, they did change the closet door to a barndoor-style and filled half of it with a cabinet containing the iron and ironing board.
The bathroom probably had the most significant change, as they removed the counter housing the mini-fridge and coffee maker. In its place, they expanded the separate tub and gave it its own showerhead, which is identical to the one in the shower stall. Unfortunately, the Waikiki Beach Marriott Ocean Front Junior Suites don't have a Toto Washlet available, though they appear to be in many standard rooms.
Toiletries are still in single-use bottles and consist of a mixture of Paul Mitchell and thisworks products.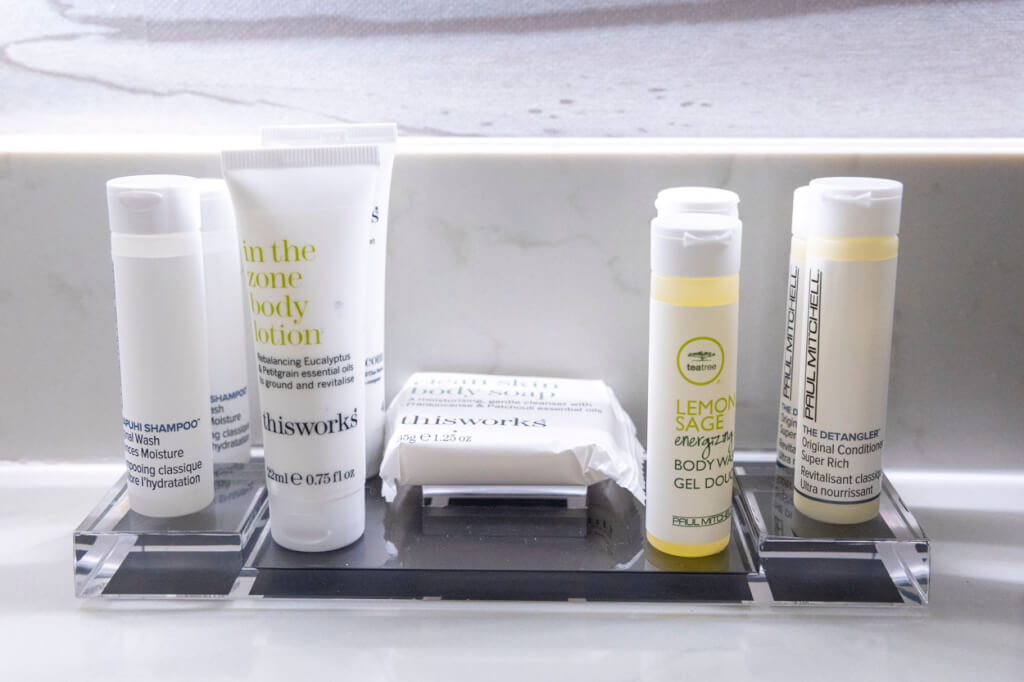 And here's the closet, which, as I noted earlier, changed too.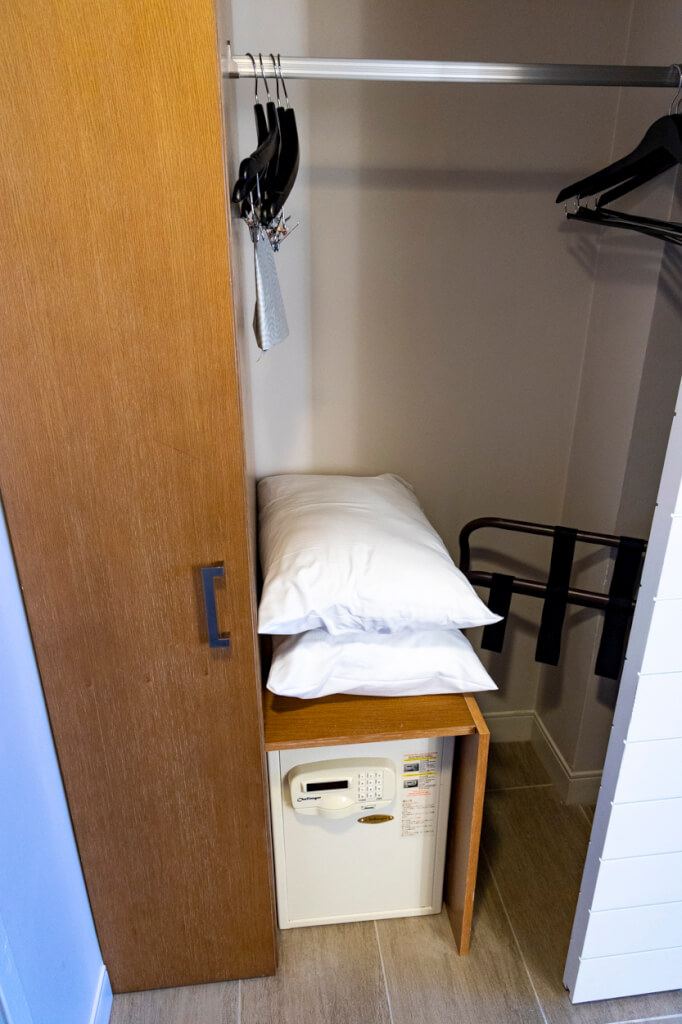 Overall, the layout of the rest of the room is fairly similar with one hugely notable difference. can you spot it?
Yup, the placement of the TV and desk shifted 90 degrees. I gotta say, I'm not a fan of this change. Watching TV is far more difficult than it was before. At least pre-renovation, you could sit or lie on the bed to enjoy the TV. Now? I suppose you can still sit on the bed, but not as comfortably as before. There's also no sofa now thanks to the placement of the TV. I suspect this change came about because of the use of built-in furniture now. Also, the number of apps available on the TV decreased this time around too. I believe we only had Netflix and YouTube available, which is a bummer.
That said, the refrigerator is now under the TV, as is a Nespresso machine, which is a HUGE upgrade to the single-cup coffee maker the room originally came with. The desk chair, while more aesthetically pleasing, is a massive downgrade in comfort, while drawer space has been seriously cut.
Waikiki Beach Marriott Ocean Front Junior Suite View
Like my last junior suite stay, we were assigned a room on the east side of the building. That was a bit of the bummer, as the view isn't quite as good.
The view got a bit better if you actually stepped out onto the balcony.
Of course, the window near the bed looks straight out into the Pacific, providing for gorgeous sunset views.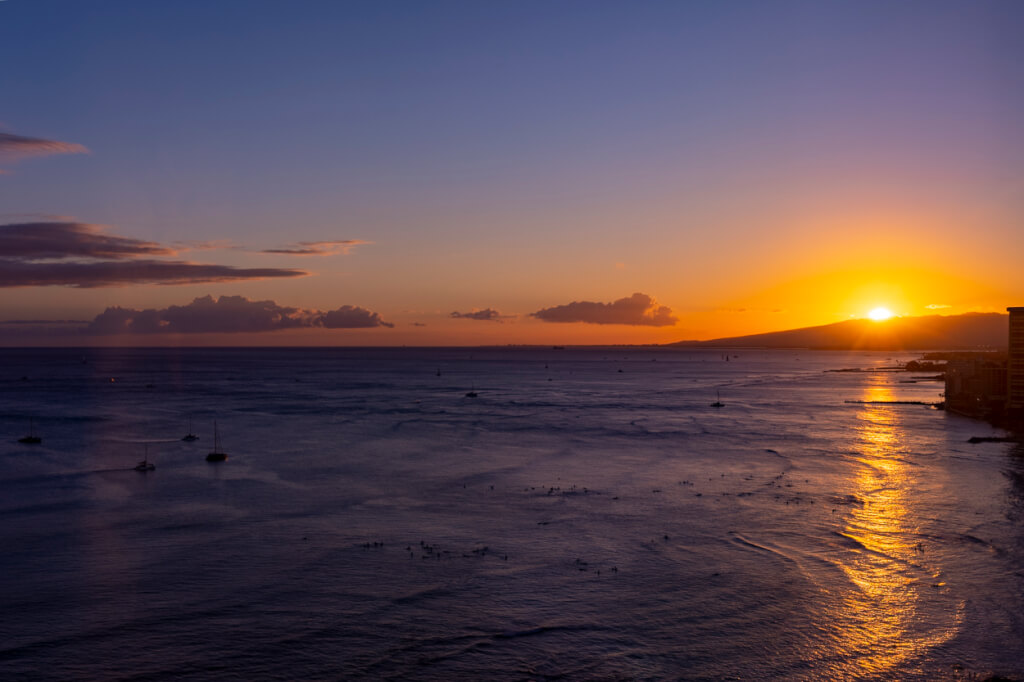 We did get to watch the Kamehameha Day Parade from our room and got a great view of Grammy Award winning local artist Kalani Pe'a, which probably wouldn't have been as great from a west-facing room. But, I'm sure the rest of the parade would've been easier to watch from that angle.
Conveniences and Comforts
As is usually the case, the WiFi in our Waikiki Beach Marriott Ocean Front Junior Suite was stable and quick. The water temperature was excellent, while water pressure was about average. Our HVAC kept the room at a steady temperature and was fairly quiet. Even better, because we were at the very end of the building, little corridor noise made it into our room, though street noise was quite noticeable. The bedding was just as comfortable as it always is and my requested foam pillows were waiting for us in the room.
Final Thoughts
This was a quick stay and my picture-taking wasn't quite as thorough as it usually is. However, we did enjoy our time in our Waikiki Beach Marriott Ocean Front Junior Suite. Do I wish the room type would be available with a single king bed? Sure. But I'm not 100% sure I'd choose this room type again. We like being able to watch TV while we enjoy dinner, which wasn't really practical given the room's current configuration. In that regard, standard rooms are a better.
Heck, I do want to check out a Diamond Head View Room in the Paoakalani Tower one of these days. I won't be requalifying for Titanium this year, though, so we'll see how my next stay goes.
Speakig of dinner, we headed over to Piccola Onda and Double Fat Ice Cream at the Alohilani Resort. Yes, I ordered two pastas for myself, ok? I was famished!